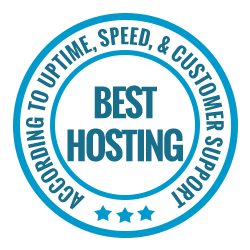 Unlike many other 'web hosting review' sites, we're actually signed up with the hosting providers we list on our site (meaning we're paying customers and users).
We've done a lot of research and we've been monitoring 30 different hosting providers for the last 17 months (ongoing).
How do we know which one is the best web hosting?
We measure the most important factors of a web host:
The following reviews are based on the last 12 months average stats & data.  All of our test sites (30) are signed up with (30) different web hosting providers.
Our 'test sites' are all identical (just a default page on WordPress website platform) and can be found inside each review.
BEST WEB HOSTING SERVICES (2017)
out of 30 we've tested and monitored during last 12 months
To find out best web hosting services, we conducted several performance tests, read users reviews and tried out their customer support.
Here are the best web hosting providers of 2017
1. HostGator Cloud
BEST IN: Uptime
LOAD TIME: 360ms (2ND out of 30).
UPTIME: 100.00% (1ST out of 30).
SUPPORT: Took only 1 minute to get in touch with their live chat which was both responsive and quick, making it a pretty smooth experience overall.
Visit HOSTGATOR CLOUD (www.HostGator.com)
…or read why we rated HostGator Cloud #1st in our reviews.
2. A2 Hosting
BEST IN: Speed
LOAD TIME: 234ms (1ST out of 30).
UPTIME: 99.99% (2ND out of 30).
SUPPORT: Quick responses, answering our queries within a minute.
Visit A2HOSTING (www.A2Hosting.com)
…or read why we rated A2 Hosting #2nd in our reviews.
3. SiteGround
BEST IN: Support
LOAD TIME: 459ms (3RD out of 30).
UPTIME: 99.99% (3RD out of 30).
SUPPORT: Most knowledgable support. Especially towards WordPress.
Visit SITEGROUND (www.SiteGround.com)
…or read why we rated SiteGround #3rd in our reviews.
We're confident that you can't go wrong when using one of the three hosts above.
However, you can go wrong with the hosts below. We generally don't recommend them as they have some sort of flaws (i.e. poor uptime or slow load time.)
Nevertheless, feel free to read reviews and decide yourself.
13 HOSTS WHO FAILED WITH 

UPTIME & SPEED
We don't recommend them as they failed in uptime and load time.
Phew, made it to the end. Now, let's see which host couldn't make it to top 3 due their bad uptime.
6 HOSTS THAT FAILED WITH

UPTIME:
We don't recommend them as they failed in uptime (too unreliable).
3 HOSTS THAT FAILED WITH

 

LOAD TIME:
We don't recommend them as they failed in speed (too slow).
Common QUESTIONS & ANSWERS
What is HostingFacts.com?
HostingFacts.com is a web hosting review site, where we (John, Brad & Rol) test and monitor web hosting providers (currently stopped at 30).
Since we've all dealt with dozens of hosting providers, we decided to team up and create an honest, unbiased hosting review site that everything can benefit from.
Read more about who we are & what we do.
How do you review web hosts?
It's really simple, actually. Let me break it down for you:
We find a hosting provider that has been mentioned as "BEST" somewhere on the web.
This includes all the fake hosting review sites that we've found so far.
Then, we open our wallets and sign up.
Once we're signed up, we install a simple WordPress website and plug it into a Pingdom monitoring software. Pingdom automatically pings our websites to see if they're up and running (this includes load time, too).
Read more about our review process.
Where are the test sites?
Our test sites end with the shortened version of a web host. For example:
BLUEHOST: www.hostingfacts-bh.com
SITEGROUND: www.hostingfacts-sg.com
IPAGE: www.hostingfacts-ip.com
HOSTMONSTER: www.hostingfacts-hmo.com
HOSTMETRO: www.hostingfacts-hme.com
etc..

Our nameservers are pointed towards the hosting provider we're using (in my example, you can see that hostingfacts-bh.com is pointed towards Bluehost nameservers (NS1.BLUEHOST.COM and NS2.BLUEHOST.com).
How can I leave my own web hosting review?
You can absolutely leave your own review. All we need from you is,
#1. Which host you are using (or used)?
#2. How was you experience (good or bad)?
If we find your review helpful, we will reward you with $5.
How do you choose which host to review?
We've done a lot of research and gone through all the mainstream and popular web hosting providers that people tend to use. However, we have some criterias:
Hosting Company age: 24months+
Active customers: 10,000+
Support: Phone, Ticket or Live Chat.
How can I make my website load faster?
There are several ways to make your website faster.
First is obviously changing web host (we recommend A2 Hosting & HostGator Cloud). Another option is to tweak your site. If you're running on WordPress, we've put together a long list of stuff you can actually do to improve your site performance.
How to speed up WordPress website.
How can I monitor my uptime and speed?
We're using PingDom, but there are actually a ton of alternatives (some of them are FREE, too). Take a look at the list below:
15 Best Website Monitoring services 2017.
Do you have anything else besides web hosting reviews?
We're also updating our 'Guides, Tutorials and Tools' page. Feel free to check it out.
If you wish to leave us feedback or just want to say hello, use our contact page.