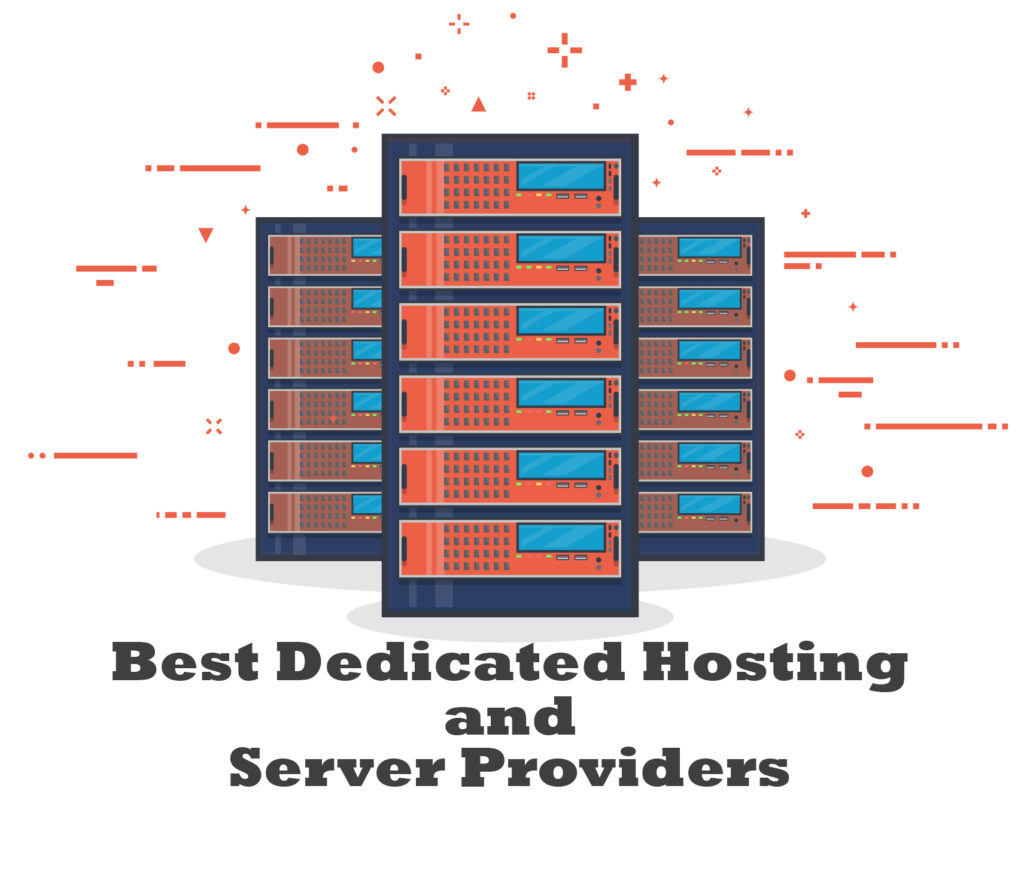 Your dedicated web host should be, well… dedicated. To you.
Not only should you get a dedicated server, but your support team should also be invested in your site and they should also provide a dedicated IP.
Gone are the days where hosting providers could stand out on technical capability alone.
In fact, dedicated server technology has increased across the board in recent years: 3GHz CPUs, 8GB of RAM, and 500GB of memory space were considered "high-end" a year ago, but are now fairly standard offers.
As the technical playing field levels out, customer service has become the factor that makes the difference among providers.
When it comes to customer service, though, there are still huge differences between dedicated hosting providers. There is really no excuse for poor customer service in 2020. If you're renting your own server, you should expect informed, speedy responses to your questions.
So in this assessment, we paid more attention to customer service than ever before, taking notes on their technical knowledge and response time to our questions.
Ready to see how they stack up? Let's get started.
9 Best Dedicated Hosting Services
Let's start with the best hosting providers first, then move down the list to see which ones you might want to avoid. Here are the 9 best dedicated web hosting providers in 2020:
1. Bluehost – Best Value for Money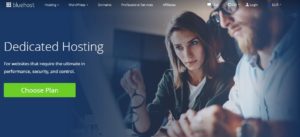 Bluehost is like a good reliable friend – it's been in the industry for a long time and never fails to deliver what they have promised. You'll get excellent uptime and impressive speed. What's best about Bluehost is their low-tier initial pricing of $79.99/mo. You can't really go wrong with Bluehost, especially if your budget is limited.
The only downside is that their low price is only available for a long-term commitment (3 years).
Uptime & Speed

Tested Hosting Plan: WordPress Managed / Statistics dates: 01.01.2019-02.28.2019
In our testing, from January to February 2019, Bluehost came in with a reliable uptime of 99.98% and a speed of 369ms. Throughout the years that we've monitored Bluehost, we've rarely had any significant downtime. Even though they had a 19-minute outage in January 2019, their overall uptime throughout 2018 was an incredible 99.99% with an average speed of 415ms.
So if you're looking for a host with both solid uptimes as well as speed – you needn't look any further.
Support
The support offered by the team at Bluehost is also quite good. In our tests, connecting to a live support agent took 3 mins, and responses to our queries typically came back after 2 mins.
Their answers were simple and precise. They answered exactly what we asked, but nothing more – so there is a little room for improvement. But overall Bluehost support beats many other supports we've seen, who have trouble with the English language, who only copy-paste answers or links, or are (in worst case scenario) an early version of an artificial intelligence-based program.
With Bluehost support, you will get exactly what you ask for, no more and no less.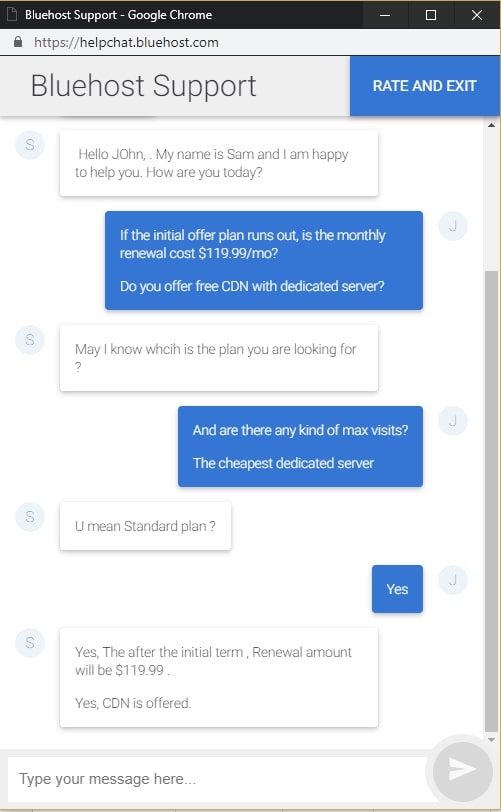 Features
The technical specifications of Bluehost's Standard plan are quite good considering the low price point (as well as excellent uptime and speed). You get 500GB of disk space, and a bandwidth cap that is so large (5TB) you are unlikely to ever notice it. 4GB of RAM is a little on the low side but for a small to medium size website, it should be good.
If your traffic should unexpectedly increase (or if your site starts growing really fast), Bluehost will not charge you extra. The downside is that most likely your site will get much slower until the following month.
Both the Standard and Enhanced plans are definitely on the cheap side compared to other providers. They offer the same features that you'll get for double or triple the price with some other providers, including a fast processor and plenty of bandwidth. Plus, they come with a 30-day money-back guarantee.
Pricing
The prices offered by Bluehost are strikingly low. Their plans start at just $79.99 a month but do keep in mind that after the initial 3-year package runs out the price is going to climb up to $119.99 a month.
You should also note that the prices shown below are valid only if you pay for 3 years upfront. Bluehost's monthly payment options have much higher prices (starting at $149.99 paid monthly).
Overall, with Bluehost, you get very decent stats for less than most other hosts. If you need good quality dedicated servers, but your budget is limited, Bluehost is a great choice.
There are a few providers out there with even lower prices, but usually, they have compromised on reliability and/or speed, or they have not invested in proper customer support (as you will see below).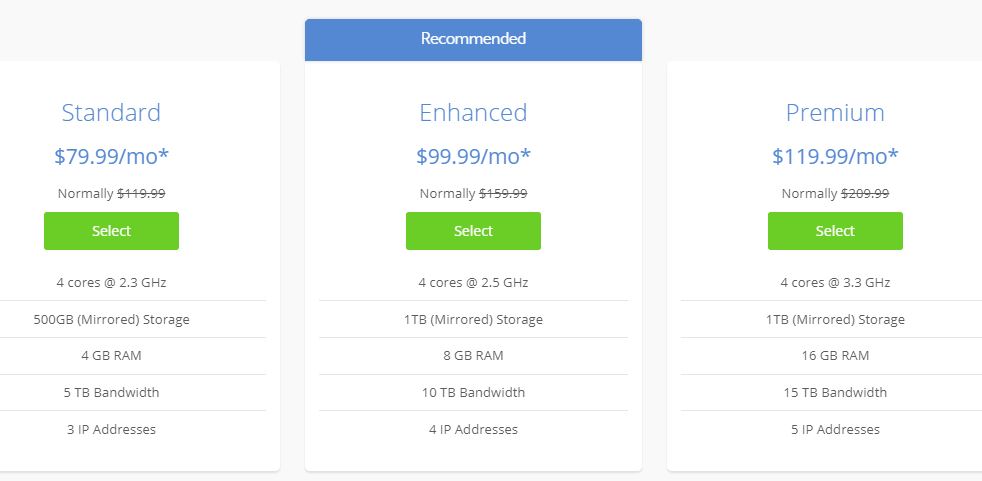 With the cheapest plan, you'll get some pretty good features at a rather cheap rate. The memory could be a bit better, but you can always upgrade it if you feel the activity on your site is increasing.
Also, please keep in mind that the prices shown are only for 3 years paid upfront and the fees increase after the initial 3-year period. Even then, Bluehost is still on the low-end tier of dedicated server pricing compared to the competition.
Cheapest Plan: $79.99/mo
Admin Dashboard: cPanel
Disk Space: 500GB
Bandwidth: 5TB
RAM: 4GB
Processor: 4 Cores, 2.3GHz
Dedicated IP: 3-5
Offering a fully-featured dedicated web host for $79.99 a month is an impressive achievement, especially considering that cPanel comes as standard. Overall, Bluehost offers great value for money.
2. HostGator – Reliable and Well-Known Host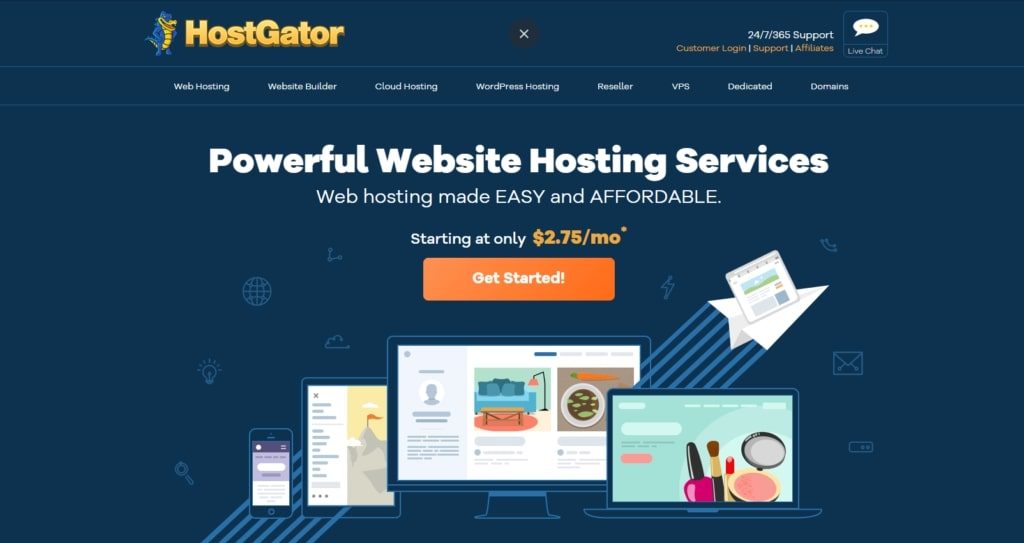 HostGator is another well-established player in the field. They have a huge customer base and they know exactly what they're doing. HostGator is definitely also your most reliable host. They come with a fairly good features-to-pricing ratio.
However, the only downside is that their sites can be a bit slow compared to the competition nowadays.
Uptime & Speed

Tested Hosting Plan: Shared / Statistics dates: 01.01.2019-02.28.2019
As we've repeated a hundred times – uptime and speed are the most important factors when choosing a web host.
HostGator's uptime is outstanding – a perfect 100%. There have been no disturbances, whatsoever.
Unfortunately, HostGator does fall a bit short with their speed of 1,113ms – it's slightly below the industry average of 890ms.
Even though the speed could be better, HostGator is not that far behind the average, and taking into account the exceptional uptime, they are still able to qualify in the top of our list.
Support
HostGator's support is quite good. We contacted them several times and in our tests connecting to live chat took an average of 3 mins, with a spike of 20min on one occasion. Answering our questions took slightly longer with an average time of 5 mins.
Instead of answering our questions in a personal way (which we loved about Liquid Web), they provided a lot of links that provided more than enough information. Based on their answers and overall info on the website, it is safe to assume that most of their customers are avid users of WordPress with knowledge of technical details and some coding.
They don't sugarcoat anything nor make things too complicated. Their site, as well as customer support, is not for total beginners – unless you're willing to spend some time digging into the details and meanings behind the info you find.
Features
On paper, the features offered by HostGator's dedicated web hosting servers are pretty good, especially the fact that you get unlimited bandwidth as long as you stay within their terms of service.
You'll get a 1TB of disk space, an unlimited bandwidth (in reality, it's 10TB – we asked), 8GB of RAM and a really fast multi-core processor. These stats are really good, especially with the prices they come with. You will most likely never notice the bandwidth cap. But in case it does happen, your site may get much slower until next month.
Unlike Liquid Web, HostGator does not provide any automatic back-ups for your dedicated site. You'll be responsible for that yourself.
Pricing
HostGator's prices are in the low-mid range compared to the competition. Hosting starts at $118.99 a month if you opt for the long-term 3-year commitment.
After the initial plan runs out, the plan renews at $189 a month. Don't worry – even the renewed prices are at a decent level considering the features you'll get.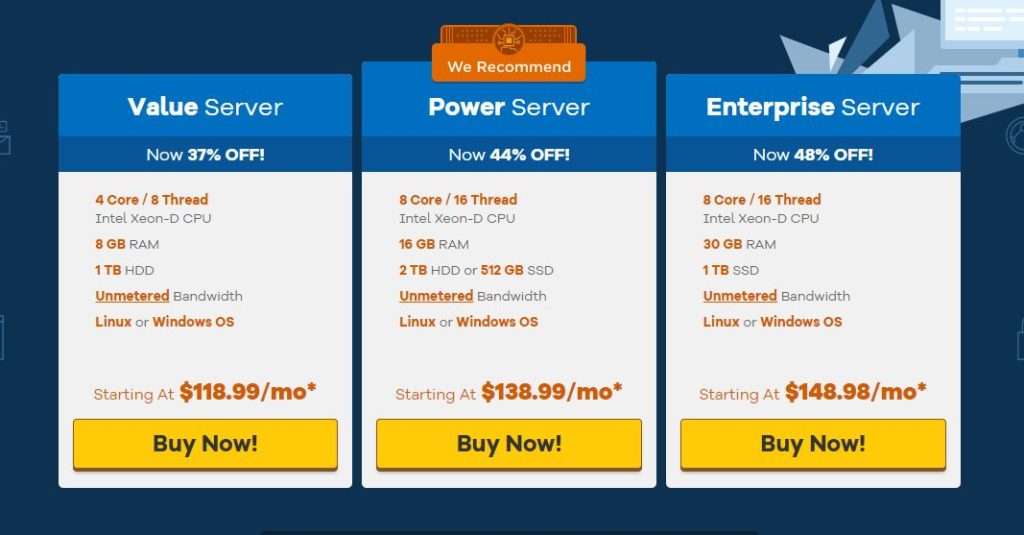 The cheapest plan covers everything you need for a medium-sized website that gets thousands of monthly visitors. AND, you won't have to worry about any downtime with this host.
Cheapest Plan: $118.99/mo
Admin Dashboard: cPanel
Disk Space: 1TB
Bandwidth: Unlimited
RAM: 8GB
Processor: 4 Cores, 2.1GHz
Dedicated IP: 3
If you prefer the security of a huge and well-established hosting provider, HostGator might be for you. The dedicated web hosting services they provide are above average, while their prices are below average.
3. A2 Hosting – Best Speed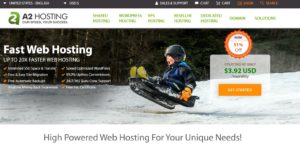 Even though A2 is somewhat less known than some other hosts above, they are a fierce competitor. With lightning-fast speeds, decent uptime, good features with good prices, you'd easily be happy with them.
The downside? Besides their supreme speeds, they are only slightly above average in everything else. Also, we weren't exactly thrilled to find out that cPanel is not included in their price plans as most people need one to set up their site.
Uptime & Speed

Tested Hosting Plan: Shared / Statistics dates: 01.01.2019-02.28.2019
In our standard uptime and speed monitoring, A2 hosting has performed really well.
They have by far the best speed we've seen in the industry (248ms). It's been proven that visitors leave slow sites in an instant – you will not have this issue with A2.
Their uptime of 99.96% is decent too. It's not in our top 3, but under 15 minutes of downtime per month is not enough to cast a shadow over the other great features that A2 Hosting provides.
Support
A2's support is also good. Connecting to an agent via chat was essentially instant, and their response to our inquiries about CDN and max visit limitations came back within a few minutes.
Their customer support is fast and accurate. You'll get the answers quickly and in general, they're helpful. You might have to do some additional digging if you want to know more, but overall – they provide everything you'd expect from a good customer support representative. We'd definitely recommend them to anyone.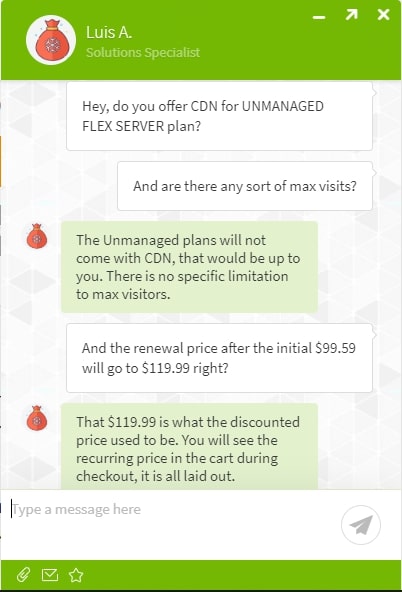 Features
The technical specifications offered by A2 will be more than enough for most users.
The basic plan offers 1TB of disk space, a bandwidth cap of 10TB, a fast 2-core 3.1GHz CPU, and 8GB of RAM A2's servers are also slightly faster than those of other providers at this price point.
Couple it with the fastest speed ever seen and we have a serious competitor here.
Pricing
At $99.59 a month, A2's dedicated web hosting is among the cheapest available, but with one catch: in order to use cPanel, you will need to pay an extra $39.95/mo. There are also some other features, e.g caching, site backups, etc. that can cost you extra.
So the initial price may not cover everything that you need and you may end up paying more.
Also, when it's time to renew your subscription, you're looking at a 17% price increase to $119.99/mo.
Their anytime-money-back guarantee is actually a 30-day money-back guarantee.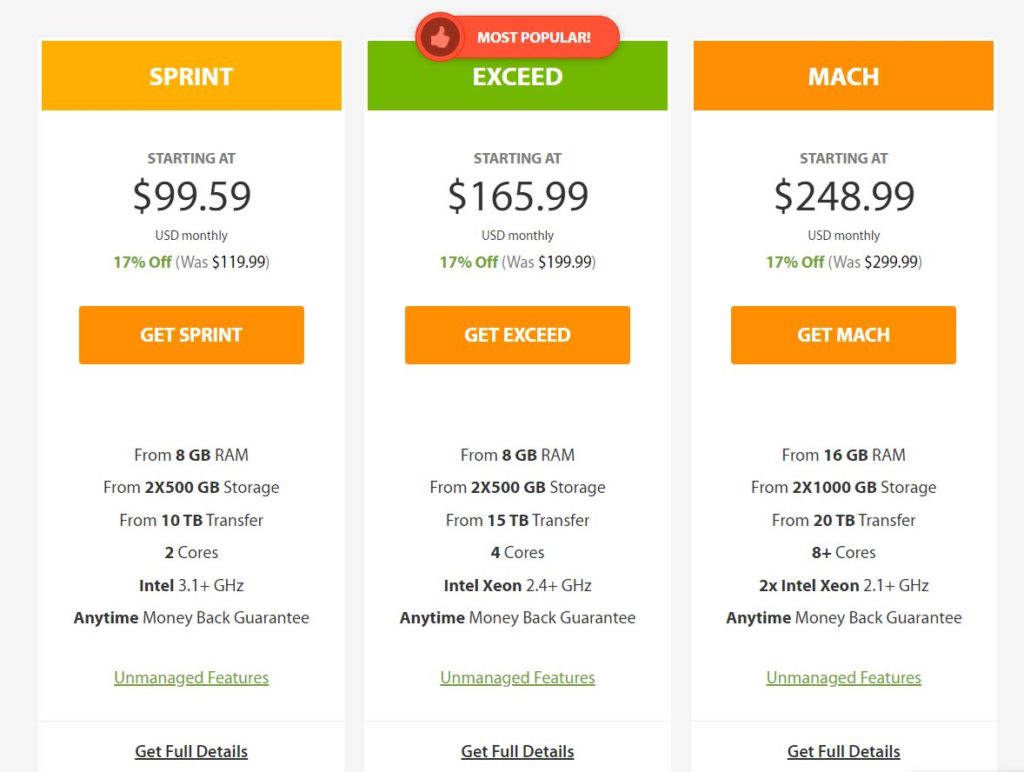 For 100 bucks a month, A2 really offers seemingly the best features. Their cheapest plan pricing is very similar to Bluehost and HostGator if you exclude the issue with cPanel.
If you're debating between these three, it comes down to uptime, speed, and support. We're leaning more towards Bluehost at this price level (you get better uptime at a lower price), but then again – A2 beats everyone with their speed.
Cheapest Plan: $99.59/mo
Admin Dashboard: cPanel ($39.95/mo)
Disk Space: 1TB
Bandwidth: 10TB
RAM: 8GB
Processor: 3.1GHz
Dedicated IP: 2
Overall, A2 offers a great service given the size of the company. The performance offered by their servers is above average, their pricing is competitive, and they have gathered a knowledgeable customer service team.
4. SiteGround – Best for Managed Dedicated Servers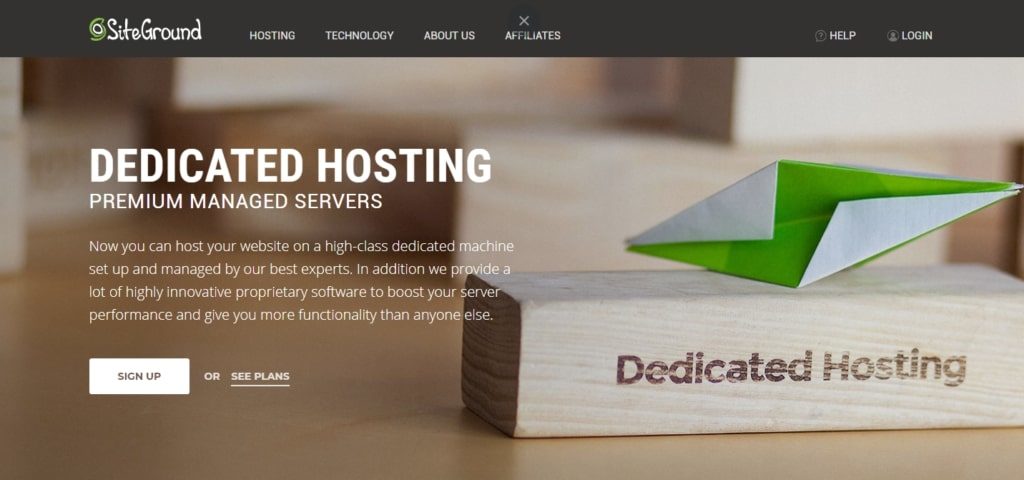 SiteGround not only has excellent features, but they also shine with their knowledgeable and friendly customer support.
If it's too good to be true, it usually is. For what they offer, SiteGround is a tiny bit expensive.
Uptime & Speed

Tested Hosting Plan: Shared / Statistics dates: 01.01.2019-02.28.2019
Despite a small mishap in December 2018 where they had 20min of downtime, SiteGround's recent uptime has been top-notch at >99.99%.
We can't really complain about their site speed, either. With 683ms, SiteGround falls about in the middle of these nine hosts, speed-wise. But really anything below 1sec is still very decent and will leave your visitors happy.
Support
The best thing about SiteGround is their customer service. Connecting to an agent via their support chat was instant and queries were answered within 2 mins.
Even better, their staff knows what they are talking about, seem genuinely eager to help, and speak clear English: this means that even complex exchanges flow smoothly.
The agent seemed personal and interested in our needs. We asked about starting a new site and we received sufficient answers.
We would recommend SiteGround's support for beginners as well as advanced users.
Features
With 480GB of storage, a 10TB bandwidth cap, and servers with a whopping 16GB of RAM, SiteGround's dedicated hosting features are terrific for an entry-level plan. The CPU speed with 3.2GHz and 4 cores are good, too, but at that price level, you'd expect that.
The 480GB disk space is the only feature that is on the low side – it would barely cover a good photography and lifestyle blog demands. On the other hand, SiteGround's emphasis is on the speed with SSD.
Another nice perk is that SiteGround offers caching which makes sites faster for returning visitors. Other providers charge $50-$100 for that service, depending on your needs and plans.
It's also fully managed which means that they will help you with anything – setting up your site, adding additional features for security, caching, etc as well as automated backups.
Pricing
SiteGround is on the expensive end of the price spectrum compared to other dedicated web-hosting providers, but that's partly because their basic plan offers a relatively high level of performance, including 4-core CPUs running at 3.2 GHz as standard.
The good news is that with SiteGround, what you see is what you get. There won't be any additional charges or increasing renewal fees.
Even though SiteGround is on the expensive tier, you will get what you pay for.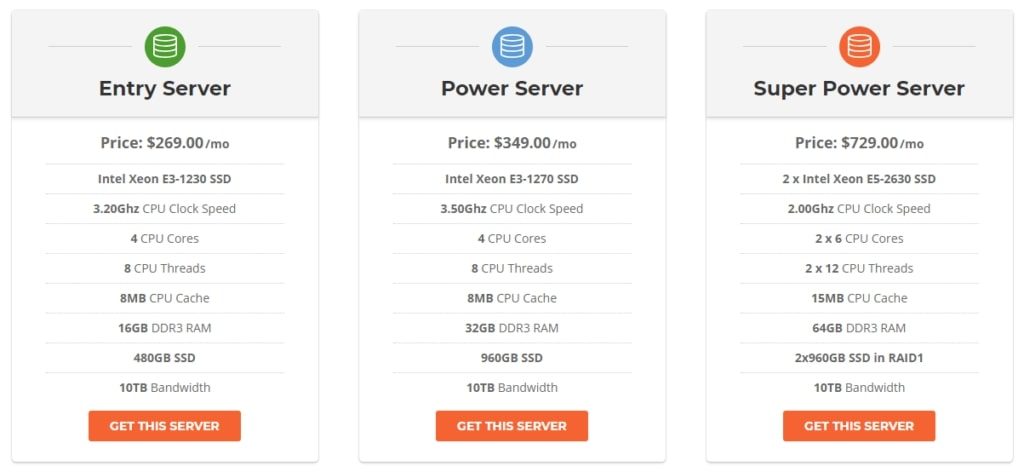 SiteGround's cheapest plan is definitely not cheap, but you'll get plenty for what you pay, including dedicated and knowledgeable support. If you're looking at this price range anyway – we'd rather recommend our top choice.
Cheapest Plan: $269.00/mo
Admin Dashboard: cPanel
Disk Space: 480GB
Bandwidth: 10TB
RAM: 16GB
Processor: 4 Cores, 3.2GHz
Dedicated IP: 1
Overall, SiteGround is a great choice for relatively small websites, and for customers who appreciate a good level of support. This makes it ideal if you are looking to transition your site to dedicated web hosting, where having knowledgeable and friendly support agents can be critical.
5. Liquid Web – Best Support

Liquid Web is a hosting service powerhouse that comes with near-perfect uptime, great speed, and excellent customer support with a "59-second support guarantee". They're in the same price range as SiteGround, offering similarly superb server specs.
Uptime & Speed Test

Tested Hosting Plan: Shared / Statistics dates: 01.01.2019-02.28.2019
LiquidWeb advertises a "100% uptime guarantee". In the past two months, their uptime was >99.99% with just 2 minutes of downtime. Not quite 100%, but still very good.
Their average speed of 658ms is not the best in the business, but it is still above the industry average.
Support
The average time for Liquid Web to respond to support requests was less than 1 minute, fulfilling their "59-second support guarantee."
The agent was knowledgeable and answered all of our questions in detail.
We asked him some basic questions about the difference in CPU cores and RAM and about their SSL and CDN to which he answered quickly and in human language using metaphors (where needed). The agent also asked about our plans with the website and suggested the best plan based on our needs and goals.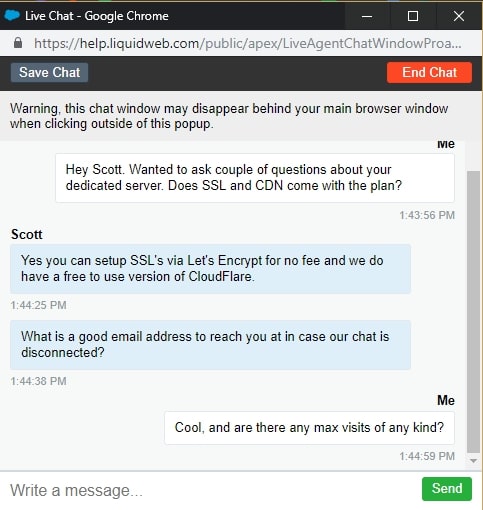 It's clear that Liquid Web takes their support very seriously and wants to provide its customers with the best possible support experience.
Features
Liquid Web's servers are very good. Even the cheapest package gives you 480GB of disk space, a bandwidth cap of 5TB, and fast 4-core 3.5 GHz processors with 16GB of RAM.
These specs are nearly identical to SiteGround, with the exception of bandwidth (you get 10TB with SiteGround), and slight clock speed advantage with Liquid Web (3.5 GHz vs 3.2 GHz).
However, keep in mind that Liquid Web comes with the best and fastest customer support in the industry and with a package above $1000 you'll get live access to web architects to solve any of your issues instantly. Obviously, these packages are best for huge enterprises with a ton of traffic and activity on their sites.
Pricing Overview
Liquid Web's pricing may seem steep in comparison to other providers, but their business model is geared toward professional users who need the best performance. Their plans range from an 'entry-level' package at $149/month, to a truly monstrous server for $499/month.
There are a few extra charges you should be aware of. First of all, they charge you an extra $20/mo for using cPanel.
Also, if your site uses more bandwidth than you've subscribed for, they'll charge you for overuse. But so do most other providers. Therefore, it's always good to keep accurate estimates of the traffic on your site. Bandwidth is not directly correlated to traffic, it depends on the simplicity and usage of your site. A simple website with 2-3 pages and with approximately 1000 visitors/mo would need around 1GB of bandwidth.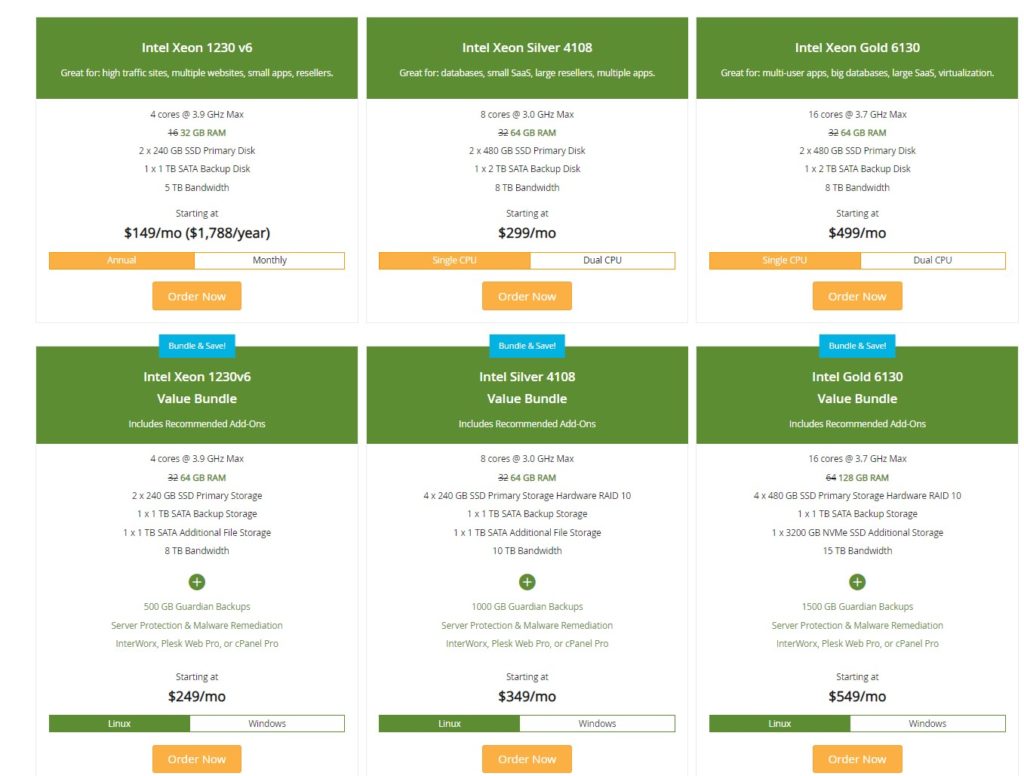 But what is positive about Liquid Web's pricing is that what you see is what you get – the prices don't increase at renewal because you pay monthly anyway. (No discounts for upfront payments).
Cheapest Plan: $149.00/mo
Admin Dashboard: cPanel ($20/mo)
Disk Space: 480GB
Bandwidth: 5TB
RAM: 32GB
Processor: 4 Cores, 3.9GHz
Dedicated IP: 1
All of this adds up to a great dedicated hosting experience.
What really makes Liquid Web stand out, though, is their professionalism. Their marketing materials clearly spell out what you get for your money, without patronizing you or hiding the cost of essential tools.
6. GoDaddy – Biggest Web Host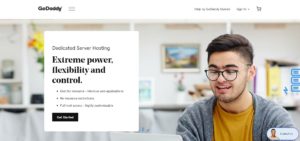 GoDaddy is your big name that comes with big guns blazing. They have a huge company with a huge customer base. Also, their uptime and speed are very decent.
However, despite their fame, we were rather disappointed with their customer service. With such a huge client base, you'd expect that they would invest more into a professional and knowledgeable staff.
Uptime & Speed

Tested Hosting Plan: Shared / Statistics dates: 01.01.2019-02.28.2019
Let's look at the good news first. GoDaddy's hosting is fast and reliable:
Their recent uptime of 99.99% is close to perfect. We did experience a whole hour of downtime in July 2018 but other than that, uptime has been excellent.
Their site speeds of 610ms are decent as well, steadily remaining slightly above the industry standard.
Support
Now the bad news. GoDaddy's support is painfully slow.
On our first test of their live chat, we had to wait 27 minutes to connect to an agent. After being connected to an agent, our queries were only answered after an average of 7 min wait. When your site is down, you don't have half an hour to wait around – you want to get a hold of a customer support representative immediately.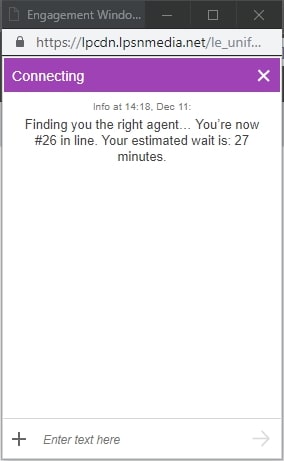 At our later attempts to contact support, the response was quicker – we were able to get an answer within 10-15min and the support representative was informative and polite. They provided us with sufficient information and were mildly interested in our goals and needs.
Essentially, GoDaddy's support is unpredictable in regard to reply time as well as the level of support. On some occasions, the support agent was knowledgeable and responded fast. Other times it took them forever to answer simple questions, like a single question about an SSL certificate.
GoDaddy's support is far from the best we've seen but it's not the worst, either. It's the inconsistency which can be bothersome – if you get the timing right, you may get a proper reply in a reasonable amount of time. If not, then… well, don't hold your breath.
Features
Moving on from the sub-par support service, GoDaddy's servers actually offer pretty good features: 1TB of storage, and a bandwidth that is completely unmetered (it comes with some conditions, which you can read in their Hosting Agreement).
The CPU speed (4-core 3.1 GHz) is good enough, but we're not entirely impressed by the 4GB of memory the first plan comes with. At these prices, you'd expect at least 8GB, if not 16GB.
We were happy to find that cPanel comes as standard, and they offer website backups at a really reasonable price – at $4.99/mo.
Pricing
GoDaddy's dedicated hosting plans start at $89.99 a month ($169.99 a month when you renew). This would represent reasonable value for the included features, but it is let down by the lack of reliable support.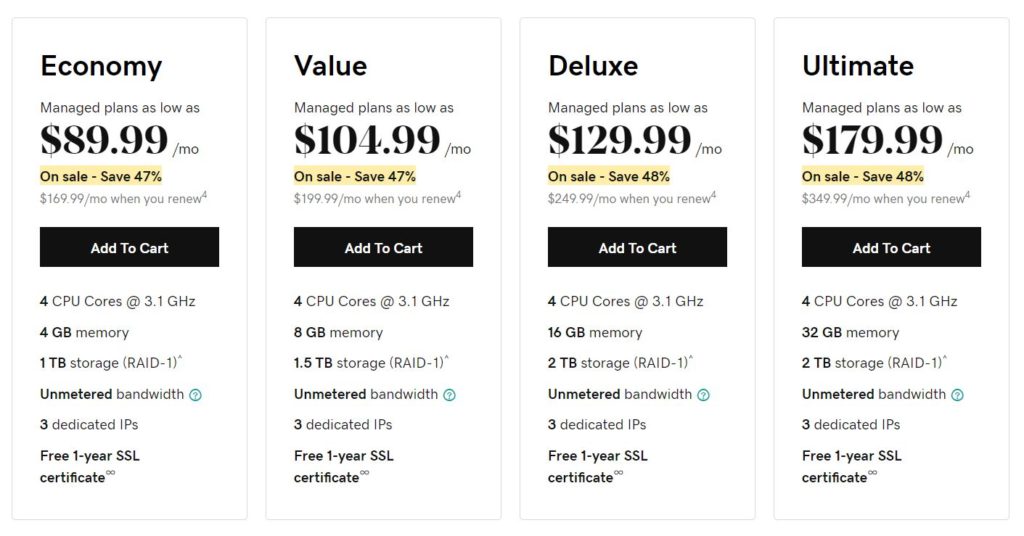 GoDaddy offers surprisingly good plans with decent prices. Their RAM could be slightly better, but at a $119.99/mo with cPanel included – it's not a bad choice.
Cheapest Plan: $89.99/mo (renewal price $169.99)
Admin Dashboard: cPanel
Disk Space: 1TB
Bandwidth: Unmetered
RAM: 4GB
Processor: 4 Cores, 3.1GHz
Dedicated IP: 3
In summary, GoDaddy's dedicated hosting plans feature decent performance, but it is undermined by their woeful approach to customer service.
7. IONOS 1&1 – Lowest Price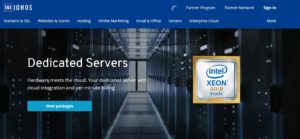 IONOS 1&1 has a long history in the web hosting industry but that doesn't mean that they're necessarily the best. Even though their uptime and speed are satisfactory, we were unpleasantly surprised by their support.
In today's market, especially when it comes to dedicated servers, live support is crucial. And they don't have one.
Uptime & Speed

Tested Hosting Plan: Shared / Statistics dates: 01.01.2019-02.28.2019
IONOS performed relatively well in our tests:
Their uptime of 99.98% has been strong and steady – in February 2019 we experienced a 10-minute gap of downtime but other than that mishap, they have been solid.
We're also happy with their site speed of 530ms. It's as good as anything you'd expect from your top dedicated server providers.
Support
There is a huge problem with IONOS's business model: they do not offer live chat support. This means you have to phone them. In practice (and in 2020) we think that the lack of online support is simply not acceptable.
Features
The features offered by IONOS are really quite good. Unlimited bandwidth and 1TB of disk space are not to be sneered at, and our speed tests show that their servers are fast. The package comes with 8GB of RAM and fast processors, too.
You'll be happy to find that they toss in a free domain, SiteLock malware protection (most others charge you for that) and Content Delivery Network (CDN) features that make your site faster to returning visitors.
Pricing
IONOS is cheap. At $40 a month for a basic package (renews at $60/mo after 6 months), their dedicated web hosting is the least expensive on this list. Considering the features that you'll be getting, it's a real bargain.
If you decide to opt for one of their more expensive plans, note that they charge an additional one-time set-up fee of $50.

Their prices are ridiculously low. Even with the $20 price hike after the initial 6 months, you're still looking at (possibly) the best offer for a dedicated server out there.
Cheapest Plan: $40.00/mo
Admin Dashboard:?
Disk Space: 1TB
Bandwidth: Unlimited
RAM: 8GB
Processor: 8 Cores, 2.4GHz
Dedicated IP: 1
IONOS offers above-average performance at a very competitive price. A low price usually means that some corners have been cut, and in this case, it is the complete lack of live chat and therefore a whole lot of information. If only they sorted out their customer support systems, they would be a great choice.
8. HostWinds

HostWinds is a fairly new player on the field. We were intrigued by the good features they offer on their plans for (considerably) low prices.
Unfortunately, we were disappointed as all of their advantages fade away in light of terrible uptime and speed statistics.
Uptime & Speed
Tested Hosting Plan: Shared / Statistics dates: 01.01.2019-02.28.2019
HostWinds had dreadful 99.47% of uptime in last November with more than 3h of downtime. The same kind of inconsistency appeared in December 2018. That's too much downtime when you consider the potential lost traffic and sales – especially before Christmas. Their start of the year has improved with an uptime of 99.94%, but that is still not good enough compared to the industry standard.
Website loading speed has been steady, but unfortunately, steadily slow. With an average page loading speed of 1,200ms, your visitors are not going to be very happy.
Support
Apparently, HostWinds' customer support is much faster than their servers. In our tests, we got responses to our queries within 2 minutes.
We were pleasantly surprised by how quickly and accurately the agent answered our inquiries.
The answers were precise and short. Just like with Bluehost – you get exactly what you ask for. Nothing less and nothing more.
So if you're looking to have a chat with someone about your goals and needs for a website, they might not be quite enough.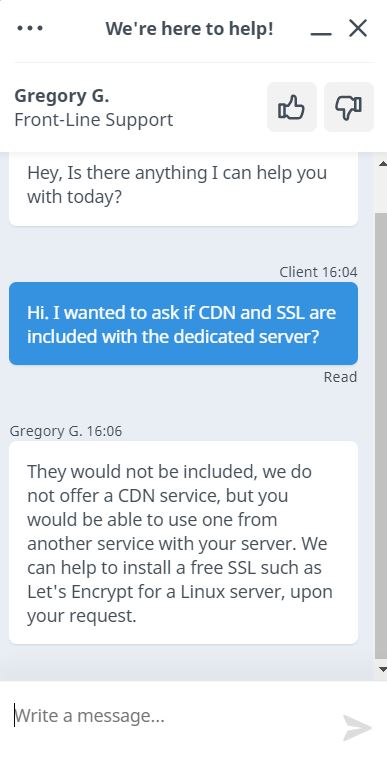 Features
The slow speed that our tests revealed is something of a mystery since HostWinds' servers are fully featured with 8GB of RAM and 3.5 GHz CPUs. You'll also get 1TB of storage and 10TB bandwidth limit. It's a great package for the price you pay, especially considering the introductory price.
We also like that you can put together your own plan with customized features depending on your preferences.
Pricing
HostWinds is also pretty cheap. Their basic package starts at $106/month after a (brief) introductory period of $79.50/mo. Even better, they allow you a unique level of customization over your plan, with an interface that allows you to choose the OS, RAM, RAID, Bandwidth cap, and number of IPs for registration.
The introductory price can be anywhere between 1-36 months. After the initial upfront payment, the price increases by 25%.
It's also important to note that cPanel will cost you an additional $35/month.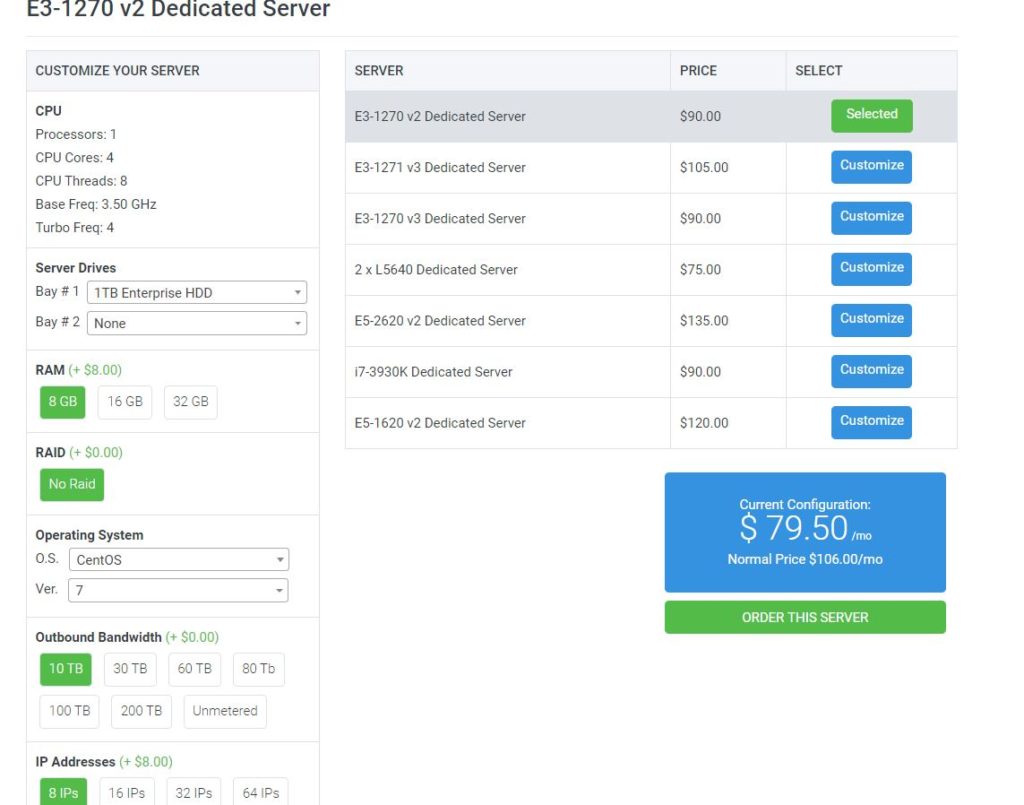 HostWinds is quite low-priced, and you'll get really good features included. If you need cPanel as well, that'll bring your price up to a more mid-range level.
Unfortunately, in terms of uptime and speed, HostWinds just does not measure up to the competition.
Cheapest Plan: $79.50/mo
Admin Dashboard: cPanel ($35.00/mo)
Disk Space: 1TB
Bandwidth: 10TB
RAM: 8GB
Processor: 4 cores, 3.5GHz
Dedicated IP: 8
Although they offer a customizable server at competitive prices, the results of our uptime and speed tests cannot be ignored. In reality, HostWinds' servers are simply too slow and too unreliable to offer good value in 2020.
9. AccuWebHosting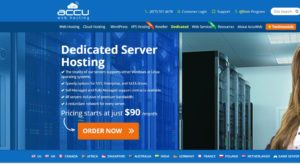 AccuWebHosting provides surprisingly good features for low prices. However, they disappointed with their inconsistent uptime and below-average speed.
We were also somewhat uneasy about their (slightly) false advertising.
Uptime & Speed

Tested Hosting Plan: Dedicated Server / Statistics dates: 01.01.2019-02.28.2019
We've only been monitoring AccuHosting for a few months, so we don't know what to make of their statistics yet. Namely, the uptime (99.92%). So far, December and February have been without any outages, but then again in January, they had over an hour of downtime. We need to monitor them for a little longer to understand if it was just a one-time mishap or if this a recurring issue.
The site speed of 794ms is below average. There are some much quicker hosts on this list.
Support
The customer support offered by AccuWebHosting is good. In our tests, connecting to their instant chat was, well, instant and their advisers seemed well-informed, answering our queries within 2 minutes.
We were very happy with their support. They understood our questions perfectly and answered within seconds. Besides being accurate and precise, they were also interested in our needs and goals more than most other hosting providers we've seen so far.
Definitely a good customer experience, suitable for beginners and more advanced users.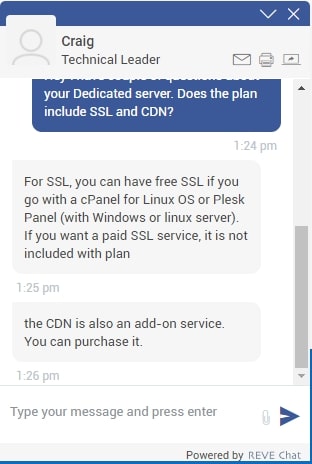 Features
By far the best feature of AccuWebHosting, though, is the impressive spec you get on your chosen server. 16GB of RAM is well above standard for the price of their web hosting, as are CPUs running at 3.4 GHz. You'll also get a colossal 4TB of storage space. According to their support, you'll also get unlimited bandwidth. It almost seems too good to be true – and it is.
cPanel, annoyingly, costs a little more than the standard plan, as do pay SSL services and a CDN. Also, we were disappointed to find that the advertised UK server is currently (at the time of writing this review) not available.
You can also get additional features, e.g more memory, additional security options, other control panels, faster processors, backups, servers in different countries, etc.
Pricing
AccuWebHosting's dedicated web hosting is good value, starting at $90/month. There are plenty of useful add-ons for decent prices, too. The pricing seems very very good for the specs you get. We haven't found many disadvantages or hidden costs so far. It's all laid out in plain sight when you're choosing your features and plans.
Also, the prices don't actually go up after the initial subscription.
Even better, you can choose between a number of servers depending on the location of your customers: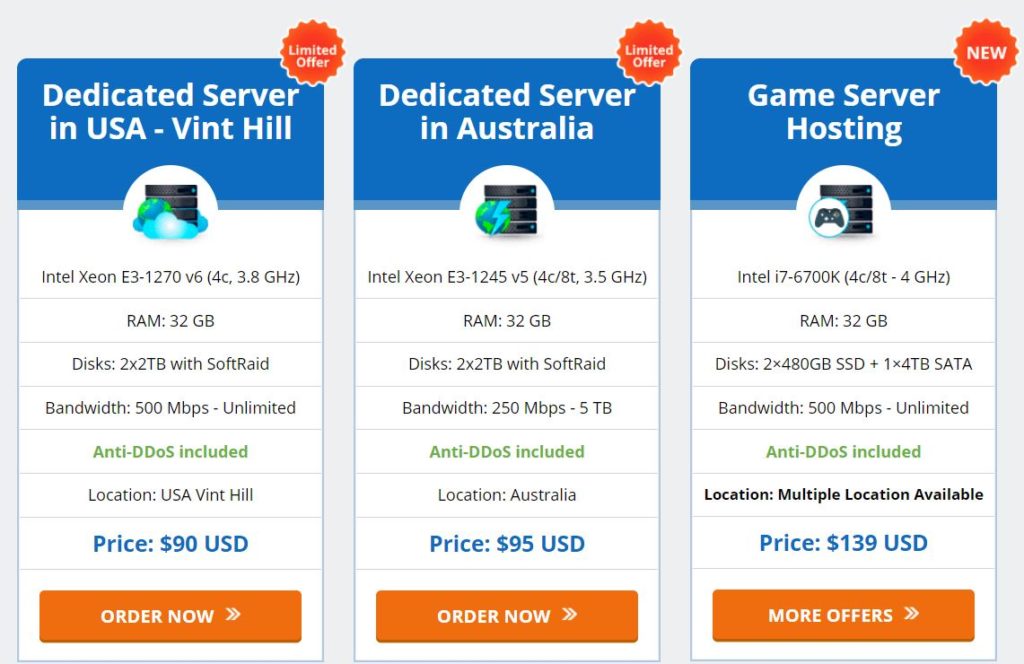 Their cheapest plan comes with really good specs – it's more than enough for an average-sized website with decent traffic. However, you will need to pay extra for some basics like SSL and cPanel. It is also concerning that some of the advertised features (such as a server in the UK) are currently not available.
Cheapest Plan: $90/mo
Admin Dashboard: cPanel ($35.00/mo)
Disk Space: 2TB
Bandwidth: unlimited
RAM: 32GB
Processor: 3.8GHz
Dedicated IP: 1
In conclusion, AccuWebHosting offers a decent value service, having above-average memory and bandwidth restrictions and solid speed. But considering their disappointing uptime, you might be better off with some other provider instead.
Conclusion…
Most good dedicated web hosts nowadays offer fast, reliable servers. The big difference between them, as we've seen, is the level of support they offer.
In our tests, there are three hosts that stood out. If uptime is the most important factor in your decision, go for Bluehost. Their servers have provided the best and most stable uptime.
If you're looking for the security of a large and well-established web host, HostGator is your best bet. Their services are reasonably priced, and their huge customer base means you can expect their support team to be experienced in all kinds of matters.
If speed is what you're after, then A2 Hosting is the best option for you. Their plans are good value, uptime is mostly good (there are 5-15 minute outages every few months) and support is fast and knowledgeable.
Whichever you choose, though, be demanding. A dedicated server is a big investment, and it pays to shop around and choose the best option.
Remember, if you're renting a server for your exclusive use, you should expect your hosting provider to be as dedicated to your site as you are.