Online, you generally get what you pay for.
If something looks, smells, and feels low budget, the performance you're gonna get probably won't be too far off either.
However, cheap web hosting doesn't have to suck. (Despite the fact that many of them, well, do.)
Over the past year, we've been bombarded with emails from people who are looking for cheap web hosts that don't break the bank, but don't sacrifice quality too much either.
Here's how we found the cheapest hosting providers:
Dedicated a whole week to find cheapest web hosting providers: Combed through our 30+ reviews to date to hand-select the cheapest web hosting companies available. (Thanks Brad & Rol.)
Double-checked their background to see if they're legit: Which ones provide quality support, and which provide something that… well, barely classifies as support.
Double checked their renewal prices: Many hosts suck you in with dirt-cheap introductory prices, only to raise it 300% (!) in some cases when it's time to renew.
Figured out if they provide a FREE domain or not: Some do. Some don't. Some claim it's 'free', only to charge you later under certain restrictions.
Put together a list of the cheapest host we could find: Exactly as it sounds — the cheapest (reputable) options available!
Our job here at HostingFacts.com is to analyze different web hosts; cutting through the BS-promotional claims on most of their websites to provide honest transparent reviews based on real data and performance (not just who cuts us the biggest commission check).
We've reviewed more than 30 hosting providers so far, personally analyzing critical hosting features like:
1. Uptime: The #1 job of a web host is to keep your site online. If that doesn't happen, you're in trouble. To analyze, we setup test websites with each host and monitored the performance rigorously over a year. Then we've compiled detailed data and statistics so you can see exactly how often our site was live (or down).
2. Site Speed: Page loading times are arguably the second most critical factor from a web host, as they affect everything from basic usability by shaping the customer's experience, to helping (or hurting) search rankings and site conversions.
3. Live Customer Support: We personally tested the support departments at each host, capturing screenshots of our interactions and reporting back the details about how long it took for them to respond, if their support agents were knowledgeable, or if there were any issues that you should know about prior to signing up.
4. Third-Party Customer Reviews: We also researched the experiences that other customers have had with support departments to make sure our experience alone wasn't a fluke or random occurrence.
5. Sign Up Process: You can get up-and-running in a few seconds with some hosts, while others might take hours. (Some will even hit you with upsells the entire way, putting you in a virtual mine field trying to escape without accidentally purchasing a bunch of extra stuff you don't need.)
6. The Fine Print: You know the very last step, where companies make you tick the 'Terms and Conditions' box to assure you've read it (even though you haven't)? That's literally where all the surprises are buried. But don't worry, we've read through this

boring junk

important stuff so you don't have to.
7. Extras: Some hosts throw in helpful extras, like free SSL certificates or Content Delivery Networks (CDNs) to enhance your site's experience for next to nothing.
P.S. This review contains affiliate links. That means we get compensated if you buy the hosting through our discount links. But that doesn't sway our opinion because all of our recommendations are based on our 12+ months of reviewing and analyzing the data. It's mostly so you could get access to the cheapest prices possible (many of which aren't even listed on each hosting company's website).
In short: If you buy through our links, you'll get the cheapest price possible. IF you find cheaper prices somewhere else (I highly doubt it…) get in touch with us and we'll send $10 to your PayPal – no questions asked.
Cheapest Web Hosting Providers Comparison 2016
| Hosting Name | Price | Renewal price | 1 year price | Load time | Uptime |
| --- | --- | --- | --- | --- | --- |
| iPage | $1.99 (1 year plan) | $12.95 | $23.88 | 1146ms | 99.67% |
| Web Hosting Pad | $1.99 (3 year plan) | $5.99 | $47.88 | 1604ms | 98.40% |
| MidPhase | $2.62 (3 year plan) | TBA? | $47.60 | 955ms | 99.98% |
| A Small Orange | $2.92 (1 year plan) | TBA? | $35.00 | 533ms | 99.97% |
| HostMetro | $2.95 (3 year plan) | TBA? | $59.40 | 2115ms | 99.74% |
| HostGator Cloud | $2.99 (1 year plan) | $10.95 | $35.74 | 326ms | 100% |
| Bluehost | $2.95 (3 year plan) | $8.99 | $53.40 | 1279ms | 99.94% |
Anything we've missed? Shoot us an email and we'll add it to the list.
So which one of the cheapest is worth your money?
Best in Uptime: 1. HostGator Cloud (100%), 2. MidPhase (99.98%), 3. A Small Orange (99.97%)
Best in Speed: 1. HostGator Cloud (326ms), 2. A Small Orange (533ms), 3. MidPhase (955ms)
Possibility to pay monthly: HostGator Cloud ($2.99) only.
Cheapest if you pay 1 year upfront: iPage ($32.90), HostGator Cloud ($35.74), A Small Orange ($35.00)
Cheapest if you pay 3 years upfront: iPage ($71.64), WebHostingPad ($71.64), MidPhase ($94.80)
If you want the cheapest possible solution without caring much about quality (i.e speed and uptime) go with iPage. It's one-in-the-same with WebHostingPad, but the performance stats are slightly better.
If you want relatively cheap host with a high quality performance, look no further than HostGator Cloud.
Common Questions and Answers from HostingFacts.com visitors
How did we perform our tests?
We signed up with each host listed above (in fact, we're still signed up with them). We set up live test websites using the same WordPress theme in most cases (to eliminate any random variables that could affect performance — like theme bloat). Here's the list of real, live test websites for each of these cheap hosts:
iPage WordPress test site: hostingfacts-ip.com
A Small Orange test site: hostingfacts-aso.com
Fatcow test site: hostingfacts-fc.com
HostGator cloud test site: hostingfacts-owp.com
HostPapa test site: hostingfacts-hp.com
Hostmetro test site: hostingfacts-hmo.com
WebHostingPad test site: hostingfacts-whp.com
MidPhase test site: hostingfacts-mp.com
After signing up with them, we started monitoring their uptime and speed (in other words, the two most important factors when choosing a web host).
We currently use Pingdom to track because we wanted the best, most accurate data possible. However, I believe there are some less expensive (or free) options available too if you're interested in tracking your own site's performance. You can find those here.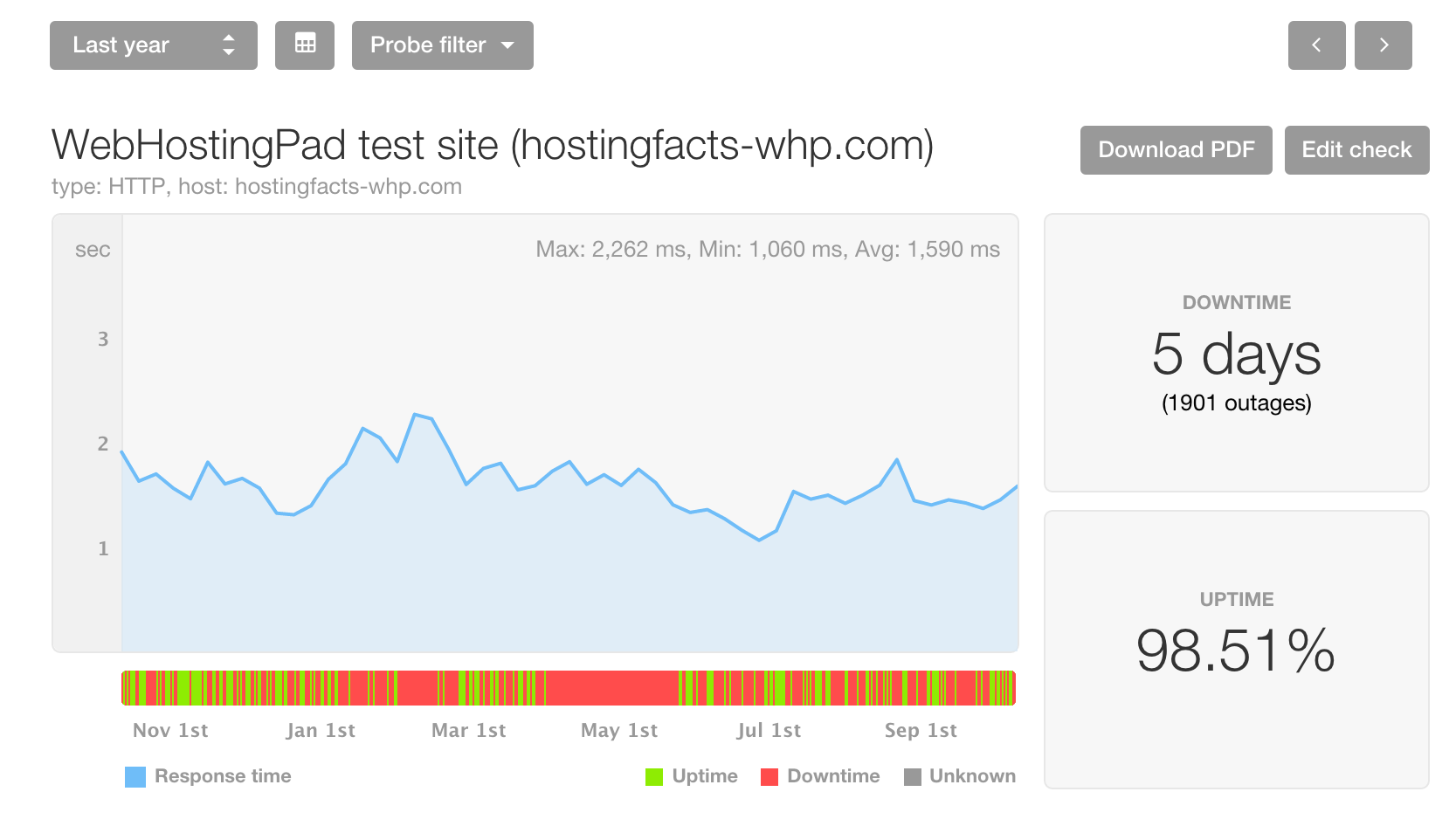 Web Hosting Pad stats from Pingdom (uptime & speed)
What CHEAP HOST do we recommend?
If you're on a budget and want something really good, we advise you to sign up for a ONE year plan with HostGator Cloud Managed WordPress. You'll get an insanely cheap deal using our link (that's not listed online anywhere else).
That special discount makes them extremely affordable too, but their quality is MUCH better than ones with similar pricing (like iPage or WebHostingPad).
iPage isn't the worst per se, but there are others for just a little more (like MidPhase) that have much better uptime & speed (which makes your website load faster and be more accessible for longer periods of time).
For example, their 99.99% uptime translates into only ~four minutes of downtime each month. However once hosts start dipping down to 99.67% (looking at you iPage), you might see almost two and a half hours of downtime each month!
Then there's WebHostingPad which… well – honestly we can't say anything good about them. BUT since they're one of the cheapest, we listed them out here for you to see and decide for yourself.
What about renewal prices for those cheap hosts?
Unfortunately for consumers, many web hosting companies have this 'sneaky' marketing tactic where the initial prices for one or two years is extremely cheap. That low pricing grabs your attention and gets you to whip out the credit card immediately because it looks too good to be true.
And in many cases, it is.
When your plan winds down and it's time to renew, the company will raise the price drastically (we've seen anywhere from 100-300% the original price in many cases).
Pro Tip: If you're truly concerned about this renewal price escalation, one possible solution is to just cancel the hosting provider after one or two years and pick another one.
While it sounds like a hassle, the good news is that most reputable hosting providers will happily throw in a free site transfer or migration (handling all of the heavy lifting) when you sign up for a new account.
Are there any 'premium hosting' providers that are relatively cheap?
Yes, and No. So kinda. 🙂
Many are available for around $2.50 to $4.00 per month (depending on the plan length you'd like to sign up for). You can take a look at our best performing hosts here for the entire list.
Otherwise, there ARE some hosts out there who've consistently performed better than the rest.
The best option is probably HostGator Cloud (which has 'Managed WordPress Hosting'). For WordPress users out there, SiteGround is another popular choice with great performance and fast, friendly customer service.
For everyone else, A2 Hosting is another one of our favorites. Over 12+ months they have the second-best uptime with a consistently stable 99.99% (many of those individual months even posted a perfect 100%).
A2 Hosting has also posted the fastest page loading times since Day One, with an astonishingly fast 210ms over the last year. That's about 75% faster than the average competition's! (Or like a million% faster than HostMetro listed above.) Many of the web's top brands now load their pages in under a second because significantly impacts what users are (or aren't) doing on your site. Speed matters.
These three web hosting companies (while possibly not the cheapest) have ranked in our top three for more than six+ months. So you can trust their performance above others.