A bit of background
We've been a paying customer for A Small Orange for 17 months. During that time, we've monitored ASmallOrange performance.

This review relies strongly on data, such as uptime, load time (speed) and customer support experience.
A Small Orange, was acquired in 2010 by Endurance International Group (EIG), the same conglomerate behind the more popular (and straight-forwardly named) Bluehost and HostGator.
That might be a warning sign for a company who's tagline is 'homegrown hosting'. However unlike those two more notable brands, A Small Orange seems to have not lost their straightforward approach.
We set-up a basic WordPress website on one of their cheapest hosting plan 'Tiny Plan' (cost $35 without a domain name) back in June of 2015, and collected uptime & speed stats over twelve months that you can review here.
So… how do they compare to their better-known sister-brands? Let's take a look.
PROS of using A Small Orange Hosting:
Originally launched back in 2003 by Tim Dorr, A Small Orange now have two server locations in Dallas, Texas and Dearborn, Michigan. A Small Orange, despite their small status and whimsical name, has been at this for awhile. And the data proves they know what they're doing.
1.

 Strong uptime of 99.97% (Last 12 Months)

Getting your website featured on a major publication can unleash a flood of traffic within just a few minutes. That exposure is amazing. That is, until your site crashes.

Unfortunately, it doesn't matter how well your site performs if it keeps getting knocked offline by an under-performing web host with poor uptime statistics to support it's performance.

But that's not the case with A Small Orange.

Our analysis showed an uptime of 99.97% over a six month period. That's phenomenal, far out-performing the bigger, more notable names in the industry (including their sister companies).

Here's the raw data:

See previous uptime - 2015 (expands)
---
Last 12 months average uptime (2015 – 2016):
November (2015) uptime: 100%
December (2015) uptime: 99.98%
January average uptime: 100%
February average uptime: 100%
March average uptime: 100%
April average uptime: 99.98%
May average uptime: 99.82%
June average uptime:

99.98%

July average uptime:

99.96%

August average uptime:

99.97%

September average uptime:

99.99%

October average uptime:

99.91%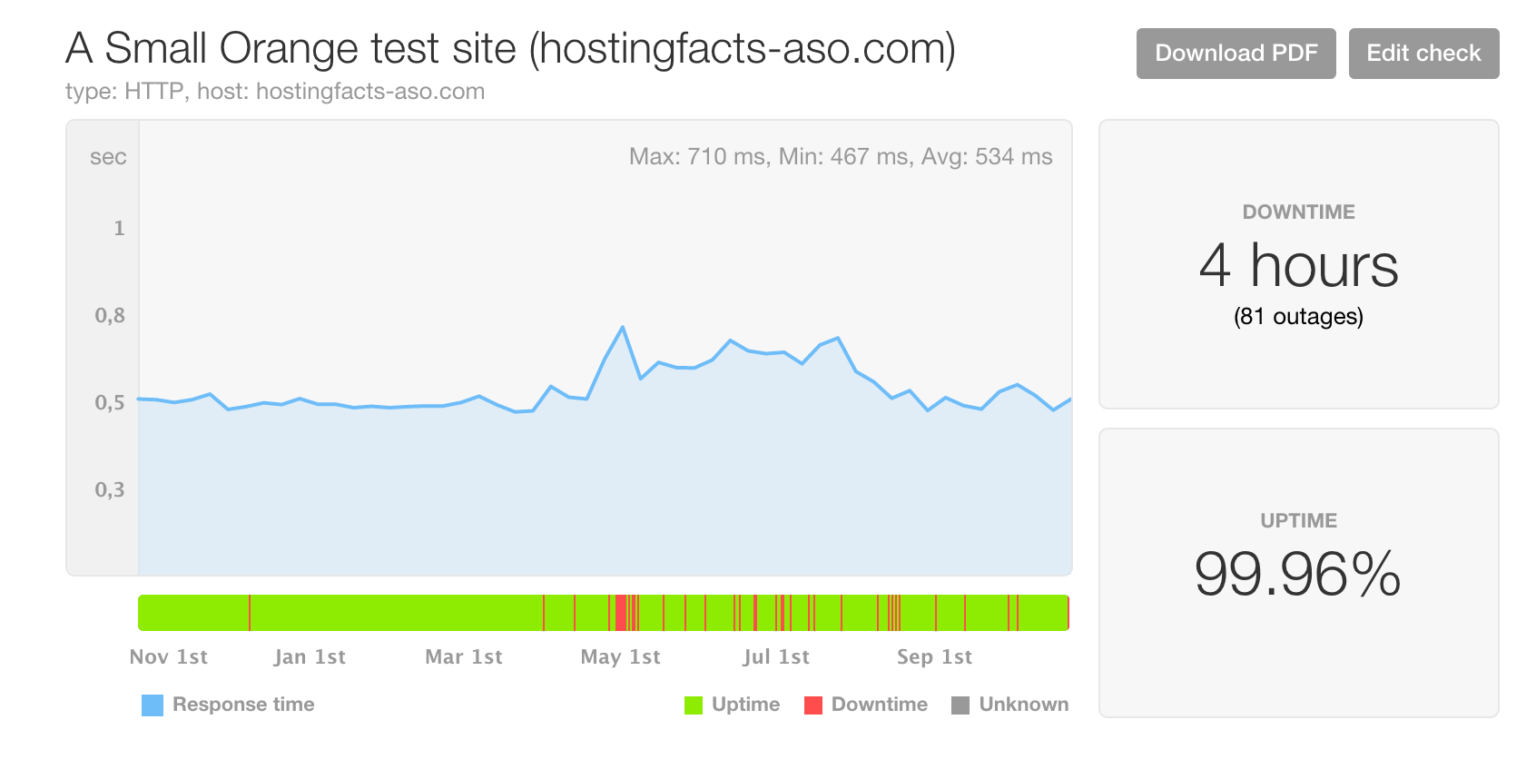 A Small Orange: Page Load Speed and Uptime (Last 12 months, full data can be found here.)
2.

Average Page Speed 38% faster than industry average

We've established that a stable site is critical to website performance. But even a stable site, if slow, can quickly become worthless.

Research shows that a one second delay in site load time can result in a 7% conversion loss. And 40% of your site traffic will leave forever if it fails to load in under just 3 seconds.

Fortunately, A Small Orange delivered average page speeds much faster than industry average (clocking in at 530ms, which is about 41% faster than the industry average of 850ms).

Again, here's the raw statistics that back up these claims:

See previous load times - 2015 (expands)
---
Last 12 months average load time (2015 – 2016):
November average speed: 503ms
December average speed: 485ms
January average speed: 494ms
February average speed: 481ms
March average speed: 487ms
April average speed:

536ms

May average speed:

617ms

June average speed:

634ms

July average speed:

644ms

August average speed:

542ms

September average speed:

491ms

October average speed:

509ms
3.

We were pleased with their customer support quality

Even stable, fast sites need great support for the random issues that might pop up unexpectantly.

A Small Orange's customer support didn't let us down, getting back to us quickly with responses that were both detailed and well-informed. Our experience dealing with them was a 10/10. Here's an example chat with their team: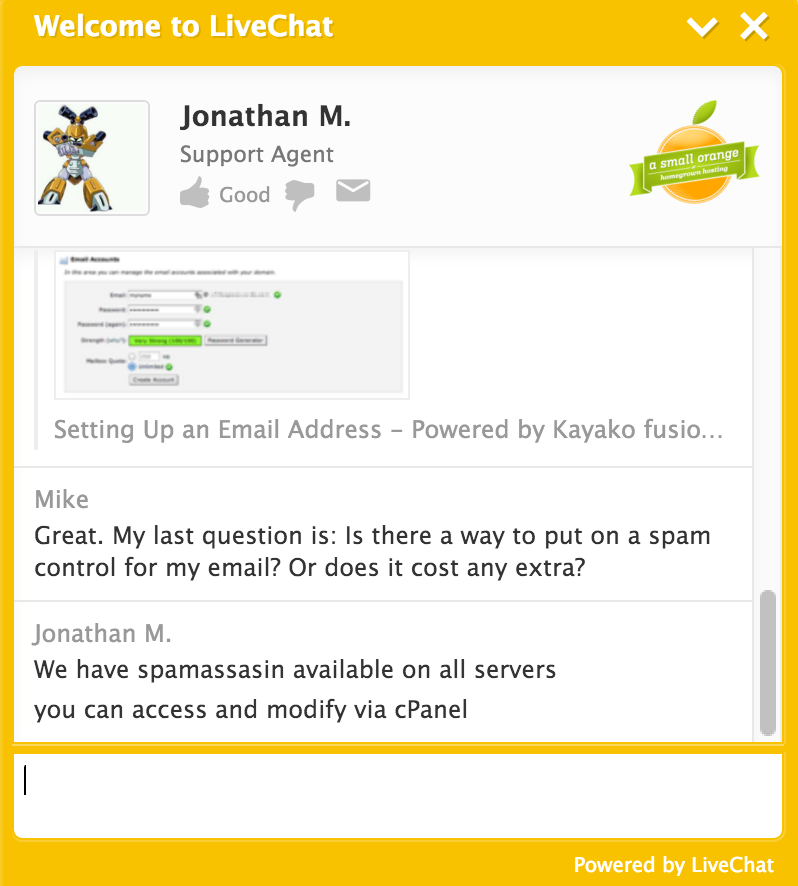 A Small Orange support agent was helpful & cheerful
4.

Inexpensive Pricing (read: It's VERY cheap)

Considering their excellent uptime and average page speeds, A Small Orange is relatively inexpensive…

Their cheapest, shared hosting option (the 'Tiny Plan' we setup for our test site) will only set you back about $35 per year (which translates to less than $3 per month, $2.62 to be exact).

The great news, is that unlike most other web hosting companies, there's no hidden language or absurdly long commitment you need to make in order to get this low price. What you see is what you get with them.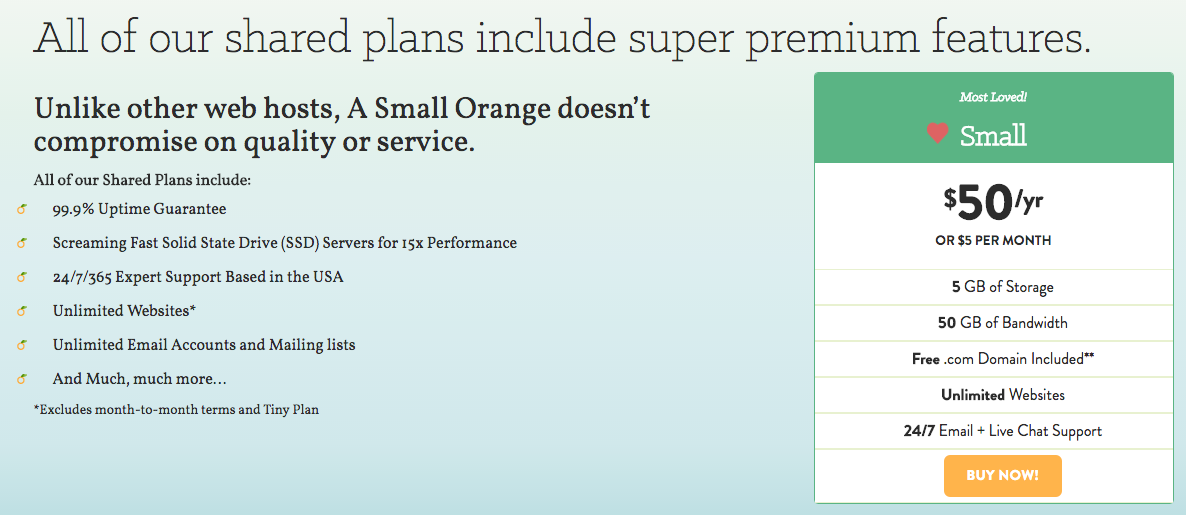 All plans (excluding 'Tiny') offer premium features.
5.

Honest, Transparent Business Approach

A positive side effect of their honest approach is that there's no 'hidden' agenda or language to mislead you.

For example, most web hosts make hyperbolic claims like 'unlimited hosting'. But most, don't actually deliver unlimited benefits.

A Small Orange doesn't do that. They spell out, in plain English, what you're going to get for your money.

Another example includes the term required for that low, advertised price on their site. Other web hosts will try to lock you in a two or three-year commitment. But again, not A Small Orange. The already low $35 / year is the real price.

In addition, each plan on their site provides all of their premium features (with the exception of their 'Tiny Plan'), including unlimited email, 24/7 U.S. based support, SSD servers and unlimited domain names.
6.

Unheard-Of 90 Day, Money Back Guarantee

Standard industry practice might give you a 30-day refund if things don't work out as planned. Again, A Small Orange bucks the trend by providing up to 90-days to get your money back. Only a company willing to stand by their service would offer such a long refund period, making it relatively low risk for you to test drive.

By the way, InMotion Hosting offer also 90-day money back guarantee. The rest should be around 30-45 days.
Cons of using A Small Orange Hosting:
A Small Orange passed most of our tests with flying colours. However, there are a few things you should be aware of before handing over your credit card.
1.

Grave Risks for Exceeding their Limits

In the event that you exceed your plan's limits, A Small Orange might suspend your account immediately. This is in their Terms of Service when you sign up, leaving you with no alternative but to agree when you get started. While most of their plans offer a decent amount of bandwidth, just be aware that this is a possibility.
2.

No Phone Support – do you need it, though?

A Small Orange's customer service is fantastic. They were extremely quick and detailed in our experience, with 24/7/365 availability.

Only problem? No phone support. Instead, they rely on an in-depth knowledge database, live website chat, and email.

Most other web hosts offer phone support, so the gravity of this 'con' might depend on your own personal preference.
3.

Poor Reputation Management

Throughout our test period, A Small Orange performed admirably on the primary tasks of a web host (uptime, speed, and customer support). But online you'll find other reviews that aren't so glowing. Our objective is to always provide a holistic review, but there are reviews out there contrary to our own.
Overview on ASO shared hosting plans
Tiny Plan: This plan costs $35 per year (with no month-to-month option). It comes with 500MB storage, 5GB bandwidth, 24/7 email + live chat support and a maximum of 1 domain name. You need to pay for at least one year if you decide to go with this plan. – This is the plan we used for testing.
Small Plan: This plan costs $50 per year (or $5 per month) and can be gotten at a cheaper rate if you pay for one year or more at once. It comes with 5GB storage, 50GB bandwidth, unlimited domain names and 24/7 email and live chat support.
Medium Plan: This plan costs $100 annually (or $10 per month). It comes with 15GB storage, 150GB bandwidth, unlimited domain names and 24/7 email and live chat support. You can pay less if you decide to pay for a longer period of one or more years.
Large Plan: This plan costs $200 each year (or $20 each month). It comes with 30GB storage, 500GB bandwidth, unlimited domain names and 24/7 email and live chat support. It also costs less if you order for a period of more than one year.
All their shared hosting plans, except the Tiny plan, come with support for unlimited domain names, unlimited emails, 24/7 support and SSD.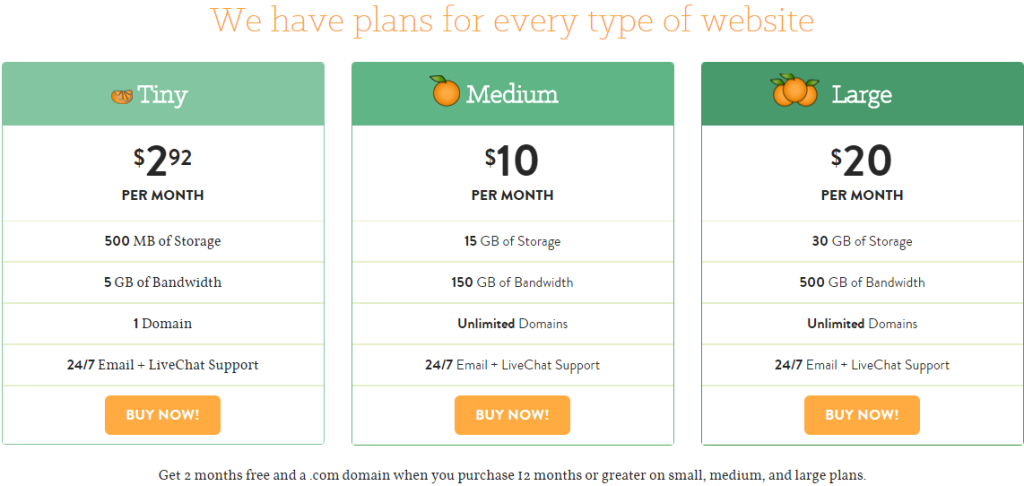 *Update: Tiny Plan is now $2.62 (if you use the link at the left sidebar).
Quick Facts & Overview
Ease of Signup: Single sign up page. Easy sign up.
Payment Options: Credit Card, PayPal.
Hidden Fees and Clauses: No hidden fees. A limit of 10 percent CPU usage, 5 percent memory usage, 50 running processes, 15 minutes max execution time, 100,000 total inodes and 500 outgoing email messages per 60 minute period is enforced for all shared and reseller packages.
Upsells: No upsells. Hooray!
Account Activation: Instant account activation.
Control Panel and Dashboard Experience: cPanel available.
Installation of Apps and CMSs (WordPress, Joomla, etc.): Softaculous available for one-click installation.
Do We Recommend A Small Orange?
Yes.
You'll probably get most bang for the buck as they're really cheap compared with others.
Stable uptime, quick page loading and a friendly chat with a knowledgeable support representative proved that A Small Orange knows what they're doing.
They've been one of our TOP 5 hosts for a few months now for a reason.
Have you used A Small Orange hosting? If so, please leave a review below. Good or bad – doesn't really matter as we're trying to keep our reviews transparent and honest.