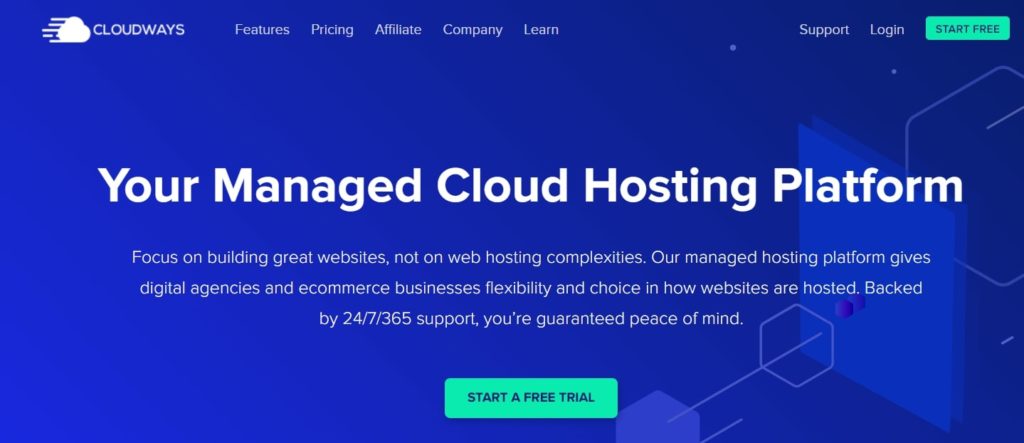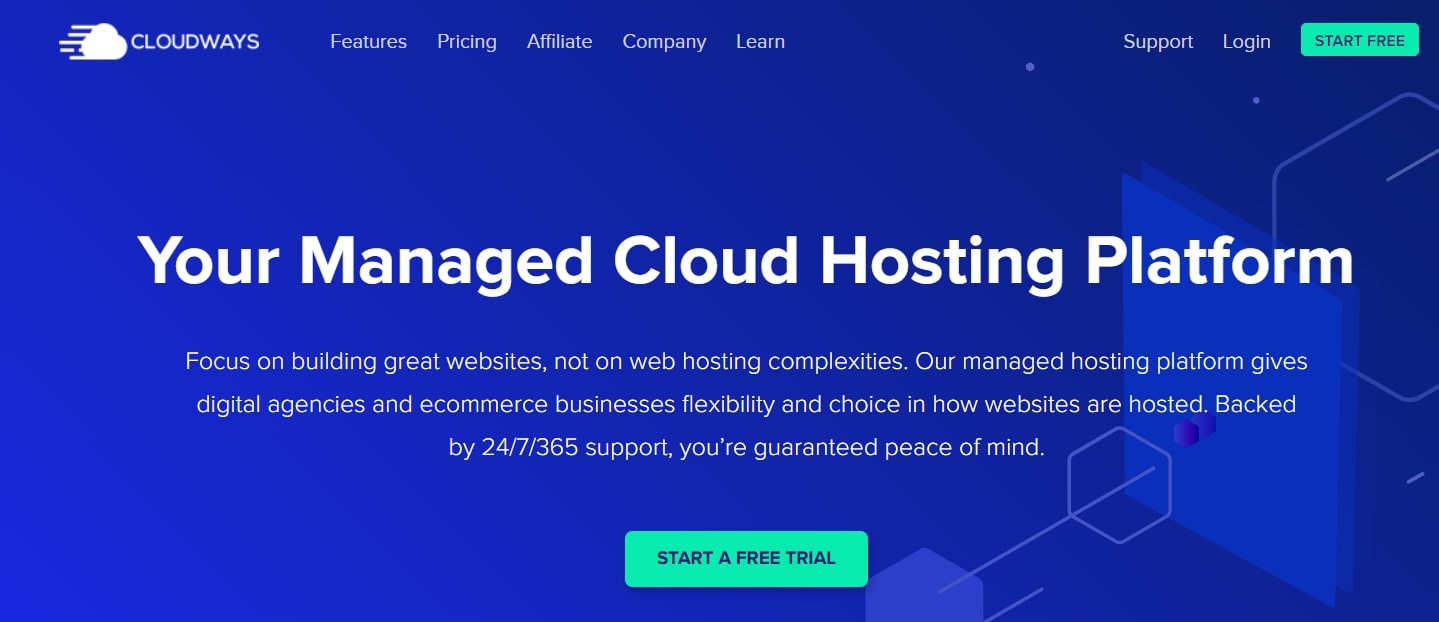 Cloudways is a managed cloud-based web hosting platform popular with entrepreneurs.
It stands out from the competition for a few key reasons.
For starters, it allows you to choose from five different platforms, including some heavy hitters like Google Cloud and Amazon Web Services.
But the biggest take-away most people have when looking at Cloudways is the customizable pay-as-you-go plans. They don't require a lengthy contract period like some other hosting services and even allow you to try the service (including a website builder) for free.
But how does Cloudways measure up to some of the best hosting providers out there?
In this hosting review, we put Cloudways through the wringer, performing a number of tests on it to determine whether or not it deserves your hard-earned money.
How did Cloudways do compared to hosting heavyweights like Bluehost and Godaddy? Read on to find out.
General Info & Hosting Overview
---
| | |
| --- | --- |
| SPEED: | 540ms (February 2020 to April 2020) |
| UPTIME: | 100% (February 2020 to April 2020) |
| SUPPORT: | 24/7 Live Chat, Ticketing System, Knowledgebase |
| APPS: | Amazon Web Services, Google Cloud, WordPress, Joomla, Drupal & more |
| FEATURES: | Site cloning, Proactive monitoring, Website builder |
| HOSTING PLANS: | Digital Ocean, Linode, Vultr, AWS, Google Cloud |
| SITE TRANSFER: | Free |
| PRICING: | Starting at $10.00/mo (varies based on the server) |
---
Pros of Using Cloudways Hosting
1. Exceptional Uptime
Uptime is one of the most important factors for a hosting service. After all, the entire purpose of having your website hosted is to make sure that people can access it.
That being said, it's hard to sign off on anything above a claim of 99.9%. And if you look at the average uptime for shared hosting providers, you'll see that 100% uptime is not a common thing, even among cloud providers.
Cloudways claimed a 100% average uptime to us through their customer support live chat. And so far they have successfully proven that. In the last three months, they have had no downtime at all, showing an uptime of 100%.

We will be updating this review in the future with more accurate uptime information once more time has passed and we've gathered more data.
2. Live Chat Support
Cloudways offers 24/7/365 live chat support, which is great.
Complex customer service queries can be tracked by Cloudways using online ticketing. These can be created by the Cloudways staff or by the users themselves.
For that, however, you have to have an account with Cloudways before you can initiate any kind of support. There is a free sign up option, but you still have to hand over some information before they will speak with you.
For now, we're going to focus on the actual experience we had while chatting with a support representative.
Our customer support chat connected immediately and we got polite and quick responses.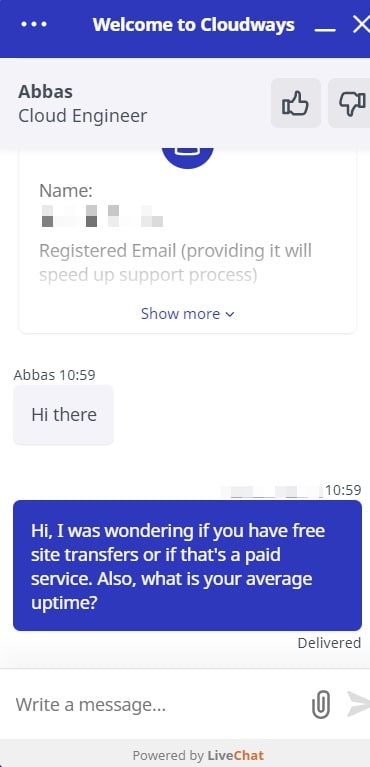 We asked a two-part question in order to gauge the effectiveness of the support response.
Abbas started in on the first half of our question right away.
He answered our question about migration partially, ignoring the part about the price. When we pressed the question, he responded quickly and even provided us with a link. However, he failed to address the second half of our question, so we repeated it.
In short, while it wasn't the best live chat we've ever had, our questions were answered quickly and the conversation was helpful overall.
3. Proactive Monitoring
A feature that we absolutely love with Cloudways' shared hosting plan is proactive monitoring.
Basically, when the server or stack is down, Cloudways reaches out to let you know.
They keep you updated as they start investigating the cause of the problem.
No one wants to see their website come down, but it does happen. It's better to hear from the company first before you have to reach out to them. That way, the hosting service can let you know right away what the issue is, what's being done to handle it, and how long they believe the problem will persist.
There are also application monitoring tools built into the platform and customers can monitor all of the applications that are hosted on a server.
This service comes with two different levels of monitoring.
Analytics displays all of the PHP requests as well as traffic information, disk usage, and MySQL requests.
Log shows the website's error log and access log.
4. Free Trial
It's always good to see a company that is willing to stand by the services that it offers.
Cloudways is one of those companies, offering a three-day free trial.
While three days is not a very long time for you to get a feel of the service, it can give you a general idea as to whether or not you want to continue with Cloudways.
A lot of hosts go the way of a money-back guarantee instead of a free trial. It is good to see that Cloudways is willing to let you try out its hosting without putting any money down.
5. Fast Page Load Time
When you're hosting a website (no matter the size of your business), you have to be focused on speed.
Load time is important to the success of a website for a few key reasons.
Your SEO score takes the user experience into account. Speed is a big part of the user experience.
New prospects are impatient and will abandon your site if it doesn't load fast enough.
How fast is fast enough?
When it takes your website between one and five seconds to load, the probability of a prospect bouncing away increases by a massive 90%.
So, clearly faster is better.
Can Cloudways deliver that speed?
It seems so, in the past three months their average page loading time has been a solid 540ms (0.5 sec).

However, we are still in the process of gathering further data and will keep updating their uptime and speed as time goes on.
6. Free First Time Site Transfer
When you're switching hosting providers for an already established website, you're going to need to transfer that site to the new service.
Thankfully, Cloudways offers your first transfer free of charge. This helps you keep costs down and make the switch more easily.
7. Free SSL Certificate Security
Security is important, especially for a small business website. Your customers need to know that they can trust your site.
As such, a lot of shared hosting providers offer Secure Socket Layer (SSL) certificates. While some make you purchase this essential security upgrade, Cloudways includes it for free.
An SSL certificate means that your URL will have HTTPS at the front of it. Why is that a big deal? On top of warding off potential security threats, Google actually flags all HTTP sites as not secure through its Chrome browser.
If you were trying to get a customer to trust you with their credit card information, being labeled as not secure by a popular web browser would severely hurt your chances.
8. Easy to Use Control Panel
Cloudways uses a custom dashboard instead of the classical cPanel used by most shared hosting providers. At first, it might take a while to get used to it, but in general, it's logical and easy to use for both beginners and advanced users.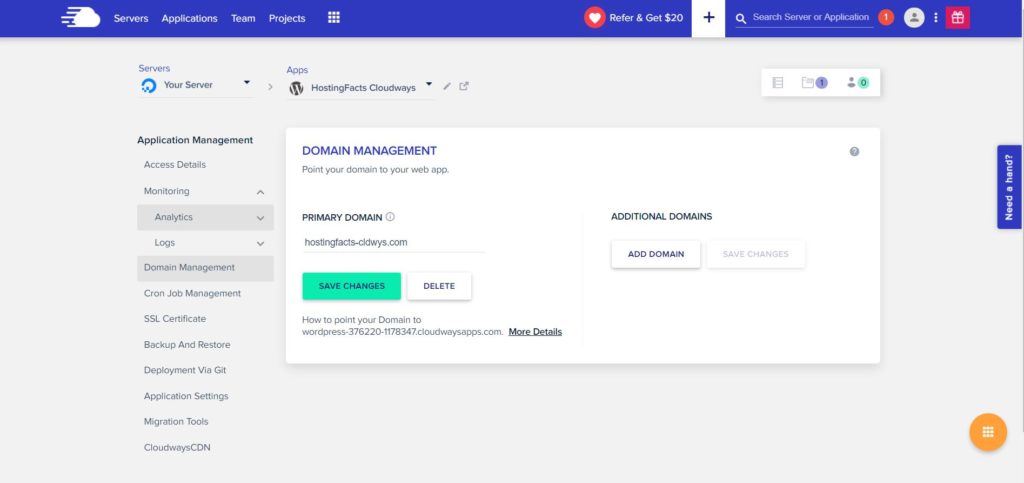 From the server admin panel you can manage domains, access monitoring tools (analytics, logs), activate SSL certificates, schedule your automated backups, change application settings, and so on. So basically, everything that can be done with using cPanel is also possible with CloudWays' dashboard.
Cons of Using Cloudways Hosting
1. Premium Support Costs Extra
Earlier we praised the responsiveness of the Cloudways' support department and we 100% stand by that.
The issue with its support system is that:
You have to have an account to get any level of support, and
You can get better support if you pay extra.
Support is necessary, and a lot of companies out there succeed based on the effectiveness of their customer service.
Charging more money for better support just feels wrong to us.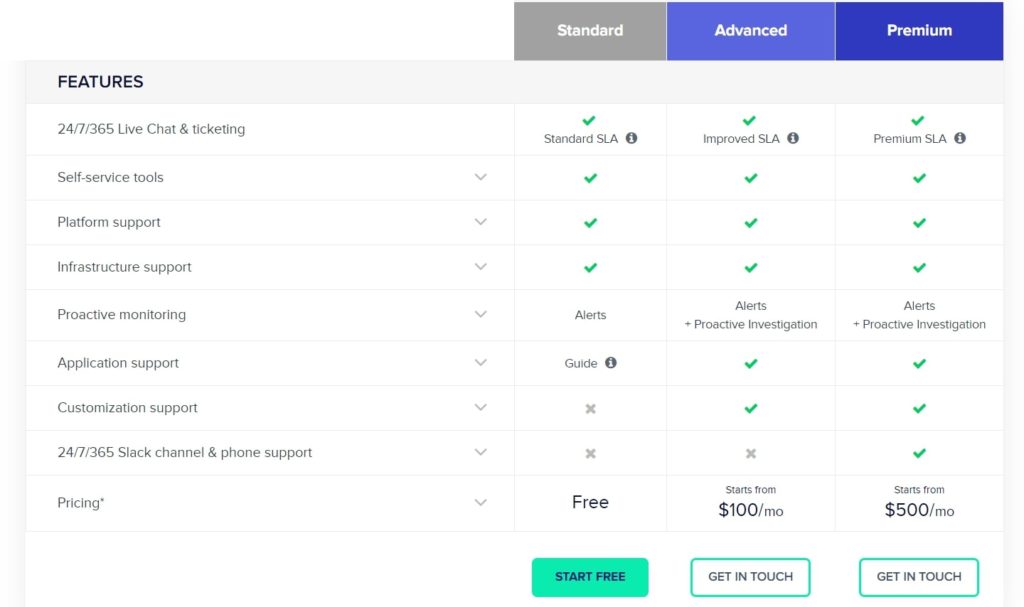 Cloudways has three support tiers. They are Standard, Advanced, and Premium
The Standard option is free and comes with live chat, self-service tools, platform support, and infrastructure support. Proactive monitoring alerts are issued, but that's as far as it goes. There is a 3-hour ticketing wait for high priority issues.
The Advanced tier has everything included in the Standard option. It adds a 30-minute ticketing system for high priority issues. It also includes customization support and starts at $100 per month.
Premium Support has a 10 minute ticketing response time for high priority issues. It also grants access to a private Slack channel and phone support. This starts at $500 per month.
2. No Domain Registration
If you're creating a new website, you can't register a domain with Cloudways.
It must be done with a third-party service like GoDaddy. On top of that, it can be difficult to direct URLs to the hosting setup.
A lot of third party domain services also offer hosting. People might find it easier to use a service that allows everything to be done on the same platform.
3. Extra Cost for Email
Another service that hosting providers like to toss in for free is email accounts.
No email services are included with Cloudways. If you want branded email through Cloudways' hosting, you'd have to work through a service called RackSpace.
It charges $1 per email account per month. While this isn't a huge amount, it can add up for larger companies with more than 100 employees.
Most hosting services provide some level of email services through even their most basic plans.
CloudWays Pricing, Hosting Plans & Quick Facts
Cloudways offers a variety of pay as you go plans. There are no contracts or commitment periods.
Subscribers can pay either monthly or hourly for Cloudways. The plans differ based on the server that you choose.
Cloudways offers Between 7 and 14 different plans for each service.
---
| | DigitalOcean | Linode | Vultr | Amazon Web Services | Google Cloud |
| --- | --- | --- | --- | --- | --- |
| Pricing | $10/month | $12/month | $11/month | $36.51/month | $33.63/month |
| Processor | 1 Core | 1 Core | 1 Core | 1 vCPU | 1 vCPU |
| Bandwidth | 1TB | 1TB | 1TB | 2GB | 2GB |
| Storage | 25GB | 25GB | 25GB | 20GB | 20GB |
| RAM | 1GB | 1GB | 1GB | 1.75GB | 1.70GB |
---
Do We Recommend Cloudways?
Yes, we do.
CloudWays delivered fast page load speed and amazing uptime with no downtime during the 3-month testing period and we have high hopes for the coming months also.
We were also big fans of their proactive monitoring services and security options.
While we don't like their tiered support system, live chat support is available even on the free level, and it is super effective.
All in all, this is a good service with a wide array of plans to choose from.
P.S. Have you used Cloudways before? Please consider leaving a review below — good or bad — doesn't really matter as long it's helpful to our visitors. Thanks for your support.