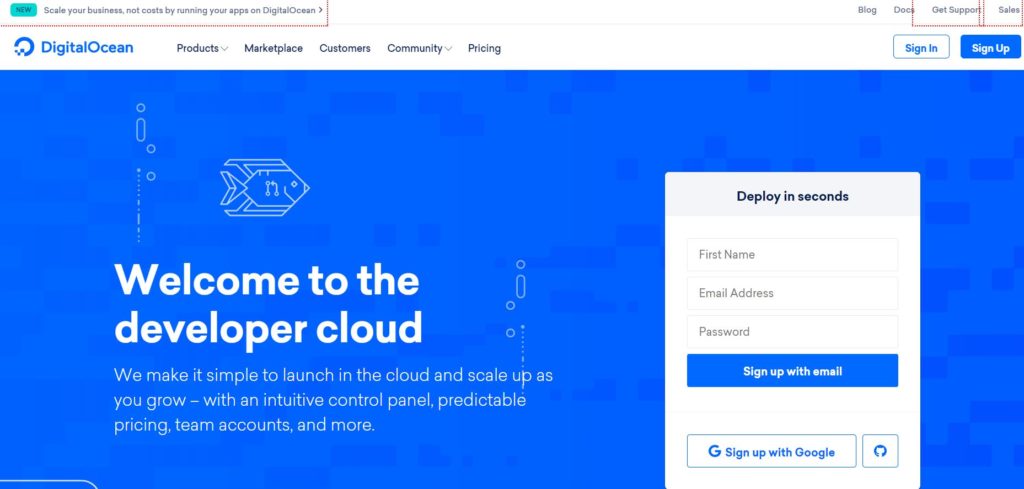 We have been monitoring our DigitalOcean hosting test site since the beginning of 2018.
We've been a paying customer of DigitalOcean during that entire time, carefully monitoring the system's vital metrics. Specifically load times, customer service responsiveness, and, most importantly, uptime and downtime.
So far the results are promising, here's our in-depth review of how they measure with others out there.
Launching its first server in 2011, DigitalOcean is an American cloud hosting company focused on helping developers launch more apps faster and easier.
What started as a small start-up company based out of New York City has grown exponentially, reaching a customer base totaling over half a million developers.
The ultimate goal of DigitalOcean is to use a solid-state drive, or SSD, to create a user-friendly platform that will allow their wealth of clients to transfer projects to and from the cloud, ramping up production with speed and efficiency.
Is it good enough to one day be ranked as one of our Top 10 Hosting Services?
Let's find out!
Pros of Using DigitalOcean Hosting
1. Fantastic "Average" Uptime of 99.99%
The industry average uptime for a cloud hosting service is 99.94%.
DigitalOcean blows that out of the water (pun intended) with a whopping 99.99%.
That means from April 2018 to March 2019, DigitalOcean had only eight outages that all together equaled to only 43 minutes.
That ties Bluehost as our most reliable hosting uptime to date. We can't oversell how amazing that is. Most of our top ten services come in between 99.96% and 99.98% of uptime.

The average uptime for the past 12-months:
March 2019 average uptime: 100%
February 2019 average uptime: 100%
January 2019 average uptime: 99.98%
December 2018 average uptime: 100%
November 2018 average uptime: 100%
October 2018 average uptime: 100%
September 2018 average uptime: 100%
August 2018 average uptime: 100%
July 2018 average uptime: 99.94%
June 2018 average uptime: 100%
May 2018 average uptime: 100%
April 2018 average uptime: 100%
As you can see, there is a small dip in the summer, with the lowest recorded Uptime percentage coming in at 99.94% in July. But the system rebounds in August, with no outages occurring throughout September, October, November, or December.
That's an improvement in the right direction. The arrow is constantly moving up, it shows that DigitalOcean is on top of its problems.
2. Lightning-Fast Load Times
Uptime is the number one statistic to watch for when selecting a web host.
After all – every bell and whistle on the planet won't account for a hill of beans if your website is spending long periods offline.
Coming in as a close second is speed.
Lagging websites might as well be 'down', for all intents and purposes. Sluggish sites are virtually unusable. Your traffic won't hesitate to bounce. Literally. A difference of just a few seconds can cost you nearly three-quarters of your potential website traffic.
Sounds crazy? Unfortunately, it's not.
Market research states that websites that can't load within five seconds can lose more than 74% of mobile site traffic.
Conversely, decreasing load times have been shown to increase traffic and sales conversions by more than 74%. We call it 74% see-saw. When it leans in one direction, you're gaining, and in the other, you're losing.
So, what does that mean for our friend DigitalOcean?
Good things. Really good things.
DigitalOcean is not just fast…it's the fastest product we've ever reviewed. Seriously, it leaves the other top hosting programs we've reviewed in the dust.
The industry average load speed is 890ms.
At its fastest, DigitalOcean was moving at an incredible speed of 218ms. At its slowest, it was 496ms. Even when performing at its lowest it was still nearly 50% faster than the industry average.
So, let's take a look month by month to see how DigitalOcean performed: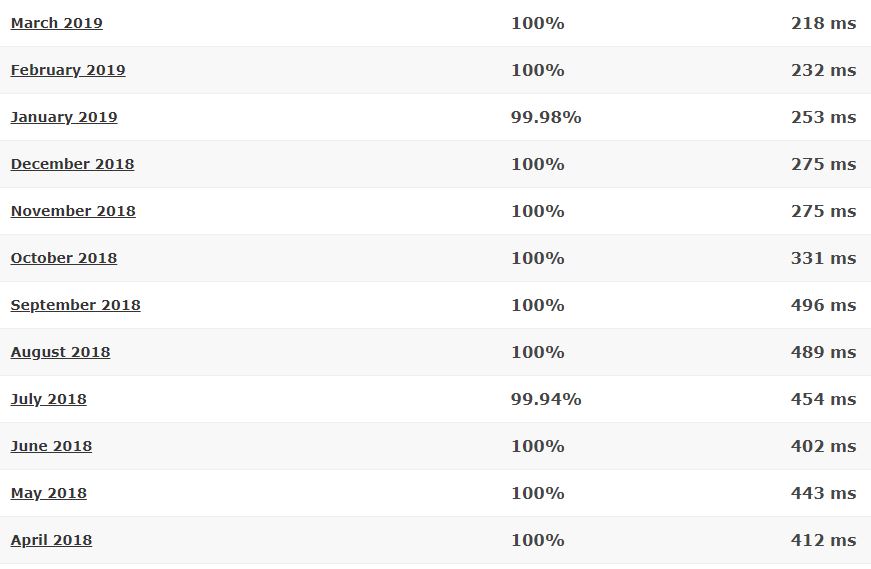 That is a fast hosting, with an overall average speed of 357ms.
The last months are comparatively some of the fastest which we've ever seen which makes DigitalOcean a competitor to the first spot in overall site speed. Currently, the fastest speed belongs to A2 Hosting.
3. Developer-Friendly Product Ecosystem
DigitalOcean is not just a one-trick pony.
In fact, their suite of products offers tons of potential for developers.
What are the different options offered by DigitalOcean? Glad you asked!
✅ Droplets
Droplets is a scalable computing platform that can be customized to meet all of a business's application needs. It also includes add-on storage, monitoring, and advanced security.
You can choose between standard or optimized droplets and then customize to your heart's content. Droplets let devs skip time-consuming installation and configuration to move right along toward code deployment.
✅ Spaces
Whereas Droplets is for app deployment, Spaces is about simple object storage.
We're talking about a security system that allows you to store and deliver data to applications and end-users. Spaces operate under a simple process, creating reliable storage with a drag-and-drop UI or API.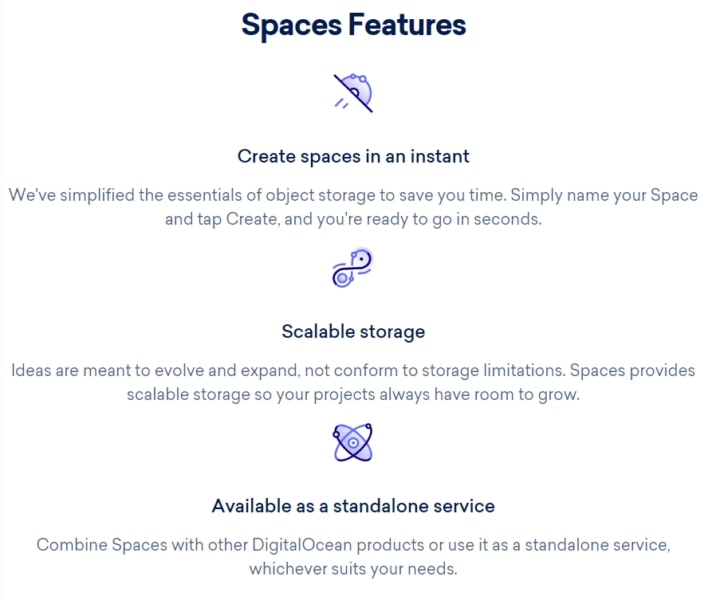 Spaces can be used to store backup files, weblogs, data analysis, and much more.
The service is also scalable, so your Spaces can grow with your company. What's more – Spaces can be combined with other DigitalOcean features, or it can be used on its own.
✅ Kubernetes
Kubernetes is an upcoming product being launched by DigitalOcean in late 2018.
There's not a lot of information about it, but the company states on its official website that Kubernetes is, "Designed for developers and businesses who want a simple way to deploy and manage container workloads in the cloud."
They're currently offering early access to the product, which comes with a free Kubernetes cluster through September of 2018.
4. Customizable Pricing
Even though we also have it under our Cons, we think it's pretty awesome that you can actually customize everything you pay for – your site storage, CPU usage, bandwidth, database, memory, etc. It's really a great advantage if you're an advanced user and already familiar with exactly what you need, what your goals are, what you don't need, etc.
5. Daily Backups
DigitalOcean performs backups daily and you can always restore any data up to 7 days prior. Even though DigitalOcean has superior uptime, it's always better to be safe than sorry!
6. Good Security
Your data and traffic are always secured. This is something that many other hosts don't emphasize much or don't even provide. DigitalOcean makes sure that your data is protected end-to-end. It's a great advantage to keep those ill-willed connections and viruses out of your site system.
By default, DigitalOcean has added encryption to its volumes. If you want to add an additional layer of security, like with most of their features, you'll have to go through a tutorial, follow the steps, and know some coding in order to succeed.
Cons of Using DigitalOcean Hosting
1. For Advanced Users (Jargon + Complex)
The mark of a truly great product lies in its ability to summarize its services in layman's terms.
This is something tech companies, in particular, have a hard time wrapping their collective heads around.
As such, most tech sites and platforms tend to be full of jargon. As in, "special words or expressions that are used by a particular profession or group and are difficult for others to understand".
When one looks at tech products like DigitalOcean, the temptation to resort to jargon based language becomes clear. You're dealing with a lot of technical data – an expert in the field would be compelled to write it as they know it, and not how the average human being can understand it.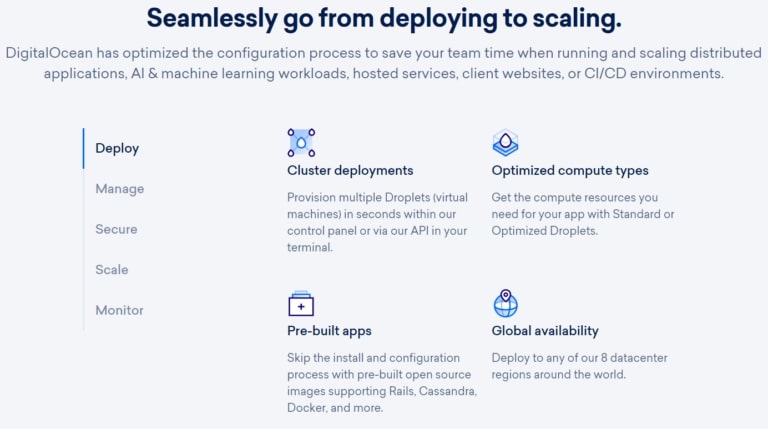 That's no big deal for the advanced, power users. They'll get it. It'll all make sense.
But for the beginners? Not a chance.
This is an area in which DigitalOcean fails dramatically. The site's copy is filled with technical terms and acronyms with no explanation. They're clearly marketing their product to developers specifically.
Therefore, others will struggle to figure out how to move a site over, launch, maintain, or even grow their website.
In comparison, HostGator does an amazing job of simplifying the language of their website into terms that an average Jane or Joe can understand comprehensively. It's a user-friendly product for both beginners and advanced users.
It's not the case with DigitalOcean.
2. Lacks Basic Features Other Consumer Hosts Provide
Most web hosts we've reviewed will throw in the same 'extras.' Stuff like backups, possibly a good CDN, and even an SSL certificate.
Unlike others, because DigitalOcean caters to a more advanced crowd, they don't throw in a bunch of basic features that many other hosts will provide or take care of for you after signing up.
Stuff like:
❌ Free domain name with hosting
❌ The ability to even purchase a domain name
❌ Free site migrations
I mean – they can help you with some of this stuff. But you shouldn't expect a lot of hand-holding services when you sign up.
Which actually brings us to our next point:
3. Limited Customer Support
Most hosting companies offer some variation of 24/7 support.
It might not always be very good, but at least it's something.
Unfortunately, DigitalOcean has nothing like that. If your website goes down in the middle of the night (which could be disastrous if you're dealing in overseas markets), there's no one for you to talk to. You have to go to their website and open a support ticket using their online form.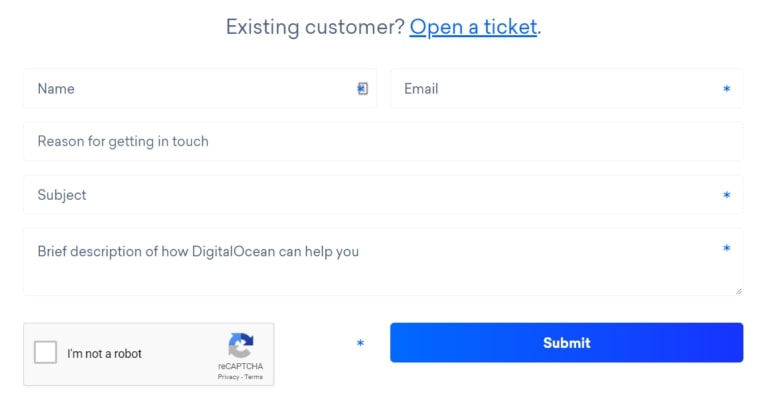 If we have a problem we like putting our trust in a company that will have a chatbot available for us to converse with (or at the very least a support hotline).
Even if it's not 24 hours, the ability to converse with a real live human being in real-time during business hours is better than a contact form with vague promises of "We'll get back to you shortly."
What's more, their contact form didn't even work!
We tried to fill it out with a question about their Kubernetes product, as the website seemed a little vague about what it could do.
We were met with an error message.

Consequently, we had to email them directly, sending the same exact question, and we have yet to receive a response, over a day later.
Not only should you be a power user to figure out their product, but apparently, you also need to be one to fix your own problems, too.
4. Complicated cPanel
As been mentioned already, DigitalOcean is definitely not for beginners. Basically, a cPanel is what you need to build your website nowadays (unless you're on good terms with programming languages).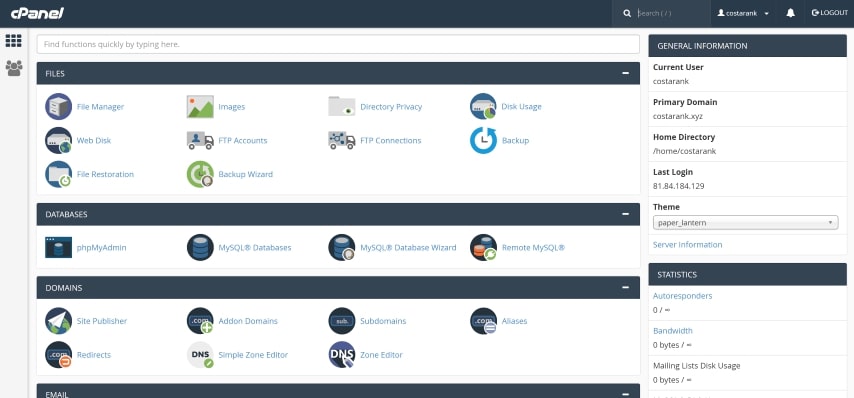 For DigitalOcean, to start with, you'll need to set up a Droplet of your choice (DigitalOcean servers). Then you'll need to install the cPanel following a thorough guide involving inserting several code commands (yes, you have to know some coding), registering your account, installing the execution file, and etc.
On top of all the other stuff, you'll need to purchase the right from a third party to use the cPanel. It's a monthly payment of $20 or $15, if you know where to look for.
If you have no experience with coding and how to be a developer yourself, we suggest, you either hire a developer (a good one) or avoid DigitalOcean and find solutions that suit your needs and skills more.
The usability of cPanel is relatively intuitive, but then again – there's a learning curve and it's definitely not for beginners.
5. Pricing is Expensive (Comparatively)
There's an old saying that you get what you pay for. This saying is usually used to discuss cheap items that don't really work. Quite the opposite is going on here.
DigitalOcean is a highly-functional product that costs a pretty penny.
First off, let's look at the Droplets: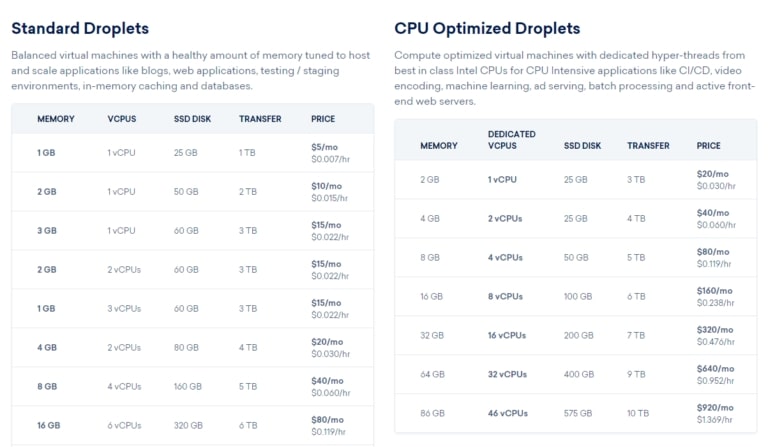 As you can see, we have the Standard Droplets starting out at $5 per month. Now, this only comes with 1GB of memory. The prices rise from there, getting higher and higher until you're paying $80 per month for more high-end services.
When you look at the CPU Optimized Droplets, those are starting at $20 and going all the way up to a whopping $920 per month.
Looking at storage prices, it's not much better.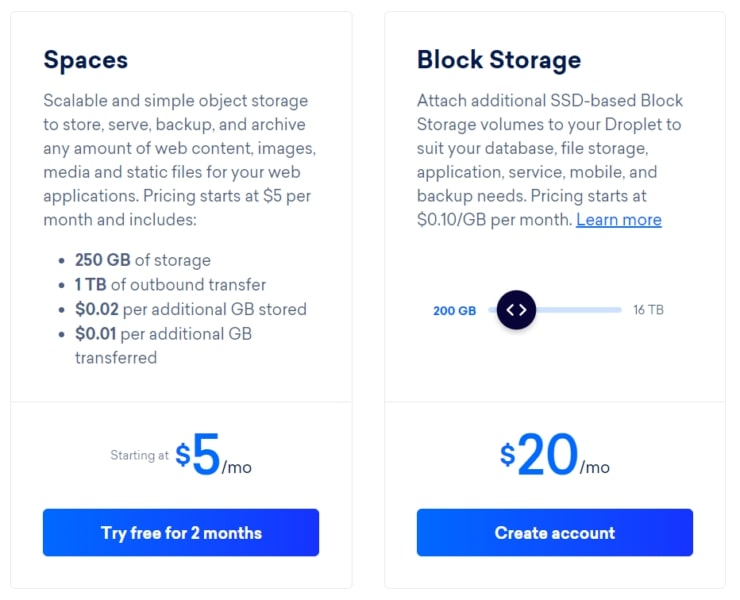 Spaces, which starts out with 250GB of storage, starts at $5 per month, which – coupled with the first tier of standard Droplets – would come out to $10 per month.
They have a ton of other additional services. Each one of them is going to cost you a pretty penny.
These are some steep prices, especially when you consider that many of our top-rated services go for $3 per month or less.
Nevertheless, it's important to remember that you get unmatched speed and performance for the higher price with DigitalOcean. That's certainly something to consider.
You're not just paying for basic hosting or bandwidth, here. If you need that, this is probably an overkill.
Only if you have a high-traffic site (or a few of them), this would be something that you want. And need.
6. Pricing is Complicated, too
Once you get into the pricing plans, you'll head will go dizzy with all the options and possibilities which you can use and upgrade. There are different categories for bandwidth, space, servers (different speeds), CPU, security options, and etc.
Simply put – with DigitalOcean there are lots of ways to make your monthly fee really-really pricey. Most other providers offer 2-5 different plans which give you a good overview of what you get. With DigitalOcean you can customize everything yourself. It can be a good thing, but unless you're an advanced user (as mentioned above), it's rather complicated and time-consuming. Plus, as stated in the previous section, the prices are rather steep compared to other providers.
Do We Recommend DigitalOcean?
Yes…
… as long as you're a developer.
If you're just an average person looking to launch a web presence, there are far more user-friendly products out there that will cost you far less.
For someone that knows their way around the tech world, there seems to be no faster or more highly performing product than DigitalOcean.
The customer support issue and price aren't easy to stomach.
If uptime and speed are the most important factors for you, DigitalOcean is among the best choices on the market.
Do you have any positive or negative experience with DigitalOcean's hosting? If you do, please leave a transparent and honest review!