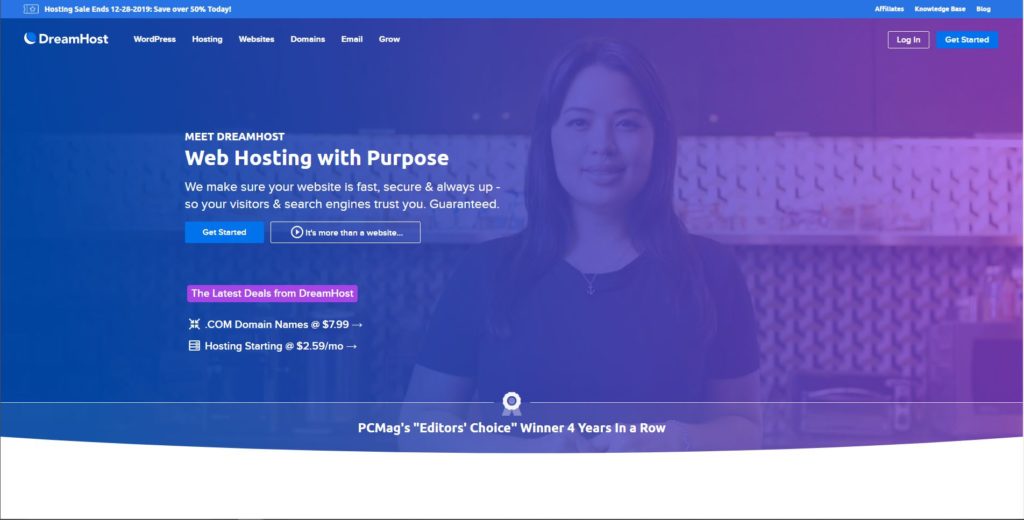 DreamHost hosts over 1.5 million sites and is nearly 25 years old.
Their performance hasn't slipped during that time, maintaining above-average uptime (99.94%) and page speeds (648ms).
DreamHost's main shared hosting plan comes with popular apps like WordPress, website builder options including their own, and others like Wix or Weebly. These plans have unlimited bandwidth and disk space. And you get a full 97-day money-back guarantee to test the service out.
Their customer support is a bit limited, however. Migrations are also a pain, not allowing any imports from other cPanel sites and charging you $99/each.
Here's a transparent look at how DreamHost has performed over the last 24 months.
General Info & Hosting Overview
---
| | |
| --- | --- |
| SPEED: | 648ms (February 2018 to January 2020 average) |
| UPTIME: | 99.94% (February 2018 to January 2020 average |
| SUPPORT: | Ticket & Callback |
| APPS: | WordPress, Blogger, Drupal, Shopify, Wix, and more |
| FEATURES: | Unlimited bandwidth and storage, free SSL, free domain 1st year, automated backups |
| HOSTING PLANS: | Shared, Cloud, WordPress, VPS, and Dedicated Servers |
| SITE TRANSFER: | Not Free |
| PRICING: | Starting at $2.59/mo (same renewal price) |
---
Pros of Using DreamHost Hosting
DreamHost has above-average speed and uptime with lots of "unlimited" features.
They have a longer than average 97-day refund policy to make sure you're happy with the service before getting locked in. And when your plan eventually does renew, you won't have to pay a huge 2-3x price increase, like with many other hosts.
Here's a deep dive into the results from our hands-on test:
1. Above Average Speed (648ms)
DreamHost's 648ms average loading time over the past 24 months has been good. It puts them in the upper half of hosts we've tested, but well below the top five who have literally cut this average in half (between ~317-405 ms).
The silver lining is that DreamHost has been able to hold this average consistently. In September 2017, they posted a 1,316 ms loading time that had us worrying. But ever since then, things have been smooth sailing. So you should be able to expect the same.
DreamHost average load time: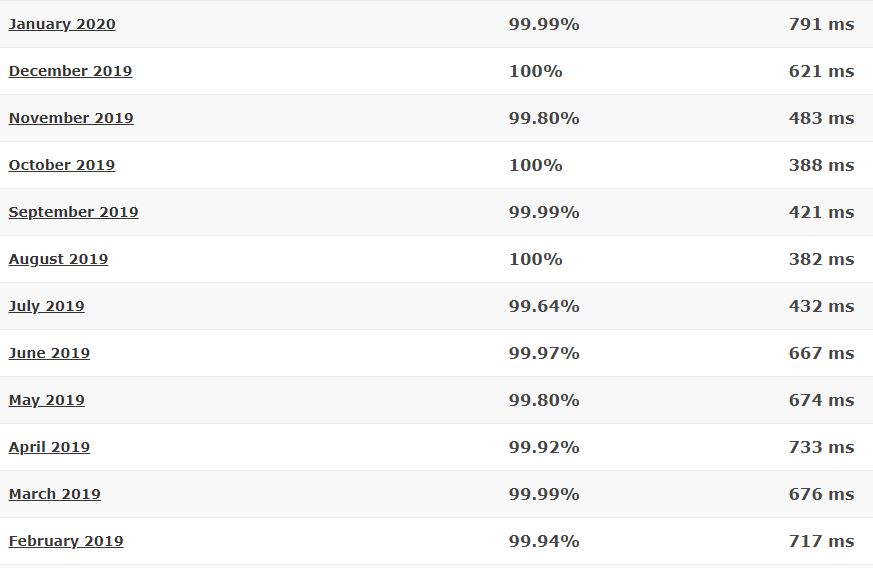 2. Above Average Uptime (99.94%)
DreamHost's 24-month average uptime is also above average at 99.94%.
That's a pretty good result, but it's not even the best part.
DreamHost has an uptime guarantee. Like other hosts, if your monthly average falls beneath that threshold, you'll get a credit for the cost of the service.
Most uptime guarantees we've seen might hover around the 99.98% mark. So these hosts believe and stand behind their services, but they're also giving themselves a little wiggle room in case normal fluctuations hit.
DreamHost, though, guarantees 100% uptime in their Terms of Service. Keep in mind that scheduled maintenance or user errors aren't covered in this guarantee.
However, any other DreamHost issue that messes with your site, database, email, or webmail can trigger the guarantee. You'll get a free day's worth of service for each hour of service interruption. The only catch is that there's a 10% max of your "next prepaid hosting renewal fee" (so it applies in the future, as opposed to a retroactive discount or refund).
Last 12-month average uptime:
January 2020 average uptime: 99.99%
December 2019 average uptime: 100%
November 2019 average uptime: 99.80%
October 2019 average uptime: 100%
September 2019 average uptime: 99.99%
August 2019 average uptime: 100%
July 2019 average uptime: 99.64%
June 2019 average uptime: 99.97%
May 2019 average uptime: 99.80%
April 2019 average uptime: 99.92%
March 2019 average uptime: 99.99%
February 2019 average uptime: 99.94%


3. 97-Day Money-Back Guarantee
The vast majority of all 31 web hosts we've reviewed will give you a 30-day refund period. That gives you a full month to test out their services before risking your prepaid amount.
A few hosts, like WebHostingBuzz, will give you 45 days.
And then there's DreamHost.
Their money-back guarantee is good for up to 97 days. That's over a full three months to really make sure you're happy.
DreamHost doesn't have any hidden terms or hoops to jump through that might jeopardize your refund, either. There are only a few cases where your refund might be deducted or not given, but most are pretty standard.
The first exception is that only credit cards will be refunded. So other payment methods, like check or money order (yes, they accept those), won't be refunded.
The second exception is that additional services and anything purchased through another party won't be refunded, either. That includes things like domain names, SSL certificates, AdWords credits, and similar extras.
4. High Basic Plan Limits
DreamHost's Shared Starter option starts at only $2.59/month. But it comes with a ton of features right out of the gate.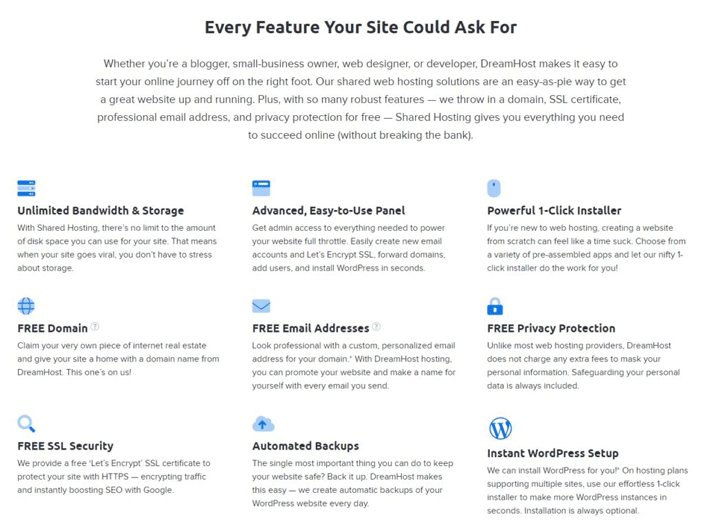 You get one website with a free domain name, and SSL certificate included. This site can handle unlimited traffic (or bandwidth) and storage.
DreamHost has its own website builder called Remixer, but they also offer access to SquareSpace, Weebly, and Wix in their app library.
You'll also be able to find Joomla, phpBB, Zen Cart, Drupal, Magento, Shopify, and Tumblr in there waiting for you, too.
WordPress also comes pre-installed. It's pretty easy to set up on most servers with the one-click install option. However, the fact that it's immediately ready when you signup is perfect for novice webmasters.
The final bit of good news on these plans is that there's no longer a delayed verification system.
The first time we reviewed DreamHost, they required a manual verification that could postpone you being able to use the service for a few hours after signing up.
Thankfully, their customer support rep told us that they now only require extra verification steps if there's a problem with your payment.
You should be able to hit the ground running now after signing up.
5. Unlimited Disk Space and Network Transfer Limits
DreamHost lists a lot of "unlimited" features on their pricing and plans, including disk space and bandwidth.
This means you don't have to worry about disk storage or network transfer when your site gets popular.
There are a few caveats to this policy, but it's mostly legit.
First and foremost, your site needs to be built properly. If it's hogging server resources and causing issues with other sites, they might try to move you over to their private servers, instead.
DreamPress, VPS servers, and email do not fall under this unlimited policy.
Email is restricted to only 2 GB limits, while MySQL databases also need to stay under "a few GB in size."
In other words, DreamHost's shared servers are perfect for relatively small sites.
6. They're Carbon Neutral (AKA Green)
You can add DreamHost among the list of web hosts who're trying to be more environmentally conscious.
They're going above and beyond just offsetting the carbon footprint of their servers, though.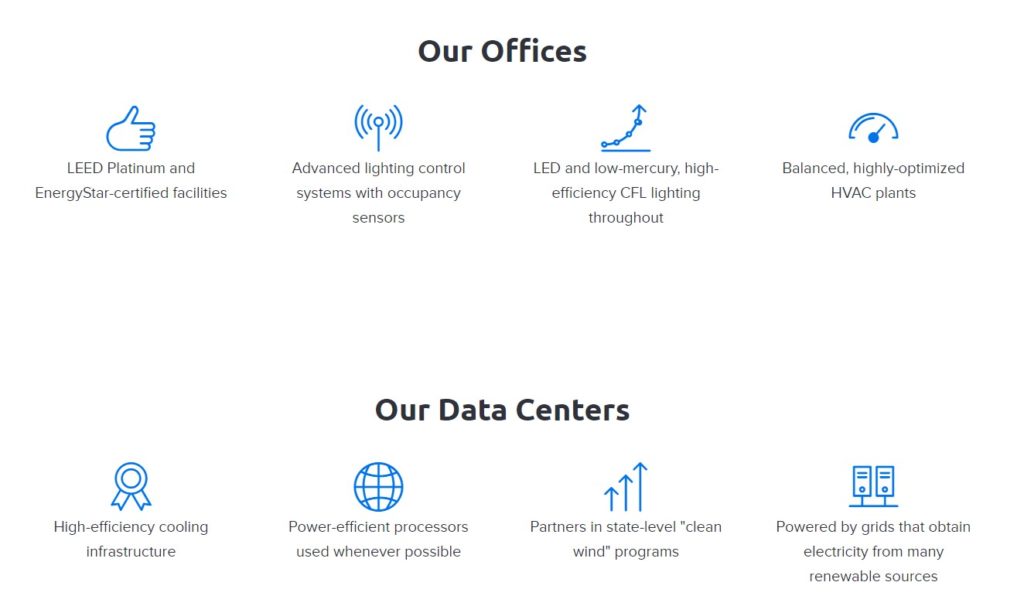 Their data centers include "high-efficiency" cooling and processors. They're also involved in state-level 'clean wind' programs to harness renewable resources.
Their offices are LEED and EnergyStar-certified, and everything from lighting to HVAC systems are also energy efficient.
7. No Higher Renewal Price Increase
DreamHost offers a lower monthly price if you prepay for three years vs. just one or two.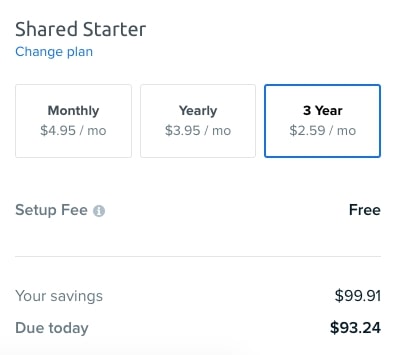 Most web hosts do that, too.
However, the final piece of good news is that DreamHost doesn't increase the price when it's time to renew.
For example, some other hosts might give you a special discount of a dollar or two per month for the first few years.
But when it's time for your plan to automatically renew, the pricing might jump up to anywhere between ~$7-10/month on the lowest plans.
So overnight you're literally paying two or three times more for the same exact service.
DreamHost, in comparison, doesn't do that. Your plan will renew on the same pricing that you originally signed up for.
That means you might not save a ton in the first few years, but instead you could save hundreds of dollars over the long term.
Cons of Using DreamHost Hosting
Almost everything from DreamHost is above average. That includes their uptime and page speed, as well as the default features on all of their shared plans.
Unfortunately, there were still a few drawbacks we ran into while testing out their services.
Here's a complete list of the biggest cons to consider:
1. Good, but Limited Live Chat Support
DreamHost provides the obligatory knowledge base and discussion forums to help customers solve their own issues.
They also claim to offer "24/7 in-house support." Although, our tests actually revealed the opposite.
In the lower right-hand corner of their screen is a little messaging icon. Click on it, and instead of being met with an open box, you have to select from a few pre-set answers: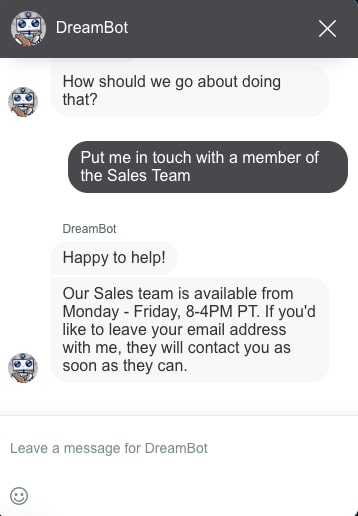 In other words, they're trying to automate the live chat process with something that mimics a phone tree.
We tried bypassing these options to get a sales rep on as soon as possible. But at the time we tried, no one was available.
So not really "24/7" then. These hours overlap with business hours in most time zones in the U.S., but not if you're in other parts of the world.
We had to come back later during these hours to test the process all over again. It took a few minutes for a sales rep to finally join, and they were both knowledgeable and helpful.
It is unfortunate that you have to jump through hoops (show up at specific hours) to get access to anyone in the first place.
2. No cPanel (Custom Panel)
DreamHost doesn't offer cPanel access to customers. They've created their own panel to help you find all the features.
Most inexperienced site owners or bloggers probably won't care about this fact.
But advanced users might for another reason.
DreamHost doesn't provide an automated way to import .tar.gz files (the backup option for migrating sites out of cPanel).
So you're going to have to manually migrate all of your files through FTP and MySQL.
3. Only Paid Migrations Offered
DreamHost does not offer any free site migrations on their shared hosting plans.
Instead, they'll charge you a $99 one-time fee to move each site. This can really add up if you're trying to move several clients or company accounts at the same time.
There are a few other limitations around how their paid migration services work.
Multisite WordPress sites cannot be moved. WordPress.com transfers will only grab content inside posts or pages. So you'll have to reinstall and set up your theme and plugins.
Any website builder sites, on Wix, Weebly, or SquareSpace, cannot be moved, either.
They do offer some documentation to manually move your site.
But that's still not very satisfactory when most other services will do all of the heavy liftings for you.
DreamHost Pricing, Hosting Plans & Quick Facts
Here's a quick overview of DreamHost's Shared Hosting plans:
---
Shared Starter Plan
Shared Unlimited Plan
Pricing
$2.59/month
$4.95/month
Websites
1
Unlimited
Bandwidth
Unmetered
Unmetered
Storage
Unmetered
Unmetered
Email Accounts
Costs extra ($1.67/mo)
Unlimited
Other Features
–
• Unlimited Subdomains & MySQL Databases
• Unlimited FTP/SFTP/Shell Users
---
Beyond these two options, DreamHost also offers three Managed WordPress Hosting plans.
---
DreamPress Plan
DreamPress Plus Plan
DreamPress Pro Plan
Pricing
$16.95/month
$24.95/month
$71.95/month
Websites
1
1
1
Bandwidth
Unmetered
Unmetered
Unmetered
Storage
30GB
60GB
120GB
Email Accounts
Unlimited
Unlimited
Unlimited
Other Features
–
• Unlimited CDN
• Unlimited CDN
• Priority Support
---
DreamHost also has VPS, Dedicated, and Cloud Hosting options, too.
Quick Facts
Ease of Signup: Long and complicated sign up process. Signup should be easier.
Free domain: For the first year on all annual hosting plans.
Money Back: 97-day money-back guarantee.
Payment Methods: Credit Card, PayPal, Check, Money Order, Checking Account
Hidden Fees and Clauses: No major ones.
Upsells: A few upsells.
Account Activation: Account activation is quick unless you have payment issues.
Control Panel and Dashboard: Custom DreamHost control panel which can be a bit difficult to use.
Installation of Apps and CMSs (WordPress, Joomla, etc.): One-click installer for WordPress and other apps/CMSs.
Do We Recommend DreamHost?
Yes, we do.
DreamHost's performance is pretty good across the board, from reliable uptime to quick loading times.
Their default plan limits are pretty high, offering a bunch of "unlimited" options for disk space, bandwidth, and more.
We also really liked that there's no price increase when your hosting plan renews.
On the downside, the customer support was pretty limited to only a few certain hours throughout the week. And the paid migrations can really add up, especially when there's no cPanel offered to automatically move sites yourself.
P.S. If you want to see hosting providers that ranked above DreamHost, check our best performing hosts here.
Are you a satisfied (or unsatisfied) DreamHost customer? Please leave a review below! We accept all feedback (good or bad) in an effort to provide the most transparent and honest reviews possible.