eHost boasts over one million sites on their platform.
And yet, you've probably never heard of them.
That's probably not a bad thing though.
Here's why:
Most hosting companies with 'household' names — the Bluehosts and Hostgators of the world that are instantly recognizable — are all actually owned by one conglomerate, Endurance International Group (or EIG).
And most, to be honest, are NOT worth your time or money.
(With the exception of the awesome HostGator Managed WordPress plan.)
For all these other well-known brands under the same umbrella though, it seems like they're more content to let advertising and brand recognition do the work for them. Their uptime is shaky at best, with slow page speeds that can hurt both SEO and conversions (as we'll explore in a few minutes).
eHost on the other hand, despite being almost unrecognizable, has been slowly chugging along under the radar.
Are they worth a shot?
We signed up for their one (and only) plan last November and have been monitoring their performance for the past few months to provide this unbiased, data-driven hosting review.
Here's what we found.
PROS of using EHOST Hosting:
There are arguably two things you're paying for with a host.
1. Can your site be readily available, at a moment's notice, almost any hour of the day?
2. Can your site load quickly to make sure visitors, from around the world on desktop or mobile, have a positive first experience and will return?
Here's how eHost performed in each category.
#1.

Excellent 99.99% Average Uptime

If the first true test of a web host is uptime, eHost passes with flying colors.

For almost a year, they've somehow managed to provide 99.99% uptime (0.20% faster than industry average). That's so good, only one other web host we've reviewed — our #1 pick, the HostGator Managed WordPress plan – has been able to match it.
Last 10-month average uptime:
January average uptime: 100%
February average uptime: 100%
March average uptime: 100%
April average uptime: 100%
May average uptime: 100%
June average uptime: 99.99%
July average uptime: 100%
August average uptime: 100%
September average uptime: 100%
October average uptime:

99.98%

July 2017 average uptime: 99.99%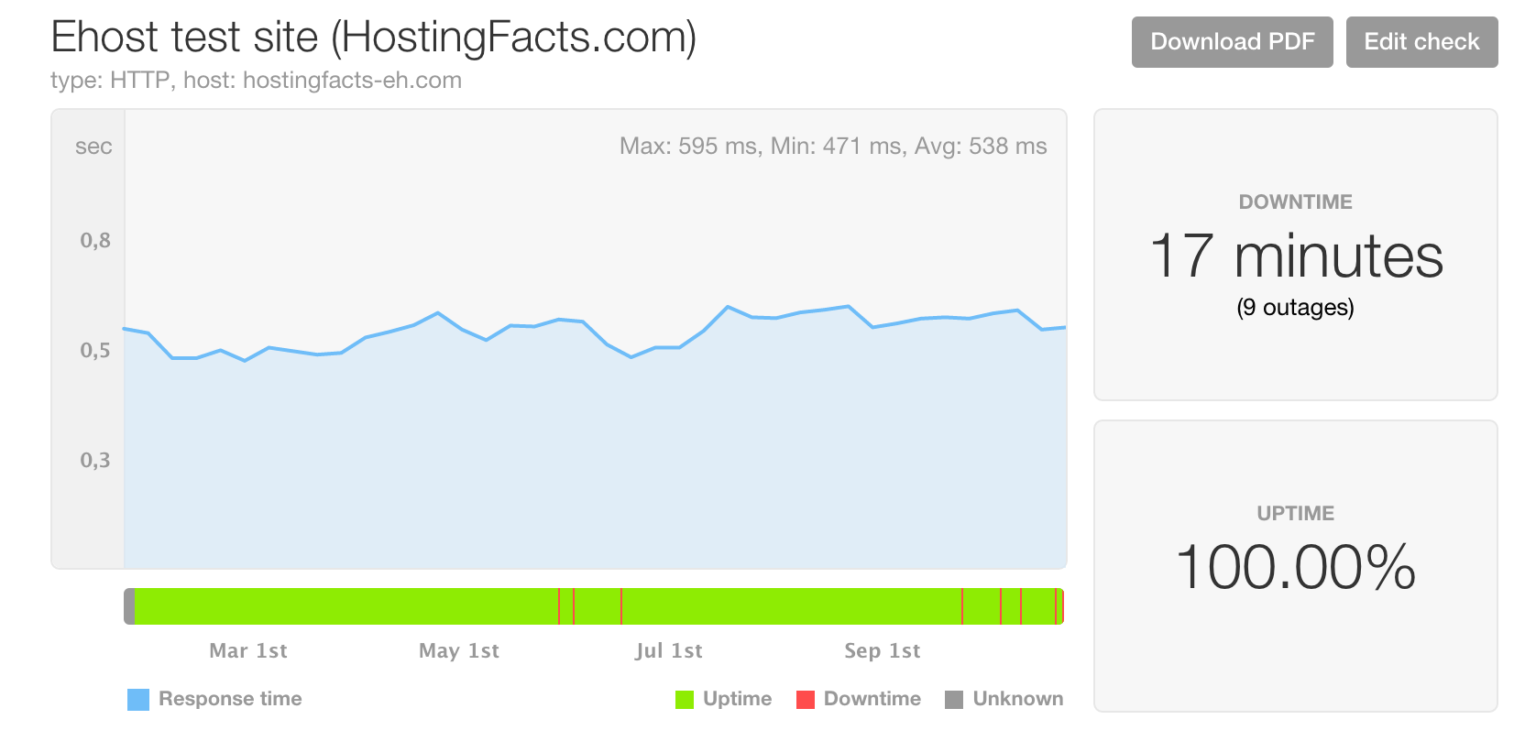 EHOST: Page Load Speed and Uptime (Last 10 months, full data can be found here.)
Why is uptime so important?
Most web hosts are quick to flaunt their 99% uptime figures. Which sounds pretty good on the face of it. Until you do a little research that is.
99% uptime seems good, but in reality, that's still over 14 minutes of downtime each day — adding up to over an hour and a half a week and nearly a full day each month.
So even the smallest fluctuation, when multiplied by 24/7, adds up; posting serious consequences for your bottom line if the site goes down during a big promotional push.
#2.

Speed: 92% Faster Than the Competition

The next major criteria for a good web host is their page loading times.

This refers to how quickly it takes pages to fully load all of their information (like text, graphics, images or video) when a new visitor hits your site.

Slow page speeds, especially on mobile devices with limited processing power, hurt user experience.

But speed is also factor in search engine rankings. So the faster the site, the better the rankings.

And it can impact conversions too, as 50% of your traffic will bounce if pages take longer than three seconds to load.

Fortunately, eHost also performs admirably here as well with a 548ms average page loading time. That's about 92% faster than the competition's average of 1052ms.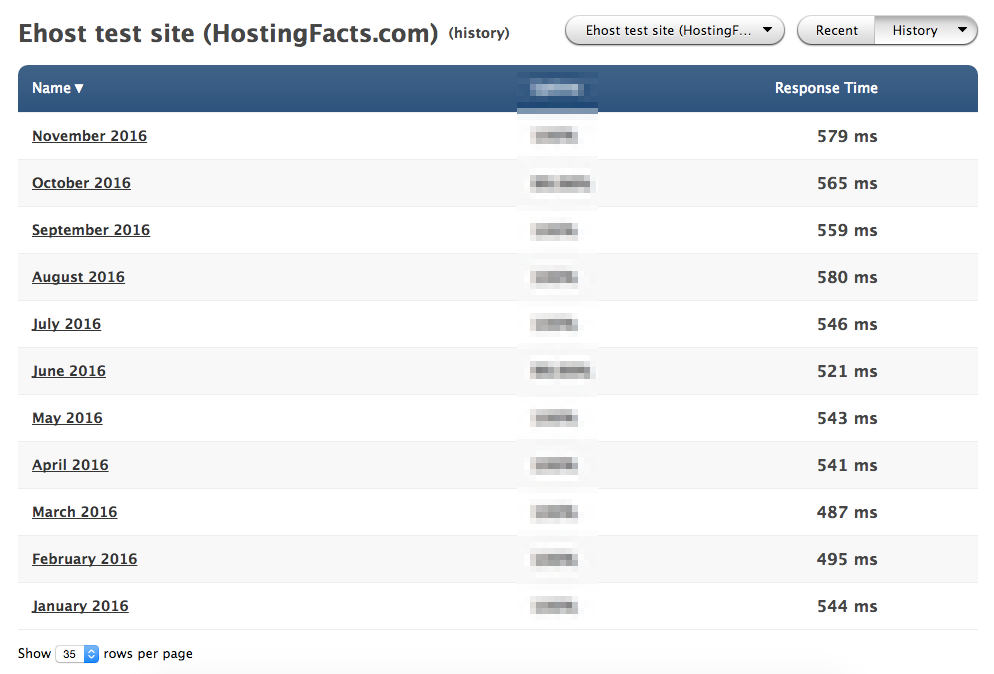 #3.

'Unmetered' Bandwidth & Storage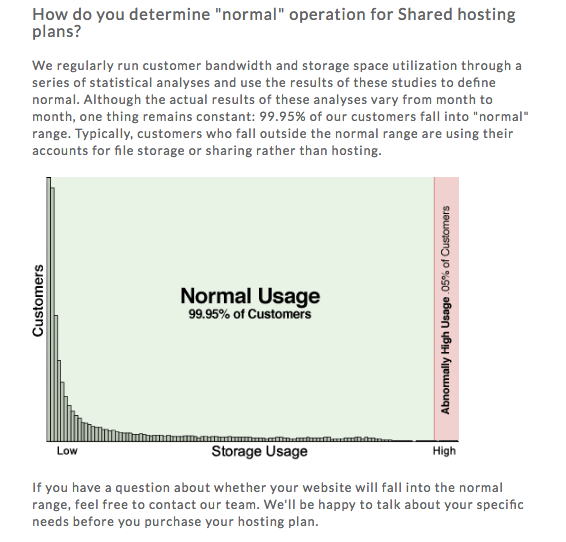 Many web hosts will have a cap on the available storage and bandwidth their plans offer.
Many web hosts will 'tier' these caps, forcing you to upgrade to a bigger plan (and pay more) if you want to raise that cap a few extra gigs.
Many web hosts will then throw down extreme limits on these caps, even going so far as to state they'll delete your account if it goes beyond the plan limits and requires additional resources.
Thankfully, eHost again is unlike many web hosts.
They make life easy and transparent, with one 'unmetered' plan.
No breaking out the tea leaves to guess at your bandwidth usage. No waking up in a cold sweat, nervous that your site might be taken down at any minute for infringing on some Draconian terms.
eHost has "no set limits" on either storage or bandwidth. They're comfortable making that offer because their routine statistical analysis shows that 99.95% of customers fall under the "normal" operation range.
But what if you exceed "normal"? Is that when they trash your site in the middle of the night with no advanced warning?
Nope. Instead, they'll send a polite email that kindly asks you to reduce usage. They'll also provide you with 48 hours to make the necessary changes or updates.
(This 'unmetered'-ness has the added benefit of unlimited mailboxes — POP/IMAP accounts — with a massive storage capacity of 500MB or 10,000 email messages, whichever comes first.)
#4.

Extra Plan Bonuses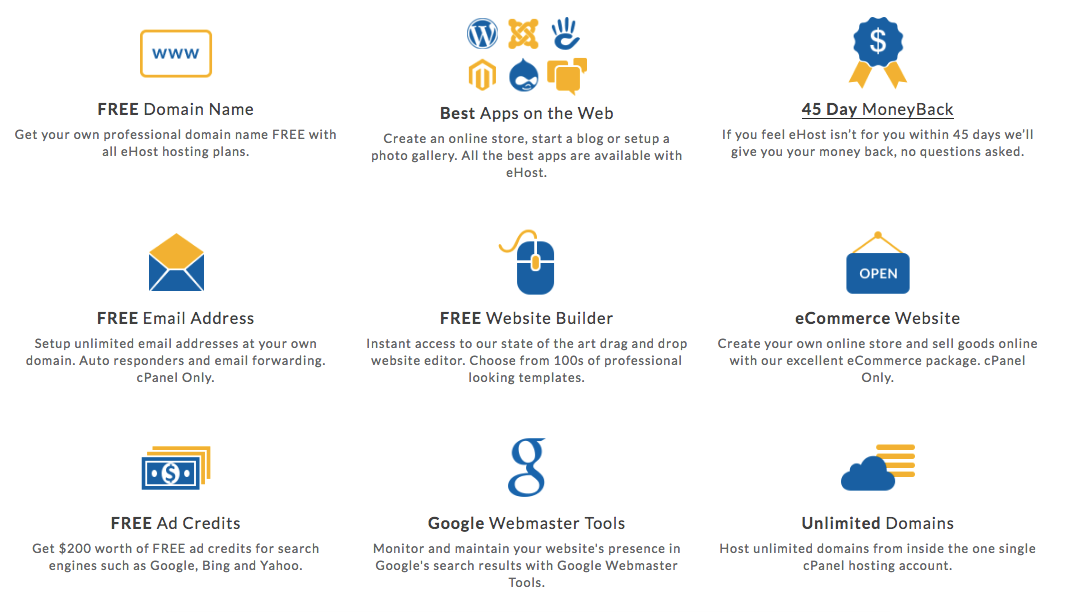 Most website hosting plans include basic features like offering different applications for install (like WordPress).
Some will throw in a few nice bonuses, like extra ad credits.
Many will try to upsell you on extras like a specific number of email addresses.
Once again though, eHost goes above and beyond, offering a more robust small business plan that includes useful features.
For example, their drag & drop site builder includes thousands of different ready-made templates, which is great if you're just looking for something fast and simple.
Many of these are mobile optimized (or responsive), and even include different 'advanced' integrations with payment processors (like PayPal) that allow you to hit the ground running and start selling immediately.
They'll also throw in unlimited 'branded' email addresses at your domain name with generous storage options (as discussed above), including all the features you'd want like email forwarding, autoresponders, and customizable spam filters.
In other words, if you're looking to get a basic small business website up-and-running quickly, eHost has you covered.
#5.

Low Promotional Pricing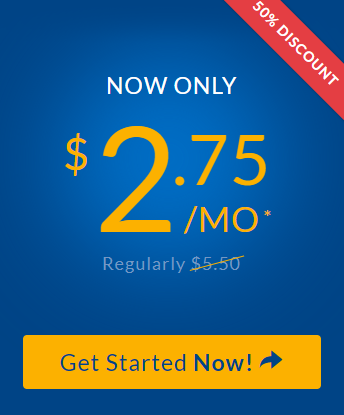 Currently, eHost plans are running a low discounted offer at only $2.75/month. While that's not the cheapest we've seen, it is among the lowest promotional offers you can take advantage of.
(However, you should be aware that this offer only lasts for a limited time, and that renewal pricing jumps to a much higher price. But we'll get into that in the CONS section below.)
#6.

Additional 'Free' Benefits

When signing up for a new eHost account, you'll get a few additional 'free' items.

Like many other web hosts, eHost will happily help move (or 'migrate') your website over from another host.

You'll get a free domain name, free website builder, free email addresses, and $200 worth of free advertising credits to try on Google, Bing, and Yahoo.

eHost boasts a 45-day money back guarantee — no questions asked.

And they also go so far as to allow you to host unlimited domain names inside a single cPanel hosting account (perfect if you have multiple sites).
CONS of using EHOST Hosting:
eHost does a lot of good. They offer a solid service, with nice 'bonus' features, and great promotional pricing.
However, that's also exactly where some of the cracks start appearing.
#1.

BIG Price Hikes on Renewal Plans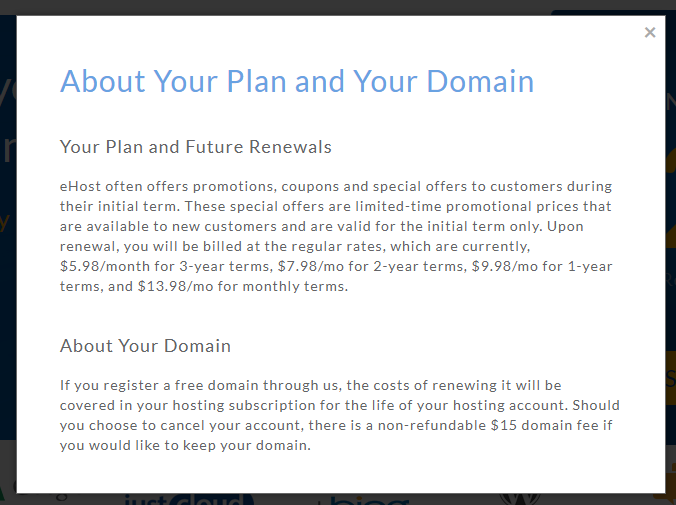 eHost offers a low promotional price on their website to entice you to switch hosts.
But let's be honest: switching hosts is kind of a nightmare. So you're likely not going to do it every few years. Instead, it's MUCH easier to simply find a good host and leave your site there for years and years and years to come.
Unfortunately, most hosts understand this is how it works and take advantage.
eHost is no different, hiking the price on renewal plans 200% overnight from the stated low $2.98/mo offer to $5.98/month. And that's only if you re-up for another three years!
Otherwise, you're looking at $7.98/month for two-year terms, $9.98/month for one-year terms, and $13.98/month for monthly terms.
Those are pretty significant price rises, which puts their renewal plan pricing on par among the most expensive in the industry.
(It is worth stating however that your free domain name through them will get covered in the hosting subscription with renewals, so it's not an additional added fee each year that some other companies will also tack on.)
#2.

 Money Back Guarantee Refund Terms

eHost offers a 30-day money back guarantee. No questions asked.

But… are questions asked?

Sometimes web hosts will play games with what exactly is and isn't covered under those money back guarantees.

For example, domain names registered under eHost may not always be included, which means they might reduce your refund by the market pricing for domains ("at their sole discretion").

Another curious side effect here deals with methods of payment. So if you paid using bank wire transfers, Wester Union payments, checks or money orders, you will also not be provided with a refund.
Overview on eHost Hosting Plans

eHost only offers one shared hosting plan. Here's what it comes with:
Shared Plan: This plan starts at the low $2.75 per month (with the price raising upon renewal). It's an 'unmetered' plan, which means there's no limit or cap on the number of visits, bandwidth or storage you get. You can also host unlimited domains under one plan.
Quick Facts
Ease of Signup: Signup process is relatively quick and painless
Payment Methods: You can pay by credit card or PayPal.
Hidden Fees and Clauses: There are refund restrictions for their money back guarantee around which payment methods you use and also the price of a registered domain name.
Upsells: There are a few upsells along the way.
Account Activation: All new accounts are subject to review prior to setup, however, it should take less than one hour.
Control Panel and Dashboard Experience: cPanel.
Installation of Apps and CMSs (WordPress, Joomla, etc.): Extremely easy, one-click installation process of the most popular apps available.
Do We Recommend eHost?
eHost provides one of the best uptimes we've seen among over 30 hosts, and respectable page loading times that outperforms 57% over the industry average.
Yes, we recommend them.
For small businesses, they'll throw in a bunch of 'extras' that can sweeten the deal and help you get a decent site running quickly without requiring extra technical help or expertise.
They're also currently running a great promotional deal, featuring the low monthly price of only $2.75 to get started.
That price jumps later on, but by this time hopefully, the site has more than paid for itself.
Do you have any experience with eHost? If so, we'd love to hear a transparent and honest review below — positive or negative!