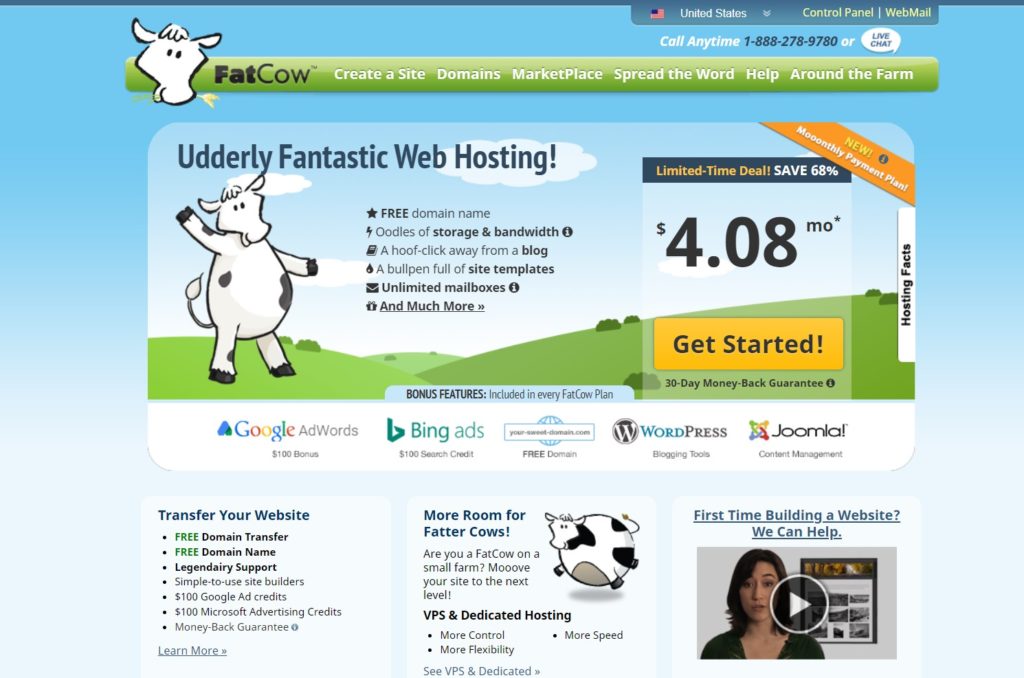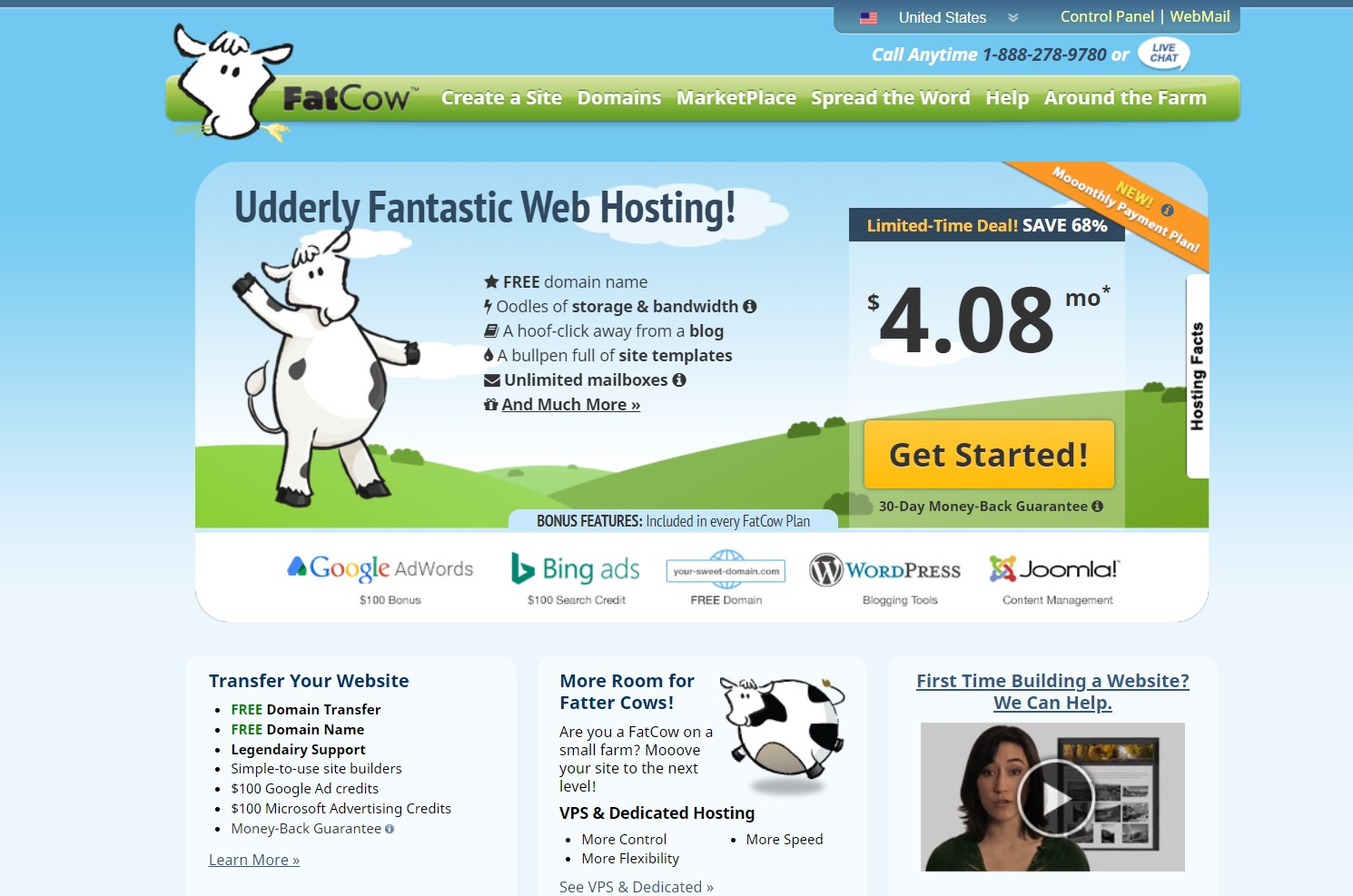 FatCow, despite the whimsical name, also happens to be one of the oldest in the business.
It was originally founded way back in 1998 before being acquired in 2004 by the infamous EIG (who also owns HostGator, Bluehost, and many others.)
Association with EIG tends to be a kiss of death.
Has FatCow retained its grass-roots approach? (Get it?!)
Or have they fared similarly to other EIG properties, slowly letting performance slide off a cliff? (metaphorically speaking)
We purchased The FatCow Plan shared hosting plan in June 2015 to do our own analysis and find out the actual data ourselves.
We set up a WordPress website, and have been conducting performance reviews of their attributes including uptime & speed (you can even click "History" to dive into our analysis).
Discover the good, the bad, and the ugly we found in our analysis:
Pros of Using FatCow Hosting
With a name like FatCow, we didn't quite know what to expect.
The good news first? They've performed admirably in a number of important categories during our review process.
Here's a quick summary of the highlights:
1. Good (and Inconsistent) Support
Our personal experience with FatCow's support team went smoothly. Their support staff reached us within four minutes, with quick responses.
Unfortunately, other customers haven't always experienced the same attention to detail. Our background check revealed a very inconsistent experience that didn't always line up with our own.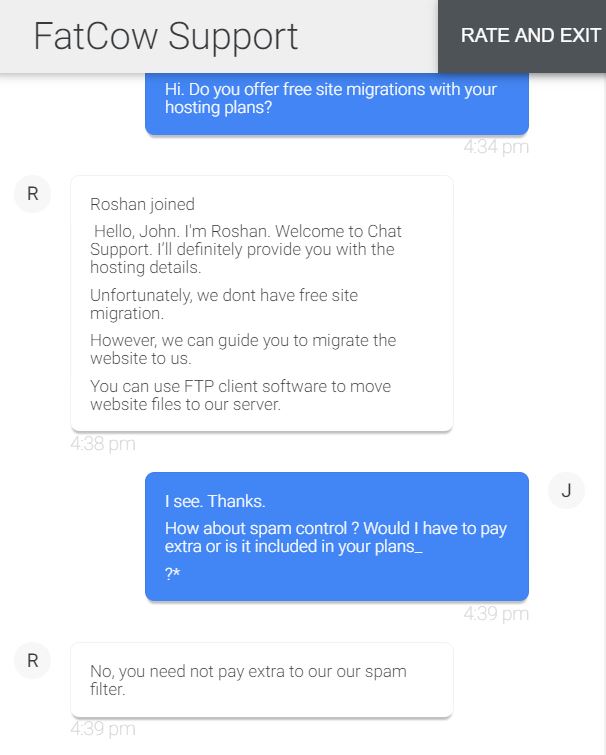 In addition to live chat support FatCow also offers extensive user knowledgebase.
Using the knowledge base users can find answers to their questions about their account, domains, email, files, partnership programs, policies, security, and more.
You can also search for a keyword or phrase that relates to your question rather than filtering through preset categories.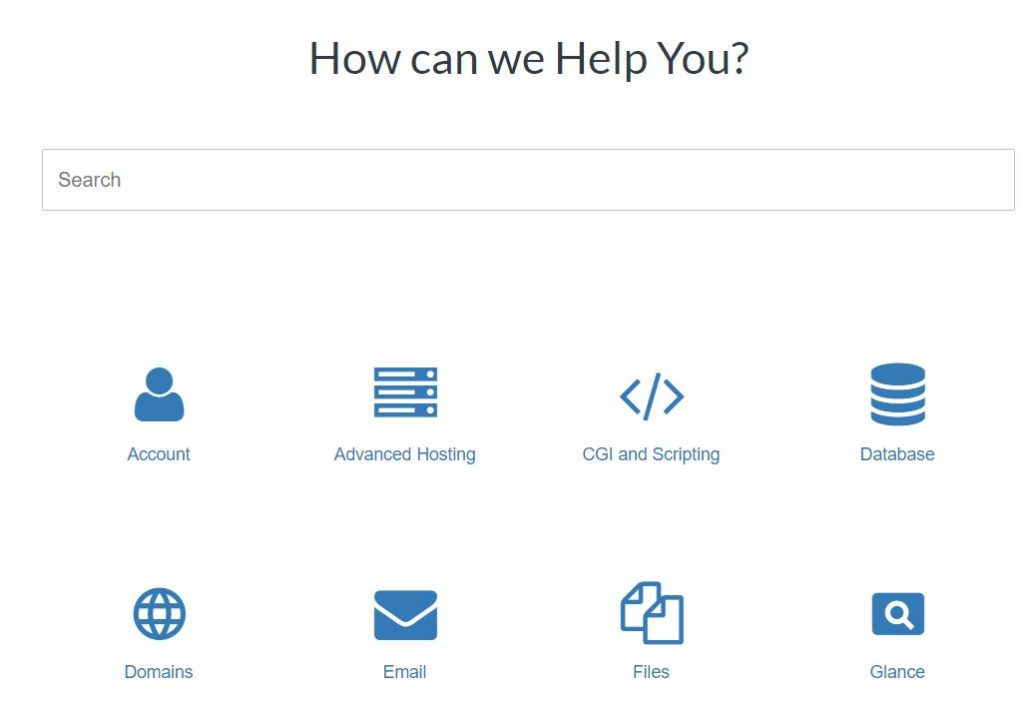 This is an awesome customer service feature for users who prefer self-help over live chat. The knowledge base also serves as a backup method for support if live chat happens to be offline.
2. Upfront, Honest Pricing
Unlike some other nefarious hosting companies, FatCow's pricing structure is like a breath of fresh air.
Many web hosts (including many of the EIG brands themselves) use misleading pricing to draw you in, only to find out that you need to commit to paying some long-term, three-year deal upfront in order to secure that pricing.
Another common trick is to get you when it's time for renewal, upping the price drastically because the chances of you leaving are slim to none.
Thankfully, FatCow's low advertised website pricing is the real deal. There's no tricks, gimmicks, or hoops you have to jump through in order to take advantage of it.
3. Free Website Transfers and Domain Names
Assuming you have an existing website hosted somewhere else, FatCow will help you transfer it free of charge.
Don't fret if you're just starting out, because they'll also throw in a free domain name for new account signups.
4. 30-Day Money-Back Guarantee
FatCow offers a standard 30-day money-back guarantee on all hosting plans.
Be aware that they only refund orders made through a Credit Card, PayPal is not accepted.
5. Eco-Friendly Web Host
Supposedly, their offices and data centers are completely powered by wind energy. Not quite as green as GreenGeeks, but still commendable.
We haven't personally visited them. Don't plan on it anytime soon either. While we don't want to stir up some conspiracy theories, you might want to take that claim at face value.
They do appear to be an EPA Green Power Partner, though, so their claims seem pretty legitimate.
The company purchases Renewable Energy Certificates (RECs). The RECs that they purchase are used to generate wind energy to negate their regular energy usage in the office.
In fact, they purchase twice the amount that they use. FatCow claims to prevent the release of 999 metric tons of carbon dioxide into the atmosphere every year.
According to the EPA, this is equivalent to:
Taking 214 passenger vehicles off the road for one year
Driving 2,448,529 miles
248 tons of waste recycled rather than being thrown into a landfill
49.8 garbage trucks worth of recycled waste rather than landfilled waste
…and the list goes on.
If you're concerned about shrinking your carbon footprint and you're looking for a socially conscious business to host your website with, FatCow is a serious contender.
 6. Free Web Icons
Need some web icons to boost the overall design of your site? FatCow has you covered.
The company offers 3,926 professionally-designed "farm-fresh web icons." The best part? They're all completely free!

Note that there's a bit of a catch if you look at the Terms of Use for these web icons.
For example, if you do include these web icons on your site, you'll have to make sure that you link to the following URL in your credits: https://www.fatcow.com/free-icons.
Although they're free to use, FatCow requires that you credit them for creating the icons.
Cons of Using FatCow Hosting
FatCow's honest pricing is an added bonus, increasing credibility with what you see is what you get approach.
Unfortunately, it all ain't sunshine and roses.
There are a few negative aspects we should review before you make a final decision. Here are some of the biggest concerns:
1. Poor 99.86% Uptime (Last 24-Months)
In our experience, many of the EIG brands fail to deliver good uptime consistently.
(You know, 'cause keeping a website live isn't important or anything…)
FatCow falls right into this trend with being worse than the industry average uptime of 99.93%. In a plain flat way of saying – it's not good!
It's also important to note that they've been showing consistently mixed results lately.
Last 12-month average uptime:
January 2020 average uptime: 99.95%
December 2019 average uptime: 99.87%
November 2019 average uptime: 99.90%
October 2019 average uptime: 99.95%
September 2019 average uptime: 99.96%
August 2019 average uptime: 99.96%
July 2019 average uptime: 99.89%
June 2019 average uptime: 99.98%
May 2019 average uptime: 99.93%
April 2019 average uptime: 99.92%
March 2019 average uptime: 99.96%
February 2019 average uptime: 99.93%

2. FatCow is Slow. Obviously.
If speed was a critical element for your business, you would probably go to extra lengths to carefully select a word that doesn't conjure up the negative connotation of a big, slow-moving animal.
FatCow, unfortunately for all of us certainly lives up to their name ( guess we shouldn't be too surprised).
Over the last 24 months, FatCow had an average page loading times of 1,166m.  That's among the slowest page loading times we've seen across thirty-one web host reviews. The news keeps getting worse though, as they've posted consistently below-average page loading times since we initially signed up with them about three years ago.
Considering that site speed has a large bearing on both search rankings and conversions, slow page loading times are a big drawback for any commercial website.
Case-in-point: HALF of your traffic will bounce if pages don't load within two seconds.
Last 12-month average load time: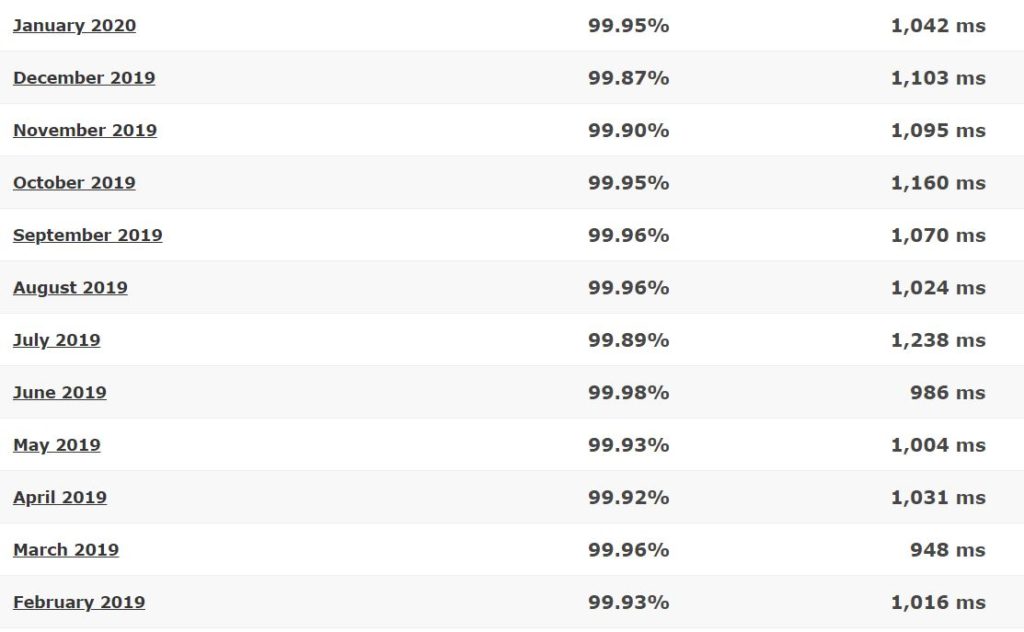 2. Cancellation Can Cost You
FatCow does offer a free, 30-day money-back guarantee. So no problems there.
If you want to cancel after that period closes, there's a minimum $35 early cancellation fee. They also require a 30-day notice to cancel too.
3. Backups Aren't Free
Minor site problems or issues tend to pop up from time to time as you're working on making website updates or changes. That's why many web hosts will offer backups to help protect their customers.
FatCow offers them, but they'll set you back with an extra $16.95 a year. That's the bad news.
The good news is that this upgrade includes daily backups (so the extra cost might be worth it in this case).
4. Too Many Upsells
Speaking of extra fees…
THAT's what signing up for FatCow feels like.
Brace yourself for the onslaught of annoying upsells that kick off immediately after you enter your credit card number.
Many will find this irritating and off-putting. Consider yourself warned!
5. Extra Security Costs More
FatCow offers some awesome security features, like SiteLock, which can protect your website against tons of cyber attacks, malware, and more.
The extra security is just what you'll want if you want to ensure that your website doesn't get blacklisted.
There's just one catch…and it's a big one. You have to be willing to pay for it.
Full protection (which includes daily malware and vulnerability scans, automatic malware removal, a web application firewall, and more) costs as much as $24.99 per month.
Other competitors offer the same kinds of security features for no extra fee.
FatCow Pricing, Hosting Plans & Quick Facts
Here's a quick overview of the plans offered by FatCow:
Cheap Sheep Hosting: This unbelievably low priced offer isn't easy to find (it's not advertised on their homepage). Many other online review sites don't cover it either, so we went the extra mile to dig this up for you.
It's only $9 annually (that's a shockingly low $0.75/month) for the first year. After that the first year, it renews at just $20 annually. Still a good deal!

This officially makes FatCow the cheapest web host out there.
This plan comes with a free domain name, 2GB storage, 200GB bandwidth, integration with WordPress and other popular CMSs, and a $100 Google Adwords and Yahoo + Bing bonus. It is also covered by their 30 days money-back guarantee.
Shared Hosting: FatCow has one simplified shared hosting plan:
---
Shared Hosting Plan
Pricing
$4.08/month
Renews at $12.95/mo
Websites
Unlimited
Bandwidth
Unmetered
Storage
Unmetered
Email Accounts
Unlimited
Other Features
• Website Builder
• SSL Certificate
• Unlimited FTP Users & SubUsers, and more.
---
Quick Facts
Free domain? Yes.
Ease of Signup: Simple, two-step sign up process.
Money-Back: 30-day money-back guarantee.
Payment Methods: Credit Card, PayPal.
Hidden Fees and Clauses: $35 early cancellation fee. They only refund orders made by Credit Card. Upon signing up, you agree not to use "excessive" amounts of CPU processing. They do not specify what they mean by "excessive."
Upsells: Lots of upsells. LOTS!
Account Activation: Instant Activation.
Control Panel and Dashboard Experience: Their own customized control panel.
Installation of Apps and CMSs (WordPress, Joomla, etc.): WordPress and other popular CMSs and apps can be installed via InstallCentral in their control panel. Mojo Marketplace is also available for the quick installation of apps.
Do We Recommend FatCow Hosting?
Unfortunately, the answer is no.
Their pricing is relatively honest (+ bonus points for being so cheap).
They even have a fun, whimsical name. Ironically, it's a little too accurate. Across the board, they're a bit too average for us.
Their uptime is below average, support is inconsistent, their page speed is terribly slow, and there's too many upsells or extra fees (e.g early cancellation).
You'd be better off looking at other options. Here are the best web hosting providers on hostingfacts.com.
Do you have any experience using FatCow? If so, we'd love to hear about it! Please leave an honest and transparent review below, either positive or negative.