A bit of background
We've been a paying customer for GreenGeeks for 17 months. During that time, we've monitored their performance.

This review relies strongly on data, such as uptime, load time (speed) and customer support experience.
GreenGeeks is an 'environmentally-friendly' web host out of – where else – Los Angeles, California.
After it's founding in '08 by Trey Gardner, they've shot up to now hosting over 300,000 websites (with data centers in the U.S., Canada, and soon-to-be Amsterdam).
Trey's pedigree is important, as he's worked with eight different web hosting companies, including iPowerweb, iPage, StartLogic, Dot5Hosting, Globat, Lunarpages, Hostpapa and now GreenGeeks.
On their website, he goes on to make two bold claims:
99.9% uptime
100% customer satisfaction
So what's the verdict?
Excellent, wind-powered uptime and support?
Or are their promotional claims just full of hot air? (Environmental pun!)
In order to see for ourselves, we purchased the GreenGeeks 'Shared Plan' in June of 2015.
We set up a basic WordPress test website (that can be seen here) to run performance tests over the course of six months. Detailed performance stats, like uptime and speed, can be viewed by clicking here on 'History' for more information.
PROS of using GreenGreeks Hosting:
GreenGeeks has a lot of good things going for it. Including solid uptime, support, and an important mission-driven service. Here are the details.
1.

99.97% Uptime Over the Last Twelve Months

Earlier, GreenGeek's founder Trey Gardner made the bold claim of 99.9% uptime. Seems that he wasn't BS-ing at all.

Our in-depth, 12-month analysis backs this up, coming in with an average uptime of 99.97% during our testing period. That's also good enough to put it well above the industry standard 99.94%.

Take a look for yourself:

See previous uptime - 2015 (expands)
June average uptime: 99.95%
July average uptime: 99.94%
August average uptime: 99.93%
September average uptime: 99.90%
October average uptime: 99.93%
---
Last 12 month average uptime (2015 – 2016):
November (2015) average uptime: 99.94%
December (2015) average uptime: 99.95%
January average uptime: 99.99%
February average uptime: 99.83%
March average uptime: 99.99%
April average uptime: 99.99%
May average uptime: 99.98%
June average uptime:

99.96%

July average uptime:

99.99%

August average uptime:

99.97%

September average uptime:

99.99%

October average uptime:

100%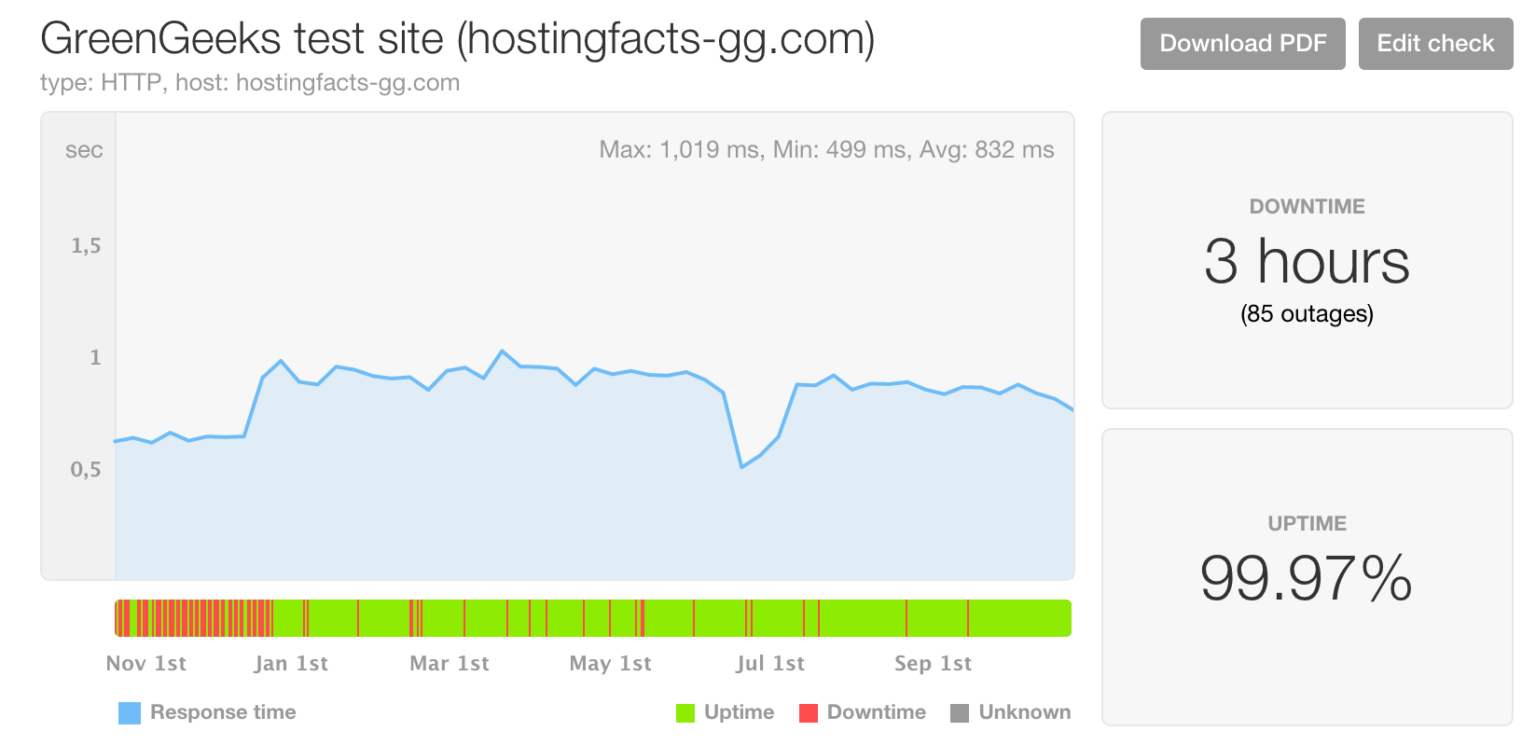 GreenGeeks: Page Load Speed and Uptime (Last 12 months, full data can be found here.)
2.

Good Support with Quick Answers

Customer support was the final 'big' element to review.

We were connected to a customer support agent within a minute, who then answered questions quickly and succinctly.

Only issue?

There were a few grammar mistakes along the way. If you're being picky (Hey – that's our job here, right?!), you might be able to read into that a little bit.
Support might be outsourced to non-native English speakers?
Their customer service reps might be overworked and stretched thin?
Or they might just lack some attention to detail?
Whatever the case, overall we were happy and satisfied with our experience. And a background check revealed that other customers are happy with GreenGeeks support too.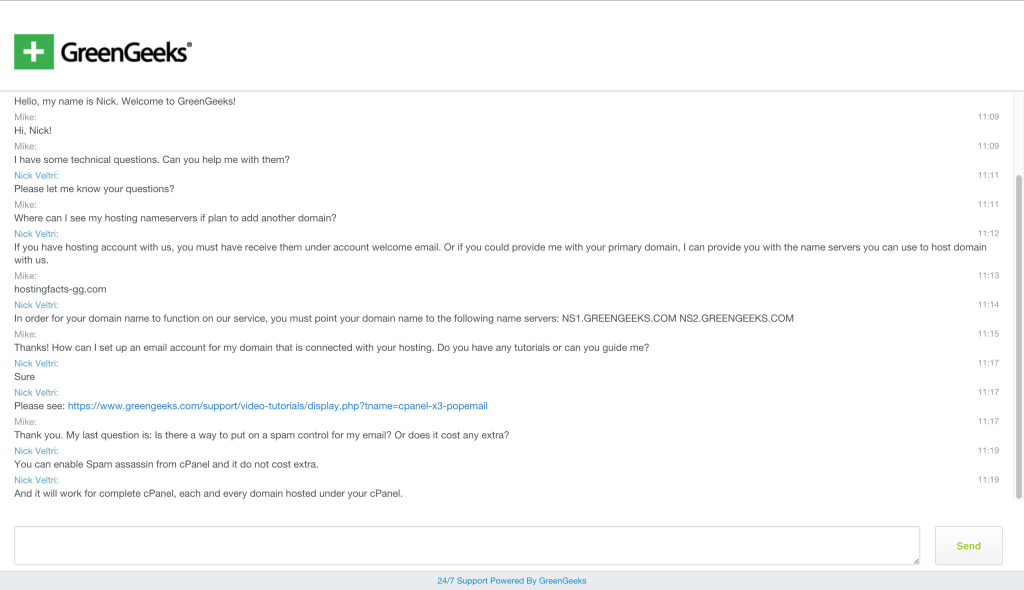 Good Customer support, but had some grammar errors.
3.

Free Domain Name & Website Migration

They offer free domain name registration and transfer. If you get your domain name through them, they will keep it free for as long as you use their services.

Kind of. We'll review the fine print and fill you in on the details soon.

If your website is already hosted elsewhere, they can help you transfer your site to their servers for free.
4.

Now for the 'Green' Stuff…

GreenGeeks claims to be, well, green. But what on earth does that mean? And how does it work?

They will purchase 3 times the wind energy credits to make up for the energy used by their services to power your website.

Over their eight years in business, they've replaced over 615,000+ kilowatt's a year.

I'm not sure what that means exactly, but it sounds impressive. And kinda like what the Delorean in Back to the Future runs off.
5.

30-Day, No-Questions-Asked Money Back Guarantee

If you're unhappy with moving over to GreenGeeks, they have a full 30-day, 'no-questions-asked' money back guarantee on most hosting plans. Again – kinda.

Sounds simple, but you'll see in a minute how this gets a little more complicated.
6.

Nightly Backups

Sometimes, bad things happen.

Maybe it's self-inflicted. Or nefarious people try to hack their way in.

Regardless, GreenGeeks provides free night backups (in addition to SSH access).

For addition security measures, they also offer real-time security scanning, automatic brute force detection, Spam Assassin protection, SSL secure server and the ability to password protect your directories.
CONS of using GreenGeeks Hosting:
Unfortunately, all that glitters is not gold. Err, green.
Despite all of the upside to GreenGeeks, there are a few things you should be aware of before making a final decision.
Here they are.
1.

Slightly Below Average Page Loading Times

We also tested GreenGeeks page load times during our 12-month review process and found their speed to be just below industry average, clocking in around ~19% slower than their competitors (832ms compared with 700ms).

You can see the results, broken down by month:

See previous load time - 2015 (expands)
June average speed:

515ms

July average speed: 653ms
August average speed: 664ms
September average speed: 614ms
October average speed: 605ms
---
Last 12 month average load time (2015 – 2016):
November (2015) average speed: 624ms
December (2015) average speed: 741ms
January average speed: 894ms
February average speed: 884ms
March average speed: 949ms
April average speed: 923ms
May average speed: 920ms
June average speed:

739ms

July average speed:

794ms

August average speed:

869ms

September average speed:

842ms

October average speed:

811ms
2.

Industry-Standard Pricing Manipulation

GreenGeeks follows the tried-and-true industry standard practice of advertising a super low monthly rate of $3.96 on their website, only to find out that you actually have to sign up for three years in advance to get it.

Otherwise, if you want a true monthly option, it's going to set you back $9.95 each month.
3.

The Not Quite Free Domain Name Or Money Back Guarantee

Many web hosts will throw in a domain name for free when you create a new account with them.

GreenGeeks says you can get a free domain name with them too.

Otherwise, the cost might range from ~ $3.00 – $9.99 for the year.

But here's the fine print:

IF you request the aforementioned 'money-back-guarantee' and you took them up on that 'free' domain name offer, your refund will be deducted $24.95 for a domain name registration fee.

Which means that domain name MIGHT NOT really be free. It also means their money back guarantee MIGHT NOT be 'no questions asked', either.
Overview on GreenGeeks SHARED hosting plans
Here's a quick overview of the hosting plans offered by GreenGeeks:
Shared Hosting: Unlike most other web hosts, GreenGeeks has just one shared hosting plan. The plan costs $3.96 (you need to pay 3 years in advance. Actual cost is $9.95 per month if you pay monthly). It comes with unlimited web space, unlimited data transfer, support for unlimited domain names, and unlimited email accounts and MySQL databases. This plan also comes with a free domain name and free nightly backups. It is powered by RAID-10 SSD storage for performance.
WordPress Hosting: Their WordPress hosting is basically the same as their shared hosting plan, but it seems to be specially enhanced for WordPress. We haven't tested it yet, but will do it soon.
Quick Facts
Free domain? Yes. Kinda. Sorta.
Ease of Signup: Easy signup process.
Payment Methods: Credit Card, PayPal.
Hidden Fees and Clauses: Your account must not use more than 100 percent of 1 CPU core and/or 1GB memory, or 20 concurrent connections or 75,0000 files or you will risk account termination. If a due invoice is not paid within four days, your account will be suspended and you will need to pay a reactivation fee of $15 to have your account back online.
Upsells: No upsells. Yay!
Account Activation: Quick account activation.
Control Panel and Dashboard Experience: cPanel.
Installation of Apps and CMSs (WordPress, Joomla, etc.): 1-click install tool to easily install popular apps and CMSs.
Do We Recommend GreenGeeks?
GreenGeeks has a bigger mission than just simply providing web hosting, and we dig that.
They're not necessarily the best we've seen, but they do provide solid uptime and good customer support (albeit, slower-than-average page speeds).
For those reasons, you should possibly consider giving them a look.
Just be aware that you'll need to sign up for the long-term if you'd like their lowest rate. And that your 'free domain' and 'money back guarantees' might not be so iron-clad if you ask for a refund.
P.S. If you want to see hosting providers that ranked above Greengeeks, check our best performing hosts here.
Do you have any experience with GreenGeeks – positive or negative? If so, please leave a transparent and honest review below!
Submit a review
Submit a short but detailed review and earn $10 when we approve it.
6 user reviews for GreenGeeks
Very Unhappy
We had a VPS (now transferring) for 2.5 years. Green Geeks are okay if you don't need them, but if you need technical support, pray that you get someone who knows what they are doing. Otherwise, looked for a major snafu that doesn't quit.
But the main reason I dislike Green Geeks because of the way their policies and their customer service. Policy is, take your money and hopefully implement what the customer paid for (like an SSL certificate), don't do it right, and their policy is, NOTHING is there fault, and even if it is, NO ACCOUNTABILITY. Its in there TOS, with no liability for anything. So all you get is sloppy service. Sloppy technical services and advise.
You can look forward to getting frustrated, having geeks who live the term "peculiar person, especially one who is perceived to be overly intellectual, unfashionable, or socially awkward". Most of the ones I encountered have no social skills, whether its from customer service, chats, their support email…everything is waiting on the customer, even when you are waiting on them. And if you get them on chat, they are downright rude.
We believe we've found a better hosting solution: better TOS, less money for more storage and memory and we can talk with a person.
My advice, don't be like us, and use Green Geeks. And don't be like us and spend 2.5 years in purgatory. Not quite hell, but on the road, without the good intentions.
Greengeek is providing very bad service
Today I faced worst customer service and policy. I have been with them past 3-4 yrs and there servers were having downtime if 3-4 visitors browse a website at the same time, but as i used it for my showing demo websites to customers and only some low cost websites i host with them, i did not care about it much because of cost.
Today I asked them to remove my credit card details saved because it was of my friend's and they did auto payment for something, which i agreed upon but as I am a developer and i know something about saving someones credit card details. I have read they can save it but not all details cvv,expiration and everything alteast they have to remove one thing which requires only me to enter manually. Even if they can save it if rules have been changes, they have to remove it if i ask for it. But they refused to do so, there customer executive closed the live chat when i asked for more details. He talked to me like i am some type of criminal. I am writing about this at many places and will share link here to show you screenshots as i think i can't upload it here.
OK for blogs and websites
Their hosting service works fine, but we were after something specific so we didn't move forward (not a fault on their part, we had some crazy requirements for a software app). GreenGeeks refunded our money and all is good. If you're looking for a shared host for WordPress and other typical sites, this is a great place.
GreenGeeks is good
GreenGeeks rocks for many reasons. When I was researching, they were the only ones I found that were concerned about their environmental footprint. Being as environmentally friendly as possible is important to me. Also, I wanted to go Canadian and I liked that they had their servers in Toronto. So, that was a big plus for me.
When I first went with them, I knew nothing at all about setting up a website and I ran into difficulties, as you might imagine. They have this awesome live chat and I have used it several times when I ran into snags that I just couldn't figure out on my own. They are always supremely helpful and PATIENT. They have been on with me, at times, for over a half and hour until we solved the problem.
They are just so wickedly awesome when it comes to service. The price seems good to me, but I haven't been with anyone else. If it is higher, I would gladly pay it because of being greener than other hosting providers and the absolutely amazing customer service. Highly recommended. 🙂
Great support / No major downtime
GreenGeeks has been more than suitable for my small web design business. In my almost two years with them now, I have received nothing short of great customer service, and the support team is always responsive and available for even the simplest of questions. Their pricing for reseller hosting is reasonable as well.
The best feature they offer is site migration from your old host. This has been invaluable to me, and is a huge time saver!
Great Service and Documentation
GreenGeeks has a complete range of hosting and VPS plans, fast implementation and responsive, professional service. I was signed up and configuring a reseller account in minutes (not 2-3 days as with other reseller accounts). Completely satisfied with response time on questions, plus they provide good documentation (this reducing the need for questions).