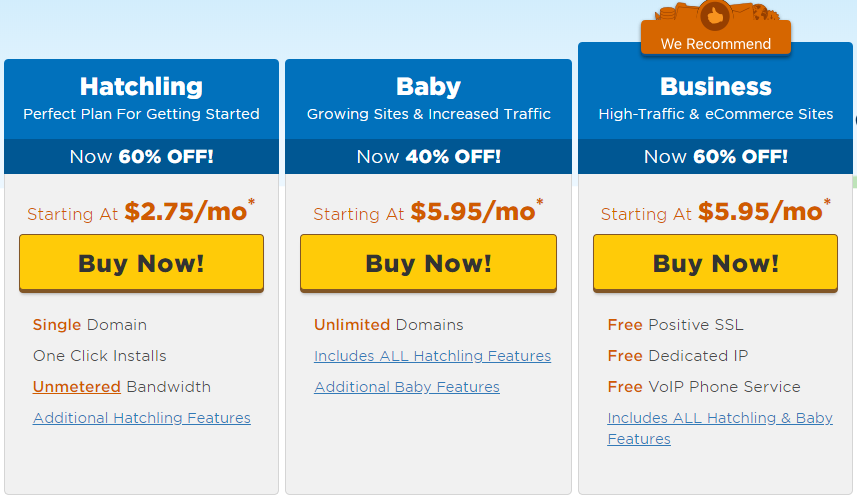 I've been paying for and reviewing HostGator Cloud for more than 37 months.
During that time I've carefully monitored and recorded all of the important metrics and data points, such as their load time, uptime, and customer service responsiveness.
Over the course of this review, I'll be laying out all of the objective statistics regarding my time with HostGator Cloud as well as taking a deep dive into the providers pricing, extra features, and support staff to help you determine once and for all if they are the right hosting provider for you.
Let's dive in…
What is HostGator Cloud?
If you've never heard of HostGator WordPress Cloud hosting, then you're not alone.
HostGator's cloud hosting package has successfully been flying under the radar for months and I didn't hear about it until EIG (the company that owns HostGator, BlueHost and several other hosting providers) reached out to me personally requesting that we review their new hosting service.
I'll be the first to say it…
I didn't have high hopes for this review.
After all, their low cost shared hosting option (ranked #15 of 30) didn't exactly inspire confidence in HostGator's services.
But I was intrigued when one of the HostGator representatives told me this…
Our high-performance managed WordPress platform bundles scalable cloud hosting and robust functionality, empowering your sites to run faster and more securely than ever before. Load pages at blazing speed worldwide without having to configure your caching and CDN.
So what does this jargon-filled statement mean?
In short, they promised 2.5x faster load times among other improvements.
But we had to be sure…
Instead of using the account that they had already set up for us (so to avoid receiving any special privilege that would bias this review), we decided to whip out our credit cards and pay for a real live plan under an anonymous Gmail account.
After that, we set up a default WordPress site, integrated several performance tracking applications, and started monitoring HostGator's performance.
After more than a year of monitoring the site's performance, we've compiled a review detailing the good, the bad, and the ugly (hint: there was no 'ugly')
Pros of Using HostGator Cloud
All of the bells and whistles that come standard with most hosting services are useless if the servers can't deliver reliable uptimes. In the past, I've been incredibly disappointed by HostGator's basic plan.
However…
Their cloud hosting service isn't just playing in a different league. It's a whole different ball game.
Here's why:
1. VERY Strong Uptime of 99.96% (Over the last 8 months)
Although HostGator Cloud's uptimes have slipped a tiny bit in recent months, dropping from a perfect 100% to 99.96% (0.02% better than the industry average) their stats are still impressive.
With only 2 hours of downtime over the course of this review and a total of 41 outages, HostGator cloud is the fifth most reliable host that we've ever reviewed and they don't seem to be slowing down anytime soon.

HostGator Cloud Load Time & Uptime: (full data can be found here.)
When choosing a web host, uptime is THE #1 statistic to pay attention to.
You can have all of the advanced security features and rapid load times on God's green earth, but if your site isn't live, then it's not doing you any good.
Luckily, it doesn't get much better than this…
2018:
January average uptime: 99.89%
February average uptime: 99.93%
March average uptime: 99.99%
April average uptime: 100%
May average uptime:

100%

June average uptime: 

99.99%

July average uptime: 99.89%
August(19'th) average uptime: 

100%
2. Top 5 Load Times (Only 424ms)
Your page loading time is one of the single most important factors in maintaining a high-quality and user-friendly website.
Don't believe me?
Then consider this…
According to market research, if your website doesn't load within 5 seconds, you will lose more than 74% of your mobile site traffic!
Conversely, by decreasing your page load times, you can increase traffic and conversions by more than 74%. Coincidence?
I think not…
Luckily, if you choose to trust HostGator Cloud with your web hosting, you'll never have to worry about losing a potential customer to sluggish load times again.
With a speed of less than 424 ms (more than 50% faster than the industry average of 890 ms), HostGator Cloud is one of the fastest and most affordable hosting providers that we've ever reviewed.
Here are the load time averages from the past 8 months:
2018:
January average speed: 430ms
February average speed: 456ms
March average speed: 479ms
April average speed: 433ms
May average speed:

491ms

June average speed: 454ms
July average speed: 342ms
August(19'th) average speed:

308ms
Unlike many of the other hosts we've reviewed on this site, HostGator Cloud has managed to provide a service that is both stable and fast, ensuring a great customer experience for you and a phenomenal user experience for your audience.
3. Special Discounted Pricing – Exclusive to HostingFacts.com
Considering the improved performance and additional features (which we will get to in a second) that come standard with HostGator's Cloud hosting plan, their basic pricing tiers are fairly competitive.
With prices ranging from $4.95/mo for the basic plan all the way up to $9.95/mo for their most premium package, HostGator's Cloud package is far more affordable than the majority of the 30+ web hosts that we've reviewed in the past.
But it gets even better…
HostGator has been generous enough to provide readers of our site with an exclusive discount that allows you to get HostGator's Cloud hosting for only $2.99/mo.
If that's not enough, you can also get a new domain name for only $2.99!
Now I'm no mathematician, but anytime you can secure a web hosting package with incredibly reliable uptimes and lightning-fast speeds for only $3/month, it sounds like a deal to me.
For those keeping score at home, that's about $2 dollars less than your morning Venti, Mocha-Choca, Whipped, Skinny, Soy Latte with two extra pumps of caramel and an extra shot of espresso at Starbucks. (not to mention the 600 calories that you're keeping away from your waistline)
Unlike any of the other hosts that we've reviewed, HostGator does allow you to pay for a 1 or 3-month subscription, however, because this deal is so low (and is only available for a limited time), you're better off locking in this rate while you still can.
4. Very USER-FRIENDLY…
'Bandwidth' is an incredibly important part of a good hosting provider. As is 'disk space'.
However, if you ask ten different people to explain what it means in plain English, you'll get ten different, jargon-filled answers that will probably make your ears bleed and your eyes glaze over.
As words like "net bit rate", "throughput" and "throttling" leave their lips you'll be left with little-to-no mental bandwidth (pun very much intended) to process what the heck just happened or what exactly you're paying for with your soon-to-be hosting provider.
Mercifully, HostGator's website and sales copy understand your plight and explain, in Layman's terms, exactly what you're getting with your subscription.
Furthermore, navigating their front-end site and control panel is a breeze.
Even the most novice webmaster can quickly find and change important features, integrate useful applications, and make changes to account settings.
HostGator instead uses clear terminology like 'max sites' and 'monthly traffic' to give even the most basic prospect a clear understanding of the bang you're getting for each buck.
And if you get stuck, their live support (detailed below) is available 24/7 and they have a deep library of support tutorials, FAQs, and other troubleshooting documents available.
5. FREE Extras: Anti-Malware, Global CDN, Daily Backups etc…
HostGator throws in a bunch of extras on their plans that push their offer over the edge.
Here is just a sample of what you'll get…
✅ Free Migrations: One of the most notable features that HostGator Cloud offers is free migrations. Unlike BlueHost, which charges nearly $150 per migration, HostGator Cloud will transfer your site over completely free of charge. No nasty loopholes or upcharges included.
✅ Daily Backups: With a few mouse clicks, you can quickly setup full daily backups that will automatically store previous versions of your site so that, if and when the stuff hits the fan, you can quickly and effortlessly get your website back online and avoid the dreaded white screen of death.
✅ Automatic Malware Removal: One of the only notable problems with WordPress sites is that the sheer number of available plug-ins and third-party tools open every WordPress user up to potential security concerns from hackers and cybercriminals. Luckily, in the (inevitable) event that your website is infected with some form of Malware, HostGator will pitch in, help you put out the fire, and get back to business as usual.
✅ Global CDN: Content Delivery Networks help take all of your large files like images and video off your site so it doesn't get bogged down by requests, and instead delivers them to customers using tiny little magic fairies closest to their location to make load times blazing fast.
✅ WPPro Developer Help: Another perk that is unique to HostGator Cloud is access to their WPPro Developer Help which includes access to comprehensive WordPress beginner training and a network of trusted professionals to help you troubleshoot a wide variety of different issues.
For those non-tech savvy webmasters among you, this can be a HUGE perk in the event that you run into a technical issue that is beyond your skill or understanding. No more slumming around Craigslist to find shady "WordPress Experts" to help resolve your issues.
✅ Storage: The vast majority of basic shared hosting providers give you a couple gigs of storage that is sufficient for uploading, you know, a video (singular). However, HostGator sets itself apart from the competition by including unmetered storage on all of their cloud plans. No… I'm serious.

6. Good, Quick Support
As I've mentioned throughout this review, HostGator's customer support is among the best in the industry.
Their 24/7 live support team is available through phone, email, and their hyper-responsive live chat option making customer support queries a fast and painless experience (which is not the industry standard in case you were wondering).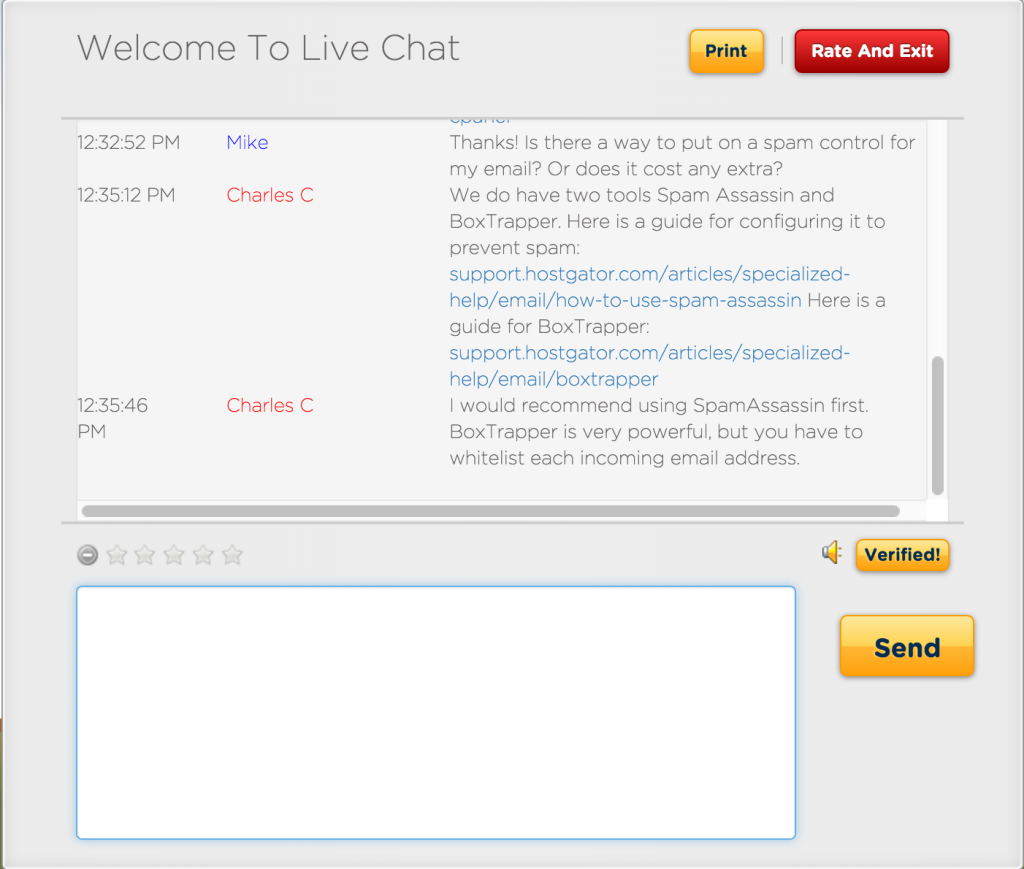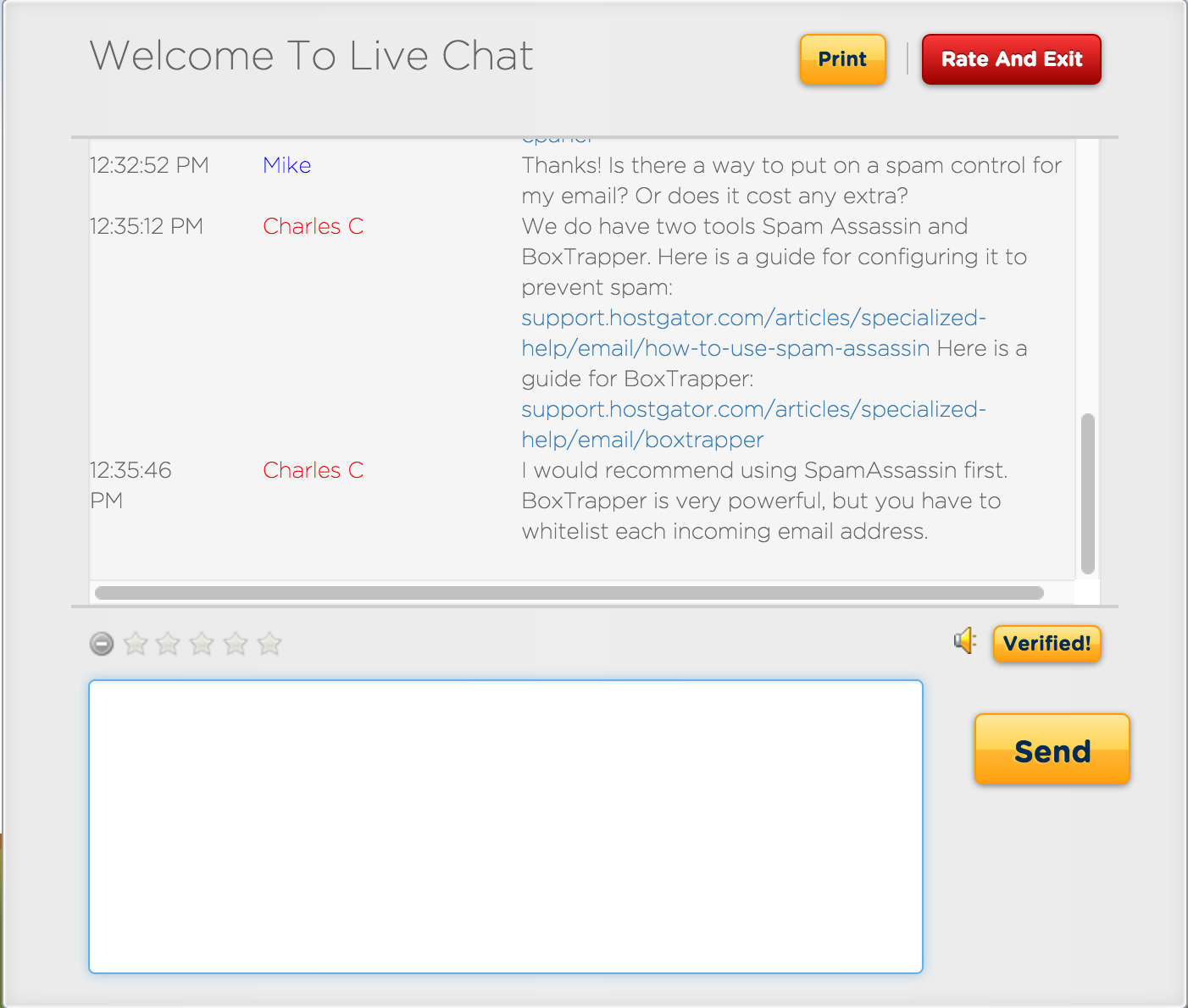 Cons of using HostGator Cloud Hosting
In case you haven't noticed, we're a big fan of HostGator's Cloud service. With the unbridled speeds, reliable load times, and savvy customer support, it's hard to find much to complain about.
However, there are a couple minor drawbacks to consider (although you might be able to avoid one of them).
Here's an overview.
1. Industry-Standard Pricing Tricks (If You Don't Use Our Offer)
Most web hosting companies are notoriously frustrating with regards to how they explain and promote their pricing and, unfortunately, HostGator Cloud is just as guilty of this.
For example, if you'd like to take advantage of the mouth-watering $2.92 deal on their site, you can only sign up either monthly or 1 year upfront. If you want more than 1 year, you'd have to pay $5.48/mo – which would be a deal-breaker, right?

The good news is that our special deal can help take the sting out of a longer commitment, with such a low price that you'd be actually better off locking in that unbelievable (and time-limited) rate.
2. Possible Con: No Social Support Channels
If you aren't a fan of live chat, email, or phone support (a confusing stance to say the least), then you will likely be disappointed by HostGator's lackluster social support.
Unlike many of their competitors, HostGator doesn't appear to be very active on their social channels and you probably won't receive any sort of response if you submit an inquiry on Twitter or Facebook.
While this certainly shouldn't be considered a deal breaker, it's definitely a point to consider.
HostGator Cloud Pricing, Hosting Plans & Quick Facts
Here's a quick overview of the HostGator Cloud plans offered: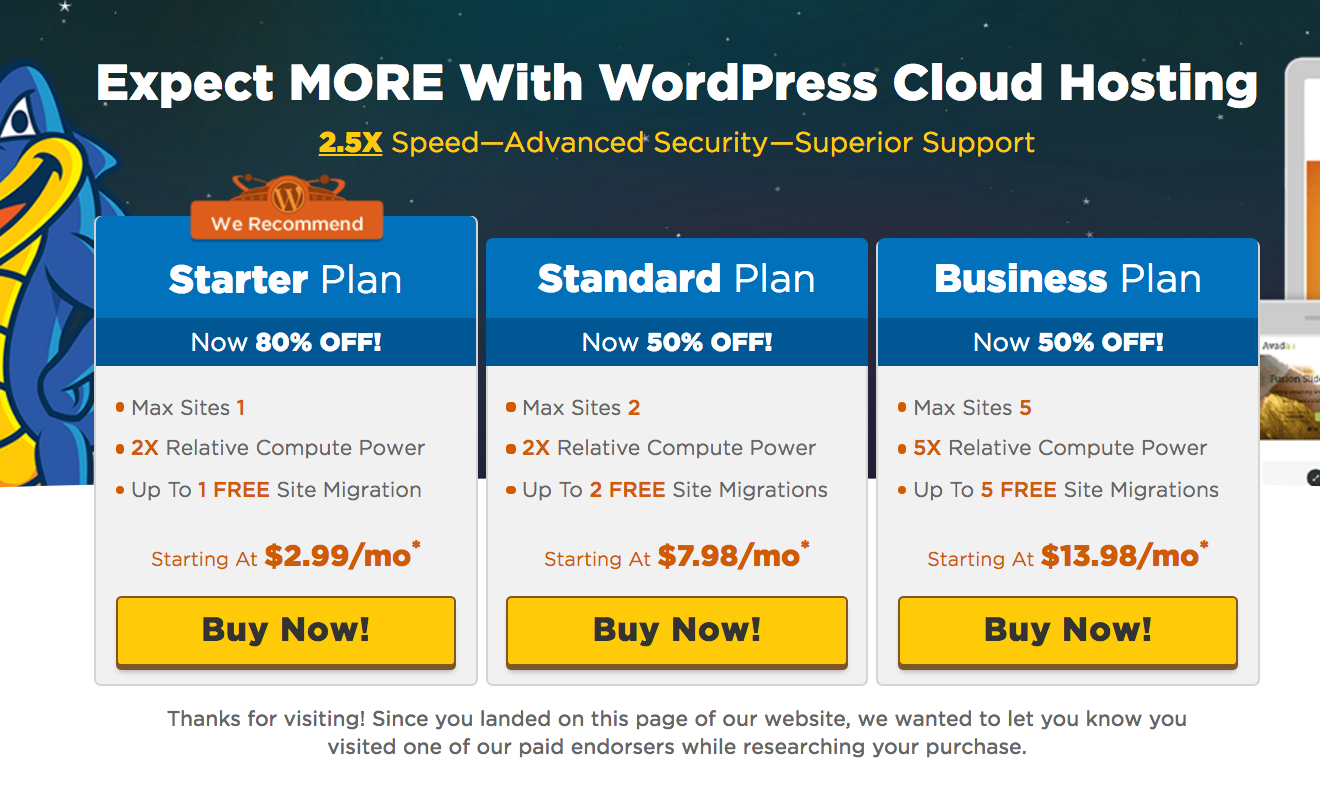 Ease of Signup: Signup process is a breeze!
Payment Methods: You can pay by credit card or PayPal.
Hidden Fees and Clauses: The only major 'gotcha' is a restriction that you can't tap over 25% of their system for over 90 seconds.
Upsells: There are some upsells along the way.
Account Activation: It might require up to 24-48 hours for accounts to be activated in some cases.
Control Panel and Dashboard Experience: cPanel.
Installation of Apps and CMSs (WordPress, Joomla, etc.): Extremely easy, one-click installation process of the most popular apps available.
Do We Recommend HostGator?
Yes.
The entry-level, shared hosting options from HostGator we previously reviewed weren't that great.
However, these upgraded Cloud hosting options are AWESOME.
We cannot recommend these plans highly enough.
Between the impressive uptimes, our insanely low $3 dollar deal, the user-friendliness of their site and all the outstanding extras, this really is one of the best places to host your WordPress website.
No further reading required. Just click and sign up.