This isn't the regular, low-cost shared hosting option that HostGator actively promotes.
This is a whole different hosting environment that many other big players in the web hosting industry aren't leveraging yet.
It's called HostGator Cloud Hosting.
Why it's said to be good? Uptime and Speed.
The two most important factors of a website. At least from a visitor perspective (we all like fast & reliable sites, right?)
But to be really sure about it, we took out our credit cards and paid for a real, live plan. After that, we set up a default WordPress website and started to monitor performance.
Want the good, the bad, and the ugly? (Hint: there was no 'ugly'.)
Let's take a look.
PROS of Using HostGator Cloud:
Fancy additional services are no good if a site doesn't stay online. HostGator's basic plan couldn't deliver. But this new option is on a whole different playing level. Here's why.
1. Best in Uptime: 100.00% (last 6 months)
That's right. 100%. Just slightly ahead of A2 Hosting (2nd) and SiteGround (3rd)
While most hosts brag about their measly ~99% uptime, HostGator's Cloud Hosting delivers where it matters most.
Their 100% uptime from July 2016 to January 2017 is incredibly impressive. We'll keep an eye on their uptime for the following months, too.

HostGator Cloud Load Time & Uptime: (full data can be found here.)
Uptime is THE stat to watch when choosing a host. If your site's not live, it ain't doing you any good. And it don't get much better than 100%.
Last 6 months uptime for HostGator Cloud:
August 2016 uptime:

100%

September 2016 uptime:

100%

October 2016 uptime: 99.98%
November 2016 uptime: 100% 
December 2016 uptime:

100%

January 2017 uptime:

100%
2. Top Two in Speed So Far (360ms)
Ever attempt to open a site on your mobile, only to wait? And wait? And wait?
Not fun. So you do what every other sane, rational human being does in that situation.
You hit the back button, and go down to the next search result on Google.
Page loading times go far beyond basic usability, causing 74% of your mobile site traffic like this to leave if it doesn't load within 5 seconds!
Similarly, decreasing those page load times can increase conversions by 74%. Coincidence?
While using HostGator Cloud, you don't need to worry about it. Only A2 Hosting (a bit more expensive) is faster than HostGator Cloud.
August 2016 load time:

317ms

September 2016  load time: 251ms
October 2016 load time:

261ms

November 2016 load time:

320ms

December 2016 load time:

614ms

January 2017 load time: TBA
Unlike many others, this seems to stable and fast.

3. Special Discounted Pricing – Exclusive to HostingFacts.com
The pricing tier's for HostGator's Cloud hosting plans aren't too bad considering the increased performance and additional services you get (which we'll touch on in a second).
The prices range from $5.95/mo for the lowest plan, up to $9.95/mo for the best of the best. Compared to the other ~30 web hosting reviews we've done, that's not too shabby!
But we can do you one better.
HostGator has been generous enough to provide readers of our site with an exclusive discount.
You can get HostGator's Cloud hosting for only $2.99/mo.
If that's not enough, you can also get a domain name for $0.01.
Now I'm no mathematician, but it looks like you can get a premium web host with 100% uptime for about $3 bucks a month.
THREE!
For those keeping score at home, that's about $2 dollars less than that Venti, Mocha-Choca, Whipped, Skinny, Soy Latte with two extra pumps of caramel and an extra shot of espresso at Starbucks this morning. (Also, about 600 calories less too.)
You could pay monthly, but because this deal is so low (and it's only available for a limited time), you'd be better off locking in this rate.
4. Very USER-FRIENDLY…
'Bandwidth' is incredibly important. As is 'disk space'.
However ask ten different people to explain what it means in plain English, and you'll get ten different answers that sound like a lot of jargon and nonsense. Your eyes glaze over as nonsensical words like "net bit rate", "throughput" and "throttling" leave their lips. Leaving you with little-to-no mental bandwidth (ha!) to process what the heck just happened.
Mercifully, HostGator's website empathizes and attempts to use actual, plain English to explain what you're gonna get when signing up.
Navigating their site is a breeze. Signing up for an account isn't rocket science. And things are explained relatively clearly — especially for a host.
Not understanding the nuances of those things makes it nearly impossible to decipher the plan tiers from some hosting companies because it might as well be written in latin.
HostGator instead uses clear terminology like 'max sites' and 'monthly traffic' to give even the most basic a clear understanding of the bang you're getting for each buck.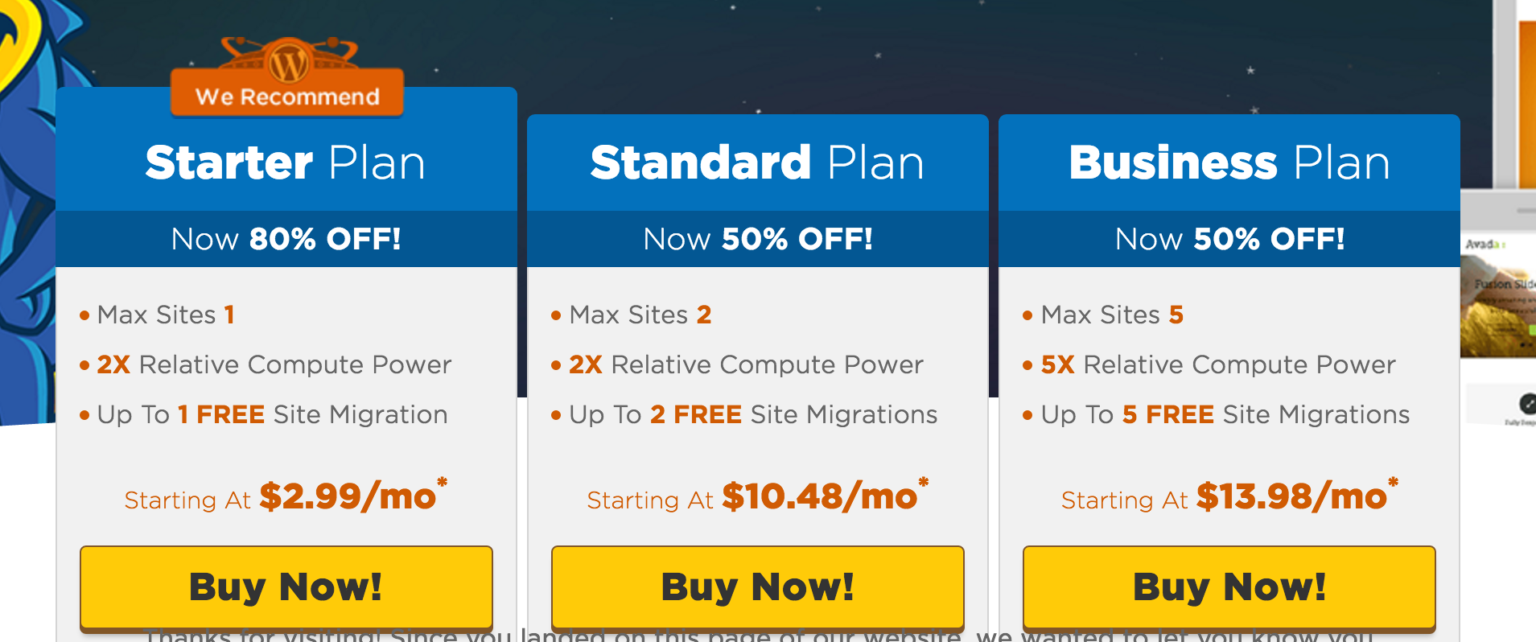 And if you get stuck, their live support (see below) is available, while they also have tons of tutorials, FAQ and other support docs available.
5. 100% Free Migration + Daily Backups + Automatic Malware Removal + Global CDN + SSL Certificate = #Winning
HostGator throws in a bunch of extras on their plans that push this offering over the edge.
For example…
✅ Free Migrations: First, they'll transfer your site over for free. Like, really free. They don't say it's free, only to charge you later based on a bunch of different loopholes like some hosts.
✅ Daily Backups: From their super duper, easy to use control panel, you can set-up full daily backups that will run automatically for you. These are a lifesaver when… stuff inevitably hits the fan and you're scrambling trying to get your site back online.
Like that one time you uploaded one plugin that for whatever reason, didn't work with another one. You try previewing the new changes, only to see the dreaded white screen of death.
✅ Automatic Malware Removal: One of the few downfalls of WordPress are the potential security holes with so many third-party tools and plugins. Fortunately, HostGator's got your back. If you do run into an issue, they'll pitch in and help out.
Like that one time there were 10 plugin updates and 3 theme updates pending for a few weeks, giving hackers a simple 'back door' after reading all about how those said plugins patched old security issues in their latest updates (you know, the one you still haven't made).
✅ Global CDN: Content Delivery Networks help take all of your large files like images and video off your site so it doesn't get bogged down by requests, and instead delivers them to customers using tiny little magic fairies closest to their location to make load times blazing fast.
✅ SSL Certificate: They also throw in a free SSL certificate for processing transactions on your site. (It's important to note that this is a shared one though, so you might want to upgrade to private if you're looking for additional security.)
Beyond ensuring that sensitive data stays encrypted and protected, there's also a few other secondary benefits of using an SSL certificate. Over the past few years, Google has been 'rewarding' secure HTTPS/SSL sites in their rankings. That means the proactive websites who're taking their site visitor's private information seriously can also expect a nice little SEO boost too.
✅ WPPro Developer Help: Another unique, additional perk includes (a) access to WordPress beginner info, but more importantly (b) access to a network of trusted professionals who can help you troubleshoot various issues.
This can be a HUGE pain point if you're not technical and run into a few issues (like the aforementioned plugin catastrophes). Best of all, you don't have to slum around Craigslist looking for technical help that's tough to verify (and impossible to know whether you can trust what they're saying or not).
✅ Storage: Most basic, shared hosting options give you a couple gigs of storage. Good enough for you know, like A video. (Singular — as in, one.) These Cloud hosting options though pack a punch, starting at the already-high 50GB, jumping to 150GB for the next tier, and then going up as high as… unlimited for the biggest plan. No joke.

6. Good, Quick Support
As previously discussed, HostGator's support is good.
It's available through phone, email, and live chat. The live chat option is both responsive and quick, making it a pretty painless experience overall. Their support is also much better than other EIG brands tend to fare.
They also offer an increased 45-day money back guarantee, so you can give them a spin without getting locked into some long-term deal.
CONS of using HostGator Cloud Hosting:
There's a lot to like about HostGator's upgraded cloud hosting options. A lot.
However, there are a couple minor drawbacks to consider (although you might be able to avoid one of them).
Here's an overview.
1. Industry-Standard Pricing Tricks (If You Don't Use Our Offer)
How web hosting companies explain and promote their pricing is one of the most consistently frustrating things you can count on.
Unfortunately, HostGator's Cloud options are guilty of this too.
For example, if you'd like to take advantage of the mouth-watering $2.92 deal on their site, you can only sign up either monthly or 1 year upfront. If you want more than 1 year, you'd need to pay $5.48 – which would be a deal-breaker, right?

The good news, is that our special deal can help take the sting out of a longer commitment, with such a low price that you'd be actually better off locking in that unbelievable (and time-limited) rate.
(Did I mention we have a special offer yet?)
2. Possible Con: No Social Support Channels
I'm not sure why you wouldn't want live support that's pretty quick and efficient.
However, if you don't, and you're just dying to get some replies on Twitter or Facebook, HostGator can't help you.
Their social channels are generally pretty nonresponsive to support requests, instead redirecting you over to their live chat options to speak with a real support person, you know, live and in real-time.
Overview on HostGator Cloud Hosting Plans + Quick Facts
Here's a quick overview of the HostGator Cloud plans offered:
Starter Plan: This plan starts at $2.99 per month. It supports 1 site, 25k visits per month, 1GB backups, and 50GB storage.  <- We used this plan for our test site.
Standard Plan: This plan starts at $7.95 per month. It supports 2 site, 200k visits per month, 2GB backups, and 150GB storage.
Business plan: This plan starts at $9.95 per month. It supports 3 site, 300k visits per month, 3GB backups, and unlimited GB of storage.
Ease of Signup: Signup process is a breeze!
Payment Methods: You can pay by credit card or PayPal.
Hidden Fees and Clauses: The only major 'gotcha' is a restriction that you can't tap over 25% of their system for over 90 seconds.
Upsells: There are some upsells along the way.
Account Activation: It might require up to 24-48 hours for accounts to be activated in some cases.
Control Panel and Dashboard Experience: cPanel.
Installation of Apps and CMSs (WordPress, Joomla, etc.): Extremely easy, one-click installation process of the most popular apps available.
Do We Recommend HostGator?
Yes.
The entry-level, shared hosting options from HostGator we previously reviewed weren't that great.
However, these upgraded Cloud hosting options are AWESOME.
Yes, we couldn't recommend these plans highly enough.
Between the impressive 100% uptime, our insanely low $3 dollar deal, the user-friendliness of their site and all the outstanding extras, this really is one of the best places to host your WordPress website.
No further reading required. Just click and sign up.
Do you have any experience with HostGator Cloud plans? If so, we'd love to hear a transparent and honest review below – positive or negative!
Submit a review
Submit a short but detailed review and earn $10 when we approve it.
6 user reviews for HostGator Cloud
Long time HostGator user
I have been a customer of hostgator for some time now. I have upgraded from Hatchling to Cloud Business. The speed of my 2 mb website has been good and all issues on our site have been handled professionally and pagespeed / onpage results are just fine.
Support is on the good side...
I've been using hostgator for just under a month and today I received a "500 Error" and my site completely shut down. I called their tech line and they said I had exceeded my bandwidth. Not Cool!
However, after I contacted the support they quickly fixed it.
Hands down – their support is good.
So far all good.
I signed up for HostGator cloud back in June. So far, everything is working properly.
Uptime seems to be 100% and load times are much faster than my previous host (Site5).
I haven't had a chat with their support (yet), so I can't rate this.
Great support
I am quite new to the blogging world. When I finally have the courage to create my own, I chose HostGator due to the reviews on this site. Yep. HostingFacts.com helped me with choosing my host, and I am quite satisfied. One thing I liked about HostGator very much is the support. Being a new blogger, I am quite slow and still learning about it. HostGator is such a huge help.
I recommend this to new bloggers, and although the price is higher than most hosts, this one is worth the money and will leave you satisfied.
Definitely worth it!
I've started my blogging journey with the regular HostGator shared hosting. It worked great for me until my blog started getting high traffic. I've faced several downtimes on HostGator and moved to Bluehost shared hosting. My experience with Bluehost shared hosting wasn't that good. And I decided to upgrade to Bluehost Managed WordPress Hosting. I didn't find any difference. Believe me.
I bought HostGator Cloud hosting on last black friday and I'm still using it. It's far-far better than Bluehost or GoDaddy (I've used them both).
So far, I haven't faced any major downtimes with HG Cloud Hosting. Thumbs up for this!