A bit of background
We've been a paying customer for Hosting24 for 17 months. During that time, we've monitored Hosting24's performance including uptime, load time (speed) and customer support experience.
Hosting24 was founded in 2004 in the beautiful Larnaca, Cyprus.
Because… taxes? Also, beaches.
Similar to many other web hosts, their website is chock-full of hyperbolic language, including 99.9% uptime guarantees and 'automatic backups' (which we'll debunk in a minute).
Let's see how they measure up.
We set up a WordPress website on their cheapest shared hosting plan back in June of 2015. Since then, we've been closely monitoring uptime and speed, in addition to testing their customer support and performing background checks to compile our results in an unbiased, honest review.
Keep reading to find out what we found.
PROS of using Hosting24:
Hosting24 has pretty good customer support. They also throw in a few other nice-to-have (but not essential) things. That's about it.
Take a look.
1.

 Pretty Good Customer Support

Hosting24 primarily offers support via live chat, which connected us immediately to one of their support agents.

Their responses were thoughtful, detailed, and clear enough. Although there was a noticeable delay in between answering questions if we're nit-picking. A quick background check reveals other similarly mixed reviews.

Overall, not too bad to begin with though.

2.

 Enhanced Security with Automated Backups

Hosting24 follows up their seemingly customer-centric approach by paying special attention to your site's security.

Many of their hosting plans come standard with CloudFlare DDOS Protection and the ClamAV antivirus scanner to proactively protect your site.

They'll also even perform weekly backups. In an ideal world, you would have daily backups. But since they're throwing it in for free, while many other sites force you to pay extra, it's not a bad deal. We'll review these backups in more detail soon.

In addition, they also offer SpamAssassin Protection for email.
3.

 U.S. and European Server Locations

When signing up for a new shared or VPS hosting account, you're given the option to choose between hosting your site on their North America (Asheville, North Carolina) or European (United Kingdom) locations (depending on who you're trying to reach).
4.

 Numerous Promotional Sales

If you time it right, you might get an incredible deal.

At the time of this writing (5/18/16), they were running a 50% lifetime discount flash sale.

And a quick look at their Facebook Page reveals numerous sales over the past few weeks, occurring every 14 days or so.

To top it all off, you can try all their shared hosting plans for $0.01 for the first month (which also includes a money-back guarantee, just in case you can't live without that single cent).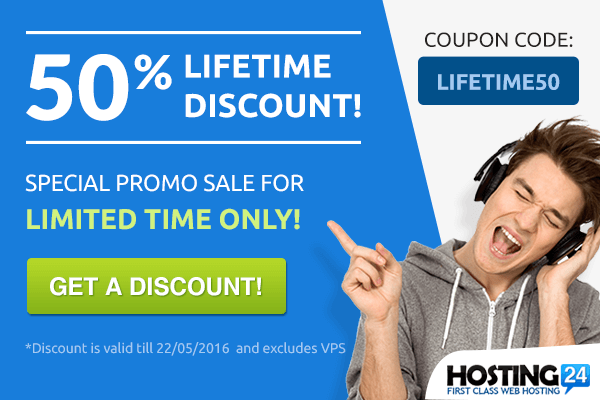 5.

 Free Website Transfer(s)

Hosting24 will help you transfer or migrate an existing website — free of charge — if it's hosted elsewhere. (It's worth noting that almost every other host we've reviewed also offers this perk.)
CONS of using Hosting24:
Hosting24 offered pretty decent customer support. Unfortunately, that's pretty much it. The rest of their performance is pretty bad.
Here are the details.
1.

 Below Average 99.79% Uptime Over Prior 12 Months

One of the first things you'll notice when logging on to the Hosting24 website are the 99.9%+ uptime boasts.

But after putting them to the test, we didn't see anything close to that.

Instead over the last twelve months, Hosting24 was only able to deliver 99.79% uptime in our test, which is well below the industry standard.

Apparently, we weren't the only ones experiencing poor results.

Our background checks revealed many customer complaints about being unable to access their website (including the dreaded 'Service Temporarily Unavailable' message).
"The uptime has been horrible. My website gets offline almost daily. According to Pingdom my website has been offline for over 50+ times."
"Uptime was the worst point: my websites have been down so many times because of so-called "server updates" and Hosting24 never noticed it themselves."
"The most regular error that I get is: Service Temporarily Unavailable"
"I worked with Hosting24 but didn't like their stability and support"
"Now they are providing good service, just uptime is not 100%"
See previous uptime - 2015 (expands)
June average uptime: 99.96%
July average uptime: 99.83%
August average uptime: 99.76%
September average uptime: 99.93%
October average uptime: 99.94%
---
Last 12 months average uptime (2015 – 2016):
November (2015) average uptime: 99.65%
December (2015) average uptime: 99.72%
January average uptime: 99.99%
February average uptime: 99.89%
March average uptime: 99.94%
April average uptime: 98.79%
May average uptime: 99.98%
June average uptime: 99.93%
July average uptime:

99.63%

August average uptime: 99.98%
September average uptime:

99.97%

October average uptime:

99.97%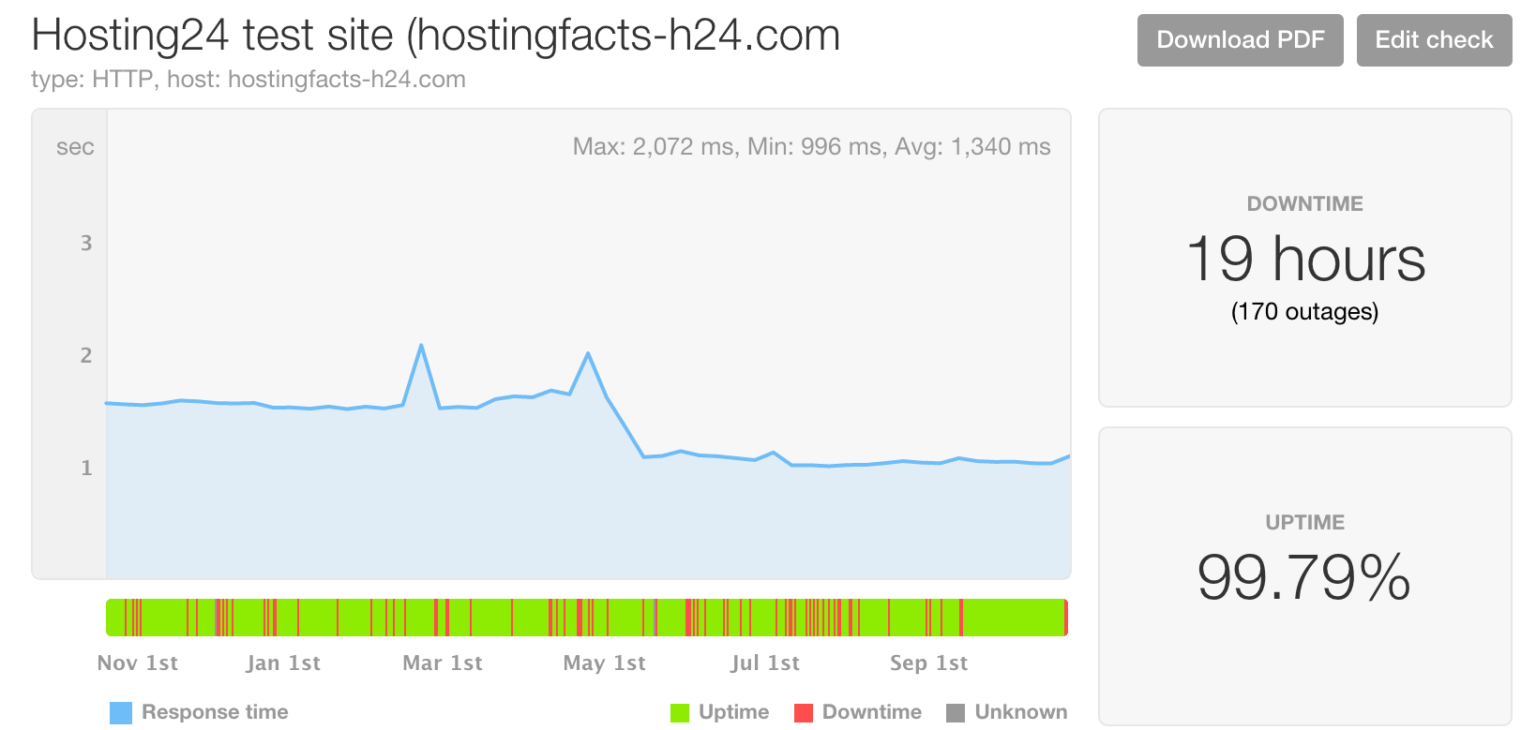 Hosting24: Page Load Speed and Uptime (Last 12 months, full data can be found here.)
2.

 94% (!) Slower than the Competition

If Hosting24's uptime is below average, their page loading times are absolutely abysmal.

They clocked in at 1340ms over the past year, which makes them 94% slower than the competition's 700ms average.

Honestly, after reviewing thirty web hosts to date, this is one of the worst page speed times we've seen.

Consider this:

74% of people will leave your site forever if it fails to load within just 5 seconds. HALF of the people won't even wait 3 seconds.

That means speed isn't just an experience issue. In fact, it has a direct impact on your bottom line too, causing site visitors to leave in droves.

And one of the most important factors for site speed, comes down to the speed of your hosting. There's only so many things you can do if the foundation is faulty.

See previous load times - 2015 (expands)
June average speed:

1,562ms

July average speed:

1,563ms

August average speed:

1,585ms

September average speed:

1,549ms

October average speed: 1,551ms
---
Last 12 months average load time (2015 – 2016):
November (2015) average speed: 1,556ms
December (2015) average speed: 1,554ms
January average speed: 1,512ms
February average speed: 1,659ms
March average speed: 1,544ms
April average speed:

1,726ms

May average speed:

1,291ms

June average speed:

1,086ms

July average speed:

1,032ms

August average speed: 1,020ms
September average speed:

1,043ms

October average speed:

1,043ms
3.

 Limited, Marginally Beneficial Backups (Despite Claims to the Contrary)

Hosting24 advertises their backup feature as a badge of honour on their website.

But in our experience, it doesn't live up to the hype. Here's why.

Reason #1: They only do weekly backups.

Ideally, these should be done daily to make sure you always have a copy ready to restore should anything happen during the course of business as usual or overnight (a hack comes to mind).

Reason #2. During the weekly backup, they will delete your previous ones.

That's not ideal, because to be on the safe side, it's always better to have multiple versions. Relying on a single backup could be a problem if there are any random problems or issues that happen.

Reason #3. To top it all off, they won't backup accounts larger than 2GB.

2BG ain't that big. Especially if your site is highly visual (eCommerce comes to mind). If you don't properly scale, crop and compress high-resolution images before uploading them, you could have a single photo take up over 20mb easily. Multiple that by 10 (or 100) and you're quickly maxing out.

All-in-all, don't believe the hype.

You're probably better off backing up the site yourself.
Overview on Hosting24 shared hosting plans
Here's a quick overview of their hosting plans. They offer two shared plans.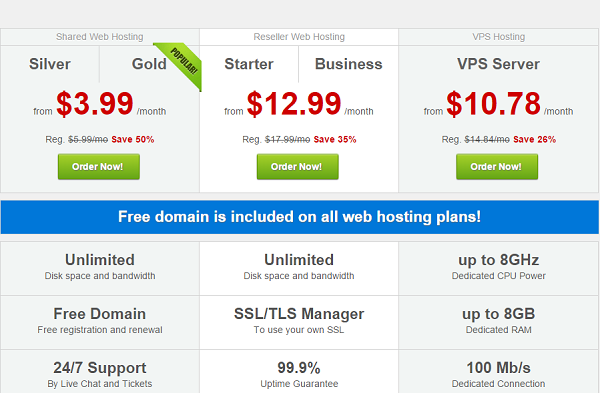 Silver plan: This plan starts at $3.99 per month. It comes with unlimited storage, unlimited bandwidth and the option to choose your server location.
Gold plan: This plan starts at $6.99 per month. It comes with everything in the silver plan plus custom name servers and add-on domains.
You can try all their shared hosting plans for $0.01 for the first month.
Quick Facts
Free domain? Yes.
Ease of Signup: Easy sign up process.
Payment Methods: Credit Card, PayPal.
Hidden Fees and Clauses: Accounts with a single file above 1GB, or with more than 250,000 files, can be terminated without notice to the account owner.
Upsells: No upsells.
Account Activation: Instant Activation.
Control Panel and Dashboard Experience: cPanel.
Installation of Apps and CMSs (WordPress, Joomla, etc.): One-click installation of popular apps and CMSs through Softaculous.
Do We Recommend Hosting24?
No. We cannot.
When you sign up for web hosting, you're paying for performance.
Namely, (1) uptime and (2) page loading times.
Hosting24's uptime was well below average. The best website in the world, that's consistently falling offline, won't benefit you.
And their page loading times were even worse, among the slowest we've seen. That's a BIG problem when it comes to generating revenue from this site (as discussed earlier).
A quick look at our full web hosting list will help you find MUCH better web hosts, with stable uptime, blazing fast loading times, and fantastic customer support – all at a decent price point.
Do you have any experience with Hosting24? Please leave a review below, good or bad, as long as it's honest and transparent.
Submit a review
Submit a short but detailed review and earn $10 when we approve it.
6 user reviews for Hosting24
Not that bad!
I'm using hosting24 since 2009. I host more websites and finally I change to a reseller account due the large number of websites I'm hosting on there servers.
I got some problems, like my sites were down, a couple of times, I contact the support, and I got very fast my problem solved! I have some experience also with other hosting sites but the proportional between price and quality is much more better with hosting24! I consider for those prices, services are very good. Maybe when my sites arrive over 1 million visitors per day (!) I'm going to move to another server!
The only con- I will add, is about domain transfer, not all domains are supported, so I need maybe to move some of my .de domains.
Better than Hostgator
I switched to Hosting24 from hostgator and to tell you the truth this small company has been better than the big , well-known hostgator. My sites loads faster, support is 100 times better and it's half prize. I read the review about hosting24 being slow and down alot -I haven't experienced this at all, I guess it depends on what server you are on.
Conniving Company?
I have a hosting account with 000webhost.com which is ran by Hosting24.. (its their free hosting site), they intentionally suspend your free hosting account essentially locking it and telling you to upgrade to the paid hosting (Hosting24) to un-suspend your account.
They claim I violated the 20% CPU limit over 1000 times.. That is Bullsh*t, I don't have the traffic nor anything continuous running that would use up CPU, It appears they wait until you establish a website then suspend you to get you to upgrade.. Oh and that 20% CPU limit IS NOT IN THERE TOS… So I believe I'm in my legal rights and am going to attempt to retrieve my website content and if they do not allow me to, I'll get a lawyer.
Only one experience with Hosting24
I was using free host before I moved to hosting24. I'm pretty satisifed with them, but to be honest – I don't have much experience with other hosting providers, nor do I track my website uptime and speed.
Perhaps it's time for change.
Decent host, could be much better, though.
Hosting24 was offering a good deal that included a domain name and the hosting for about $10/month. It took quite some time for it to process around 24-48 hours. They claimed that if you did not enjoy they service you can cancel within 30 days and receive your money back, no questions asked. I tried to cancel and they asked for a reason. I told them that I found a better service and they didn't refund me.
Too slow
I know that Hosting24 also offer free hosting via 00webhost.com which is VERY bad, but hey – it's FREE!
Since they heavily suggest Hosting24 – I decided to give it a go. After all, they made my transfer for free which was great as I'm not very computer savvy.
However, after using them for nearly 6 months I'm thinking of leaving. Page load times is a BIG issue for me and lot of my friends and colleagues who want to access to my blog are often saying that it's loading way to slowly.