Hostinger was founded in November 2004, and they've become a web hosting powerhouse ever since.
They've shot up to over 29 million clients using Hostinger in 178 countries.
There's a reason that 20,000 new clients sign up to use their services every day. The company allows you to create a website with complete freedom.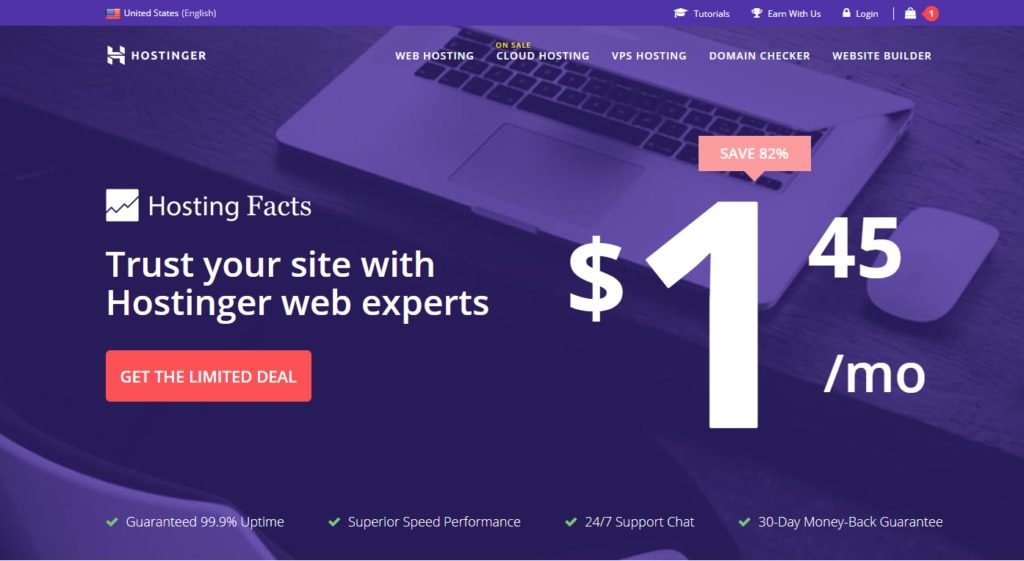 What is Hostinger? Where Did They Come From?
In 2007, they became 000webhost.com, a free web hosting service with no advertising.
Then, in 2011, the Hostinger web hosting brand was born. By 2012, the company had expanded internationally with a new incorporation in Cyprus.
By May of 2014, Hostinger had already exceeded a user base of ten million people. By January of 2017, the user base had grown to 29 million people.
That's pretty impressive growth in just over a decade. And the company boasts tons of unlimited and free features. But are all those extra perks truly unlimited and free?
We checked it out for ourselves so you wouldn't have to, paying for a real, live plan with Hostinger. After that, we set up our own website and began to monitor its performance over the past year.
Want to know how good (or bad) Hostinger really is? Let's take a look at the pros and cons of this web host.
Pros of Using Hostinger
Unlimited or free services don't mean a thing if your site can't stay online.
Our site with Hostinger had strong uptimes, fast speeds, great support, and more.
1. Mostly Good Uptime
Uptime is the most important thing to check out when considering a web host.
Hostinger seemed to perform pretty well in this area except for every few months it seems to spike a lower overall. In March our site experienced an uptime of 99.88%, which is about an hour of downtime for the month – not good!
Last 10-month average uptime:
December 2017 average uptime: 99.04%
January 2018 average uptime: 100%
February 2018 average uptime: 100%
March 2018 average uptime: 99.88%
April 2018 average uptime: 99.99%
May 2018 average uptime: 99.93%
June 2018 average uptime: 100%
July 2018 average uptime: 100%
August 2018 average uptime: 99.98%
September 2018 average uptime: 99.89%

Click here to find full uptime and load time statistics for the last months
2. Fast Load time – 385ms
Fast page loading times are vital for any website user's experience with a site.
Have you ever headed to a web page only to get stuck waiting on the site to load for what seems like ages?
We all have.
Moreover, you probably didn't stick around for long. If a website takes more than three seconds to load, 40% of people abandon it, according to Neil Patel.
Hostinger boasts servers in the USA, Asia, and Europe (UK). Each is reportedly connected to a 1000 Mbps connection, which ensures that loading times are stable.
How did they fare in our tests?
Last 10-month average load time:
December 2017 average load time: 467ms
January 2018 average load time: 436ms
February 2018 average load time: 428ms
March 2018 average load time: 403ms
April 2018 average load time: 344ms
May 2018 average load time: 423ms
June 2018 average load time: 355ms
July 2018 average load time: 322ms
August 2018 average load time: 349ms
September 2018 average load time: 318ms
In average, page loading times were 385ms.
That's 79.43% faster than the industry average of 890ms!
3. 30-Day Money Back Guarantee
Hostinger offers tons of different payment options like Visa, Paypal, Mastercard, Discover, Bitcoin, Maestro, American Express, and JCB.
They also offer a 30-day money back guarantee. So you can try them out and get your money back if the performance or experience is subpar.
Be aware that not all products are available for refund, and some products have special refund terms, according to Hostinger's Refund Policy. We'll save the details for the cons section below.
4. Multilingual Customer Support
Customer support can either make or break a web host.
If your site is down for some reason, and you're unable to get in touch with a customer support person ASAP, you might lose out on a ton of sales.
Hostinger doesn't disappoint. The company offers multilingual customer support team, live chat and they integrated Intercom as their main support system.
Live chat is only accessible if you're logged into a Hostinger account, though. (See con #1 for more details.)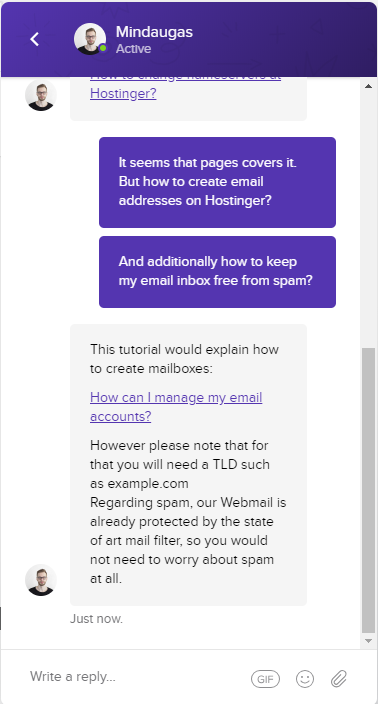 We had to wait under 1 minute for a chat support agent to connect and another minute for the answer, which was amazing. And their knowledge base articles are short and comprohensive, they include gifs and images on how to do something.
Mindaugas answered our questions quickly and with a great use of language.
To get in touch with Hostinger without being logged in, click the "Contact Us" button at the bottom of their site.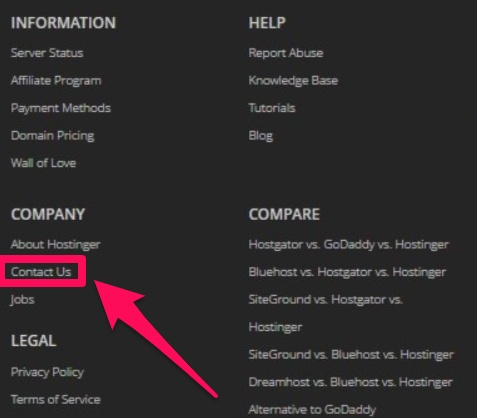 Then, you'll be taken to a page where you can choose whether you're looking for a support to report an abuse or submit a general inquiry ticket.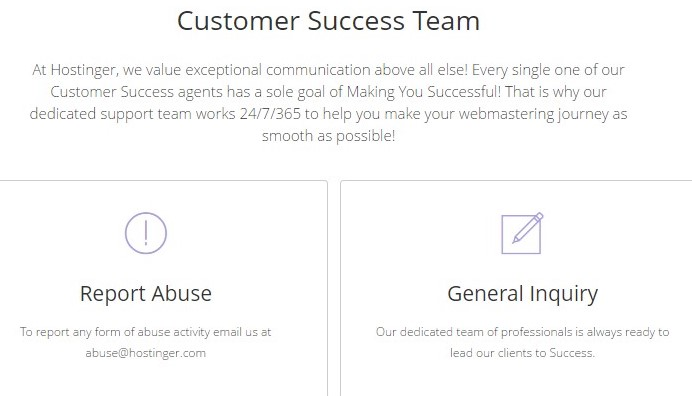 To submit a ticket, you'll have to submit your name, email, and your message.

Hostinger also has a huge knowledge base as well as tutorials(Everything from website building to SEO).  Where you can find guides, information, and answers to questions by yourself.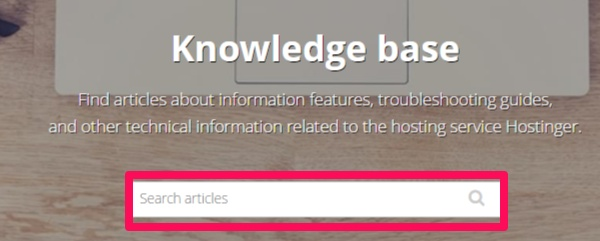 Users can search articles or choose between three categories in the knowledge base:
5. Free Website Builder and Domain Name
You'll also get a free website builder (although the popular website builders are better) with Hostinger's services with any plan you choose. There are tons of different templates to choose from, too.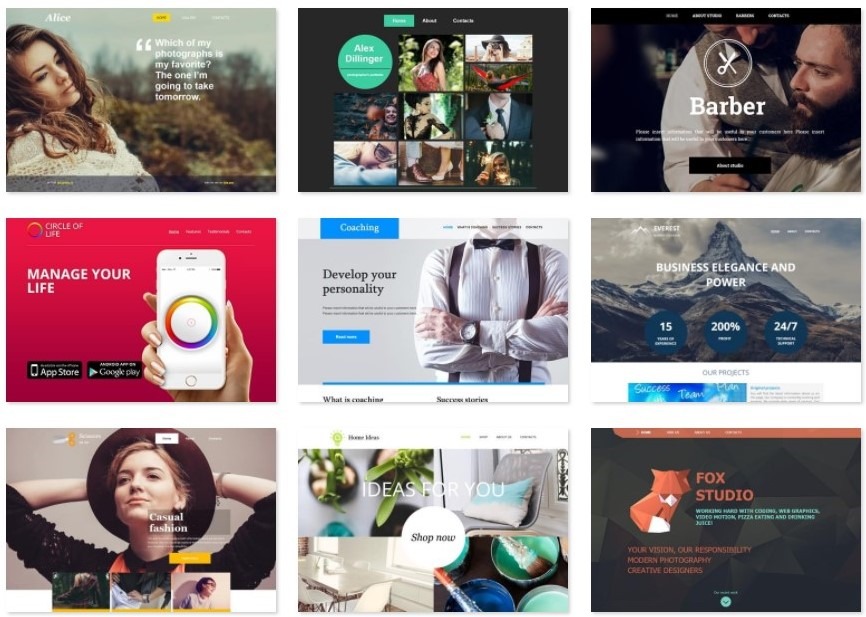 Once you've chosen a template, you can customize everything in your pages right from Hostinger.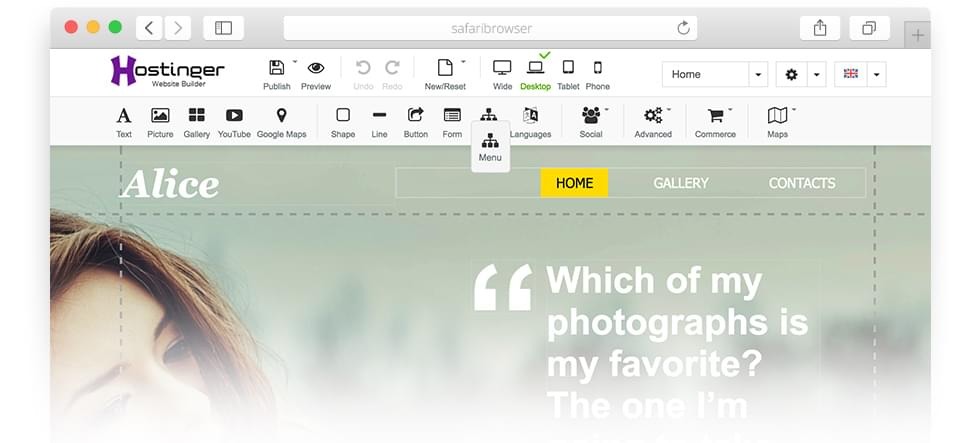 Free domain names are available with Premium and Business web hosting, which will save you a bit of money in the long run.
You will have to pay extra for more than one domain. More on that later.
6. Easy to Use
Hostinger offers a modern, easy-to-use interface where you can find everything you need all in one location.
That way, you can track logins, update billing information, manage your domains, and monitor emails from your dashboard.
The control panel isn't a traditional cPanel, but large icons make it simple to find exactly what you need when you need it.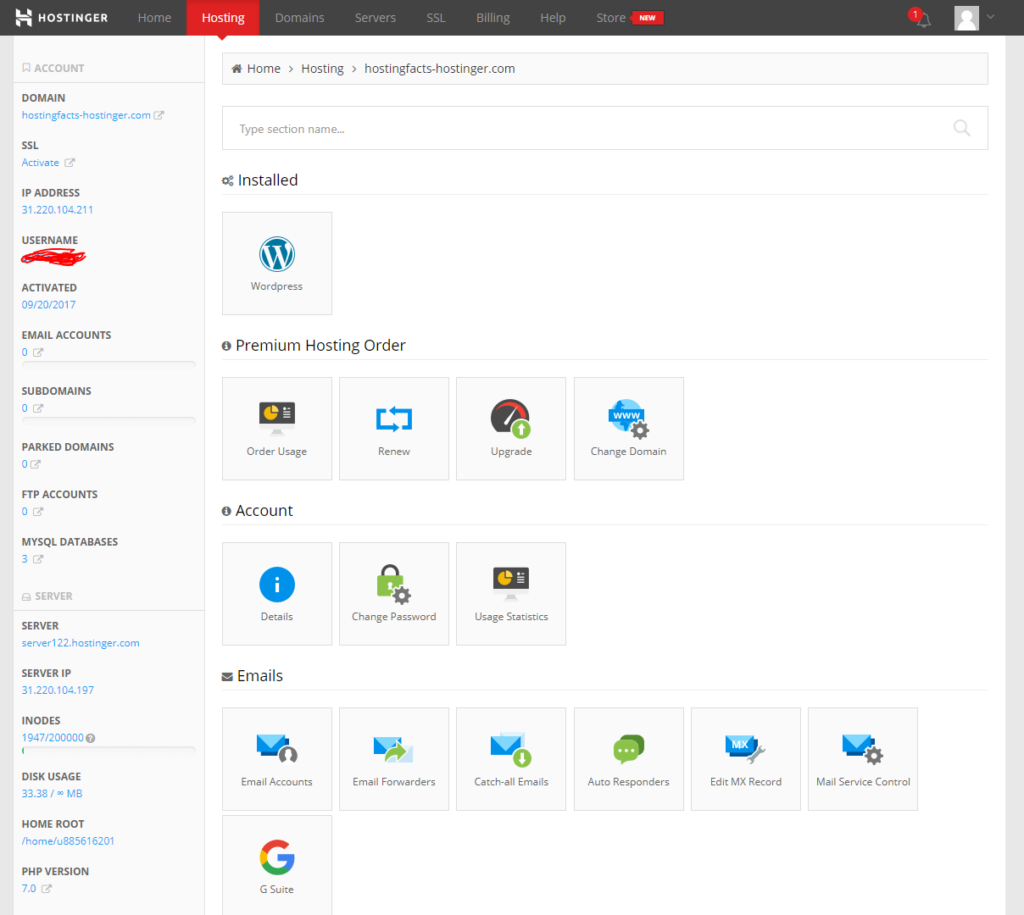 Some advanced users might miss cPanel. But otherwise, this version is great for beginners who don't want to be a software engineer to figure out how to get a simple website up and running.
7. Unlimited Features with Premium and Business Plans
If you sign up for one of the top two Hostinger plans, you'll gain access to unlimited email accounts for free.
Managing those accounts right from the control panel means that there's no guesswork about spam filters, usage, and more.

You can set up autoresponders, enable or disable accounts, and forward emails sent to a customer's domain.
Bandwidth and databases are unlimited unless you choose the "Single Web Hosting" plan.
With the latter you'll be limited to 10GB of disk space, 100GB of bandwidth, one MySQL database, and one email account.
8. Industry-Standard Pricing Tricks but Still Affordable
Tons of web hosting companies promote their prices in a false light. Hostinger is one of them, although they do it in a more clear way than many others.
For example, if you want to take advantage of the awesome $1.45 per month deal for Single Shared hosting, you'll have to commit to Hostinger for 48 months and after the 4 years you're renewal cost will jump up to $7.99/month. If that's a bit much for you, we have also listed best free web hosting services.
If you're willing to be stuck with the same web host for four years, then it's incredibly cheap for that time. That could save you quite a lot over a long-term period.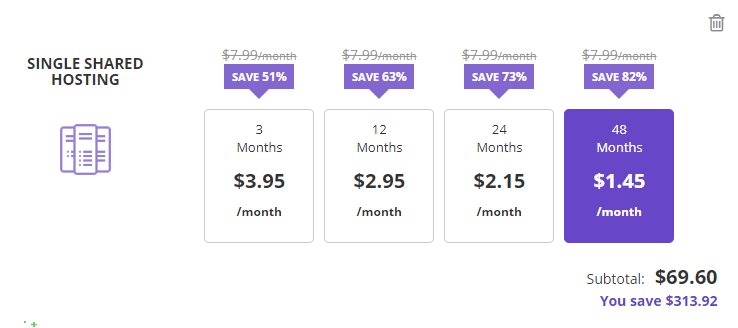 There's no true option to pay month-to-month, either.
Even more positive is that the service they offer is pretty good compared with the rest.
Cons of Using Hostinger
There's a lot to love about Hostinger's uptime, loading speeds, support quality, and features.
But there are some drawbacks to think about. Unfortunately, no perfect web host exists. They've all got drawbacks or warts. The trick is knowing which ones you can live with and which ones are the deal breakers.
Here's an overview of what's not so perfect about Hostinger:
1. Must be Logged in to Access Live Chat
If a company doesn't offer live chat, they're seriously depriving their customers.
Hostinger's live chat option is only available if you're logged into a Hostinger account.
That means that if you're not a Hostinger customer but you've got questions about migrating your site over to them, you can't chat live with a customer service representative.
We're glad that Hostinger offers live chat, but it would make more sense if they offered it to everyone. Accessing the live chat is extremely easy, once you've logged in there is instantly an icon in the right bottom corner.

Then, just click on it to connect with their customer service.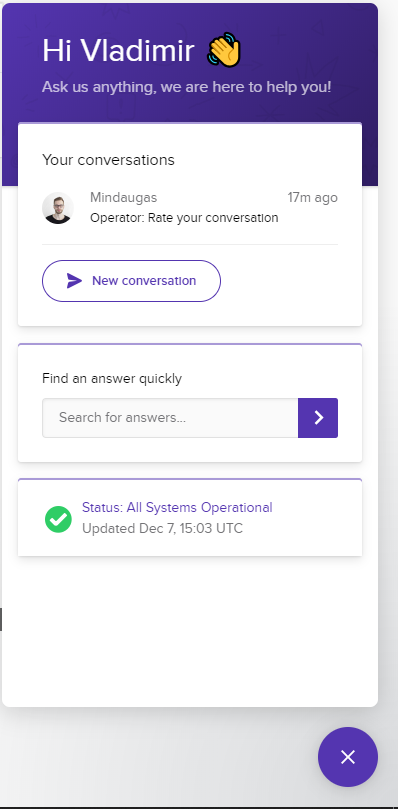 A staff member should connect to you in a matter of minutes.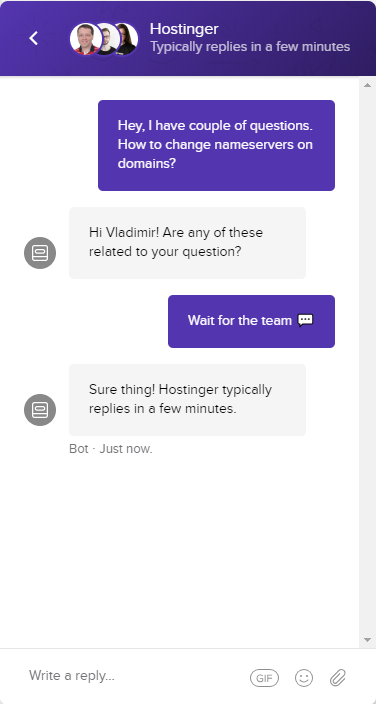 2. No Traditional cPanel
Hostinger has created their own control panel, making their web hosting easier to use than most others.
If you're already accustomed to using a traditional control panel, like cPanel, you might not like their dashboard.
Therefore, advanced users might not love this part.
3. Nonstandard payment terms
Hostinger's Refund Policy reveals a few exceptions to their "no questions asked money-back guarantee."
What's refundable under standard terms:
Hosting (all plans, except first payment after Free Trial)
Domain Transfers (.eu transfers are an exception. EURid charges a non-refundable transfer fee. If the transfer fails for any reason, the customer must start over and pay the transfer fee again. .es transfers are also non-refundable.)
SSL Certificates
What's not refundable:
Redemption fees, domain name renewals, and privacy protection are not refundable. Most new domain name registrations are only refundable if canceled and processed within four days of registration, not 30 days.
Keep these exceptions in mind before moving forward.
The following ccTLD registries are not eligible for a refund either:
.be
.br (including .com.br and .net.br)
.ca
.ch
.cz
.dk
.es (including .com.es, .nom.es, and .org.es)
.eu
.fr
.hu
.it
.nl
.nu
.pl
.ru (including .com.ru, .net.ru, and .org.ru)
.se
4. Must Pay for Extra Domains
One domain name registration is free for users who opt for the Premium or Business shared hosting plans as well as with all annual Cloud hosting plans..
However, additional domain registrations aren't free. They're definitely affordable, though.
Domains with the extensions ".com" and ".net" are under $10 per year, while a ".xyz", ".online", ".tech" domains are only $0.99 per year.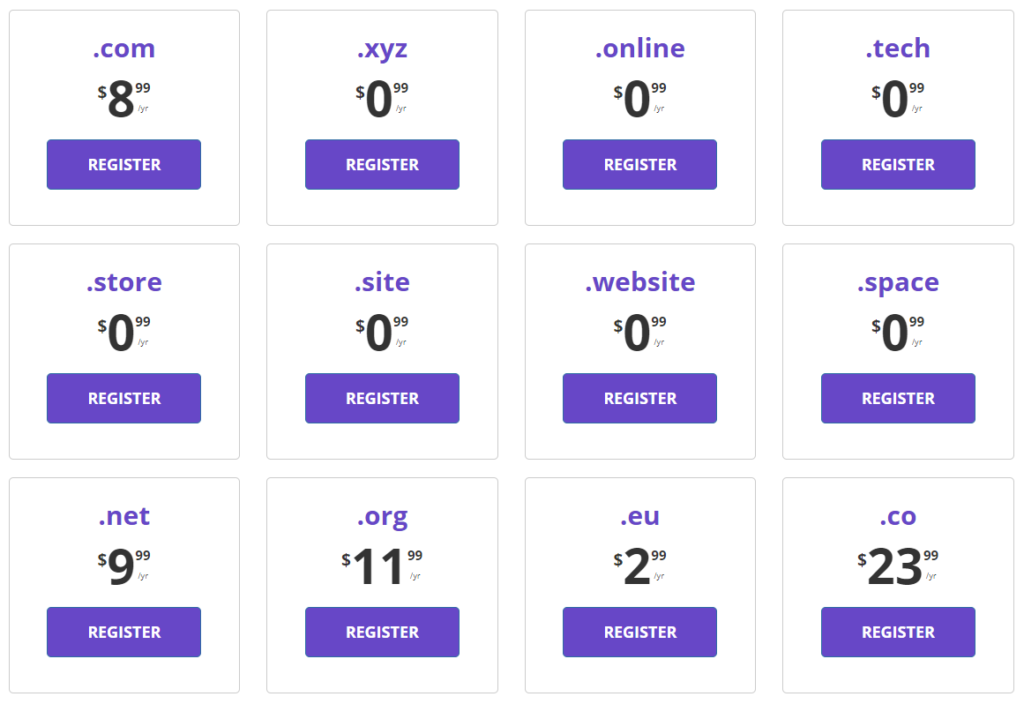 A ".asia" extension will cost you the most – $12.99 per year.
If you choose one of their higher plans, you'll get unlimited subdomains, but only one free domain name.
You can also renew an expired domain name at no extra cost if the domain is still in the Renewal Grace Period.
Afterward, you can still redeem the domain until day 67 with a redemption fee of $53, according to Hostinger's Expired Registration Recovery Policy.
Hostinger Pricing, Hosting Plans & Quick Facts
Here's a quick overview of the Hostinger plans that are available: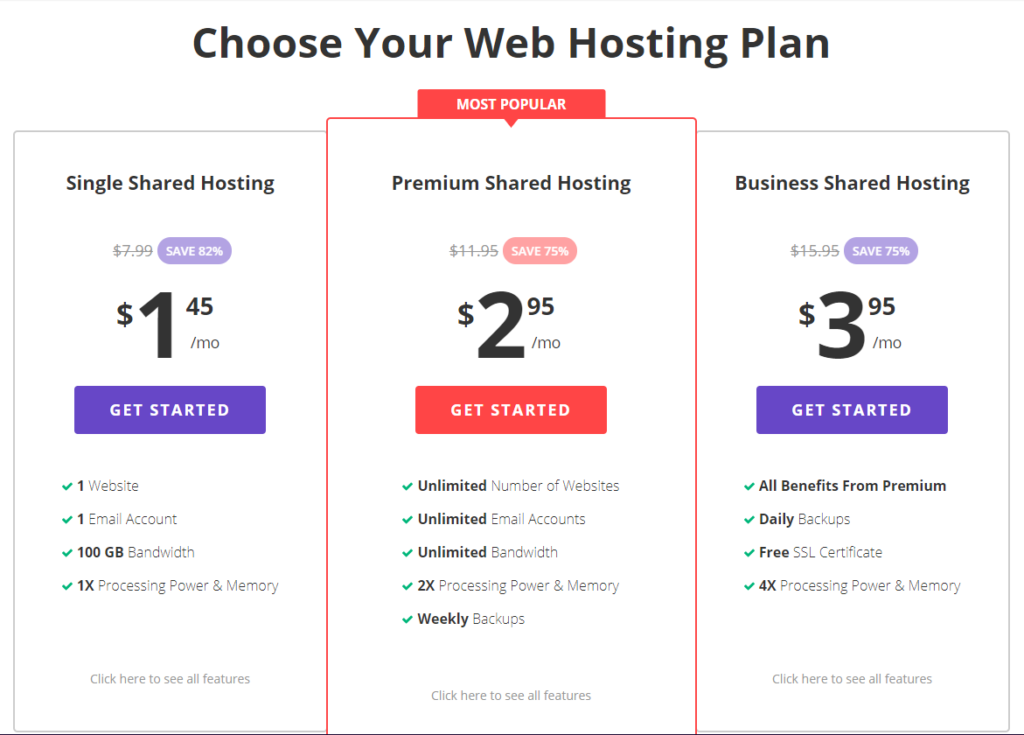 Till the end of June, they offer a discount which brings the price down to $0.80/month.
Personal free domains are included in Premium & Business web hosting plans!
Single Shared Hosting: The cheapest available plan. You'll pay as little as $1.45 per month for 48-months. After that period, it's going up to 7.99$/month.
With this plan, you'll get:
1 Website
10 GB Disk Space
100 GB Bandwidth
1 MySQL Database
1 FTP User
1 Email Account
Easy Website Builder
Auto Installer
Premium Shared Hosting: This plan is the middle of the line. You'll pay as little as $2.95 per month for 48 months.
With this plan, you'll get:
Unlimited Number of Websites
Unlimited SSD Disk Space
Unlimited Bandwidth
Unlimited MySQL Databases
Unlimited FTP Users
Unlimited Email Accounts
Easy Website Builder
3X WordPress Optimized Speed
Free Domain Name (with annual plan)
Business Web Hosting: This plan is the top of the line. You'll pay as little as $3.95 per month for 48 months.
With this plan, you'll get:
Unlimited Number of Websites
Unlimited SSD Disk Space
Unlimited Bandwidth
Unlimited MySQL Databases
Unlimited FTP Users
Unlimited Email Accounts
Easy Website builder
5X WordPress Optimized Speed
Free Domain Name (with annual plan)
Daily Backups
Deluxe Live Support
2X Processing Power & Memory
Free SSL Certificate to secure customer data & increase SEO rankings
Conclusion: Do We Recommend Hostinger?
Yes.
It's VERY cheap hosting that provides very solid speed. I wish their uptime would've been over 99.95, though.
The entry-level, Single-Web Hosting plan doesn't offer many unlimited perks or free features. The Premium, Cloud Hosting, and Business Web Hosting plans have a lot more to offer.
Uptime and page loading speeds are faster than the industry average, and you'll get your money back within 30 days if you're unhappy with Hostinger.
Customer support is responsive, knowledgeable, and friendly.
We couldn't recommend these plans more.
Please leave a review below if you've had any experience with Hostinger. We welcome all reviews – positive or negative – as long as they're transparent and honest.