I've been a paying customer for HostMetro for the last 37 months. During that time, I've monitored their performance – avg. load time and uptime.

This review relies strongly on data, such as uptime, load time (speed) and customer support experience.
What is HostMetro?
HostMetro was recently founded in 2012 to specialize in offering only shared hosting.
They're also one of the only web hosts with a 'guaranteed price lock', so your pricing doesn't jump 200% when it's time to renew.
In addition, they boast 99.9% uptime to round out a decent array of offerings for budg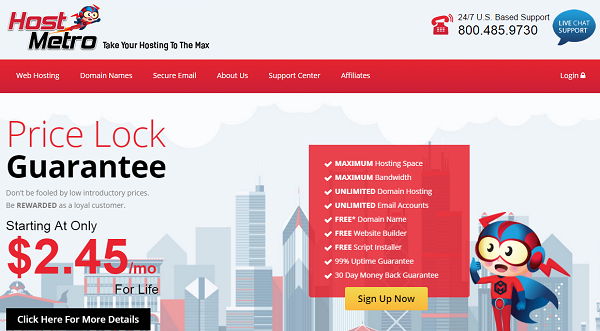 et conscious customers.
But are all of these claims too good to be true?
We setup a basic WordPress test website on the HostMetric 'Mega Max Plan' back in June of 2015. Over the course of the past few months, we've monitored and analyzed their performance, compiling the most important results including uptime & speed to be able to provide you with this unbiased review.
Let's get started.
Pros of using HostMetro hosting
HostMetro's 'Price Lock Guarantee' is one of the more innovative offerings we've seen after reviewing almost thirty different web hosting companies. But what else do they have to offer besides a low price?
1. Inconsistently Decent Customer Support
Our experience with HostMetro's customer support started pretty well. Their agents connected quickly and answered all of our questions in a timely manner.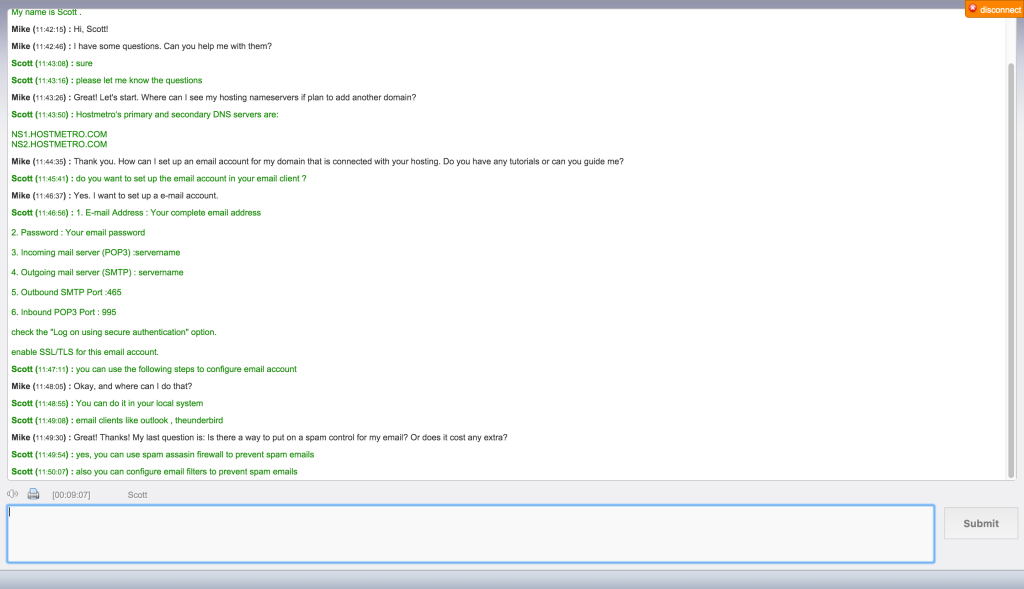 Unfortunately, our background checks show generally mixed reviews about the availability (and effectiveness) of their customer support department.
"We are unable to login our cpanel and email is not working. We have tried contacting your online support and no one is picking up. Will anyone of you explain to me what's happening?"
"Your customer service is terrible! I am definitely looking for a new host. I was told you would get my site reactivated so I could fix things re: the plugins. It hasn't been done. This has happened sooo many times and I am done."
"Hello guys, this is almost days now our websites is down and we are getting no help, taking 24hrs to reply for a ticket? I want help soonest, i can't even reach you on call."
"What seems to be the problem with your support? I can't get hold of anyone over the phone and its almost two hours wait. I can't even connect with your chat support. And your email support is very slow. We are having issue with our emails and I wan't somebody to fix it for me."
2. Price Lock Guarantee (!)
Most hosts suck you in with a ridiculously low rate the first time you signup with them.
However when your plan is up and it's time to renew, that low rate disappears and your price can double or even triple seemingly overnight.
HostMetro bucks that trend though, guaranteeing your initial registration rate – even for future renewals!
That's a tremendous deal, offering a huge price advantage if you plan on sticking with them long-term.
3. Free Website Transfer (With Limitations)
HostMetro will happily migrate your existing website over to their servers for free.
BUT…
Only if it doesn't exceed 3GB. Otherwise, you're on your own.
And the site transfer needs to be requested within 30 days of creating an account.
If you're unhappy, you can always take advantage of their 30-day, no questions asked money back guarantee.
Cons of using HostMetro hosting
HostMetro has a few things to like. Especially that 'price lock guarantee'.
Unfortunately, their service can't match the value of that offer. Starting with their page loading times.
1. Sloooooooowwwwwww Page Speeds
Over the last eight months, HostMetro somehow managed to put up page loading times of 1,499ms. That's over 50.98% slower than the industry standard of 890ms.
That's good enough for our unofficial award for the Slowest Web Host of 2017 after they bested thirty other competitors for the title.
Considering a single second delay can result in 7% less conversions, HostMetro might cost you more in lost sales than actually paying for their service.
The worst part is that they've been consistently below average every single month. So it wasn't like there was one bad month that brought down their results. No, they're just THAT good at being bad.
Last 8 month average load time
2018:
January average speed: 1,906ms
February average speed: 2,046ms
March average speed: 2,182ms
April average speed: 1,552ms
May average speed: 1,138ms
June average speed: 1,040ms
July average speed: 1,098ms
August(21'st) average speed: 1,028ms
2. WELL Below Average 99.81% Uptime
And the hits keep coming, with HostMetro delivering below average uptime of 99.81% over the past eight months (.13% below the average of 99.94%) – contrary to the earlier claims on their website.
The only silver lining with performance this bad is that they'll (reportedly) credit your account with an additional month of hosting if they fall below their promised 99.90% uptime.
2018:
January average uptime: 99.80%
February average uptime: 99.72%
March average uptime: 99.48%
April average uptime: 99.70%
May average uptime: 99.99%
June average uptime: 99.95%
July average uptime: 99.94%
August(21'st) average uptime: 99.95%

HostMetro: Page Load Speed and Uptime (Last 12 months, full data can be found here.)
 3. Restrictive Backups
Backups are an essential feature because issues will undoubtedly pop up from time to time.
Most hosts offer them in some capacity, whether free or paid.
HostMetro offers them, however won't guarantee them. On top of that, they'll only backup your files weekly (as opposed to daily), and the latest backups will overwrite any existing ones they have on file.
In addition, they won't backup files larger than 1GB (which isn't very large).
So… kind of a worthless offer to be honest.
4. Only Shared Hosting
HostMetro only offers two shared hosting plans. No VPS, no cloud, or dedicated hosting options are available.
That will make it tough to scale your existing infrastructure if you outgrow things quickly, forcing you to move to another web hosting company in the near future if you get to that point.
5. Restrictive FREE Domain Offer
The offer a free domain name when signing up, but ONLY if you use their "FREEDOMAIN" coupon code.
Domain name renewals (or purchasing additional ones) will set you back $14.49, which is more expensive than many other major domain name registrars.
6. 'Setup Fee' on Monthly Plans
HostMetro does offer a true month-to-month hosting plan. However, the bad news is that the rate jumps significantly (compared to locking in a long-term plan) and you'll also have to pay a setup fee of $14.49.
HostMetro Pricing, Hosting Plans & Quick Facts
HostMetro only offers shared hosting. Here's a quick overview of their shared hosting plans:
Mega Max plan: This plan starts at $2.95 per month. It includes unlimited storage, unlimited bandwidth and support for unlimited websites.
Super Max plan: This plan starts at $6.95 per month. It includes unlimited storage, unlimited bandwidth and support for unlimited websites. It also comes with a free SSL certificate, daily malware scan and advanced security.

Ease of Signup: Signup process is a bit difficult. This could be easier.
Payment Methods: Credit Card, PayPal.
Hidden Fees and Clauses: Accounts are limited to 200,000 inodes, 10 percent CPU and memory. In the event that you exceed this limit, your account might be suspended and you won't be eligible for a refund.
Upsells: A few upsells.
Account Activation: Can take long. You can make activation instant by paying a $5 fee.
Control Panel and Dashboard Experience: cPanel.
Installation of Apps and CMSs (WordPress, Joomla, etc.): Easy 1-click install of popular apps and CMSs with Softaculous.
Do We Recommend HostMetro?
Nope.
HostMetro's customer service is inconsistently decent. Their 'price lock guarantee' is pretty cool. But otherwise that's about the nicest thing we can say about them.
HostMetro also boasts the slowest page loading speeds we've ever seen. Considering site speed influences not just user experience, but also your search engine rankings and conversions on your website, there's serious danger to your bottom line here.
And their uptime is pretty bad as well. Consistently below average, with lengthy downtimes that can disrupt access at critical moments.
Honestly, there are lots of web hosts out there that will give you MUCH better page loading times, more stable uptime, and better customer service for the same (or less) it'll cost you each month.
Have you ever used HostMetro? If so, please leave a review below. We welcome all reviews, whether good or bad, as long as they're transparent and honest.