We've been a paying customer for HostMonster for the last 40+ months. During that time, we've monitored their performance – avg. load time and uptime.

This review relies strongly on data, such as uptime, load time (speed) and customer support experience.
What is HostMonster?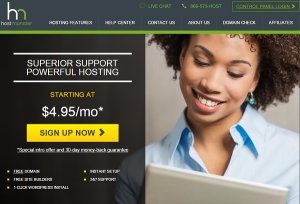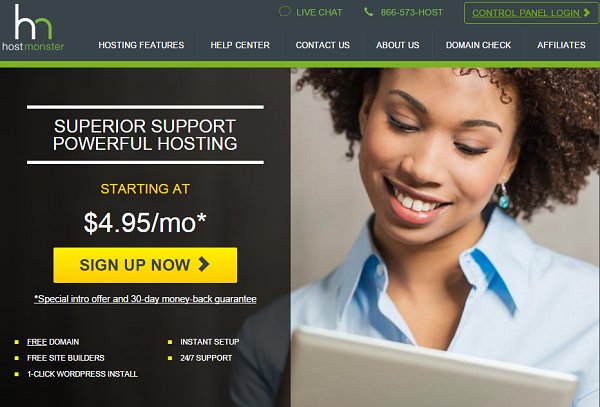 Some things get better with age. That's the old adage anyway.
Unfortunately, it's not always the case.
HostMonster was founded way back in 1996, making them one of the oldest web hosts in the industry (before merging with EIG in 2015).
In June of 2015, we purchased the HostMonster 'Basic Plan' to begin running detailed performance tests to evaluate their performance. We created a basic WordPress website and have monitored site statistics like speed & uptime (among other important criteria) for a few months to determine where they stack up against other web hosts in the industry.
Does HostMonster's experience give them a competitive edge? Or has their performance slipped, like so many other recently acquired EIG brands?
Let's take a look at what we found!
Pros of using HostMonster Hosting
We'll admit: we had high hopes for these industry veterans.
They've been around the block a few times and are now owned by one of the biggest industry conglomerates. So you'd think they should have their stuff together.
HostMonster does deliver some decent stuff (throwing in a few nice extra features like instant provisioning).
Here's a quick summary of the biggest positive aspects we've found:
1. Over the Average Uptime
The industry average for uptime is around 99.94% based on our analysis.
HostMonster is above the industry standard, with an average uptime of 99.96 percent over the last ten months (just .0.02% above the industry average).
That's pretty good.
Last 10-month average uptime:
December 2017 average uptime: 99.98%
January 2018 average uptime: 99.92%
February 2018 average uptime: 99.83%
March 2018 average uptime: 99.95%
April 2018 average uptime: 100%
May 2018 average uptime: 100%
June 2018 average uptime: 90.98%
July 2018 average uptime: 100%
August 2018 average uptime: 99.94%
September 2018 average uptime: 100%

HostMonster: Page Load Speed and Uptime (Last 10 months, full data can be found here.)
2. Decent (Yet Inconsistent) Support
During our personal review of HostMonster, their live chat support agent connected within three minutes and answered most of our questions within 2 minutes each. We weren't blown away by the support, but it was good enough to get the job done at the time.
While they offer phone, email and live chat support, there is a lengthy verification process which might be inconvenient for some users.
A background check, however, has revealed wildly inconsistent reviews from other customers. So tread with caution.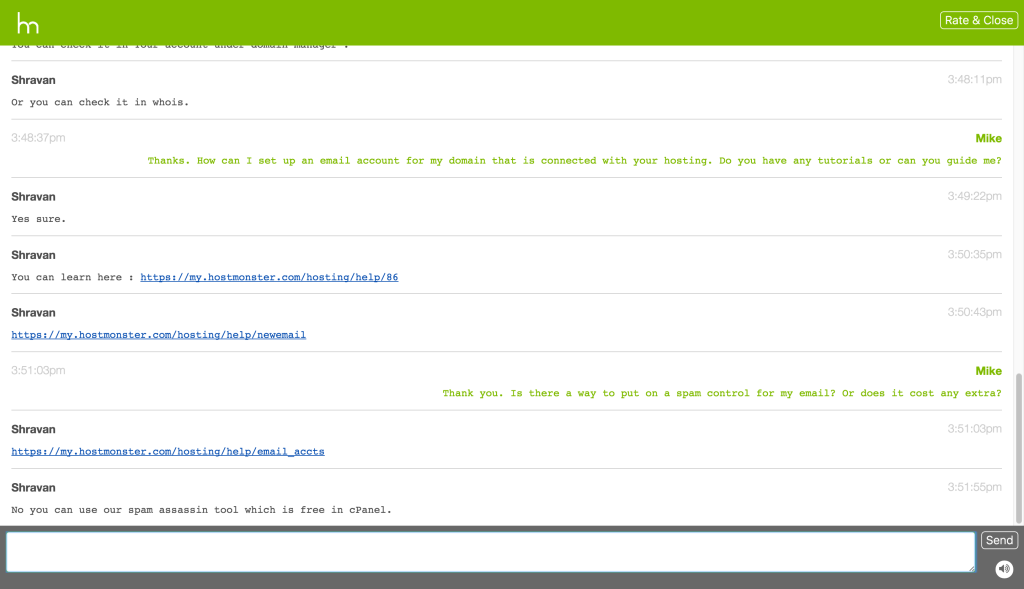 Decent customer support from HostMonster
3. Good Security Options
HostMonster provides a few different security options to choose from to help you protect your site and keep malicious people (or programs) at bay.
Incredibly, the leading way WordPress sites get hacked is through the vulnerability of their hosting company (as high as 41% in one study)!
Following closely behind are 'insecure themes' and 'vulnerable plugins', which is the natural result of so many different third-party tools trying to work together in a quickly evolving environment.
HostMonster does a good job including different security features like Hotlink Protection, SSH Access, SSL support, regular site backups and Spam Assassin Protection.
4. Instant Provisioning & Fast Setup
If you decide to go for their dedicated or VPS hosting, they promise instant provisioning of their servers.
That's good news for people who wanted to get started quickly (or those located overseas outside the U.S.) because you won't have to go through a long, drawn-out verification call or anything. Instead, you should expect your servers to be ready in seconds.
Like many other web hosting providers, they'll also throw in a free domain name with all new plans. Yippee!
Cons of using HostMonster Hosting
So far, our support experience was good. But we've found several mixed reviews from others.
We appreciated the extra attention to detail on security issues, helping to make sure their customer's sites are safe and secure.
But here's where things get interesting.
Let's see what negative aspects you should keep in mind before deciding on your next web host.
1. Average Page Load Time Over Last 10-Months
HostMonster delivered an average page speed of 998ms over the past ten months, which is 11.4% more than the competition's average of 890ms.
That's alright. Not the worst we've seen, but not good enough either.
That's critical, considering the Aberdeen Group found that only a little, tiny one second delay causes a hit across the board:
7% decrease in conversions
11% decrease in page views
16% decrease in customer satisfaction
So far so good with HostMonster!
Last 10-month average load time:
December 2017 average speed: 965ms
January 2018 average speed: 1,052ms
February 2018 average speed: 1,229ms
March 2018 average speed: 993ms
April 2018 average speed: 989ms
May 2018 average speed: 936ms
June 2018 average speed: 899ms
July 2018 average speed: 939ms
August 2018 average speed: 967ms
September 2018 average speed: 1,012ms
3. Misleading Pricing with Long Commitment Required
HostMonster does not offer a true 'month-to-month' plan, with the minimum requirement starting at 12 months.
What's even worse – the price is more expensive for this option too.
For example, if you'd like the cheaper 'promotional' rate they show on the site, you're going to have to commit to three years (paid in full upfront).
That's a big commitment to make when you have literally no idea if you're going to like them yet.
Unfortunately, this technique is also standard practice in the hosting arena.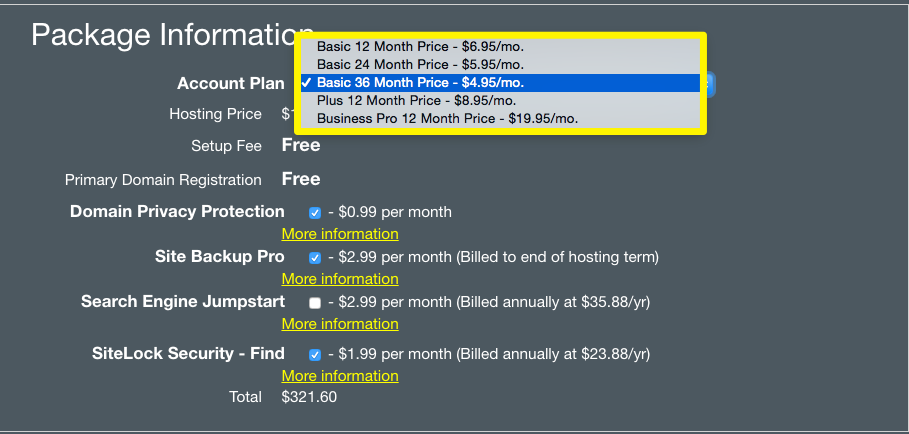 4. Hidden Costs & Fees
Sadly, there are also a few hidden costs along the way that might surprise you.
First up – your 'Low' promotional rate is only available for new plans. When your plan renews, the price will jump back to the regular (inflated) rate.
Their 'free domain name' isn't free. If you decide to cancel your account, you'll be charged a fee that's nonrefundable.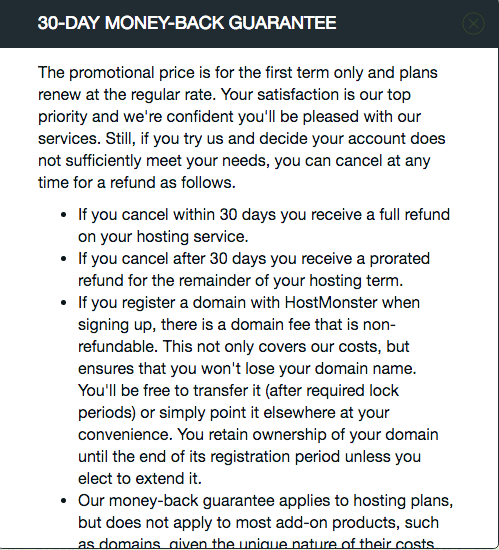 5. They Charge for Backups
Speaking of extra fees, there's also a $1.99 monthly charge for backups (if you want them). Many other web hosting companies we've reviewed so far will toss this feature in as a freebie, so it's just another fee in the long list that is adding up now.
HostMonster Pricing, Hosting Plans & Quick Facts
Here's a quick overview of HostMonster hosting plans:
Shared Hosting: They have three shared hosting plans:
Basic plan: This plan costs $4.95 per month. It supports 1 website and comes with 50GB storage, unlimited bandwidth, support for 5 email accounts and 25 sub-domains.
Plus plan: This plan costs $6.95 per month. It supports 10 websites and comes with 150GB storage, unlimited bandwidth, 50 sub-domains and 100 email accounts.
Prime plan: This plan costs $14.99 per month, but is often on sale at $6.95 per month. It supports unlimited websites, storage, email accounts, sub-domains, and bandwidth
Please note that this pricing is only available if you sign-up for the three-year term.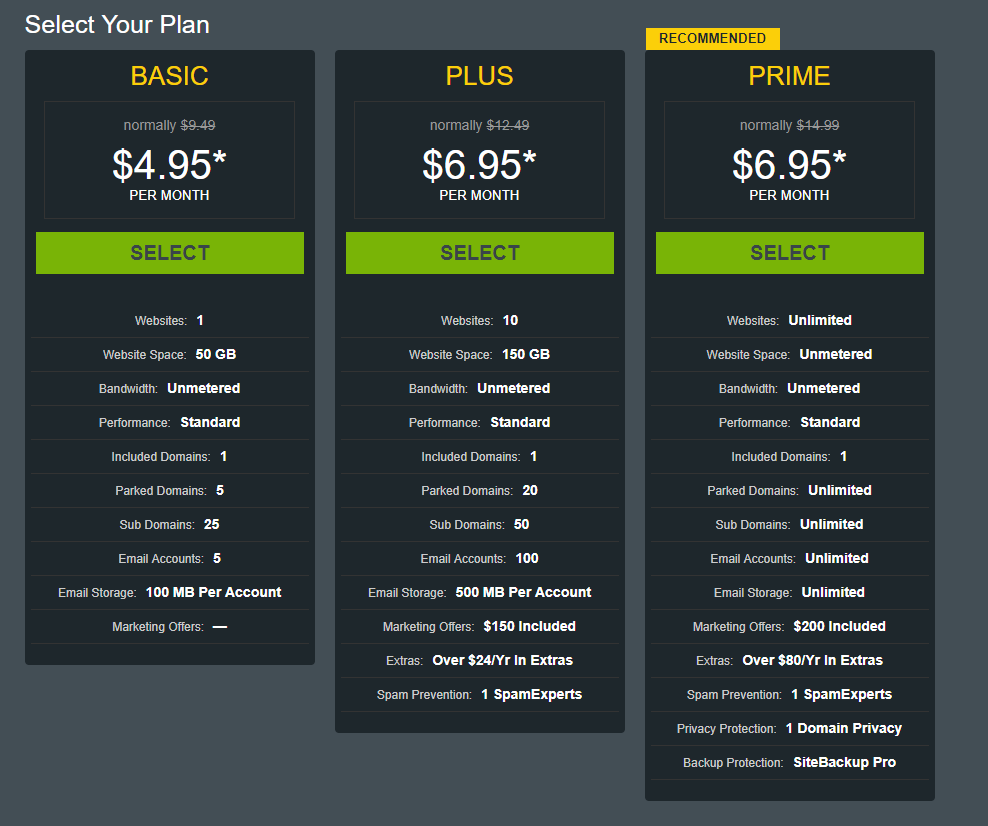 Ease of Signup: One-page signup. They make it very easy to sign up.
Payment Methods: Credit Card, PayPal.
Hidden Fees and Clauses: By signing up, you agree to give them non-exclusive royalty-free license to use content available on your account with them as they deem fit. All shared hosting accounts come with a limit of 1000 total database tables, 3GB total database size and 200,000 inodes.
Upsells: A few upsells.
Account Activation: Instant Activation.
Control Panel and Dashboard Experience: cPanel.
Installation of Apps and CMSs (WordPress, Joomla, etc.): Mojo Marketplace for easy installation of popular apps and CMSs.
Do We Recommend HostMonster?
No, we don't.
HostMonster's performance is pretty average across the board, to be honest.
Their customer support is inconsistent and underwhelming.
HostMonster failed in our speed tests and that's a huge concern, seeing as a 'working' website is kinda a prerequisite here.
Then you have the issue of all-too-common pricing tricks, which isn't quite as good as advertised when you start adding up all the extra fees and charges over time.
Simply put – there are better hosts out there for your money.
For example, our reviews have shown both A2 Hosting and SiteGround to be superior in almost every category. We recommend you try giving one of those two a look before trying out HostMonster.
Do you have any experience with HostMonster? We'd love to see a review below! We welcome all reviews – positive or negative – as long as it's honest and transparent.