A bit of background
We've been a paying customer for HostPapa for 17 months. During that time, we've monitored their performance.

This review relies strongly on data, such as uptime, load time (speed) and customer support experience.
HostPapa hosts over 500,000 websites on their data centers in the US and Canada.
That's impressive considering they've only been around since 2006 (founded by Jamie Opalchuck).
One potential explanation for their meteoric rise could be their variety customer services options, offering phone support in a few different languages including English, French, Spanish and German to both domestic and international native speakers.
They must be doing something right to have grown so quickly over the past few years.
In order to find out, we purchased the HostPapa 'Starter Plan' in June of 2015. We set-up a simple WordPress website, and you can dive into its in-depth performance statistics including uptime and speed (click 'History' for more info).
Let's take a look at how they measure up against the thirty other reviews we've done so far.
PROS of using HostPapa Hosting:
Upon signing up, we were excited to start seeing what makes them tick. What could possibly cause such a quick ascent?
At first were pleasantly surprised by their great uptime (as you'll see). They also offer a plethora of customer support options to choose from.
So far so good! But can they live up to the type? Let's take a look.
1.

 Industry-Average 99.94% Uptime (Last 12 Months)

We're happy to report that HostPapa's uptime has been good since Day One.

They've posted a 12-month average of 99.94% over the last few months, right at industry average.

While it sounds trite and obvious, you'd be surprised just how many web hosts struggle with the most foundational element of actually hosting a website — keeping the damn thing live!

Here are the detailed results:

See previous uptime - 2015 (expands)
June average uptime: 100%
July average uptime: 99.75%
August average uptime: 99.99%
September average uptime: 99.97%
October average uptime: 99.95%
---
Last 12 months average uptime (2015 – 2016):
November (2015) average uptime: 99.89%
December average (2015) uptime: 100%
January average uptime: 100%
February average uptime: 99.84%
March average uptime: 99.98%
April average uptime: 100%
May average uptime: 100%
June average uptime:

99.80%

July average uptime: 99.99%
August average uptime: 99.99%
September average uptime:

99.99%

October average uptime:

99.83%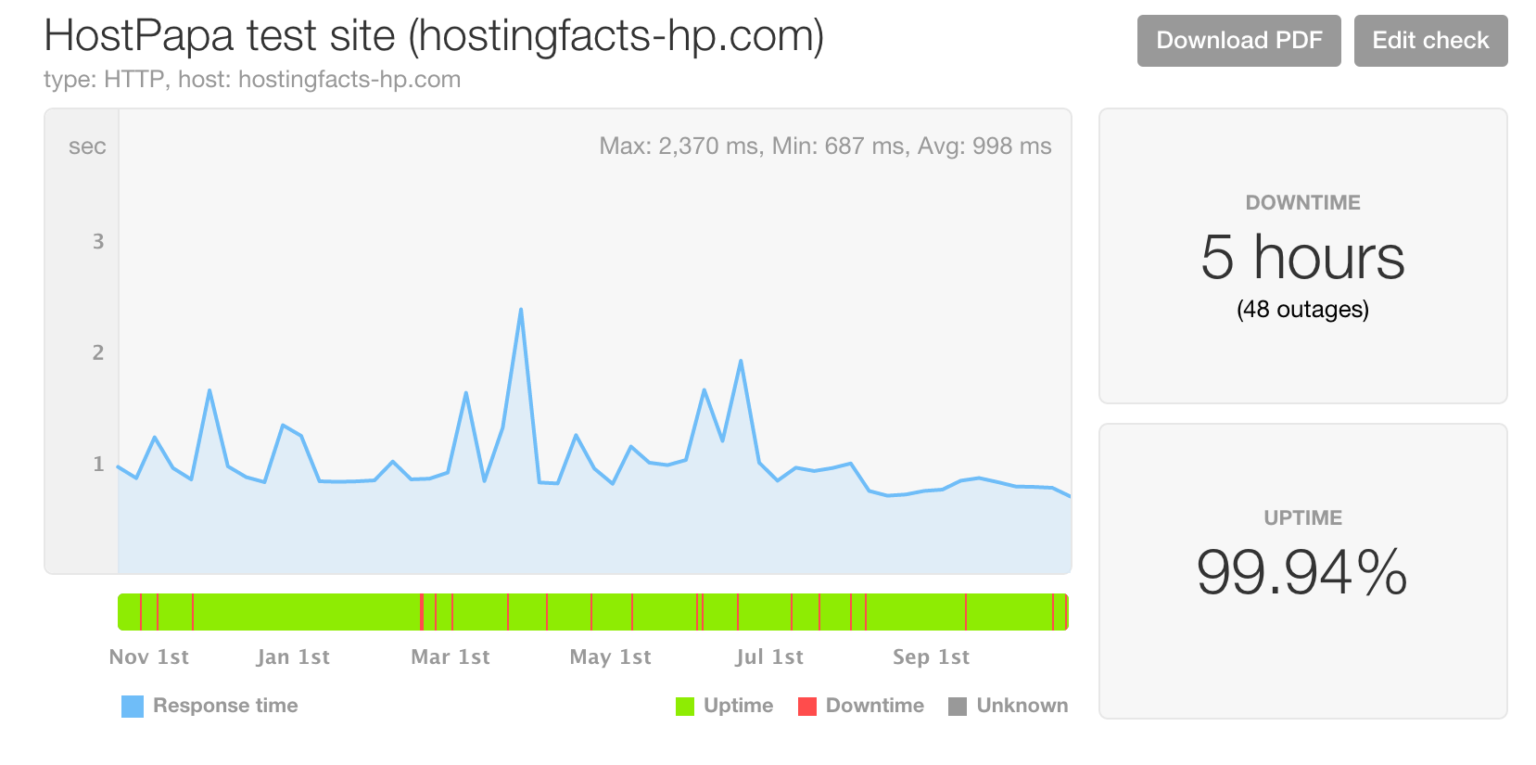 HostPapa: Page Load Speed and Uptime (last 12 months, here's raw data.)
2.

 Extensive Support Options

HostPapa offers extensive support options to help customers in a variety of ways.

You can browse their huge library of self-help videos. They offer 24/7 support through phone, mail, email and even fax (!).

They provide phone support in 18 countries (which might be the most we've seen from any company). And they're one of the only hosts to provide support in different languages, including English, French, Spanish and German.

As if that's not enough, they also provide an interesting support feature allowing you to connect in a one-on-one session with 'Papa Squad Experts', which are essentially guided walkthroughs using video or telephone conference (also, best customer support titles ever).

During our own personal investigation, we received a response in less than three minutes from their support staff. Answers to questions were provided within a modest two minutes.

Overall our experience with AbhijeetJ, our customer service rep, was pretty good.

(Despite the fact that the stock image of Abhijeet being used to represent her, doesn't seem, well… real. I think it was the blond hair, blue eyes, pearly white smile, and stark white background that tipped me off.)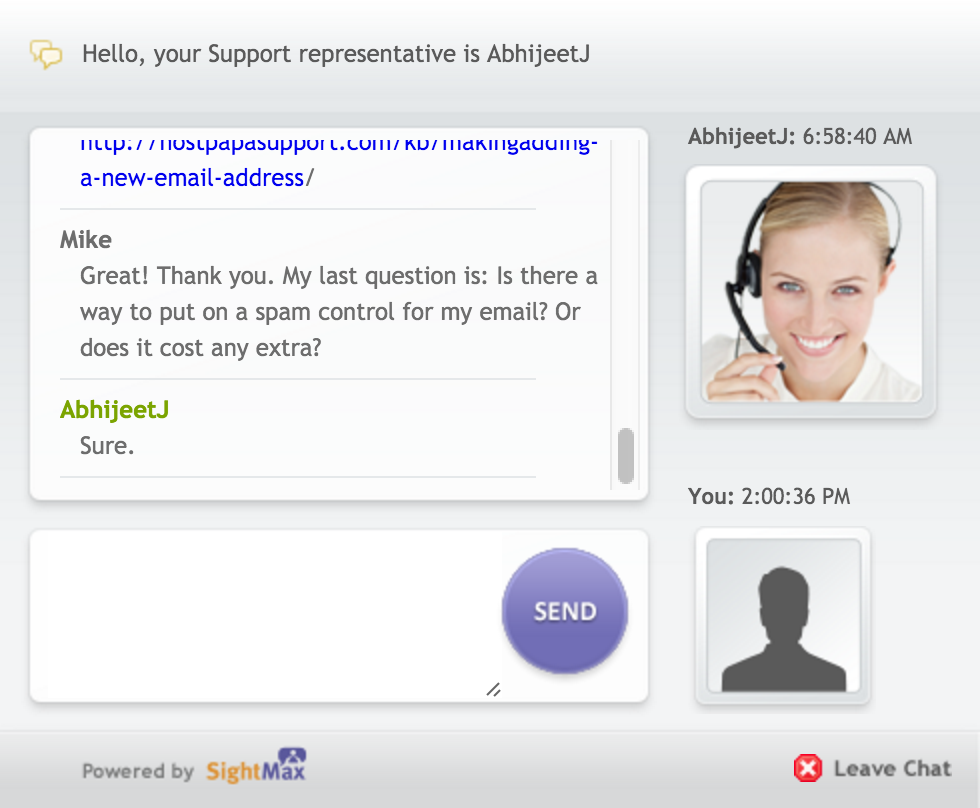 3.

 Proactive Security Features

HostPapa's shared hosting plans come with Panda Cloud antispam protection enabled, as well as a server firewall, monitoring and intrusion detection. Over 37,000 websites get hacked daily, so HostPapa's proactive security measures are reassuring.

Their Business Pro plan also comes with additional features including domain privacy protection, a free SSL certificate, a dedicated IP address and automated website backups.

The last thing you need to worry about is security details like spam protection, so it's nice to be able to have someone else help watch your back.
4.

 30 Day Money Back Guarantee & Site Migration

HostPapa offers an industry standard 30-day money back guarantee for most of their hosting plans.

In addition, they'll gladly help you transfer an existing website from another host (while also throwing in a free domain name too).
CONS of using HostPapa Hosting:
Sure, HostPapa had good uptime and support options. Lots of 'em.
Unfortunately, other customers haven't shared the same positive experience we had. There's also some issues with their pricing model, renewal costs, and hidden fees relating to just how 'free' the money back guarantee and website setup really is.
We'll dive into where things start to fall apart in a second.
But first, let's talk about speed. Or more critically, the absence of it.
#1

 ~43% Slower than Industry Average

HostPapa's uptime was great.

Their page loading speeds, however, are not.

Over the last twelve months, they were ~43% slower than industry average (posting a 998ms page loading time compared with 700ms average of the competition).

One month they had a sloooooow 1,426ms, and every other month were consistently at (or below) industry average.

Beyond that extra sluggish month, they've consistently posted below average results too.

That's troubling, because slow page loading times have been shown to decrease almost every single important metrics across the board, including traffic, pageviews, conversions, sales, and customer satisfaction.

See previous load time - 2015 (expands)
June average speed:

929ms

July average speed:

1,155ms

August average speed:

1,070ms

September average speed:

994ms

October average speed: 909ms
---
Last 12 months average load time (2015 – 2016):
November (2015) average speed: 963ms
December (2015) average speed: 1,113ms
January average speed: 936ms
February average speed: 884ms
March average speed: 1,426ms

April average speed: 993ms
May average speed: 949ms
June average speed:

1,431ms

July average speed:

890ms

August average speed:

787ms

September average speed:

806ms

October average speed:

748ms
#2

Misleading Pricing Plus High Renewal Costs

HostPapa is guilty of standard pricing tricks, like requiring a long-term, three-year contract to get their 'low' advertised price of 'only' $3.95 per month.

Otherwise, the price jumps to $3.95 or $4.95 if you do a 24 or 12-month option (there is no true monthly plan available).

You might as well sign up for that long-term deal though because it only gets worse when you read the fine print.

When your plan does come up for renewal, it's going to be billed MUCH higher – somewhere between $5,99 – $7.99 each month.

That could be 200% over your original pricing amount, and again you'd be forced to signup for a long-term, three-year deal to avoid the worst pricing increase.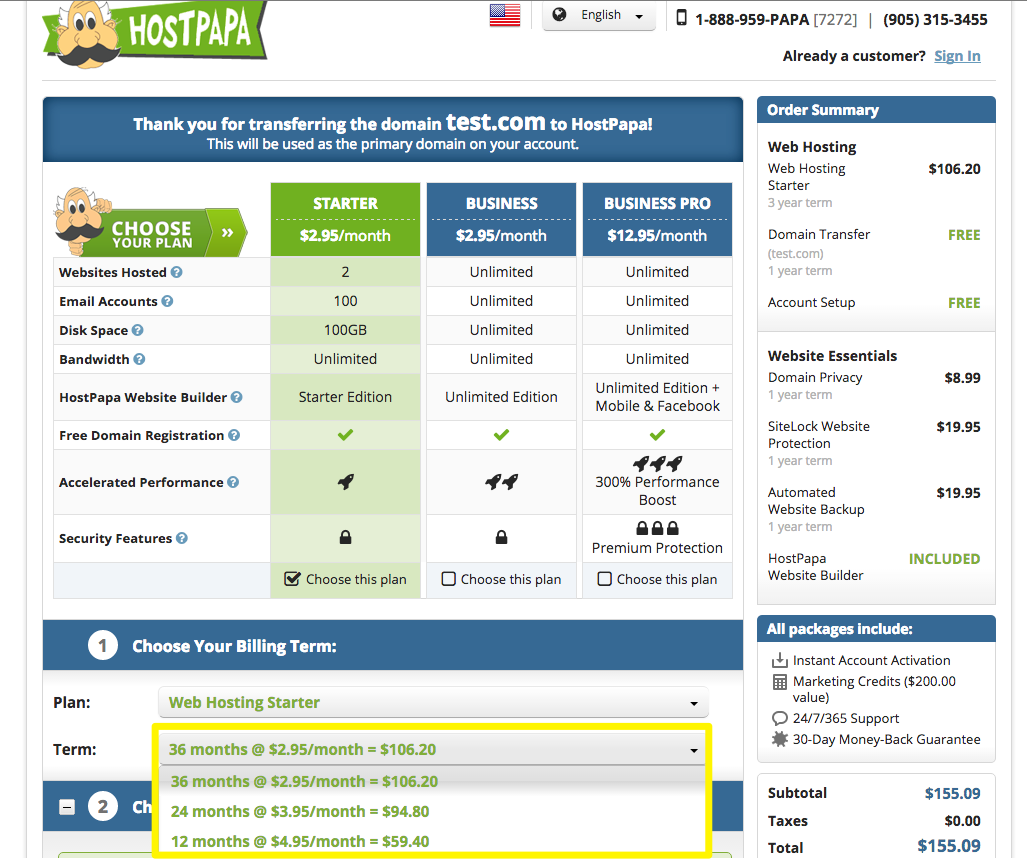 3.

Poor Customer Experience with Support

Personally, our customer support experience went smoothly.

However, when we conducted a background check into how other customer's viewed their extensive support options, the picture wasn't so rosy.

Despite the HUGE number of available options or avenues to reach HostPapa, the overall customer experience on average was below par.
4.

Additional Fees

Most web hosts will set up your website for free.

Most web hosts will also offer a 'free money back guarantee'.

But apparently, two rights make a wrong.

IF you DO request a refund during that 30-day window, they WILL charge you a $29.95 setup fee upon cancellation.

Which means, technically, it's not a 'free' money back guarantee and it's not a 'free' website setup either.

So thanks, but no thanks.
Overview on HostPapa SHARED hosting plans
Below is a quick overview of HostPapa's three shared hosting plans.
Please note: pricing tends to fluctuate often, and these low advertised prices required a three-year sign-up.
Starter plan costs $3.95 per month. This plan allows you to host two websites, provides 100GB of disk space and 'unlimited' bandwidth.
Business plan also costs $3.95 per month. This one allows you to host unlimited websites, with unlimited disk space, and unlimited bandwidth. It also features lower-than-normal pricing is a promotion deal that (we assume) will expire quickly.
Business Pro plan costs $12.95 per month. It also boasts unlimited everything, with an extra 'rocket' icon to indicate more speed (no, seriously) along with some additional security features that set it apart from the regular 'Business' plan.
Quick Facts
Ease of Signup: Two-page sign up. Very easy signup process.
Payment Methods: Credit Card, Paypal.
Hidden Fees and Clauses: Advertised price is only for first payment term. Renewals are much more expensive. You will be charged a setup fee of $29.99 if you make use of their refund policy.
Upsells: A few upsells.
Account Activation: Activation can take a while.
Control Panel and Dashboard Experience: cPanel.
Installation of Apps and CMSs (WordPress, Joomla, etc.): One-click installer to install popular apps and CMSs.
Do We Recommend HostPapa?
Unfortunately, we do not.
Their uptime was good. They have a TON of different support options available, and we personally had a positive experience.
However, the support experience across the board is too inconsistent. Their page load times are honestly bad, posting below average results regularly.
And there are too many hidden fees that make their 'low' promotion pricing hard to stomach.
There are simply too many other good web hosts out there that give you a better bang for your buck.
What's your experience been like with HostPapa? We'd love to hear about it, no matter if it's positive or negative (as long as it's transparent and honest).
Submit a review
Submit a short but detailed review and earn $10 when we approve it.
3 user reviews for HostPapa
cheating webhost
First year they gave the website with minimum cost. Next year without your permission debit the money from your account. Be careful. Cheating Fellows
I'm pleased...
When I first found HostPapa I couldn't believe I was getting everything my old host offered for a fraction of the price, and figured there had to be a catch. So far I can say the only downsides I have found are that FTP access is a little slow and there have been maybe 2 or 3 instances I've noticed in the first year that my sites were briefly inaccessible (which happened on my old host anyway). This hasn't happened for a few months, however.
On the upside, there is the price, the great customer service, and the fact I have everything I need at my fingertips to host several small sites for my friends' businesses & take care of their emails. Overall, very pleased.
Cheap, but nothing spectacular
I bought HostPapa cheapest plan in 2013 – it cost less than $2 at that time. It seems like they've raised their prices.
I've been using them for smaller projects, thus I haven't really kept an eye on the uptime/speed. However, for me it seems like it's on the slower side as I can't complain much about my internet connection.
Another con is that their renewal fees can be higher (around $4/month if I remember correctly).
Overall they aren't a bad host. Support is quite helpful and it's perfect for test/smaller sites.