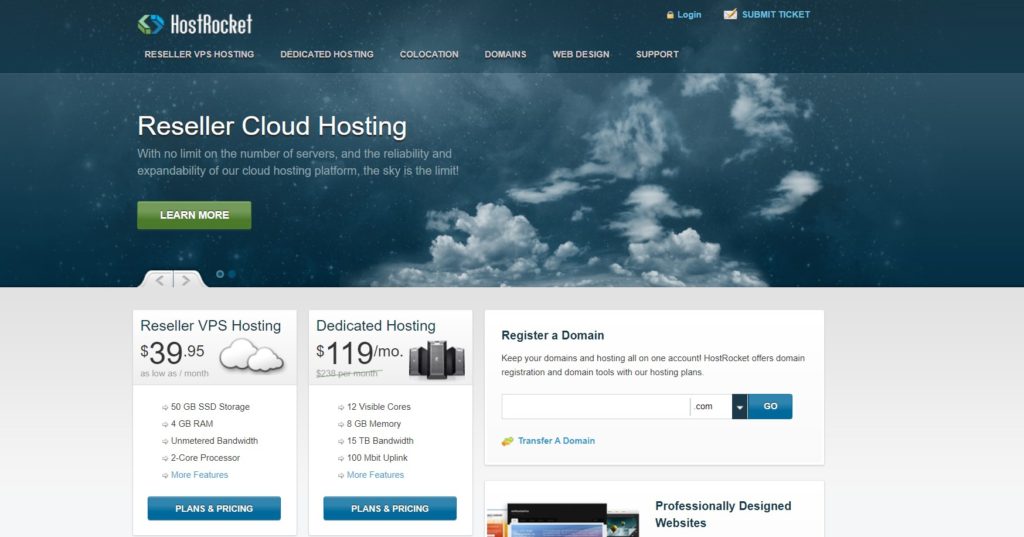 HostRocket may not have the same name recognition as HostGator, BlueHost, and DreamHost, but they've been around since '99, with Headquarters and a data center in Clifton Park, New York.
Typically when you go to a web host's website for the first time, their homepage attempts to quickly boast about impressive speed, amazing customer support, or rock-solid uptime.
These value propositions can help nontechnical customers immediately grasp the primary benefit they stand to gain when signing up.
But not HostRocket. Instead, they lead with:
SSD Shared Hosting.
Huh? Interesting approach…
To find out what they're good at, we purchased and set up a WordPress website on the HostRocket 'Shared' plan in June 2015.
Over the past few years, we've been reviewing their performance stats including uptime & speed to put together an unbiased review.
Here are the details:
Pros of Using HostRocket Hosting
HostRocket starts strong, delivering decent customer support and many apps to choose from.
Here's a quick overview:
 1. Pretty Good Support!
HostRocket only provides customer support through a ticketing system and telephone (no live chat or email).
Initially, we weren't very happy, as tickets typically take years (in internet speed anyway) to resolve.
We were pleasantly proved wrong when only 11 minutes later we received an answer. Beyond the swiftness of their reply, it was also a helpful and informed response.
A quick background check into the experience of other customers confirms an overall decent experience. Any problems or complaints most customers experience originate with other factors (that we'll get to in a second), but not their support.
2. You Can Choose Between Two Server Locations
If we had a category for "things that are kind of good, but… meh", this would win it.
The reason?
They allow you to choose which data center you'd like to use. In theory, that could be a perk if you're in one country trying to cater to customers in another country.
The only catch?
They have two data centers in the U.S.; Chicago and New York. Which, if you're unfamiliar with U.S. geography, aren't THAT far apart. Like, less than a two-hour plane ride, close.
In theory, this is a good perk.
In reality, it's merely OK.
3. Over 250 App Integrations
HostRocket has integrations with over 250 popular applications (like WordPress, Drupal, Magento, Zen Cart, Open Cart, and more), which should help you get started a little quicker. This is another small benefit worth mentioning before we move on.
Cons of Using HostRocket Hosting
Despite HostRocket's good initial start, they faded fast down the stretch. Unfortunately, they hit a few stumbling blocks along the way.
1. Slow Page Loading Time (Over the Last 24-Months)
HostRocket sprung out of the gates with an average page loading time of 863ms over the last 24 months.
But on a slightly more positive side – HostRocket has started to show better speed results starting from January 2019 and in November 2019 their speed result was a decent 569ms! So there's hope that they can improve their page loading time even more in the future.
However, for now, their loading time has to stay in our CONS section…
Last 12-month average load time: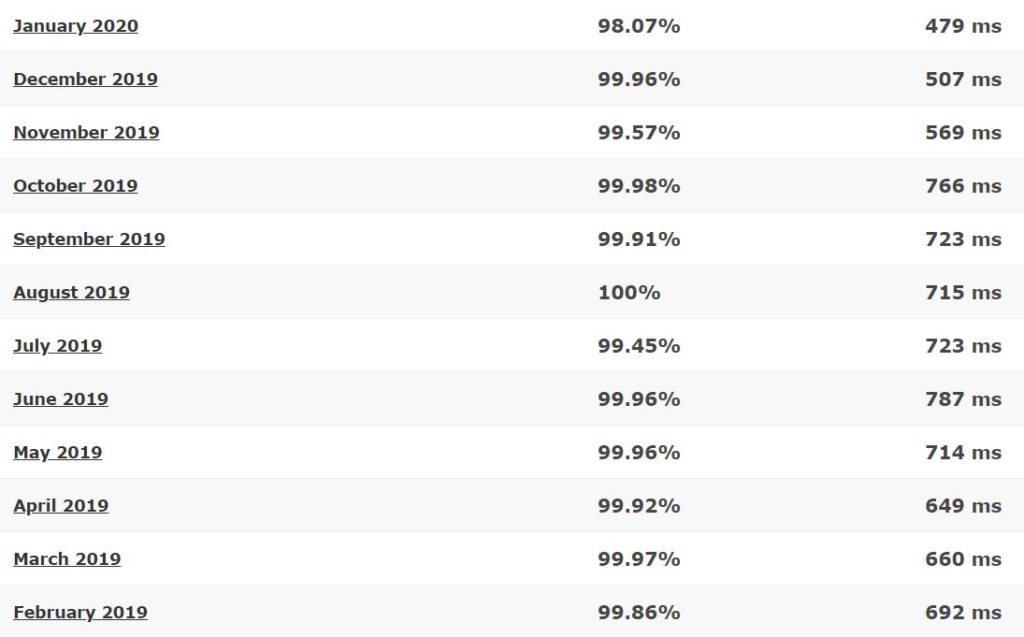 2. Uptime of 99.83% Over Last 24-Months
Industry-standard uptime is 99.93%.
That means you can expect very little downtime (~26 minutes) in one month, which shouldn't affect your sales or customer support terribly.
(You can see yourself how uptime affects your website being grounded with this handy uptime calculator.)
HostRocket, however, was able to hit 99.83% of uptime –  below industry-standard.
Overall, HostRocket's performance in this category is rather a mix of good and bad – in some months they were able to perform 100% and in other months the results were not satisfying at all.
Their Terms of Service page says the following:
"If you feel that your site was not up the guaranteed 99.5% during a given month, please submit a trouble ticket stating your situation and we will review this with you, and credit your account accordingly."
So at least we got this going for us which is nice.
Last 12-month average uptime:
January 2020 average uptime: 98.07%
December 2019 average uptime: 99.96%
November 2019 average uptime: 99.57%
October 2019 average uptime: 99.98%
September 2019 average uptime: 99.91%
August 2019 average uptime: 100%
July 2019 average uptime:99.45%
June 2019 average uptime: 99.96%
May 2019 average uptime: 99.96%
April 2019 average uptime: 99.92%
March 2019 average uptime: 99.97%
February 2019 average uptime: 99.86%

3. Relatively Expensive Hosting
HostRocket's cheapest plan starts at a stiff $5.99 per month.
That's already on the expensive end (especially considering their performance so far).
It gets even worse because you have to sign up for two years and pay upfront to enjoy that (already) inflated rate.
They say you get what you pay for. That holds true for some hosts we've reviewed, like A2 Hosting.
But so far, not HostRocket.
4. Still Charge a 'Setup Fee' ($29.99!)
Most web hosting companies will happily get your site up and running for free. They'll help migrate an existing site over or even throw in a free domain name for a year.
HostRocket, unfortunately, is one of the rare few to still charge a 'setup fee' of $29.99 if you decide to pay monthly or semi-annually.
5. Expensive Domain Name Registration ($20!)
HostRocket provides one free domain name at signup.
Additional domain names cost around $20 a year, even though the going rate is typically less than HALF of that on other sites.
Nickle and diming at its finest.
HostRocket Pricing, Hosting Plans & Quick Facts
Shared Hosting: Here's a quick overview of their shared hosting plans:
Basic Shared Hosting: This plan starts at $5.99 per month. It comes with unlimited disk space, unlimited bandwidth, unlimited email accounts, and support for unlimited websites.
SSD Premium plan: This plan starts at $9.98 per month. It comes with 5GB SSD RAID storage and 200GB bandwidth.
SSD Professional plan: This plan starts at $13.98 per month. It comes with 20GB SSD RAID storage and 300GB bandwidth.
SSD Executive plan: This plan starts at $18.98 per month. It comes with 40GB SSD RAID storage and 400GB bandwidth.
Please note that this pricing is for their two-year plans.
Quick Facts
Free domain? Yes.
Ease of Signup: Lengthy checkout process. This can be improved.
Payment Methods: Credit Card.
Hidden Fees and Clauses: Shared hosting accounts cannot use more than 15 percent total bandwidth, 10 percent RAM, 10 percent of a total number of active connections, and 15 percent total disk space of a server.
Upsells: A few upsells.
Account Activation: Instant Activation.
Control Panel and Dashboard Experience: cPanel.
Installation of Apps and CMSs (WordPress, Joomla, etc.): They offer "Easy Installs" to help you install your favorite apps and CMSs in a few clicks.
Do We Recommend HostRocket?
No, we don't.
When you compare their performance with their hard costs, here's what you get:
Their support is good, but not that good.
Their speed is almost good, but still not enough.
Their uptime is simply not good enough.
HostRocket's performance is too average compared with the high cost and additional setup fee.
Instead, you'd be better off checking out A2 Hosting and HostGator cloud who post similar (if not better) page load times, with MUCH better uptime and pricing too. You can find a longer list of our top web hosts here.
Have you used HostRocket? Let us know about your experience (good or bad), we'd love to share honest and transparent reviews with our visitors. Just leave your HostRocket review below!