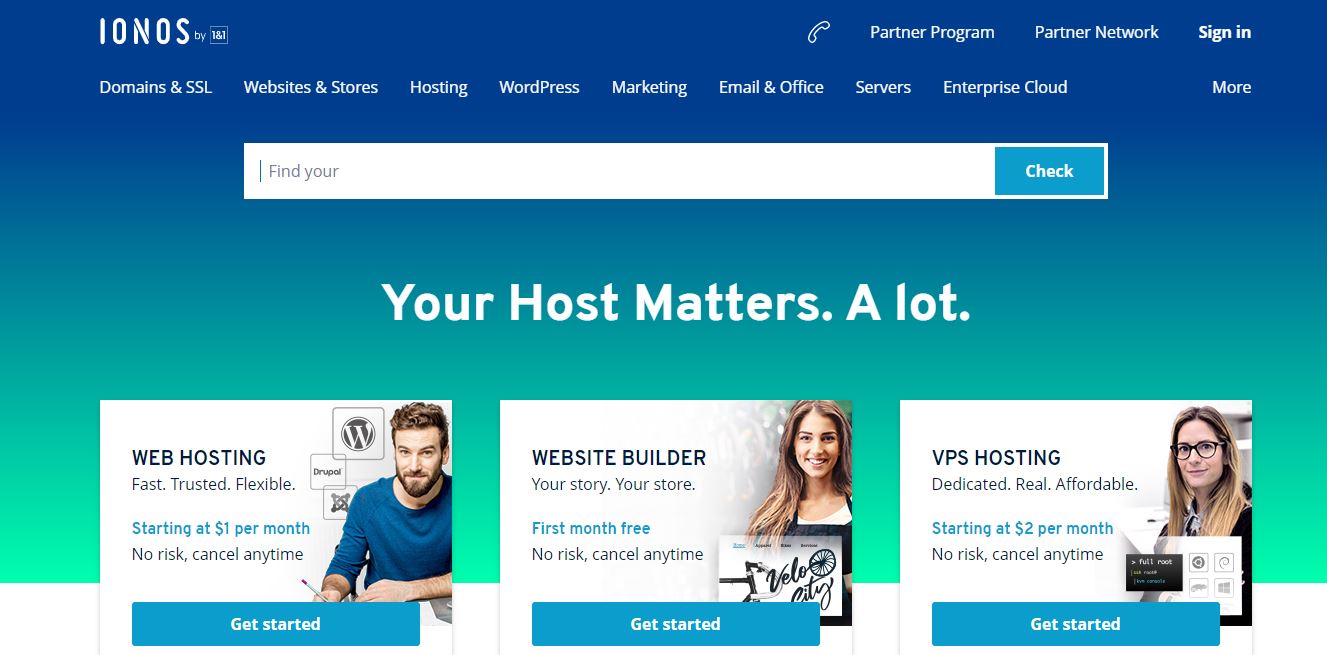 IONOS (previously knows as 1&1) is a web hosting service that includes several website tools.
They cover most of the hosting options available, such as shared hosting, VPS hosting, WordPress hosting, cloud hosting, and more.
This, coupled with some excellent customer support options and decent pricing, has made IONOS a favorite in the hosting service world.
How good is IONOS Hosting? For the purposes of this review, we're mostly covering IONOS' shared hosting services.
We tested a number of factors including customer service, overall usability, service uptime, and more to present you with the most complete review possible.
General Info & Hosting Overview
---
| | |
| --- | --- |
| SPEED: | 649ms (March 2020 to April 2020) |
| UPTIME: | 100% (March 2020 to April 2020) |
| SUPPORT: | 24/7 Live Chat, Knowledgebase |
| APPS: | WordPress, Duda, Drupal, phpBB, Joomla |
| FEATURES: | Dedicated SSL Certificate, Dashboard, Website Builder |
| HOSTING PLANS: | Shared, VPS, WordPress, Cloud, Dedicated Server |
| SITE TRANSFER: | Not Free |
| PRICING: | Starting at $1.00/mo (renews at $10.00/mo) |
---
Pros of Using IONOS Hosting
1. Responsive Customer Support
The first thing we noticed about IONOS was its customer support options.
Customer support is a huge deal in just about any industry.
If you make your living entirely off your website (which is the case for a lot of modern entrepreneurs), then you need to trust that your site will always be up and running. But when a problem does occur, you also need to trust that the company handling your hosting can be contacted immediately to sort out the issue.
IONOS  offers 24/7 live chat and an online help center that features a wealth of articles on all of their key services.
With their live chat, they ask you to outline your question before you're connected. Then, you're immediately paired with an agent.
In less than a minute, we were having a conversation with Jean F.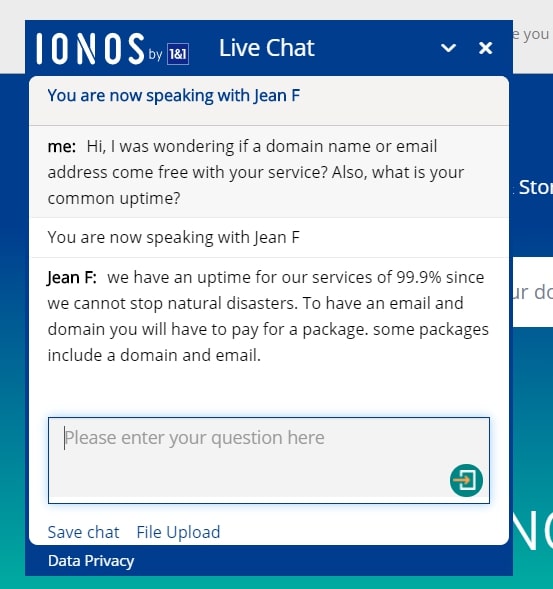 Jean's responses were instant and complete. It never felt like we were dealing with someone who didn't speak English fluently or some kind of automated bot. This was a real person providing real-time responses.
All in all, the level of service was fantastic. If we were to nitpick, we could say that her responses could have been more cordial, but on the whole, we were very satisfied with the communication.
2. Strong Uptime – 100%
One of the most important metrics that we measure when it comes to hosting providers is uptime.
You're paying to have your website online. If uptime is lacking and your site is routinely going down, then your hosting service has failed you in its most crucial area.
IONOS claims to have a 99.9% uptime. According to their customer service department, the only reason they don't claim 100% uptime is that they are unable to account for natural disasters.

And so far from the data that we've gathered their uptime has been a perfect 100%. Keep in mind this is only two-month data, so we can't make any conclusions yet but the start has been promising. We will keep updating their statistics as time goes on.
3. Good Page Loading Speed
Why is that?
Site performance is a big deal when Google examines your site. Your all-important SEO score, which determines your placement on the world's most popular search engine, relies heavily on it.
Site speed is the fourth most important SEO ranking factor, behind only site security, crawlability, and mobile-friendliness.
So a slow site is an immediate turnoff for Google and website visitors.
We live in an age of instant communication and instant information. If you're lagging, chances are that the user can find another site with similar information that cares more about their experience.
As your page speed decreases, the bounce rate skyrockets.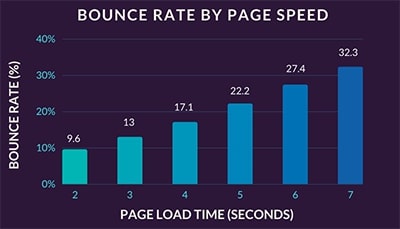 That's why it's great to see IONOS producing a good average page loading speed of 649ms (0.65 sec). It is still early to make any conclusions or definite claims, but it is a good start. We will keep updating this review as we gather more data.

4. Free SSL Security
Security is another important aspect of a hosting service. Thankfully, it is an area where IONOS excels.
The service uses a GeoTrust Dedicated SSL Certificate and a Wildcard SSL certificate. This encrypts your website for advanced security, which is something that should help you breathe a sigh of relief when you're conducting business online.
An SSL certificate is needed to have an HTTPS website. If your URL starts with HTTP, Google will actually mark your site as unsecured. Additionally, SSL certificates protect the data that is exchanged between users and the site. This helps your customers trust you more, which is the backbone of any business relationship
The GeoTrust Dedicated SSL Certificate is included with the server, Developer Shared Hosting, and Developer eShop packages. The Wildcard SSL Certificate comes standard with all Linux and Windows shared hosting plans.
5. Free Domain and Email With Some Packages
Extras are always nice. We love to see hosting packages throw in some bonus features at no cost when you subscribe to one of their paid options.
IONOS actually offers two of the most common free features, domain registration, and email addresses.
A domain name is free for one year with Essential, Business, and Expert Shared Hosting Packages.
When it comes to a branded email account (another necessity if you want to be taken seriously by the people you do business with), both the Linux and Windows packages come with email accounts on all levels. Windows subscribers can receive between 25 and 500 email accounts, while Linux customers will get between 10 and 100 accounts. It all depends on the package you've chosen.
6. Improved User Interface
IONOS doesn't use the classical cPanel, instead, they have developed their own custom backend. For those who are used to the cPanel, it may be confusing and take some time getting used to in the beginning, but overall, it's rather easy to use.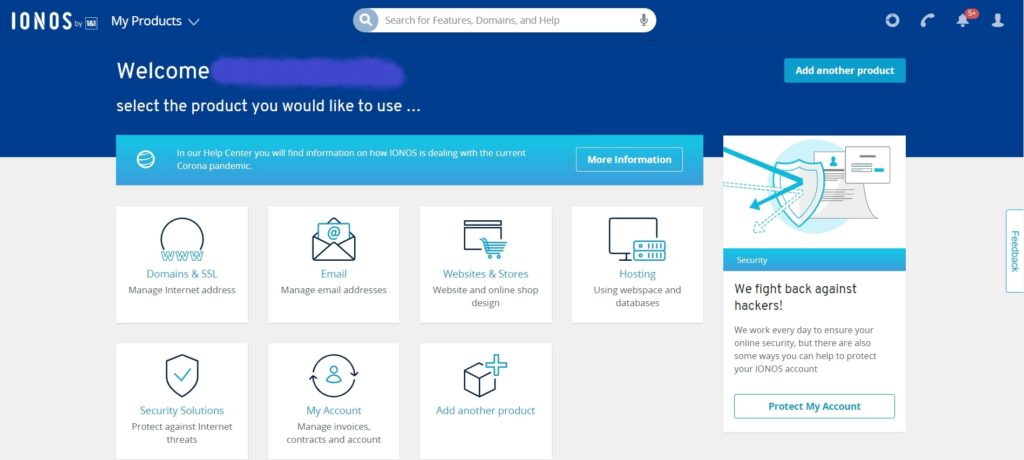 In the dashboard, you can manage domains, SSL certificates, email addresses, check your site's statistics, and so on.
IONOS has also added an improved search bar, where you can find settings and switch between products faster.
There have been a lot of mixed feelings from other users about IONOS's interface, especially it not being very intuitive compared to cPanel. But it seems that IONOS has made an effort on improving the dashboard usability and made it more logical to use.
Cons of Using IONOS Hosting
1. Account Registration Only Possible in Limited Amount of Countries
One of the things that you first might not even notice about IONOS, is that you can register your account with them only in a limited amount of countries. The majority of the countries are represented but for example, if you're located in China and want to sign up with IONOS, it's not possible as it's not on their list.
The same goes for most of the European countries. Even though IONOS was established in Germany and its headquarters are still located there, only some of the European countries are represented on the list.
Few examples where you can't sign up with IONOS:
China
Iran
Egypt
Morocco
Myanmar
Europe (Poland, Romania, Netherlands, Portugal, Sweden, Finland, Belgium, Czech Republic, etc)
So, you might be better off checking before sign up, if you can even continue the registration in your country.
2. No Free Website Transfers
If you're migrating your site to a new web host, a great way to sweeten the pot is to offer a free transfer.
It allows a new customer to take some of the stress and financial burden off of the process.
That's not something IONOS offers.
We made sure to check with their customer service department via live chat. According to Jean from customer support, they do not offer free transfers, and she could not give a solid answer when asked about pricing.
According to Jean, the transfer process has to be individually quoted to clients because it is charged hourly.
IONOS Cost, Plans, and Payment Methods
IONOS has two different varieties of shared hosting services, each with three web hosting packages to choose from.
First, they offer Linux hosting — which is just called Web Hosting on the official website.
They also offer Windows hosting. Obviously, these different variations of shared hosting take place on different operating systems.
Both are priced well, but you get a lot more features with the Windows option. Each browser has three different levels to choose from.
Let's start with Linux:
---
Essential Plan
Business Plan
Expert Plan
Pricing
$4.00/month
Renews at $6.00/mo
$1.00/month
Renews at $10.00/mo
$8.00/month
Renews at $16.00/mo
Websites
1
Unlimited
Unlimited
Bandwidth
Unmetered
Unmetered
Unmetered
Storage
10GB
Unmetered
Unmetered
Email Accounts
10
50
100
Other Features
• Basic CPU and MEM Resources
• Free Domain
• Enhanced CPU and MEM Resources
• Free Domain
• Maximum CPU and MEM Resources
• SiteScan and CDN
• Free Domain
---
Over on the Windows side of things, you have a number of larger plans that come with a commitment period.
---
Business Plan
Pro Plan
Expert Plan
Pricing
$5.00/month
Renews at $10.00/mo
$6.00/month
Renews at $12.00/mo
$8.00/month
Renews at $16.00/mo
Websites
1
5
50
Bandwidth
Unmetered
Unmetered
Unmetered
Storage
100GB
250GB
500GB
Email Accounts
25
100
500
Other Features
• Free Domain
• Free Domain
• Free Domain
• CDN
---
IONOS accepts PayPal and credit card payments.
Do We Recommend IONOS?
Yes, we do.
Their flexible plans for both Linux and Windows are affordable and include a lot of useful features. The lightning-fast customer support that we experienced was also a huge feather in its cap.
But there are also downsides, you can't sign up with them in most European countries and the promoted $1.00/month pricing renews at a much higher $8.00/month.
SSL security makes this a very secure service, and we truly liked that it comes with a free domain. While it doesn't tick off as many wins as, say, something like Bluehost, it is still a reliable hosting provider that will get the job done, right up there with GoDaddy.
P.S. Have you used IONOS before? Please consider leaving a review below — good or bad — doesn't really matter as long it's helpful to our visitors. Thanks for your support.