P.S. IX WEB HOSTING HAS NO MIGRATED TO SITE5.
We no longer track IX Web Hosting, so this review might be outdated.
What is IX Web Hosting?
The roots of IX Web Hosting date back to '99 in Columbus, Ohio.
Over the next 17 years, they've steadily grown to now host approximately half a million websites for over 110,000 customers.
While those numbers sound impressive, we've reviewed enough hosts to know that sometimes the oldest in the industry fail to live up to the hype.
They coast by on reputation more than performance, while newer upstarts like A2 Hosting come out of nowhere to dominate the hosting scene.
So which is it?
Industry titan, or laggard?
We put them to the test, setting up a simple WordPress website on their IX Web Hosting 'Expert Plan' in June of 2015.
Since then, we've been keeping a close eye on their performance stats like uptime & speed to determine if they're a viable hosting option for you (or if you should run and hide instead).
Here's a complete, unbiased review — the good, bad, and ugly — of what we found.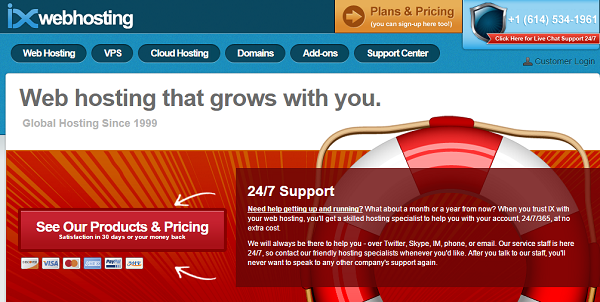 Pros of using IX Web Hosting
IX Web Hosting offers a few unique features that no other host we've seen offer the same (for the same price).
Check it out for yourself.
1. Dedicated IP(s)
Each and every hosting plan, including the cheapest shared one which starts at $3.95 each month, comes with a free dedicated IP.
That's RARE.
Dedicated IP's are beneficial for high traffic sites that might need additional (or 'dedicated' resources) to keep performance running smoothly. They're also necessary if you're going to use an SSL certificate to have a secure site for processing eCommerce-like transactions (and to a lesser extent, SEO). They're also helpful if you want to access your site through FTP frequently or view by the IP address.
Typically, these are always an added cost. Which makes this offer a great deal that you should ultimately factor into pricing.
2. 30-Day Money Back Guarantee AND a 7 Day Free Trial
Most web hosts offer some sort of 30-day money back guarantee so if you change your mind and want to switch hosting providers again, you're not completely locked into a long (sometimes 3+ year) arrangement.
IX Web Hosting provides that. But then they go above-and-beyond, throwing in a free 7 day trial on top of it.
That means they won't charge your credit card until the end of that trial period, allowing you to sign up and get started completely free.
3. Free Website Transfer & Domain Name
Similar to other web hosts, IX will help you transfer an existing website over to their servers with no additional charge.
For new users, they also throw in a free domain name as well.
4. LOTS of Available Plans
A final unique characteristic of IX web hosting is their plan availability and flexibility.
Simply put: they have A LOT.
That's helpful if you have unique circumstances (like you want to run Windows applications and can't use a standard Linux setup like most hosts offer), or if you're going to grow and need the options for scale to add additional bandwidth, storage space, and more.
5. Security Will Keep You Off Blacklists
If your web host doesn't have high-quality security, your site is left vulnerable to attacks.
An attack could not only cause you to lose all of your website data and customer information, but it could also cause search engines to blacklist your site.
When your site is blacklisted, it's recognized as an unsafe web page and removed from a search engine's index.
According to Sucuri, a site can lose up to 95% of its organic traffic if it's blacklisted. That's terrible news for your site's revenue.
With IX Web Hosting, you're safe from attacks.
The web host performs 3 main tasks that boost security across all of the sites that they host.
They monitor services. This means that IX Web Hosting regularly checks your website against blacklists on Google, Firefox, Norton SafeWeb, and McAfee SiteAdvisor. If your site is placed on a blacklist, IX Web Hosting will send you a notification instantly.
They offer discovery services. These services monitor and determine whether your site is infected with malware by examining your site's files to catch any malicious content.
They provide recovery services. If your site is ever infected with malicious content, IX Web Hosting will filter it out and correct your files by getting rid of the infected code. The company also claims that this process won't disrupt how users experience your site.
6. E-commerce is easy
If you're planning to use your website as an ecommerce store, IX Web Hosting makes installing an online shop simple.
No matter the plan you choose, you'll get a one-click, easy-install online store, a selection of easy-install shopping carts, and ecommerce tutorials – all for free.
If you're just getting started with your online store, these features will save you a ton of time and money because you won't have to outsource to set up your shop.
Plus, since IX Web Hosting offers round the clock security monitoring, you'll know if there's an issue with the security of your shop, and they'll repair it as soon as possible.
7. Unlimited Email Accounts
Sending and receiving email through a company domain boosts your legitimacy because an email ending with "@yourdomain.com" proves that you are who you say you are.
Your emails will also be less likely to be filtered into the "junk" folder.
With IX Web Hosting, you'll get as many email accounts as you want, email forwards, mailing lists, and autoresponders.
You can access your email from anywhere since they offer webmail, and they have separate email servers to keep your accounts safe.
The best part? These features are available with the Expert, Unlimited Pro, and Business Plus plans. You don't have to pay extra to get unlimited email accounts for employees.
Cons of using IX Web Hosting
IX Web Hosting provides a few additional features that not many other web hosts out there provide.
However, their performance slips a bit in some of the more important categories like speed and support.
1. Poor Uptime of 98.83% Over the Last 8 Months
Unfortunately, IX's uptime has only gotten worse over time.
They posted an average of 98.83% uptime (1.11% worse compared to the industry's 99.94%) over the past 8-months.
Sure, we've seen better. Much better. See the stats below:
2018:
January average uptime: 99.91%
February average uptime: 99.97%
March average uptime: 95.73%
April average uptime: 96.09%
May average uptime: 100%
June average uptime: 99.97%
July average uptime: 99.99%
august(21'st) average uptime: 99.02%

IX Web Hosting: Page Load Speed and Uptime (Last 12 months, full data can be found here.)
2. Consistently Slow Average Page Loading Times
Sometimes a web host might have a bad month or two in page loading times (while the others are OK), and it drags down their average.
Unfortunately, that's not the case with IX, who instead was pretty slow across the board over the entire time we've monitored them.
Their average for the past eight months clocked in at 1,170ms, which is 27.18% slower than the industry standard 890ms.
Last 8 month average load time (2018)
2018:
January average speed: 1,003ms
February average speed: 902ms
March average speed: 821ms
April average speed: 856ms
May average speed: 985ms
June average speed: 2,039ms
July average speed:

1,435ms

August(21'st) average speed: 1,320ms
3. Lots of 'Upsells'
Once you're logged into Ix Web Hosting control panel, they'll start bombarding you with up-sells. This means that once a while (or more) you'll see different popups that literally force you to buy some add-ons from them. The thing is, in most cases you don't really need them and I found them very disturbing.
4. Unhelpful Support Experience
The 10 minutes it took for them to connect with us wasn't terrible, but things continued to go downhill from there.
Each of our questions was met with a lengthy delay. Which might make you think it was because they were busy formulating a thoughtful, eloquent answer to our question.
But that wasn't the case.
Instead, each answer was simply copied & pasted from their Help documents.
All in all, a pretty unhelpful, below average experience.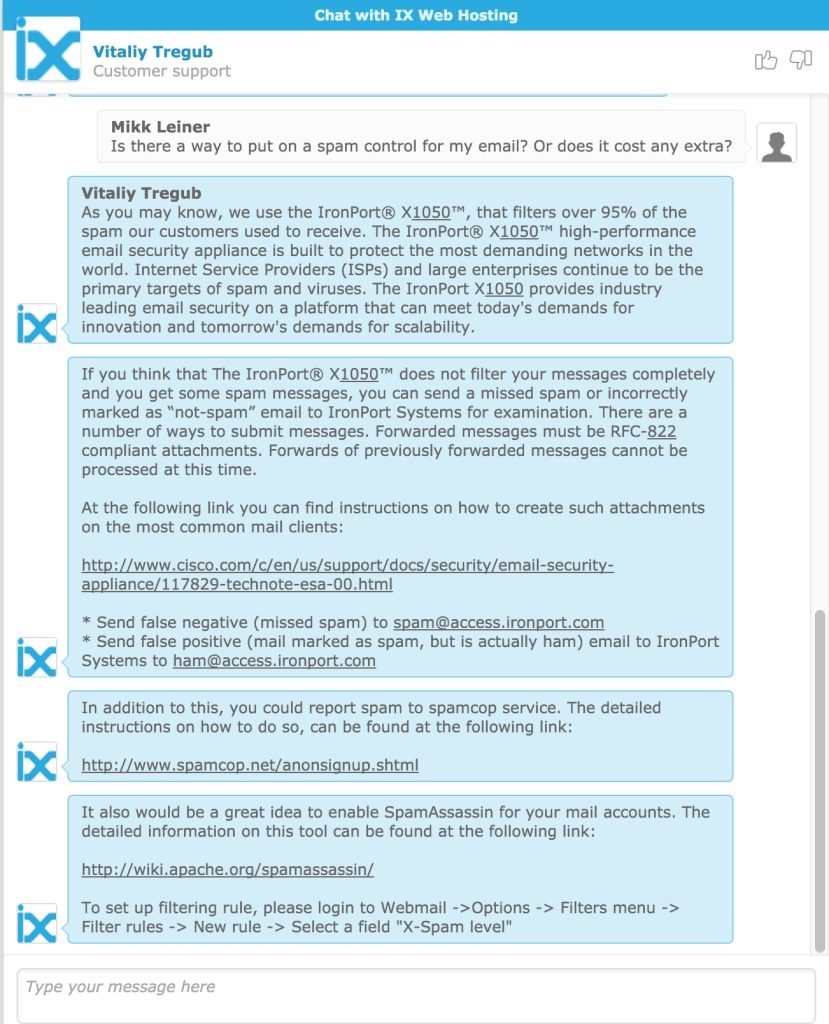 Customer support on IX Web Hosting
5. No cPanel
IX Web Hosting provides their own control panel for shared hosting plans. While it's a nice gesture, more sophisticated users won't appreciate not having access to cPanel.
6. Pricey Setup Fee
The good news is that IX Web Hosting offers a true one-month or three-month option.
The bad news is that they'll charge you a $30 setup fee for both of these shorter-term plans.
IX Web Hosting Pricing, Hosting Plans & Quick Facts
Here's a quick overview of the hosting plans offered by IX:
Expert Plan: This plan costs $3.95 per month. It comes with support for up to 2 dedicated IPs and 1 free domain name.
Business Plus plan: This plan costs $7.95 per month. It comes with support for up to 3 IPs and 2 free domain names.
Business Plus Windows plan: This plan costs $4.50 per month. It comes with everything in Business Pro plan, and 3 free dedicated IP addresses.
Unlimited Pro plan: This plan costs $7.95 per month. It comes with support for up to 15 IPs and 3 free domain names.
Unlimited Pro Windows plan: This plan costs $9.95 per month. It comes with everything in the Unlimited Pro plan and 15 free dedicated IP addresses.
All shared hosting plans come with unlimited disk space and bandwidth, and support for unlimited domain names. All Linux shared hosting plans come with one free dedicated IP.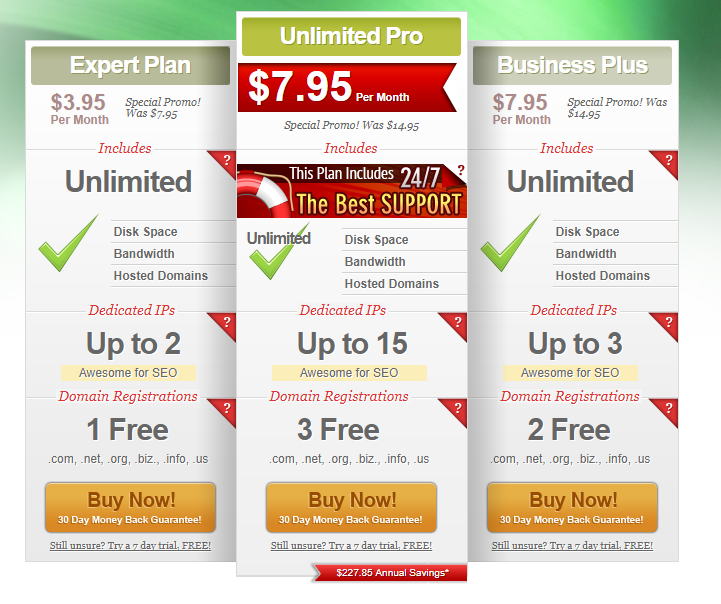 Free Domain: Free domain with all accounts. Up to three free domains with the Unlimited Pro plan.
Ease of Signup: One page sign up. Very easy sign up process.
Payment Methods: Credit Card, PayPal, AliPay.
Hidden Fees and Clauses: $30 setup fee if you pay monthly or quarterly. There's a limit of 110,000 files on Windows plans and 300,000 files on Linux plans.
Upsells: Lots of upsells.
Account Activation: Quick account activation.
Control Panel and Dashboard Experience: Their own control plan. Users are generally not fond of it.
Installation of Apps and CMSs (WordPress, Joomla, etc.): One-click installer to install WordPress and other popular apps and CMSs.
Do We Recommend IXWebHosting?
Nope.
While they do offer a dedicated IP and 7-day free trial, we can't overlook the poor uptime, consistently slow performance, or terrible customer support.
They're below average at best.
Which is not good enough when you can find other hosts on this review list that offer MORE for the same price.
What's good about IX Web Hosting?
Dedicated IP(s)
30-day money back guarantee
7-day free trial
Free website transfer and domain name
Tons of plans available
High-quality security will keep you off of blacklists
Ecommerce features are free and easy to use
Unlimited email accounts
What's bad about IX Web Hosting?
Poor uptime of 98.83%
Slow page loading times (1,170 ms)
Too many "upsells"
Customer support could be more helpful
No cPanel offered
Expensive setup fee
Have you used IX Web Hosting? We need your help :). Leave a honest review for IX Web Hosting below