A bit of background
We've been a paying customer for JustHost for 17 months. During that time, we've monitored JustHost's performance including uptime, load time (speed) and customer support experience.
Chris Phillips started Just Host back in 2002 in Glendale, California.
Fast forward to 2012, and it was acquired by EIG.
Cue dramatic sound effect: Dun Dun Duuuun.
That gives us an inkling of what results to expect based on reviewing many other EIG brand's so far (spoiler alert: not good results).
But to give them a fair chance, we set-up a WordPress website on the Just Host 'Shared' plan in June of 2015.
Since then, we've been monitoring their uptime and speed closely in anticipation of providing you with this fair, unbiased review.
Here are the results so far.
PROS of using Just Host:
If you've read any of our other hosting reviews, you might notice that something is missing here (like the 'Big 3' including uptime, speed and service).
There's a reason.
However, before we get to that, let's focus on the positives.
1.

 Instant Server Provisioning

Some hosts require a lengthy signup process for most new accounts, which means you (yes, even you international ones) might have to jump on the phone to verify who you are.

That means you can expect a SLOW process (not to mention frustrating and slightly irritating too). Or the occasional odd-hour phone call requirement.

The good news, is that Just Host offers instant server provisioning if you want to go with their premium, VPS, or dedicated services.
2.

30-Day Money Back Guarantee

Just Host offers a standard 30-day money back guarantee if you're not happy with your initial experience. That's just about (see what I did there?) industry average for those keeping track at home.
3.

Many Add-Ons and Integrations

Just Host easily integrates with popular platforms like Google Apps, in addition to over 100 other open source applications.

They will also throw in free Google and Bing advertising credits, which is a handy little bonus if you're ready to start generating online sales.
4.

Free Domain Name

New account sign-ups will also get a free domain name (regardless of the hosting plan you choose).

Hooray!
CONS of using Just Host:
The most important features that a hosting provider delivers are:
Uptime: The average amount of time your website is online and available (not 'down', where visitors can't access it because of server errors or issues)
Speed: How quickly (or slowly) it takes your pages to load all content, images, and more. As a general rule, the slower the website, the lower the conversions.
Customer Support: Good service should go above and beyond, helping you figure out how to make your site experience the best while troubleshooting common issues when they pop up. That's especially true if you're not the most technical person in the world, either.
And if you read the PROS section (gotcha — skimmers!), you'll notice that all THREE out of three features haven't appeared yet.
That's… not a good sign. Take a look.
1.

 Average Uptime of 99.89%

When we first signed up for an account and set up our WordPress site, the uptime results we saw were pretty below average. (For example, the very first month saw an uptime over only 99.07%, which translates into almost seven full hours of downtime in a single month!)

However, over the past twelve months, Just Host's uptime came in at an average of 99.89%. That's just a little below the industry standard we've seen of 99.94%.

While it seems like they've straightened things out since the beginning, they've still struggling to even hit industry average.

Here's to more of the same!

See previous uptime - 2015 (expands)
June average uptime:

99.07%

July average uptime: 100%
August average uptime: 99.99%
September average uptime: 100%
October average uptime: 99.96%
---
Last 12 months average uptime (2015 – 2016):
November (2015) average uptime: 99.73%
December (2015) average uptime: 99.80%
January average uptime: 99.93%
February average uptime: 99.65%
March average uptime: 99.97%
April average uptime: 99.98%
May average uptime: 99.99%
June average uptime: 99.96%
July average uptime: 99.96%
August average uptime: 99.99%
September average uptime:

99.93%

October average uptime:

99.82%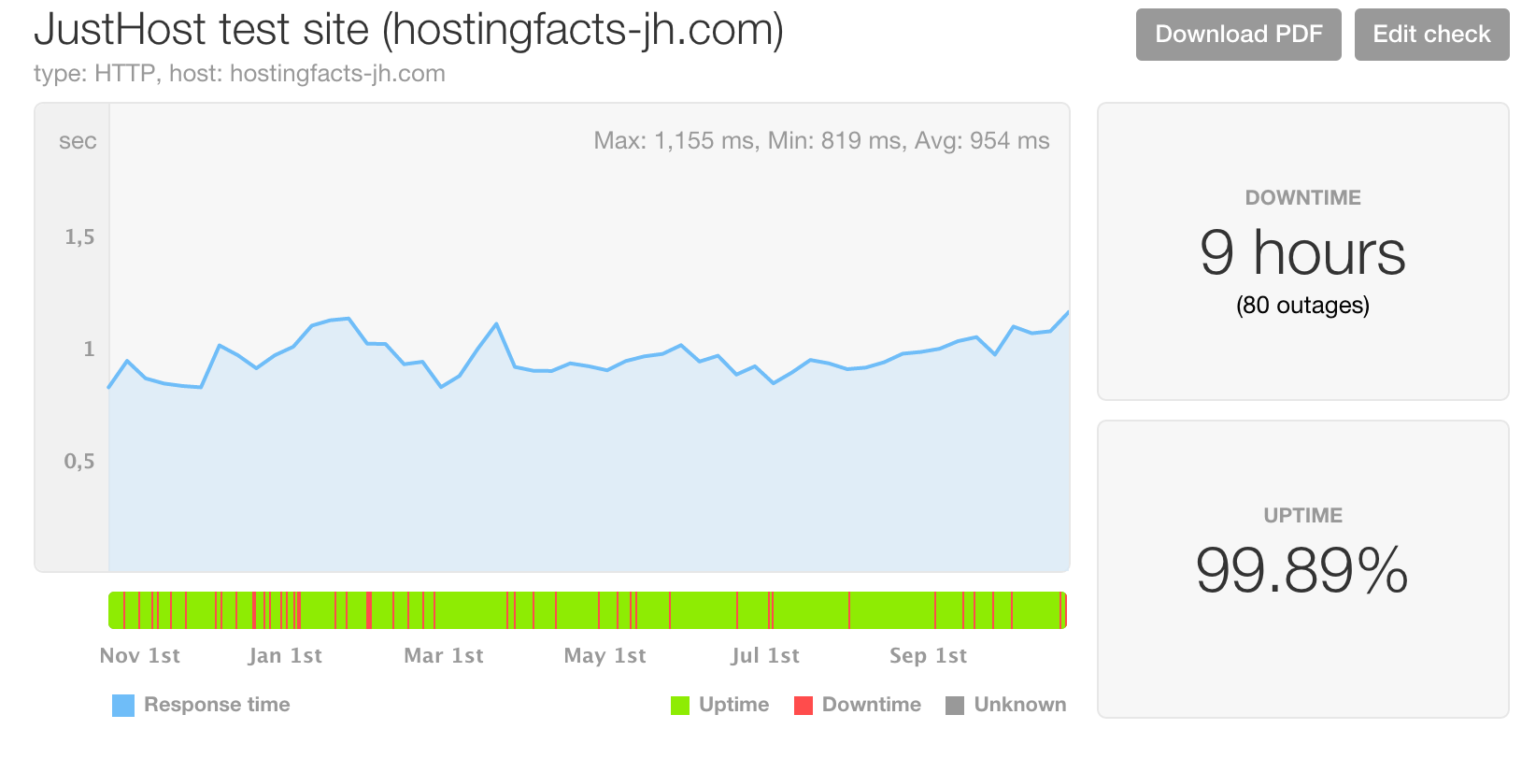 Just Host: Page Load Speed and Uptime (Last 12 months, full data can be found here.)
2.

 Below Average Page Loading Times

Consistency, is good.

Consistently bad, is not.

A twelve-month review of their page loading times also shows below average performance. Across the board. Pretty much every single month.

Just Host has come in around 954ms, which is 36% slower than the 700ms industry average we've seen.

That's bad news because speed (or lack thereof) is one of the primary reasons people leave your site (without becoming a client or customer). Visitors bounce, page views fall, conversions take a hit and customer satisfaction across the board declines.

See previous load times - 2015 (expands)
June average speed: 801ms
July average speed: 789ms
August average speed: 783ms
September average speed: 803ms
October average speed: 866ms
---
Last 12 months average load time (2015 – 2016):
November (2015) average speed: 855ms
December (2015) average speed: 933ms
January average speed: 1,067ms
February average speed: 957ms
March average speed: 939ms
April average speed: 913ms
May average speed: 930ms
June average speed:

928ms

July average speed:

899ms

August average speed:

921ms

September average speed:

1,001ms

October average speed: 1,085ms
3.

 Poor Customer Support

Unfortunately, Just Host fell short on customer support too.

It took about 10 minutes to get us connected, and a majority of the answers they provided were simply just links (doesn't get old) to their Frequently Asked Questions (if you can believe that).

A background check revealed similarly mixed reviews from other customers as well.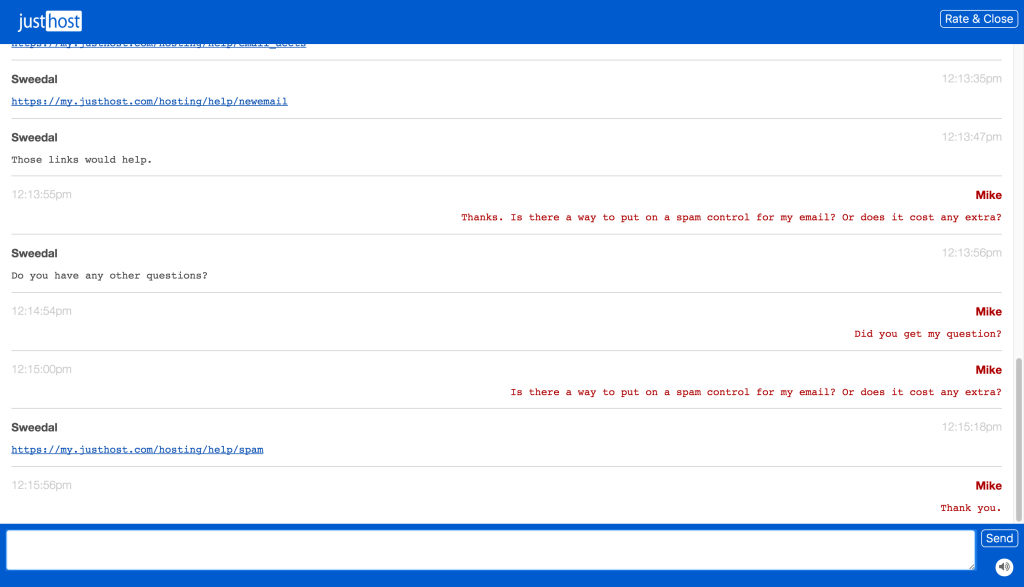 4.

Cheapest price ONLY with 3 Year, Upfront Payment

Just Host appears inexpensive on the face of it, with a stated $3.45 monthly rate.

However, you need to pay for three years, all at once upfront if you want to lock in that great rate.

Otherwise, a shorter term (like 12 months) will set you back $4.95 a month instead (again, paid upfront).

To make matters worse, once this 'promotional' rate expires when your plan ends, your pricing options will rise again.

When adjusted for the effective price, it puts Just Host in direction competition with some of the best hosts we've reviewed. (You know, the ones with far better speed and support too.)
5.

 Weekly Backups Aren't Guaranteed

Just Host offers weekly backups.

While not great (some other hosts offer daily or nightly ones in comparison), it's good (on the face of it).

Having at least a weekly copy laying around in case of emergencies is helpful and nice to know.

But…

Just Host doesn't guarantee the weekly backups they offer.

So they technically offer one, but don't support or stand behind it.

Um… what?

Obviously, you can't really bank the security and future of your website on that less-than-inspiring claim.

Might want to find a plan B just in case.
6.

 The Quantity of Upsell(s) was Sickening

Any company should be free to try and drive revenue however they see fit.

However the amount of upsells you're bombarded with when signing up for Just Host is truly maddening.

Like, timeshare-salesperson maddening.

Many others have already complained about this practice, but unfortunately, it hasn't stopped the constant rush of upsells.

Just. Stop.

Please.
Overview on Just Host Shared hosting plans
Here's a quick overview of the hosting plans they offer:
Basic plan: This plan costs $3.49 per month and supports 1 website. It comes with 50GB disk space and supports 5 emails accounts (with 100MB storage per account) and 25 sub domains.
Plus plan: This plan costs $4.95 per month and supports 10 websites. It comes with 150GB disk space, supports 50 sub domain names, 100 email accounts (500MB per account) and comes with a CDN.
Pro plan: This plan costs $9.95 per month and supports unlimited websites. It allows unlimited sub domains, unlimited email accounts and unlimited storage. It comes with 1 SSL certificate, 1 dedicated IP and premium backup protection.
Quick Facts
Free domain? Yes.
Ease of Signup: Quick, two-step signup process.
Payment Methods: Credit Card, PayPal.
Hidden Fees and Clauses: Shared hosting accounts have a limit of 200,000 inodes, 1,000 database tables and 3GB total MySQL/PostgreSQL databases. Exceeding this limit may lead to termination of your account with or without notice.
Upsells: Lots of upsells.
Account Activation: Quick activation.
Control Panel and Dashboard Experience: Their own heavily customized cPanel.
Installation of Apps and CMSs (WordPress, Joomla, etc.): "One-click installs" option for installing popular apps and CMSs.
Do We Recommend Just Host?
No, we do not.
Just Host fails in two out of the three major services of a web host.
While their uptime comes in right around industry average, their page speeds are slow (and getting slower).
And the quality of their customer support was marginal at best.
In addition, their true pricing put them in direct competition with some MUCH better host with a similar price.
It might be worth checking those out first to save yourself some time, money and hassle in the long run.
Have you used Just Host? Please leave an honest and transparent review below – good or bad!
Submit a review
Submit a short but detailed review and earn $10 when we approve it.
4 user reviews for Just Host
If something goes wrong, you're in trouble!
When I first started out I fell into the too good to be true Justhost deal. I needed something cheap to get going with and for a while it was fine, however, around 18-months later it's like their service just suddenly gave up…
I suddenly had about 30-50 spam emails coming in PER MINUTE, when I asked why they wanted me to purchase an upgrade instead of giving me a proper solution. Why was it fine for so long and then suddenly doing this when they added a "pro" version of the spam filter into their product list?
My site and emails also became blacklisted because they were hosting explicit sites on the same server as mine and 999 other people's sites… not great. The sites overall speed dropped considerably too, which pushed me over the edge on the hunt for a much better host which I luckily found. Krystal.
I still have to deal with them to this day due to those who work with me sometimes being hosted with them, or Bluehost (equally as bad!). I swiftly try to have them switch to a better web host, which works 99% of the time. Usually, this isn't until something goes wrong and I get called in to help deal with it and try to prevent it from happening again in the future.
The support at Justhost is abysmal. They don't listen to questions (which are written down in live chat!), they take forever to reply (be prepared for a 2hr chat session over a usually simply resolved problem), and if you get anything resolved in the first round of chats then you're doing really well as the chat usually ends without a solution. At times it's like they're trying to wind you up.
We all hope nothing will go wrong, but it's the internet and anything can happen, and when it does, it's often BAD. Your emails could go down, your site could get hacked, you may not understand what you need to do next etc so the tech support offered by a company should be at the top of the list. Justhost is just not worth your time or money. Trust me.
Really bad Hosting
I'm client on Pro Plan of JustHost 2 year ago. This is my real experience on this host;
I. JustHost is REALLY SLOW on page load and high ping. sometimes it's 10 sec page load even if I fully optimized website by Caching, Minifying, CDN, Image and Database Optimization.
II. I get 500 Internal Server Error often approx. 52% of HTTP statistics and also get Error 520 often when use Cloudflare CDN with JustHost. 502 Bad Gateway sometimes too, although th resources I used are low 40k file counts, 4-8GB bandwidth use per month, no CPU Throttling placed in my account, total 300 tables MySQL and less than 60 MB Database in single account.
III. In this year, my website was down 5 times. That's too much
IV. Backup is really bad, totally.
V. MySQL and PHP Performance is totally slow.
VI. Their DNS is also slow too.
With problematic issues I found based on real experience, I decided to migrate to other Hosting.
JustHost Pro Plan is far away from being Pro. If you want use this host, especially from outside USA, you might get a nightmare like me.
I don't want to inveigh JustHost but it affects my business and losing sale too much, now my toleration is out. This is my true story wanna share yo you all. it's on your decision, however, to choose the right hosting for you, for me it's mistaken decision for using JustHost.
Lost data, mislead info just to renew and 10 sessions of chat, two of them lasting 2 hours each
If the slow-downs and spams of the last years were not enough, read on what they just did to me.
After 7 years being a loyal costumer, last month my account was shutdown due to a payment being late. No problem, I contacted JustHost and asked if my data could still be recovered, since I was contacting in the last day of the deadline for the shutdown and would only renew in case my data would be recovered. In a chat session, an attendant said that yes, they could. I paid for a month to see if that would be the case. Nothing happened. I contacted the chat support again and informed the situation. The attendant said that no, actually all my files have been lost. I got upset, naturally. But in the middle of the session, the chat went offline. No problem, I tried a third time and after insisting on the situation, a senior specialist told that the information was incorrect: my files could be restored and in fact they were restored quite quickly to my File Manager within my CPanel.
However, my websites did not come on-line again. I did yet another fourth chat with the support team. I was told that I should only wait for the DNS addresses to be updated. Sure, I waited. After seeing that nothing happened, I tried another chat a day later. I was told the same thing again. Now, a month after that, and with yet another month paid, my sites are still offline. Guess what: today I did try another chat. I waited 20 minutes for an attendant to reply. Then, after 2 hours – yes, two hours – of chatting and waiting, I was told that my databases were missing! Yes, all my data gone. The attendant said he/she would search if there was a backup. Notice: "IF" there was backup – and I've been paying for that! At such point, my chat session crashed. What did I? Tried another chat session. This time a new attendant replied quickly, but took other 2 full hours to get to the same point where I was in the previous chat. He/she went even further and said that there were no databases associated to my account since before July 27th and insisted that when the files were recovered, there were already no backups of my databases.
Well, how can that even be possible? Why there not backups of my databases? It's ugly either way: if JustHost didn't keep backups of my database, only of my files, that's absurd. If JustHost had backups of both, it would mean that the support team just restored the files and forgot to restore the databases. It seems that I was either 1) lied to when someone from the sales department said in July that if I paid the subscription the data would be restored; 2) lied to when told that my files and data were restored and that I should only wait for DNSs to be updated or 3) the support team of JustHost did recover my files but forgot to recover my databases! This treatment is absurd, fairly offensive I should say, and will force be to search for legal actions against JustHost.
Done with JustHost
I have been with JustHost since 2009 after being disappointed with Dot5hosting and iPowerweb. When they say UNLIMITED, it's not true. They keep deactivating my domain because of excessive MySQL tables. The problem with that is, I install my shopping cart and can barely get the site up and running and they deactivate my site because there is excessive tables. I have another subdomain on there using a WordPress site with only 7 pages and 20 posts. So, that adds to the table count. Since I have been losing sales due to my store being deactivated, I have no choice but to find another hosting site.
I removed all MySQL tables and only had one WordPress site and 1 Magento store…they once again deactivated my site. I've lost sales and they are losing my business.
Their support is a joke. Either phone or chat. Chat always says 1 min wait time but it will be about 45 mins by the time they get to you.