Kinsta was founded in 2013 and offers managed WordPress hosting solutions for clients from 128 countries around the world with the help of their 24 data centers.
Kinsta has 10 different hosting plans, starting at $30 per month up to $1,500 per month. Unlike most WordPress managed hosts, Kinsta uses the Google Cloud Platform's premium tier network. This minimizes distance and hops. The end result should be a faster and more secure transfer of data.
But does one of these Kinsta plans make sense for you and your business?
We put them through the wringer, testing everything from its customer support to its uptime and speed. We compiled our findings into this review to help you make an informed purchase decision.
General Info & Hosting Overview
---
| | |
| --- | --- |
| SPEED: | 420ms (March 2020 to May 2020) |
| UPTIME: | 99.99% (March 2020 to May 2020) |
| SUPPORT: | 24/7 Live Chat, Phone, Email, Knowledge Base |
| APPS: | WordPress, Google Cloud |
| FEATURES: | SSL Certificates, Free CDN, Daily Backups, DDoS Detection, Uptime Monitoring, Staging Environment |
| HOSTING PLANS: | 10 Managed WordPress Plans |
| SITE TRANSFER: | Free, Unlimited |
| PRICING: | Ranges from $30/mo to $1,500/mo |
---
Pros of Using Kinsta Hosting
1. 30-Day Money-Back Guarantee
It's always good to see a host willing to stand by its service with some form of a free trial or money-back guarantee.
Kinsta is the latter, offering a full 30 days for you to try out its hosting services with no risk.
30 days is a substantial trial period and should be more than enough time for most people to decide if they want to continue on.
We prefer free trials to money-back guarantees because a lot can go wrong when trying to cancel some services. However, in the absence of a free trial, a money-back guarantee works well.
2. Free Site Transfers
If you already have an established business website, you're not going to want to start up again from scratch just because you switched hosting providers.
That's why many services offer free site migrations to help you move your site from one provider to another at no cost.
Kinsta offers free premium migrations with all of their plans. The number of free migrations depends on the plan that you chose.
Besides premium migrations, they also offer unlimited free migrations from one of the following services:
WP Engine
Flywheel
Siteground
Pagely
Pantheon
Cloudways
GoDaddy
DreamHost
Bluehost
HostGator
A2 Hosting
TsoHost
WPX Hosting
Savii
This added free bonus is just one less expense you'll have to endure to switch your site over to a new host.
Kinsta also assures prospective customers that there will be no downtime for your site during the migration period.
3. Automatic Daily Backups
Anyone who has ever lost their work knows that consistent backups are a must. Kinsta ensures that your site is automatically backed up every single day.
This is a great feature that makes certain you will never lose your entire site in the event of a crash. You'll always be able to bring it back to how it was just 24 hours prior.
It is a fantastic safety net that not a lot of hosts provide.
4. Great Uptime
Kinsta claims an average uptime of 99.9% – not really uncommon in the hosting industry.
They back this up with a guarantee. That means that if something happens wherein the host's uptime falls below 99.9%, you'll receive some form of compensation.
The details of this guarantee can be found in the Kinsta Service Agreement. According to the agreement, users will receive credits if downtime ever exceeds one hour. You'll receive 5% off of your bill on the next invoice if downtime goes beyond one hour and 10% off the next bill if it goes beyond two hours.

So far it seems that Kinsta is holding up to their uptime guarantee and the 3-month average is 99.99% with only 10 minutes of downtime and 3 outages. Not bad at all!
We hope to see similar results during the whole testing period and will update this review accordingly.
5. Good Speed
Kinsta claims to be designed with page load speed in mind, but that's a claim that every hosting provider makes.
According to Google, 53% of mobile site visitors leave a page that takes longer than three seconds to load. Slower websites increase your bounce rate and lower your conversion rates – definitely something you don't want happening to your business.
Keeping all of the abovementioned in mind, we wanted to test the speed of Kinsta for ourselves, so we built a test site on the platform to monitor page speed for several months.

We're glad to say that Kinsta has delivered great speed results with an average of 420ms from March 2020 to May 2020. It's one of the fastest load times that we've seen among our other reviewed hosts and would easily put Kinsta in our top 10 fastest hosts. Let's hope they can deliver same results during the whole testing period.
We will keep updating this review with more gathered data in the coming months.
6. 24/7 Live Chat
Customer service is definitely one of the most important factors that can influence your business' revenue majorly. In fact, 86% of the buyers are willing to pay more for a great customer experience.
One of the fastest and most-used communication options is live chat and it's something that we always test with every host.
Luckily, Kinsta offers 24/7 live chat support.
We asked Kinsta's customer service representative a question and received a response in less than a minute.
What's more, we were very impressed with how they responded. There were some really detailed answers provided.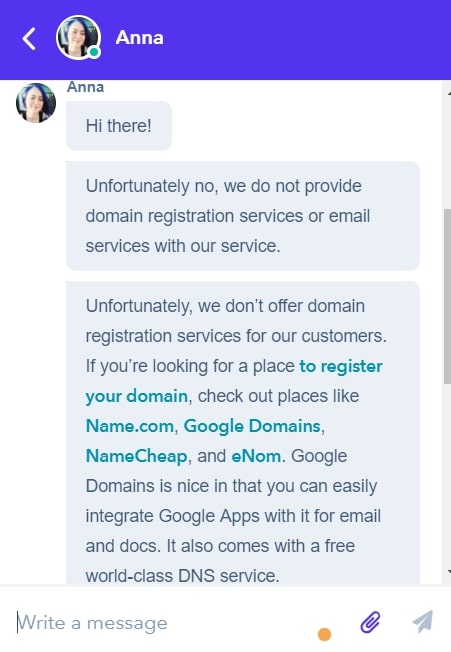 Kinsta's customer service team not only gave us a complete answer, but they also provided links to third-party providers who offered the added services we inquired about. It was a great experience overall.
Kinsta also has a vast knowledge base page with self-service articles. If you don't like live chat or self-service, they also have a contact form and email address for customer support.
7. Free SSL Security
SSL certificates are essential when using a hosting service. Without SSL security, Google can label your site unsecured, which does not inspire trust in your potential customers.
One of the main benefits of SSL is encryption – meaning every time information is entered at your site, it passes several touchpoints before reaching its final destination. Without SSL the data will be sent as plain text and malicious users can use this data.
The good thing is that Kinsta comes with free Let's Encrypt SSL integration and it can be managed from the MyKinsta dashboard. From there, you can also add a custom SSL certificate from another provider that you're working with. You can even transfer an SSL certificate that you already own easily.
8. Easy to Use Control Panel
When you sign up for Kinsta you get access to Kinsta's own custom dashboard instead of commonly used cPanel.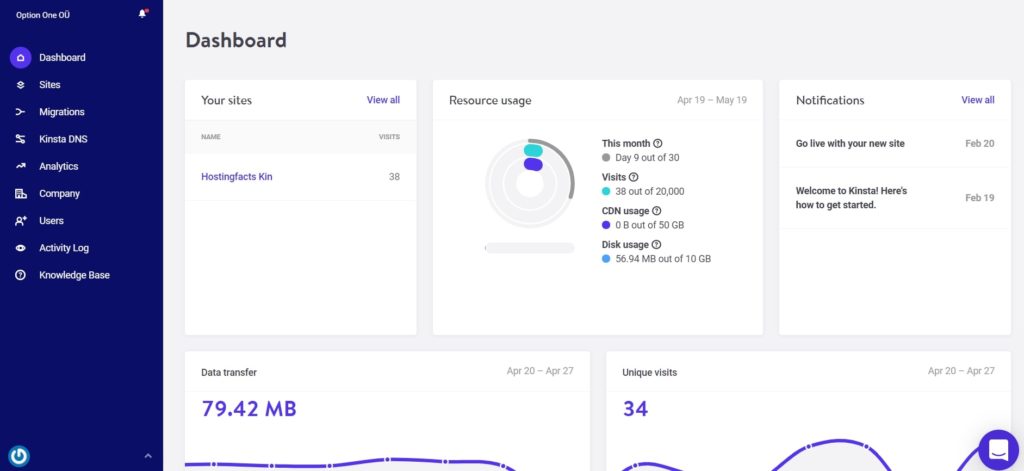 Kinsta's control panel has a straightforward interface. You have all of your main sections on the left side, including the knowledge base. Plus, you can access all of the information on your various sites including, migrations, analytics, users, activity log, and more.
The main dashboard has a wealth of information regarding important metrics like unique visitors, data transfers, and more.
It's very self-explanatory and should be easy for just about anyone to grasp with no real learning curve. You can test their control panel out without signing up.
9. Several Data Centers
The physical location of your data center can affect your site's uptime and speed. For example, if a server is far away from its users then data has to travel longer distances and that can make your website page load time slower plus influence overall latency and user experience.
Needless to say that it's better to have several data centers around the world than just a few in the same area.
Luckily Kinsta offers 24 data centers located in different parts of the US, Asia, Europe, and Australia.
Cons of Using Kinsta Hosting
1. Expensive
The biggest con of Kinsta is that it is costly.
When you compare Kinsta to a lot of the other hosting providers we reviewed, the gap in price is pretty astounding.
Kinsta's cheapest plan is $30 per month. That's way more expensive than most shared hosting services. On average, those services cost around $2-$3 per month.
Moreover, Kinsta's plans only get more expensive from there. They have 10 different plans, reaching as high as $1,500 per month.
2. Limited Bandwidth and Storage
When you're dealing with a hosting provider as expensive as Kinsta, you'd expect to get a lot for the money you're spending. However, none of Kinsta's plans have unlimited storage or bandwidth.
That's something offered by many of the other services we've reviewed like Stablehost or Hostwinds.
Even the $1,500 per month option has limitations of 250 GB of storage and bandwidth of 3 million visitors in a month. That's a high threshold, but it's not unlimited.
3. No Free Email or Domain
Some infinitely more affordable services offer email and domains for free as a bonus for signing up.
Kinsta doesn't offer these at all.
There isn't even an option to buy email accounts or a domain through Kinsta, so you would have to use a third-party service, like Name.com or Google Domains for domain names and Google Workspace (formerly Google G Suite) for email addresses.
A lot of people might find it easier to use another host that allows them to have all the services on the same platform.
Kinsta Cost, Plans, and Payment Methods
Kinsta has a whopping 10 hosting plans to choose from. All of them come with the same 30-day money-back guarantee.
---
| | Starter Plan | Pro Plan | Business 1-4 Plan | Enterprise 1-4 Plan |
| --- | --- | --- | --- | --- |
| Pricing | $30/month | $60/month | $100-400/month | $600-1,500/month |
| WordPress Installs | 1 | 2 | 5-40 | 60-150 |
| Monthly Visits | 20,000 | 40,000 | 100,00-600,000 | 1-3 Million |
| Storage | 10GB | 20GB | 30-60GB | 100-250GB |
| CDN | 50GB | 100GB | 200-500GB | 1000GB |
---
You can get two months free with any plan if you pay for the entire year in advance.
Kinsta accepts credit and debit cards from Visa, Mastercard, and Amex. PayPal is not accepted.
Do We Recommend Kinsta?
Yes, it's a solid managed WordPress host.
Kinsta has a lot to offer, starting from its several useful features, responsive customer service,  and we love the fact that they've been showing amazing results in speed and uptime for the past 3 months.
However, we wish they would offer unlimited plans and free domain or email options, especially considering that Kinsta is pretty pricey compared to other hosts.
Overall, Kinsta hosting will suit you if money is not an issue, and you're more interested in the quality they can offer. Moreover, if you're still not sure if Kinsta is for you, you can always use their 30-day money-back option and get a refund if you're not happy with the services.
P.S. Have you used Kinsta before? Please consider leaving a review below — good or bad — doesn't really matter as long it's helpful to our visitors. Thanks for your support.