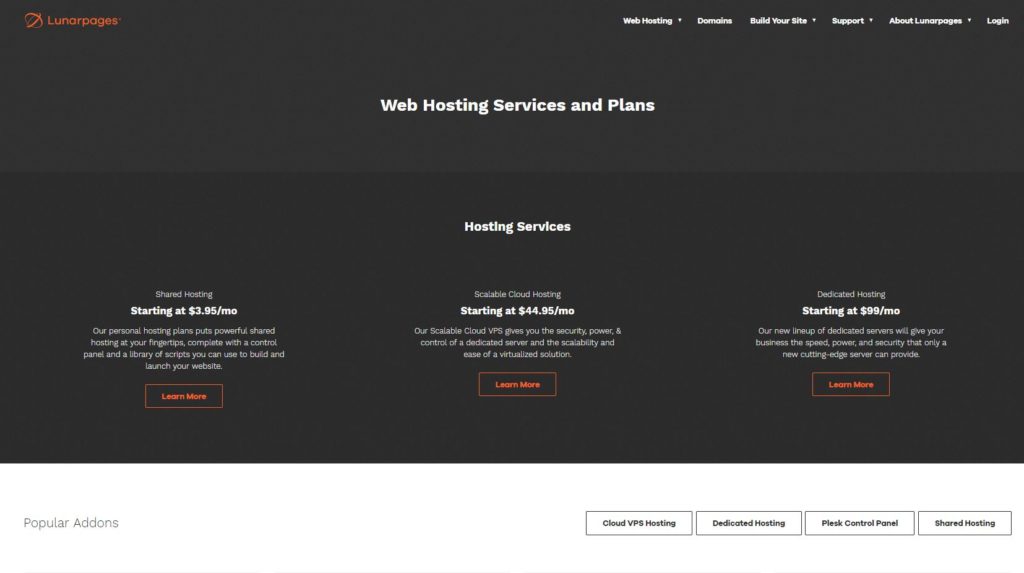 Lunarpages is one of the oldest web hosts in existence.
Starting from humble beginnings in a garage in California (isn't that how this story always begins?!) in 1998, to growing a customer base of over 150,000 people, including clients such as Microsoft, BlackBerry, Cisco, Sony, Caesar's Entertainment, and more.
They were founded by Maximillian Andersen and Ron Riddle, a Harley Davidson-riding former brick mason (yes, you read that right!).
Today, Lunarpages has data centers in California, Arizona, and Nevada.

A quick glance at that illustrious client list gives you the impression they know what they're doing.
So, do they?
To find out, we set up a basic WordPress website on the Lunarpages 'Starter Web Hosting Plan' in June 2015. Since then, we've been analyzing performance like uptime & speed (click "History" to see the data yourself).
Here's what we found:
Pros of Using LunarPages Hosting
Lunarpages has a few great things going for it. Speed, for one. Nightly backups too.
Here's a summary of their advantages:
1. 3% Faster Page Loads than Competition
Lunarpages came out of the gate with average page loading times of 861ms. It's about 3% faster than the industry average 890ms we've seen.
That's important because speed also has a huge bearing on other factors like where you rank in search engines and the number of people converting on your site (in addition to the obvious user experience).
Previously they have been pretty stable, but the last 10 months have been steadily over 850ms, which is worrisome.
Last 16-month average speed: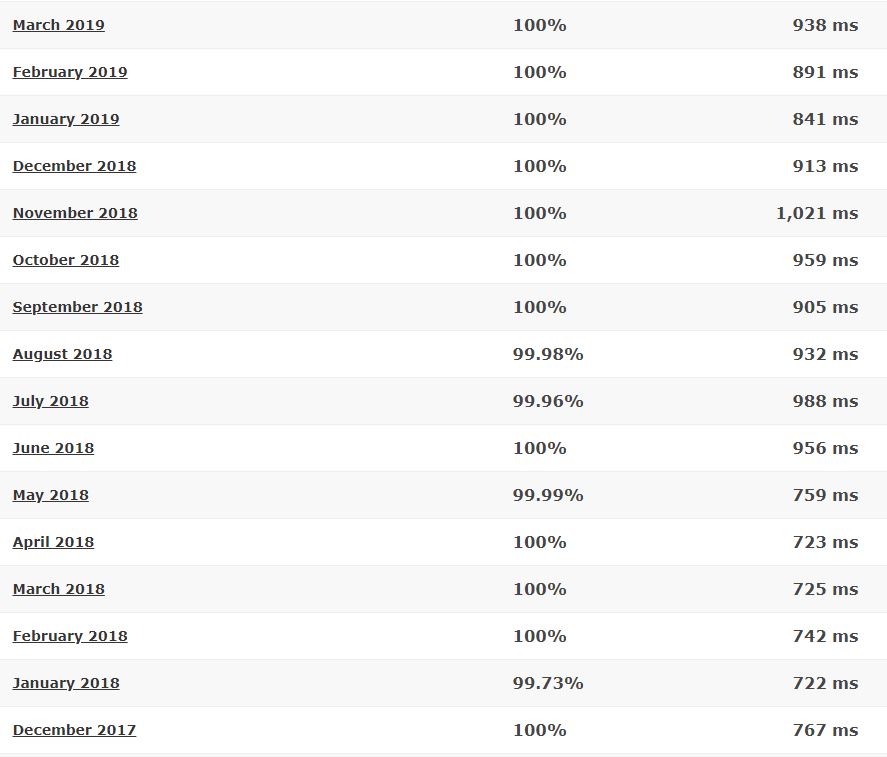 2. Premium Backup & Restoration Service
Your site is almost finished. You just need that one extra plugin to the power that special functionality you're lacking.
Problem is, it doesn't play well with others. The minute you hit 'install', the screen goes white. And… nothing.
This is an all-too-familiar occurrence for most site owners, as different third-party tools (like plugins) don't play well together.
The good news is that Lunarpages run automated nightly backups on your server. Their Premium Restore Service will also restore files for you — on a priority basis — at no cost.
3. No Pricing Games on 'Starter' Plan
Many web hosts will play this game of offering a low monthly rate on their website, only to reveal the real terms of that pricing in the final checkout process.
Often, you'll have to purchase three years, upfront, if you'd like to lock that low pricing in. Many times, upon plan renewal, your pricing will jump back up to the 'normal' rate (which can sometimes be 2x the price!).
While Lunarpages doesn't offer a true month-to-month plan (which is kinda a bummer), their Starter 'monthly' pricing is the same for 12 months as it is for 24 months.
4. Free Domain Name & Site Migration
Some Lunarpages' plans come with a free domain name registration (that needs to be redeemed within 30 days of signup). Please note that like other hosts, this only covers the first year of the domain name (any renewals will come out of your pocket).
If your existing website is currently being hosted somewhere else, Lunarpages will help you transfer it to their servers for free.
5. 30-Day Money-Back Guarantee
Lunarpages' plans are backed by a standard 30-day money-back guarantee.
6. Offers Great Uptime – 99.98%!
Since we signed up with LunarPages they have offered very good and reliable uptimes. The uptimes have been very stable. The worst we've seen by them is 99.73%, but other than that they've been extremely consistent.
Page loading speeds have gone really bad by LunarPages, but they still offer one of the best uptimes in the industry. Holding our website at 100% 12 out of the last 16 months.
Overall, their average uptime is .04% better than the industry average uptime of 99.94%.
Last 10-month average uptime:
March 2019 average uptime: 100%
February 2019 average uptime: 100%
January 2019 average uptime: 100%
December 2018 average uptime: 100%
November 2018 average uptime: 100%
October 2018 average uptime: 100%
September 2018 average uptime: 100%
August 2018 average uptime: 99.98%
July 2018 average uptime: 99.96%
June 2018 average uptime: 100%
May 2018 average uptime: 99.99%
April 2018 average uptime: 100%
March 2018 average uptime: 100%
February 2018 average uptime: 100%
January 2018 average uptime: 99.73%
December 2017 average uptime: 100%

Cons of Using LunarPages Hosting
Lunarpages provided great page loading times and fantastic uptimes. They also threw in a few helpful features.
Unfortunately, there are some grievances we can't overlook.
Here are the grim details:
1. Slow, Limited Support Options
Almost every other host we've reviewed provides a HUGE variety of ways to get in touch with them for fast customer support.
Almost every single one offers live chat, so you can reach out and get in touch ASAP if there's a problem.
After all – responding to issues quickly and efficiently to keep your site up-and-running is an integral part of what you're paying for.
Lunarpages has live chat… but it's only available for sales – not customer support. The only way we could reach out to them was through their archaic ticketing system.
Their ticketing responses were great, but it took 12 hours to hear back from them!
That's a LONG time on the internet. If a website is down and not making money during that entire 12-hour window, it could have serious ramifications for many businesses.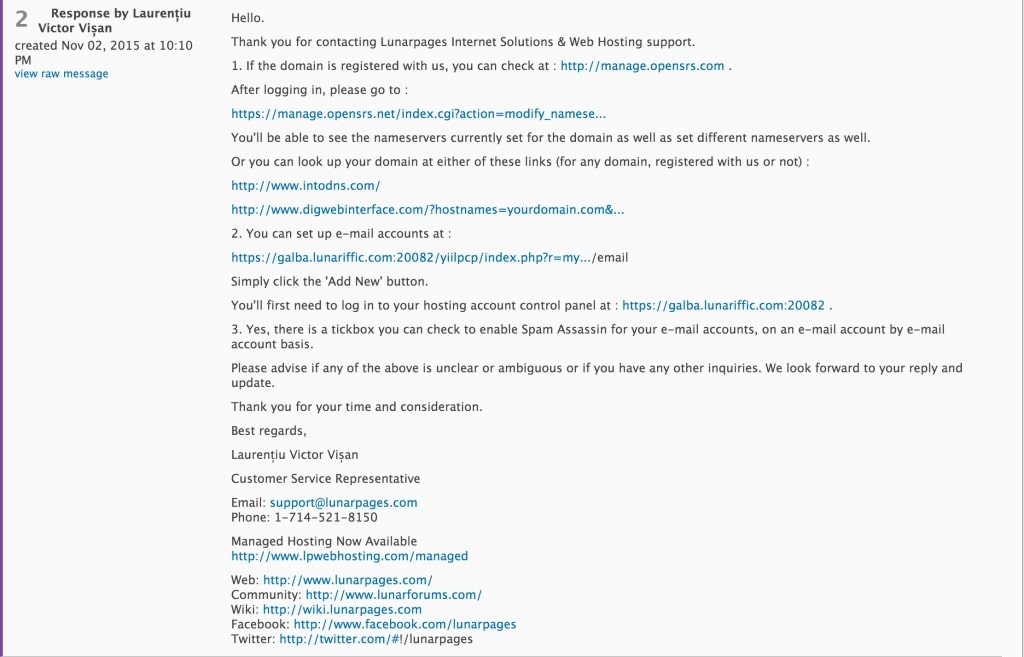 A background check revealed that many existing customers are not satisfied with their support either.
2. Poor Website Experience
Lunarpages was founded back in 1998. Honestly, it seems that their website hasn't been updated very much since then.
It's difficult to navigate and find helpful (read: usable) information. Most of the content on their site is very technical and unusable for most people who are not IT-professionals (read: the majority of their Shared hosting customers).
Overall, finding what you need on their site is a very frustrating, tedious process.
3. Setup Fee!
Most of the companies we've reviewed (going on ~30 now) will help you set up your site for free.
But not Lunarpages, who will charge you a fee.
4. They Charge for cPanel
cPanel access on most shared hosting plans is almost a given, considering it appears literally everywhere and is pretty standard.
Lunarpages will charge you for it. It's only two bucks a month. But still – it's a complementary feature with most other hosts.
5. Possibility of User Suspension
Most hosts promise 'unlimited' features. But that's rarely the case.
Lunarpages is no different. Our research uncovered that users can be suspended due to 'high resource usage'.
While their server configuration reasons might be valid, it would still come as quite a shock to wake up one morning, attempt to login to your website just to see that your site's been suspended without notice.
LunarPages Pricing, Hosting Plans & Quick Facts
Shared Hosting: Here's an overview of their shared hosting plans:
Starter Web Hosting: Their "Starter" hosting starts at $3.95 per month. It comes with 5GB storage, 50GB bandwidth, 1 MySQL database, 5 email accounts, unlimited sub-domains, and a free site seal.
Basic Web Hosting: Their "Basic" hosting starts at $4.95 per month and includes unlimited storage, unlimited bandwidth, unlimited email accounts, and unlimited MySQL databases. It also comes with a free domain name. You need to pay upfront for 60 months at once to enjoy the $4.95 per month rate: the minimum term you can pay for is three months, which costs $10.95 and a $30 setup fee.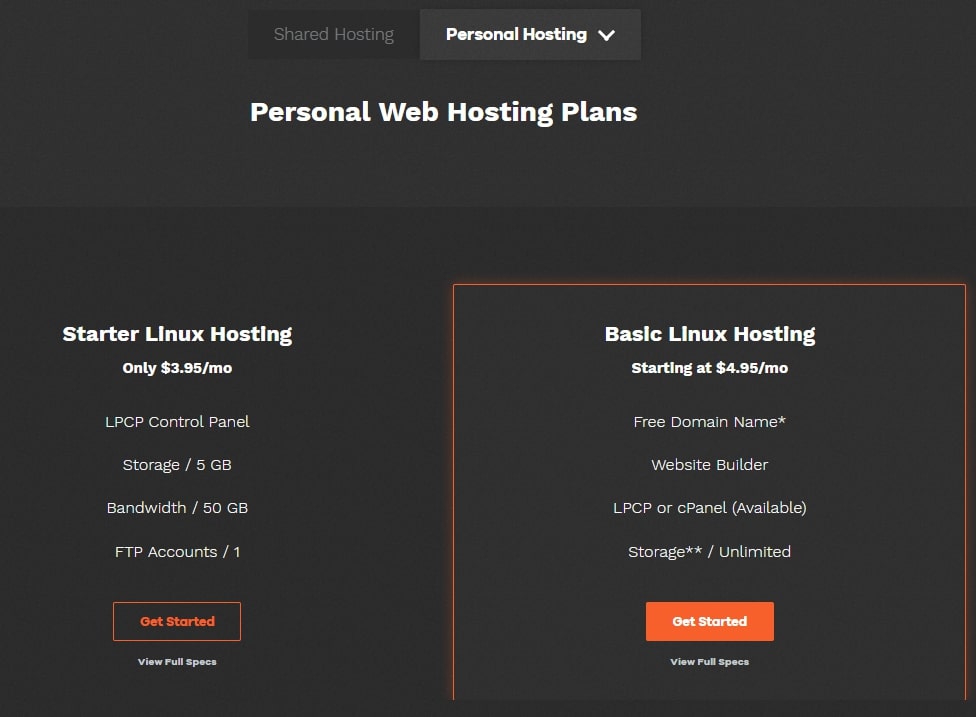 Windows Web Hosting: Their "Windows" web hosting starts at $9.95 per month. It comes with unlimited storage, unlimited bandwidth, unlimited email accounts, unlimited MySQL databases, and unlimited subdomains. It comes with Plesk Control Panel included.
Free Domain: Yes.
Ease of Signup: Lengthy signup process.
Payment Methods: Credit Card, PayPal, Alipay, Check, Money Order.
Hidden Fees and Clauses: An account may be suspended if it is using "too many server resources." Unfortunately, they do not seem to explain what they mean by "too many server resources" anywhere on their site.
Upsells: Lots of upsells.
Account Activation: Quick activation.
Control Panel and Dashboard Experience: cPanel. Which you have to pay for.
Installation of Apps and CMSs (WordPress, Joomla, etc.): Quick and easy installation of popular apps and CMSs with Softaculous.
Do We Recommend LunarPages?
No, we don't.
While they provided great page loading times and throw in a few extra, 'nice-to-haves' like free backups, their lengthy CONS list is just too much to bear.
For a similar price, you're better off going with A2 Hosting, SiteGround or HostGator Cloud.
Have you used LunarPages? If so, please leave your LunarPages review below! Good or Bad – doesn't really matter as we try to keep our reviews unbiased and transparent.