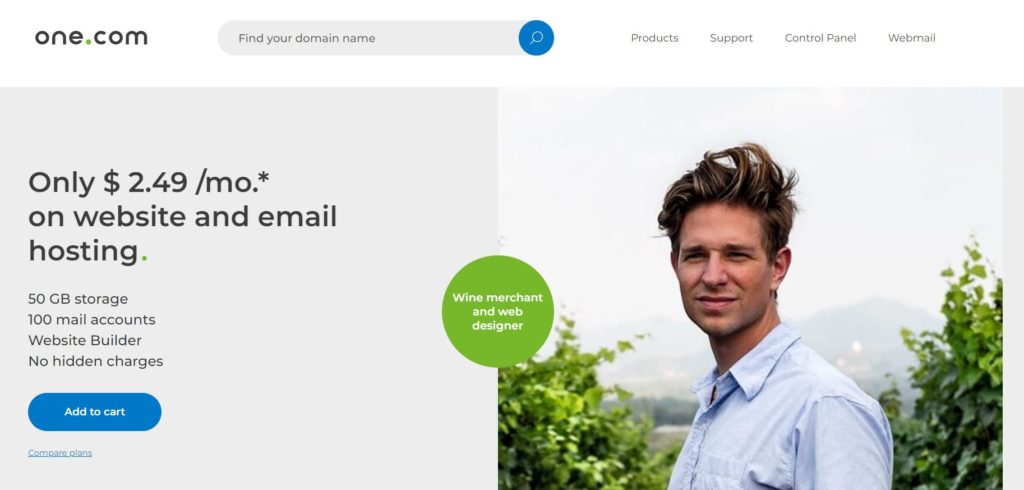 Jacob Jensen founded the Denmark-based One.com back in 2002.
Since then, they've grown into one of Europe's biggest hosting companies, having 1,500,000 customers across 149 countries with almost the same number of employees.
Impressive – no doubt. But stateside, they're still virtually unknown. Especially when you stack them up against the likes of HostGator, Bluehost, and GoDaddy.
So is that a good or a bad thing?
Have they been quietly going about their business, growing organically by word of mouth? Or is there a compelling reason you've never heard of them?
We decided to find out first-hand in December 2017. We purchased their cheapest plan, set up a WordPress website to test their service, and have been monitoring the performance ever since.
You can check out the test website here and the detailed Pingdom stats here.
Now, let's take a closer look at their performance so far.
Pros of Using One.com Hosting
One.com has backed up respectable load times with customer-friendly extras on each plan. And the pricing is among the most competitive we've seen.
Here's a deep dive into our favorite One.com features:
1. Above-Average Load Time
Google updated its mobile page speed benchmarks for companies.
Basically, they analyzed website speed across millions of sites and correlated the results to the visitor behavior. For example, they found that "53% of mobile site visits leave a page that takes longer than three seconds to load."
It makes sense when you think about it, right? Three seconds is almost an eternity when you're browsing on your phone.
But here's the most depressing part:
The average page loading time they saw was closer to 15 seconds! (Or nearly five times longer.)
If you stand to lose half of your traffic when your pages don't load within three seconds, just guess how many would leave if it took five times longer? Pretty much all of them, most likely.
Fortunately, our tests showed that One.com was able to consistently deliver an average of 495ms over the past 24 months.
Do you know what that means?
That's right: More happy site visitors.
Last 12 month average load time: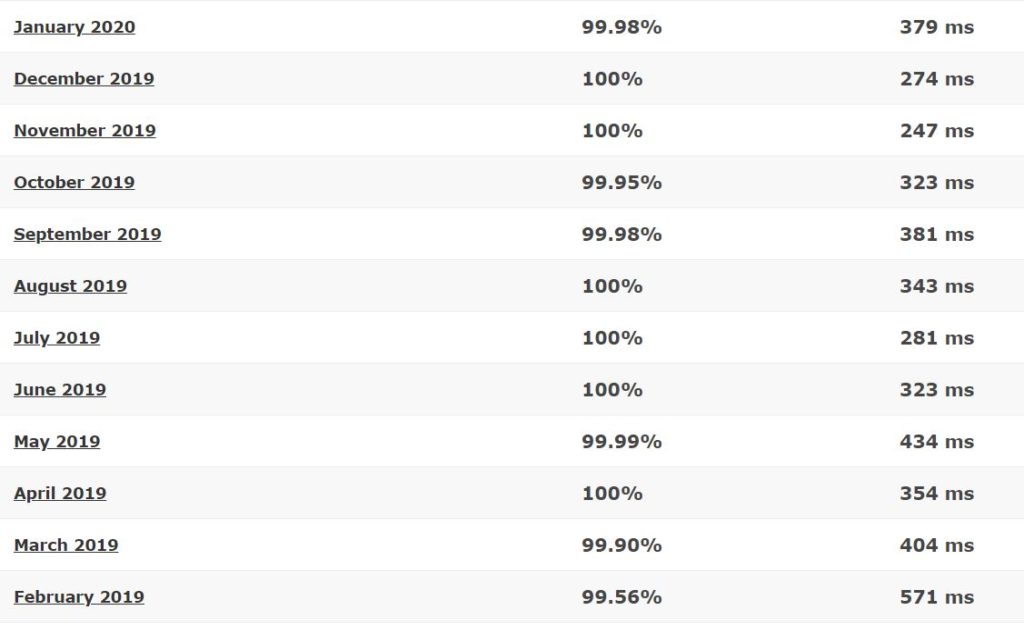 2. No Quick Support Options, But…
One.com is a European outfit that operates in almost 150 countries around the globe.
Admittedly, that probably makes customer support a logistical mess. They have to deal with tons of different languages and time zones that are on the polar opposites from each other.
Fortunately, they are doing a great job with this balancing act.
They have an extensive knowledge base to help you find answers to common questions. If that doesn't work, they offer support phone numbers for various locations around the world.
Their email support promises to answer within 24 hours. They also have live chat that's available in multiple different languages during local business hours or 24/7/365 for English.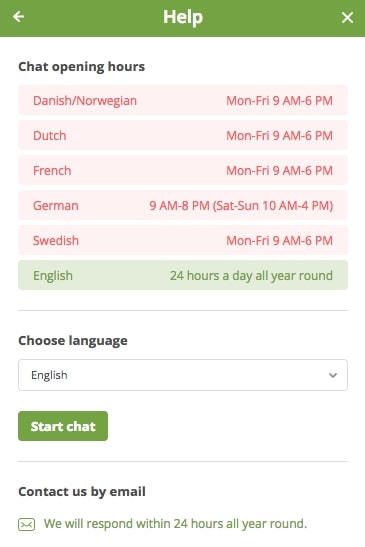 We tested their 24/7 claims with a simple query, and Kathy connected almost instantly.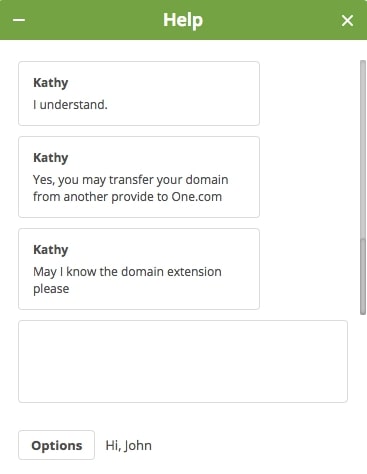 3. Unlimited Email Accounts
Signing up for a web host can often feel like death by a thousand cuts.
A grim picture, we know.
Consider all of the ways you can be tricked into paying hidden fees:
A low rate on the website, but only if you prepay a minimum of three years in advance.
A low rate on the website, that doubles or triples after the initial year.
'Free extras' like a domain name that are thrown in the first year, only to cost you in years two, three, etc.
The best pricing trick (and by that, we mean the worst), is forcing customers to pay TONS for email accounts.
For example, email addresses are typically free with a domain name purchase. Sure, you might want to upgrade to something like Google Workspace (formerly G Suite) for your business.
But you don't necessarily have to pay if you know your way around MX records.
The worst offender here is GoDaddy, who wants to hold your email hostage and force you to fork over $60 per year for each email you use with their Outlook integration.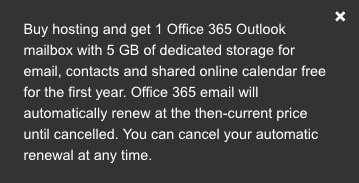 Insane, right?
Thankfully, One.com doesn't play the email upsell game. Instead, they give you free email accounts on even their cheapest, most basic plan.
4. SSL Certificate Included
SSL certificates offer shady web hosts another common upsell. They might even throw it in your account, 'for free,' only to stick you with a bill when it's time to renew again.
Back in the day, you didn't really need an SSL certificate. The only sites that used them were e-commerce shops or other sites that process credit card transactions.
They work by creating a secure connection between a visitor's browser and your server, so no one could intercept any personal data being passed back and forth.
Cybersecurity has ratcheted up in recent years as the number of hacks, data leaks, and breaches continue to explode.
That prompted Google to add a measure to its market-leading Chrome browser that would effectively warn users when a website didn't offer a secure connection.
Might not sound too serious on the surface.
However, when you go to an SSL-less site and see this notification: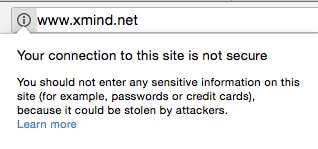 You rightfully get a little fearful!
Not to fear, though. One.com is here.
They'll throw in an SSL certificate on all basic plans (for no additional charge or hidden fee down the road).
5. Website Builder & WordPress
In an ideal world, you would just have an expert build a website for you.
The only problem, of course, is that it's often expensive. You need to hire a designer to craft the aesthetic. Then, you still need a developer to transform mockups into a functional prototype.
Is this site for a business? You'll still probably need more help, from someone to optimize it to others who can create the copy.
Point is: Custom websites ain't cheap.
That's where website builders come into play. They provide everyone from hobbyists to small business owners a user-friendly, DIY route to get a site up and running in no time.
You can often drag and drop different site elements, creating the look and feel of a custom site for only a few bucks a month.
You probably already recognize some of the most popular options, like Wix or Squarespace.
But here's the thing:
If you go with one of those companies, you will have to use their own hosting, etc. This means you're not free to shop around or pick and choose the best setup.
Or, if you start growing and want to move into a custom WordPress site down the road, you can't. You're stuck with their platform for the long haul.
One.com offers its own website builder with each plan, along with popular open-source apps like WordPress.
That means you can start simple and create your basic site with a website builder. Then, you can always expand into something more complex in the future.
Cons of Using One.com Hosting
Our test site on One.com performed well in the speed tests.
That, in addition to their user-friendly site builder, unlimited email accounts, and SSL certificate, make it a decent option for new companies.
Except for this deal-breaker…
1. Pathetic Uptime – 99.77%
Web hosts often use confusing technical details to describe their service.
For instance, each plan might differ based on a certain amount of storage or bandwidth.
The problem is that these numbers are often meaningless. Especially if you're not an IT professional who deals with this stuff day in and day out.
Average uptime of 99.77% doesn't sound that bad initially, does it?
Except, it is bad. "Just how bad is it?" We're so glad you asked:
That translates to two days of downtime in total during our testing period (483 outages in 24 months).
Here's how the past 12 months have stacked up so far:
Last 12-month average uptime:
January 2020 average uptime: 99.98%
December 2019 average uptime: 100%
November 2019 average uptime: 100%
October 2019 average uptime: 99.95%
September 2019 average uptime: 99.98%
August 2019 average uptime: 100%
July 2019 average uptime: 100%
June 2019 average uptime: 100%
May 2019 average uptime: 99.99%
April 2019 average uptime: 100%
March 2019 average uptime: 99.90%
February 2019 average uptime: 99.56%

If you were going to use this site for your business, could you really afford your site going down for hours each month?
Probably not.
One.com Pricing, Hosting Plans & Quick Facts
One.com hosting offers five shared hosting plans:
---
Beginner Plan
Explorer Plan
Enthusiast Plan
Expert Plan
Guru Plan
Pricing
$9.99/month
Renews at $4.99/mo
$3.99/month
Renews at $7.99/mo
$5.49/month
Renews at $10.99/mo
$7.49/month
Renews at $14.99/mo
$9.99/month
Renews at $19.99/mo
Websites
1
1
5
7
10
Bandwidth
Unmetered
Unmetered
Unmetered
Unmetered
Unmetered
Storage
50GB
100GB
200GB
500GB
750GB
Email Accounts
100
200
500
750
1000
Other Features
• Backup
• Backup
• 1-Click Install
• Free Migration
•Performance Cache
• Backup and Restore
• Staging Environment
• Standard Custom Themes
• Backup and Restore
• Staging Environment
• Premium Custom Themes
• Premium Mail
• Domain Lock
• Backup and Restore
• Staging Environment
• Premium Custom Themes
• Premium Mail
• Domain Lock
---
Quick Facts
Free domain? It's free for the first year.
Ease of Signup: Easy signup process.
Money-Back: 15-days money-back guarantee.
Payment Methods: Major credit cards and PayPal accepted.
Hidden Fees and Clauses: According to their Terms of Service, "Traffic is basically unlimited. However, traffic must be normal in nature and not disrupt that of other customers. If a customer's traffic disrupts that of others, One.com reserves the right to close the customer's webspace without notice and/or make a separate charge for the traffic. One.com reserves the absolute right to decide whether or not traffic is excessive. On the closure of a webspace, no refund will be made of any subscription paid in advance."
Upsells: A few upsells and high renewal fees for extra products.
Account Activation: Fast account activation.
Control Panel and Dashboard Experience: cPanel.
Installation of Apps and CMSs (WordPress, Joomla, etc.): 1-click install tool to easily install popular apps and CMSs.
Do We Recommend One.com?
One.com started strong. Their average page speed was pretty good. Support options were also fast, which is impressive given their large, worldwide footprint.
And we liked the fact that they threw in some extra stuff, like unlimited email accounts, SSL certificate, and website builder.
The real deal-breaker was the terrible uptime. Our site was down a full business day in March 2018.
That's just not good enough at the end of the day. Therefore, unfortunately, we can't recommend one.com.
P.S. Click here to view the best performing hosts that posted both fast speeds and solid uptime.
Do you have any personal experience with One.com – positive or negative? If so, please leave a transparent and honest review below.