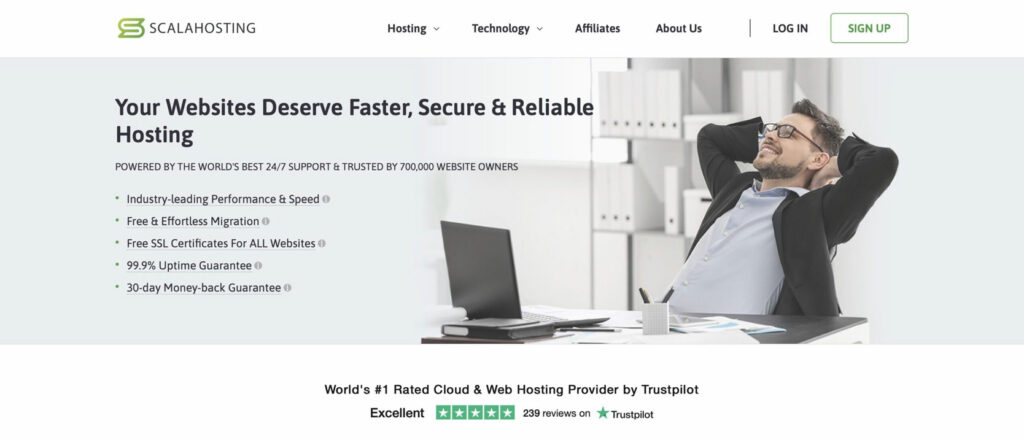 Scala Hosting was founded 13 years ago and has over 50,000+ clients worldwide.
Scala Hosting's shared hosting is a semi-reliable choice for new or lower-traffic websites. While their servers' uptime is excellent, their response time is unfortunately below average, which is their biggest downside.
Setting aside the load speed, you get feature-packed hosting plans that don't break the bank, a straightforward way of testing their service out, and an excellent 24/7 support system.
Let's take a closer look at what makes Scala Hosting's shared hosting tick and what's good or bad about their hosting service.
General Info & Hosting Overview
---
OUR VERDICT:
Packed with Perks, but Low Performance
SPEED:

967ms

(March 2020 to August 2020 average)
UPTIME:
99.90% (March 2020 to August 2020 average)
SUPPORT:
24/7 Live Chat and ticketing system, Knowledge Base
APPS:
WordPress, Magento, Joomla, Drupal, Prestashop, Moodle, WooCommerce, and more.
FEATURES:
Unmetered bandwidth, free SSL and CDN, 1-Click WordPress installer, and free email
HOSTING PLANS:
Shared, WordPress, Managed Cloud VPS, Self-managed Cloud VPS, Reseller hosting, Business Email Hosting, and Dedicated Servers
SITE TRANSFER:
Free migration for all of your websites
PRICING:
Starting at $3.95/mo (renews at $5.95/mo) with a 3-year commitment
---
Pros of Using Scala Hosting
Scala Hosting offers an excellent variety of useful perks that play well into getting started with a new website or migrating an existing one. On top of that, their servers' uptime is reliable, and trying their service out is refreshingly smooth and flexible.
Take a look at some of the strongest aspects of Scala Hosting's shared hosting service.
1. Solid Uptime of 99.90%
Scala Hosting's uptime is excellent, with an average of 99.90% during the past 6 months. This means that they've had some hiccups here and there, but you can expect a good uptime if you sign up.
Their data centers are located in the U.S. and Europe, which gives them broad coverage and a stable connection.
It's no wonder they also feature a 99.9% uptime guarantee, which they've almost fulfilled during the past months. As a standard, the uptime guarantee doesn't cover scheduled downtime for server maintenance.
Here's the last 6-month average uptime of Scala Hosting's servers:
August 2020 average uptime: 99.98% (thus far)
July 2020 average uptime: 100%
June 2020 average uptime: 100%
May 2020 average uptime: 99.64%
April 2020 average uptime: 99.98%
March 2020 average uptime: 99.98%

2. Remote Daily Backups
Your website's backups are highly important when you don't just keep a static website. When you regularly change your website, there can be times when you need to revert to an older version for any reason.
Scala Hosting offers a great solution to ease your mind by keeping remote daily backups of your data for the last 7 days. You can usually get site backups for additional fees or have to do them yourself, but it's refreshing to see it's taken care of by this hosting service.
3. Responsive and Knowledgeable Customer Support
Scala Hosting's customer support is available 24/7 through live chat and a ticket system. They also have a knowledge base where you can find answers to some of the basics about their service.
Scala Hosting advertises that they'll answer any inquiries in 30 seconds over the live chat and 15 minutes through the ticket system. The great thing is that they keep this promise as we were greeted immediately after reaching out, and our follow-up questions were answered promptly.
Overall, the support experience was great and straightforward.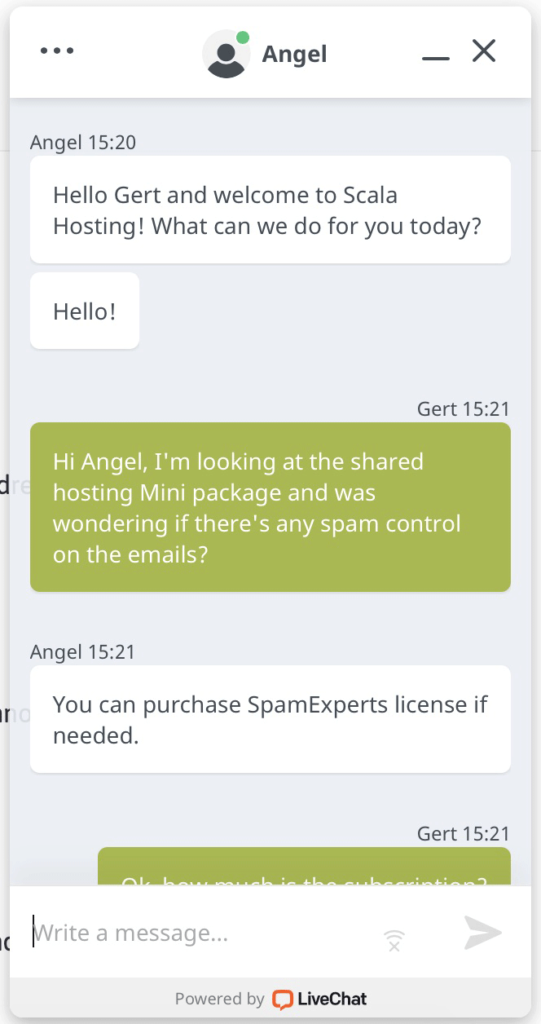 4. Free Domain and Site Migration
When you first sign up with Scala Hosting for more than a year, then you get a free domain name as a bonus perk. This freebie only covers the .com, .net, .org, .info, and .eu domain extensions, which are the most popular ones nevertheless.
While the free domain name is common with the other service providers, Scala Hosting steps up their game by giving you free site migrations. This means that they provide a seamless transition of all of your websites to their servers. However, be vary that their cheapest plan only hosts one website, so if you have multiple sites you want to migrate, then opt for a higher-tier plan.
Both of these perks come as valuable customer experience and take the hassle out of switching or signing up with a website hosting service.
5. Free SSL and CDN
Modern websites can't properly function without a security protocol as even Google notifies their users if they're about to enter a website without an SSL certificate.
Scala Hosting has made it simple for you by throwing in a free SSL certificate with Let's Encrypt SSL. You can choose other SSL certificates during checkout, but this one is on the house with every plan.
To further improve visitors' experience, they also give you a free CloudFlare CDN with every plan. This means that your website's data is cached for returning visitors allowing for a smoother and faster response from your website.
6. 1-Click WordPress Install
WordPress is the most popular tool for creating your website. Scala Hosting has made it simple to install WordPress to your site with only one click. If you're new to building websites or have created a few before using WordPress, you enjoy the additional smoothness this perk gives you.
This feature also includes automatic updates, staging, cloning, and additional tools that make your life easier using WordPress.
7. 30-day Money-Back Guarantee
You can safely test out Scala Hosting's hosting service as you also get a 30-day money-back guarantee. If you're unsatisfied with their service after the first month, you can cancel your subscription with no questions asked policy and get a full refund.
You also can try out their service for one month at a discounted price of $0.99/month. After that period, you either stick with them and choose a longer hosting plan or opt-out from their service.
These features give you an excellent opportunity to figure out if Scala Hosting's service is for you. They've made the trial process super simple for their new customers.
Cons of Using Scala Hosting
With so many great features and a perfect uptime, it's a pity that one of their most troubling downsides is the average load speed, which is below industry-standard.
They also have some limitations to their cheapest plan, but the price range for a higher-tier plan without these limitations isn't a big price bump. Choosing the hosting plan mainly comes down to if you have only one site or multiple sites and the traffic level you expect.
Let's look at some of the downsides closer.
1. Below Average Response Time
One of the main aspects to look at when choosing a website hosting service is its performance. Particularly noteworthy is the response time of the server when your visitors are coming to your site. There's a clear link between the bounce rate and the page's speed statistics in the modern world.
Scala Hosting's last 6-month average load time is a weak 967ms, which is just shy of one second response time. Compared with the industry-leading website hosts (especially with our fastest provider A2 Hosting), this result is below average and a dreadful downside for an otherwise good hosting service.
Hopefully, their performance gets better, so they can provide a better hosting service for their customers.

2. Only One Website with the Cheapest Plan
If you're looking for the cheapest deal, then Scala Hosting's price levels are very competitive. However, when going for their cheapest offered plan, you have the limitation of hosting only one website.
You can bypass this limitation by upgrading your plan to a higher-tier one with some extra cost, which isn't that expensive. For example, the price difference between the cheapest and the next tier plan is $2/month when going with a 3-year commitment.
It may seem like it's not a lot, but it all depends on your budget, which is individual for every project.
3. Visitor Thresholds with Cheaper Plans
When picking a website hosting plan with Scala Hosting, bear in mind how much traffic you expect to your website each month. With each of the shared hosting plans, there are different CPU power levels that a specific plan gives you.
In simpler terms, they've estimated the level of traffic their plans can accommodate, starting from 30,000 visitors a month with the cheapest plan. While you can plan for this ahead of time, it isn't very flexible, especially for new websites.
However, you can always upgrade your plan to get more out of the servers to receive more traffic.
Scala Hosting Pricing, Hosting Plans & Quick Facts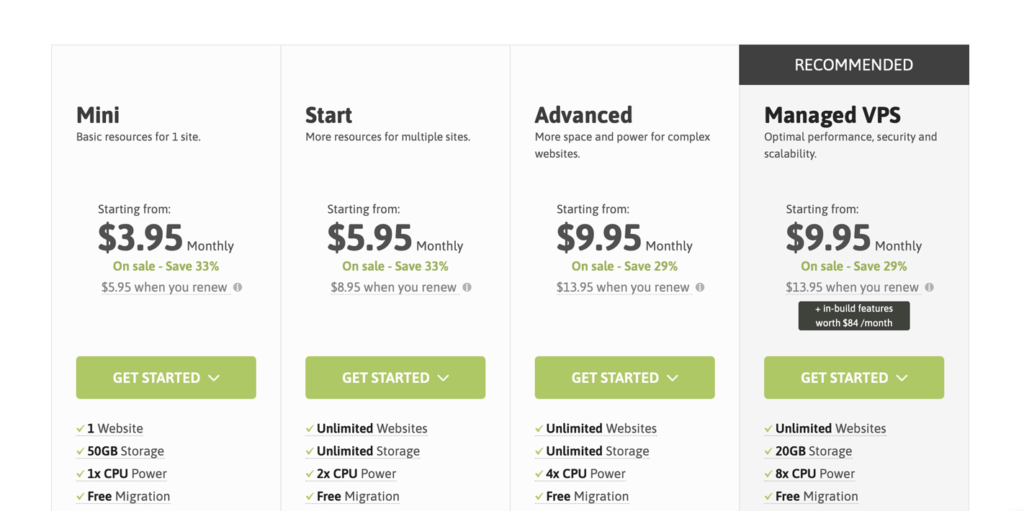 Here's a short overview of Scala Hosting Web Hosting plans:
Scala Hosting Mini: The cheapest plan and starts from $3.95/month with a 3-year commitment. You can only host 1 website and get 50GB of storage, free migration, free SSL and CDN, free domain, and unmetered bandwidth.
Scala Hosting Start: the pricing starts from $5.95/month with a 3-year commitment. You get unlimited websites and storage, free migration, free SSL and CDN, free domain, unmetered bandwidth, and real-time website monitoring.
Scala Hosting Advanced: the plans start from $9.95/month with a 3-year commitment. You get everything in the Scala Hosting Start plan and Priority Support, additional spam protection, and an SEO audit of your site.
Here are some additional facts about Scala Hosting service that we found during our research:
Domain: Free 1st year, renewals start at $12.65/year.
Ease of Signup: A straightforward process spread across a few steps.
Payment Methods: Credit Card, PayPal, bank transfer.
Hidden Fees and Clauses: Renewal rates are higher than introductory rates but other than that, no hidden fees.
Upsells: A few during the signup process but not very intrusive.
Account Activation: Quick account activation.
Control Panel and Dashboard: cPanel.
Installation of Apps and CMSs (WordPress, Joomla, etc.): 1-Click installation for over 100+ applications.
Do We Recommend Scala Hosting?
Yes, and no…
While Scala Hosting's shared hosting features are great, the server uptime is excellent; we can't turn a blind eye to their below-average response times.
Since website loading speeds directly influence visitor's experience, Scala Hosting, unfortunately, isn't at the top of our list of the best hosting services – even though they offer some great perks that are competitive with the top hosting providers.
Visit Scala Hosting Shared Web Hosting
P.S. Have you used Scala Hosting before? Please consider leaving a review below — good or bad — as long it's helpful to our visitors. Thanks for your support.