A bit of background
We've been a paying customer for Site5 for 17 months. During that time, we've monitored their performance.

This review relies strongly on data, such as uptime, load time (speed) and customer support experience.
Site5 Web Hosting is a niche service built for designers and developers, with multiple servers located in:
North America (U.S. and Canada)
South America (Joao Pessoa and Sao Paulo, Brazil)
Europe (U.K., Netherlands, Romania and France)
Asia (Singapore and China).
It was founded in '99 by Matt Lightner and Rod Armstrong, before being acquired last year by the conglomerate EIG (which also owns HostGator, Bluehost and many others).
Priding yourself on being 'developer-centric' sounds nice on promotional materials. But does this niche offering make any difference? How does it affect what they do, or more importantly, DON'T, offer?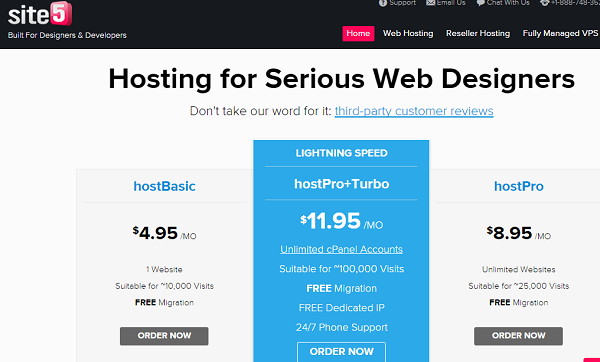 Quite expensive shared hosting. But is it worth it?
We set up a basic WordPress website on the HostRocket 'Shared' plan back in June 2015 to find out for ourselves. You can also view our site's detailed performance statistics like uptime & speed (click 'History' to dig in deeper).
PROS of using Site5 Hosting:
Site5 is targeting an audience of advanced users, and that means we had high expectations for the level of performance.
Over the past year or so, they've performed OK on speed and support, which is always a good start considering that's two of the three biggest criteria when choosing a host.
But what sets them apart are a few unique offerings that specific customers will enjoy, including a free trial (!) in addition to some time-saving cPanel migrations.
Let's see how they shape up.
1.

 Slightly Above Average Page Load Times

People don't put up with slow sites.

Just a few extra seconds in page loading times can cause your page abandonment to increase by 38%. (With most of those heading over to a competitor's site instead.)

While even basic fixes to make your site faster can skyrocket conversions. Decreasing page loading times from 8 to 2 seconds lifts conversions by 74%.

We tested Site5's site speed, and they were slightly above average (delivering page load times of 695ms compared to 700ms).

See previous load time - 2015 (expands)
---
Last 12 months average load time (2015 – 2016):
November (2015) average speed: 729ms
December (2015) average speed: 760ms
January average speed: 809ms
February average speed: 858ms
March average speed: 808ms
April average speed: 725ms
May average speed: 798ms
June average speed: 534ms
July average speed: 612ms
August average speed: 589ms
September average speed:

574ms

October average speed:

547ms
2.

Good Customer Support

After a general background check into other customer opinions, it seemed like one thing most Site5 customers can agree on is that they offer good support (no doubt bolstered by EIG's greater resources and scale).

We were optimistic after reading other reviews, and our personal experience didn't let us down. A member of their support staff connected with us in just a few seconds and answered questions quickly and accurately.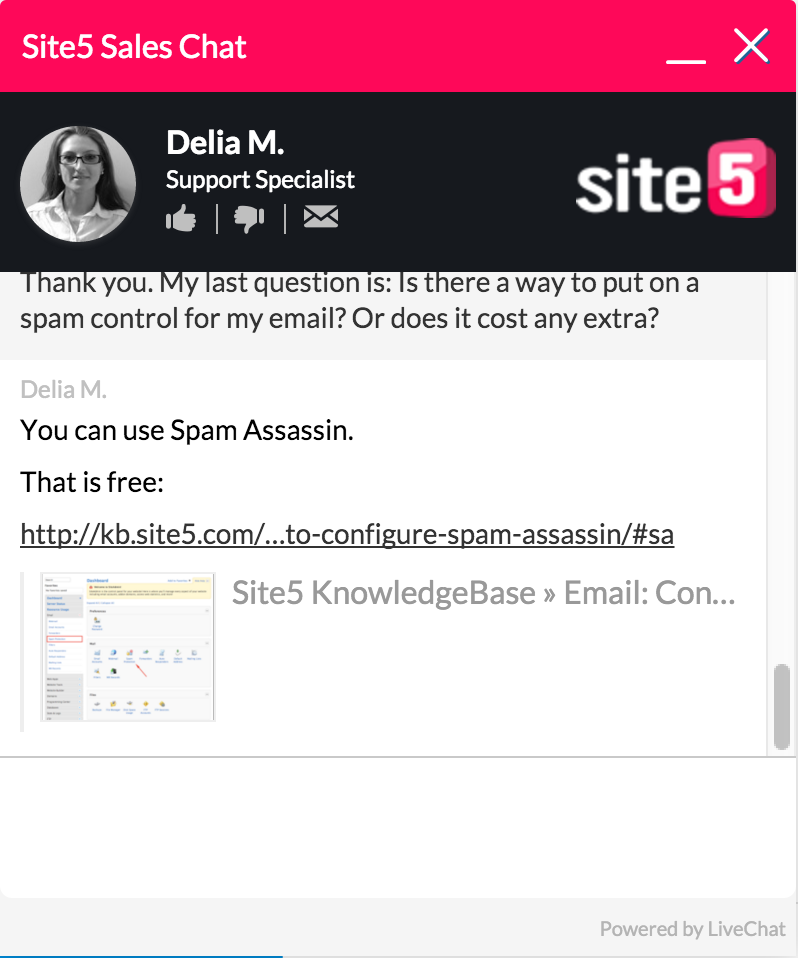 There IS one potential drawback, though. They're used to working with a sophisticated customer base, catering to designers and developers.
That means you may not get the handholding necessary if you're a beginner.
3.

A Free Trial. No, Really!

Most web hosts offer some sort of money back guarantee to let you try out their service with minimal risk before getting locked into a long hosting relationship.

Site5 offers a pretty good one too (see below).

But what truly sets them apart is their free trial offer, which is incredibly rare.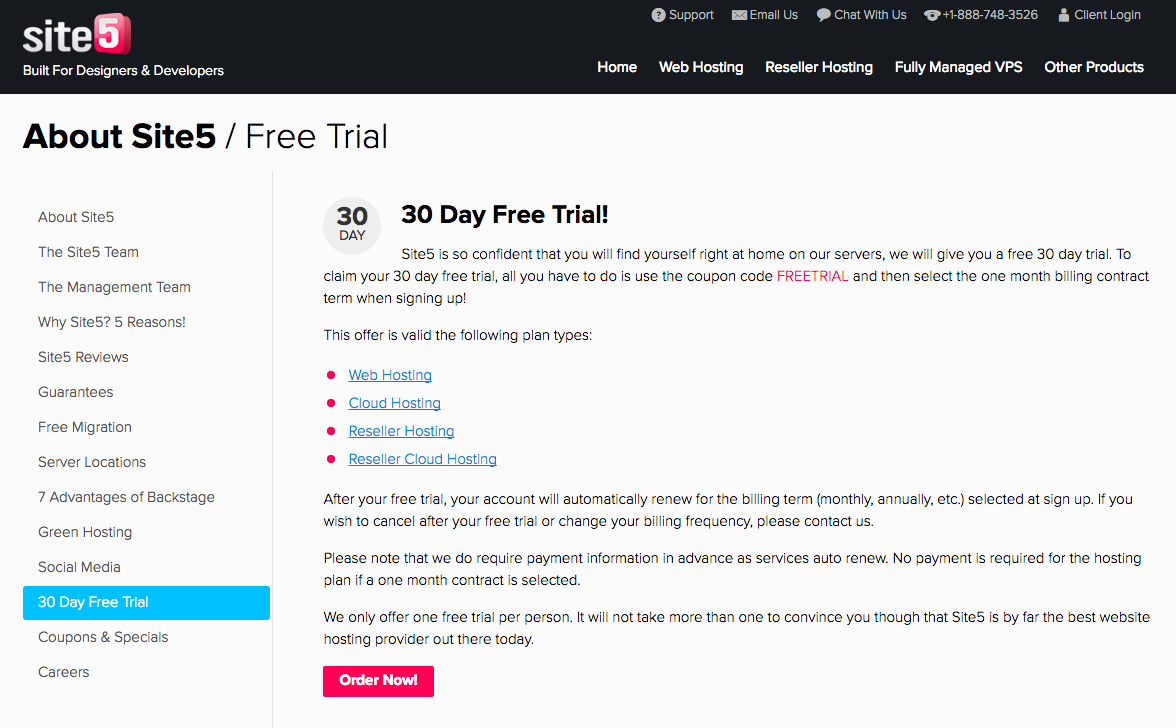 Site5 gives you 30 truly free days to take their standard hosting plans for a spin. You can also test-drive their VPS for only a $1 commitment during your first month too.
Just when you think it can't get better, it does.
4.

45 Day Money Back Guarantee

Site5's unprecedented free trial is a great deal. But throw a 45-day money back guarantee on top of it, and you're looking at an amazing one to get started.

Their VPS hosting plans comes with a shorter, 15-day money back guarantee.

And the great news is that there aren't any conditions with these refunds. They promise to respond to your request within six hours (or they'll credit your account extra for the delay).
5.

Free Transfers

Site5 also offers free website migrations or transfers if you're site is currently hosted somewhere else. Many other web hosts do this too.

However, what's different is that they'll migrate up to 25 (!) cPanel accounts for you (and up to 10 non-cPanel ones) – still free!

A generous offer to take care of an otherwise time-consuming process.
6.

Plans Come Standard with 'Advanced' Features

Another thing we liked about Site5 was that 'advanced features' typically reserved for higher priced plans come standard on their cheapest shared options too (probably due to the fact that they're catering specifically to more advanced users).

The most noteworthy ones include:
Unmetered bandwidth,
Unmetered disk space, and
Disaster recovery backups
The last one is especially important, as something will, eventually, at some point (and unfortunately) go wrong.
Years ago, working on my first WordPress site, I remember hitting the Activate button while sitting in a coffee shop. Then a cold sweat broke out as the screen went blank and my site seemingly disappeared.
Stuff happens with websites. And having someone (or something) to have your back in the case of an emergency is immensely helpful.
7.

Ability to Choose Your Server Location

Site5 has multiple server locations all over the world. So they'll let you choose whichever of their 21 different locations you'd like (regardless of where you live).
CONS of using Site5 Hosting:
As you've just read, Site5 does a decent job in most areas.
While they're not in the upper echelon of any single category, they do deliver admirably in both speed and support (two of the biggest categories to pay attention to).
There is one big sticking point though that needs to be addressed transparently. Take a look.
1.

Below Average Uptime of 99.85%

Over the last twelve months, they've had some good months…

And some bad months, unfortunately.

Case-in-point: back in March they posted a 99.85, with an equally dismal 99.88% in April. On the face of it, that doesn't seem very far off of the 99.90% industry average.

So what's the problem?

If you run a quick downtime calculation based on that percentage, the answer will jump out at you.

For example, their March uptime result of 99.55% results in over over 3 hours of downtime per month.

What's even worse, we've seen no comments/feedback from Site5 side what happened during that month…

So we're left in the dark as to (a) what's wrong, (b) why it happened, (c) if it's a one-time or recurring issue, and (d) if that's what we can come to expect from their performance.

Lately their uptime is hit-or-miss, hovering right at or below the industry standard mark.

Overall, we're unimpressed. And we expect better from an 'advanced' hosting company.

See previous uptime - 2015 (expands)
---
Last 12 months average uptime (2015 – 2016):
November (2015) average uptime: 99.99%
December (2015) average uptime: 100%
January average uptime: 99.99%
February average uptime: 99.99%
March average uptime: 99.55%
April average uptime: 99.88%
May average uptime:

99.72%

June average uptime: 100%
July average uptime: 99.96%
August average uptime: 99.98%
September average uptime:

99.82%

October average uptime:

99.95%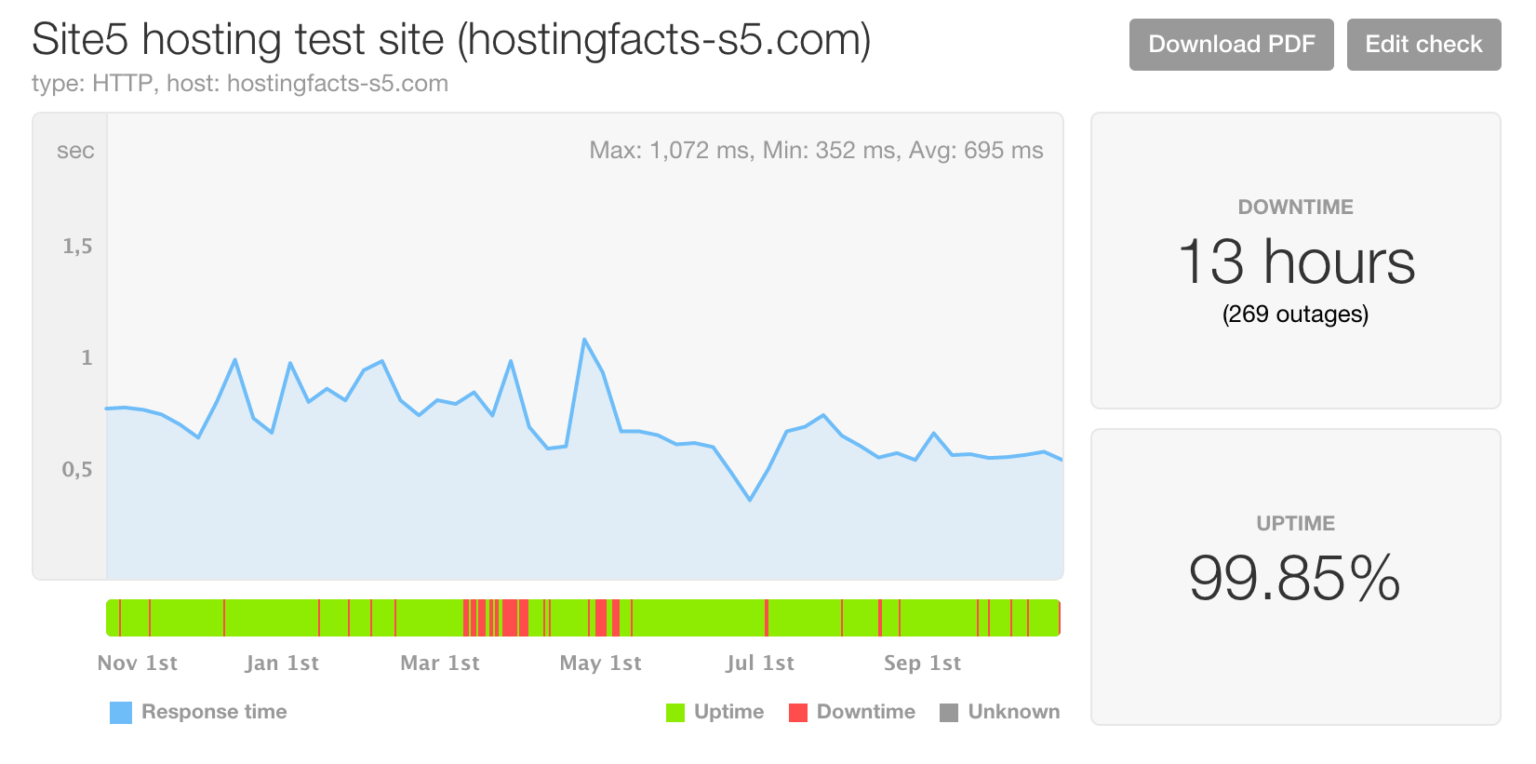 Site5: Page Load Speed and Uptime (Last 12 months, full data can be found here.)
2.

Misleading & Expensive Pricing

Unfortunately, Site5 sticks to the typical misleading pricing schemes that other hosts pull with their low advertised price.

Considering their performance, $4.95 a month doesn't sound too bad. But you have to commit for a full two years AND pay upfront in order to get that price.

Otherwise, you're looking at $5.95 for twelve months or $6.50 for six months.

What's worse, they don't even offer a true, month-to-month pricing plan.
Overview on Site5 Shared Hosting Plans
Here's a quick overview of Site5 hosting plans:
hostBasic plan: This plan costs $4.95 per month and allows 1 website. It is recommended for up to 10,000 monthly visits.
hostPro plan: This plan costs $8.95 per month and allows unlimited websites. It is recommended for up to 25,000 visits per month.
hostPro+Turbo plan: This plan costs $11.95 per month and allows unlimited websites. It comes with a free dedicated IP and is recommended for up to 100,000 visits per month.
All their shared hosting plans come with unlimited disk space, free migrations, and a disaster recovery backup. It is also worth clarifying that you have to pay for a term of 24 months to enjoy the advertised prices.
Quick Facts
Ease of Signup: Lengthy, four-step signup process.
Payment Methods: Credit Card, PayPal.
Hidden Fees and Clauses: Shared hosting accounts must not exceed 75,000 files, each email account must not exceed 10GB disk space, and each database must not use more than 2GB of disk space.
Upsells: No upsells.
Account Activation: Quick Activation.
Control Panel and Dashboard Experience: cPanel.
Installation of Apps and CMSs (WordPress, Joomla, etc.): Quick and easy install of popular apps and CMSs with Softaculous.
Do We Recommend Site5 Hosting?
Site5 isn't bad per se. But they're not great, either.
So we can't recommend them, unfortunately.
Despite the sheer number of 'PROS' vs. 'CONS' listed above, we can't help but feel like their service is just… average. Especially compared to the (true) costs.
There are a few especially nice perks that certain customers will enjoy. The free trial on top of the money back guarantee comes to mind. As does the free migration service for up to 25 cPanel accounts. Their support is also good.
Usually, that's enough to put them over the edge.
However if you're looking for the best site performance where it counes, like the most stable uptime possible and fastest page loading times to boost sales — especially for a great deal — you might want to shop around for better alternatives. (Click that link for a few better recommendations.)
Any experience with Site5 Web Hosting? Please leave your Site5 review below! We welcome all honest and transparent reviews – good OR bad!