SiteGround is recommended by many on different blogs and forums.
SiteGround has amassed 450,000 domain names worldwide, with data centers across United States, Europe and even Asia.
Not bad, considering they started out with only one employee back in 2007, making them one of the youngest behemoths in hosting today.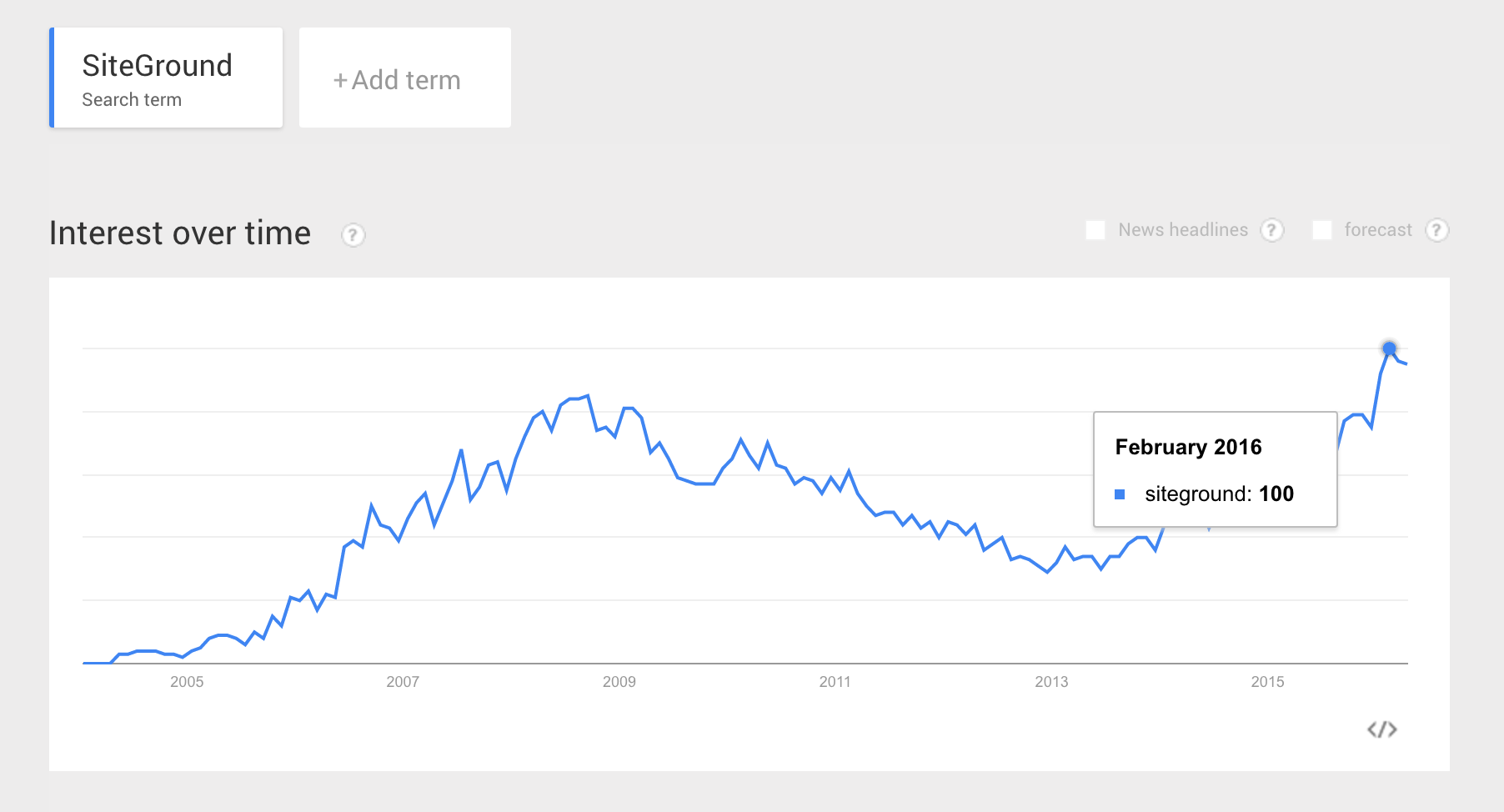 That's an impressive ascent, so they must be doing something right to achieve such heights faster than many of its predecessors.
But what?
Decent uptime? Fast loads? Good support? Extra premium features?
In order to find out, we purchased a SiteGround "Start Up Plan" back in June 2015 and set up a default WordPress website (which can be seen here).
Over a period of 17+ months, we 'vecarefully analyzed their uptime, speed and overall performance of our site. In addition to that, we checked their customer support to see in flaws or misbehaviours.
Here re the results:
PROS of using SiteGround Hosting:
The primary categories we analyze for web host performance include uptime, speed, and support. After all, these three categories are the most critical to your site's success.
However, there are also a few other areas where web hosts can set themselves apart from the competition, like in additional plan features, which can positively contribute to their overall rating. SiteGround has a few, which we'll dive into.
1. Uptime much higher than promised, almost 100%
All of our reviews are based on twelve months of actual statistics and raw data.
During that time, our test site on SiteGround had an average uptime of 99.99%, which is well over the 99.90% industry standard and a promise from SiteGround.
They only had 12 outages in the last year (2016). That's impressive as Web Hosting Pad had 2000+ outages.
Nevertheless, here's the 'uptime' detailed overview:
Load time: June 2015 to January 2017 (expands)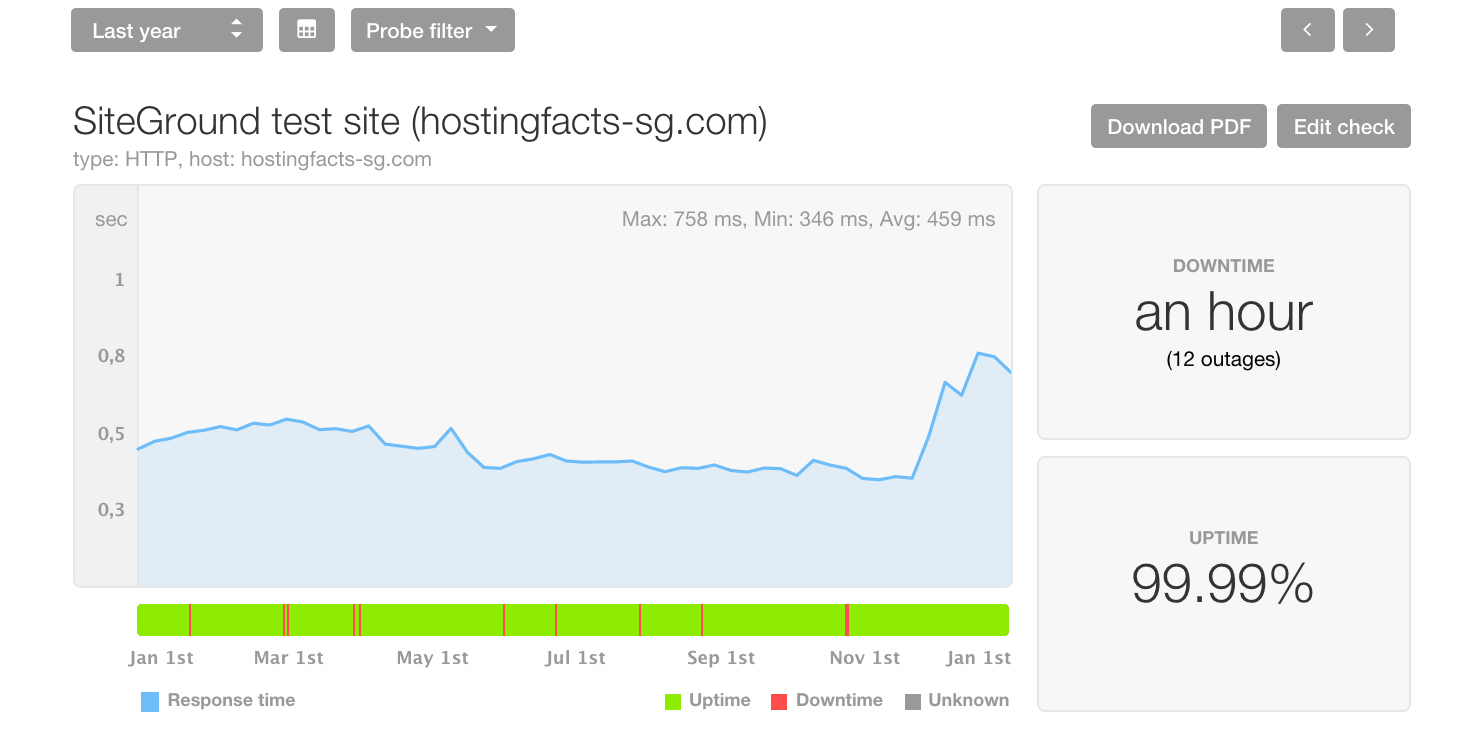 SiteGround Load Time & UpTime: Last 12 months, detailed data can be found here.
2. They're FAST (Top 3 in our Speed Test)
Over the same 12-month period, our SiteGround test site saw average page loading times of 459ms – or 41% faster than the 700ms average load times we found from other web hosts.
That's very good, among the quickest we've seen.
It was also VERY consistent. No spikes or slow loading times whatsoever. So far, so good.

Load Time from June 2015 to January 2017 (expands)
3. How about Support? We think it's Good.
Customer service is one area where SiteGround pays special attention. Which is no small feat, considering they're processing over 1,500+ tickets, 800+ phone calls and 2,000+ chat requests each day.
Case in point: our experience was FANTASTIC.
After only 11 seconds, their friendly and knowledgeable live agent connected with us. Then, we started to bombard her with different questions on how to do X and how to do Y. For example, we asked her:
#1 How to change nameservers on domains?
#2 How to create email addresses on SiteGround?
#3 How to keep my email inbox free from spam? – She actually told us they have a software that detects 98% of the spam emails.
It was such a pleasure, that they're one of the only web hosts we've analyzed to get a perfect 10 out of 10 in support.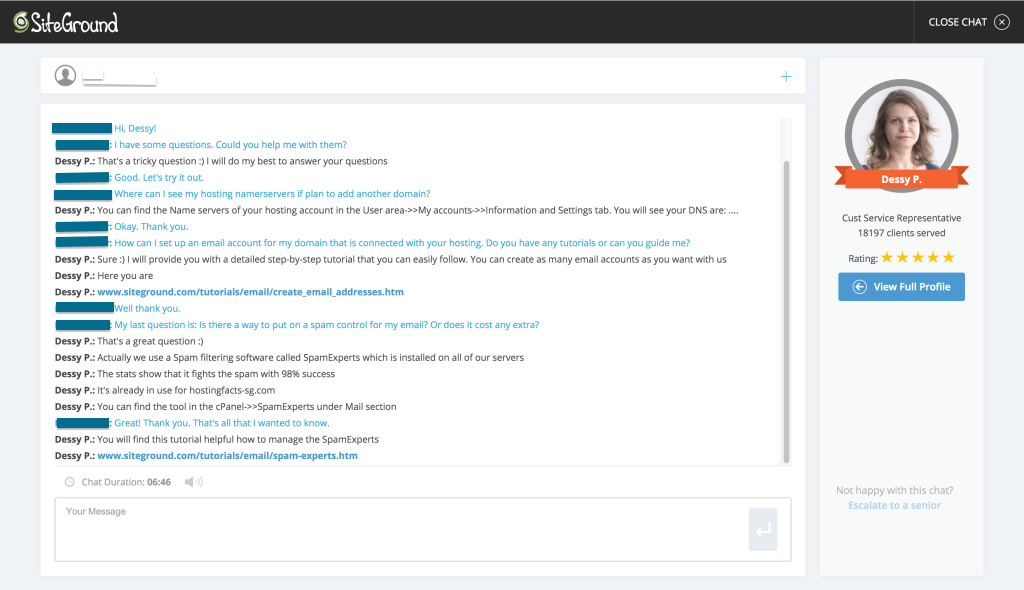 SiteGround customer support agent
Sounds too good to be true? Even after doing a background check and surveying other sources, we still couldn't find many negative responses about their support.
4. 'Auto' Managed WordPress Hosting on All Plans
One of the special features that SiteGround plans include (which most other web hosts don't) is managed WordPress hosting on all accounts.
What does this mean?
For newbs, it means they'll take care of common security holes with auto-updates, perform server-level maintenance, and even provide monthly backups for if (and when) a random occurrence might bring down your site. (Which is surprisingly common, like when two plugins don't play well together and you're met with the dreaded white screen of death.)
You'll also get access to their WordPress SuperCahcer and free CDN with 34 locations to make sure heavy multimedia files are delivered quickly (ensuring your page load times don't take a hit either).
But that's not all. There's also stuff for power users as well. WordPress staging environments are available, Git comes pre-installed, as is WP-CLI for easy command line management options.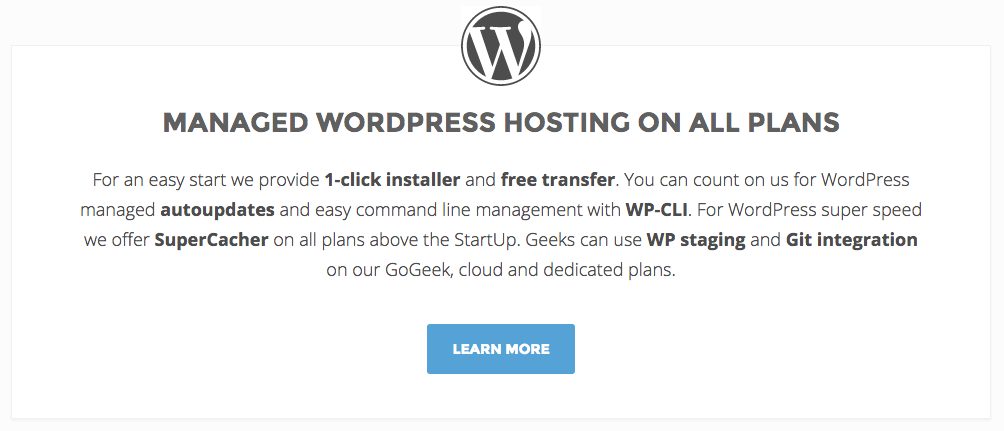 5. Free Security Add-Ons
In addition to the security options available with their WordPress managed hosting, SiteGround also provides extra security for sites of all shapes and sizes. Available tools include SpamAssassin and SpamExperts, IP address blocklists, Leech Protect, and hotlink protection.
Some of their plans come with free SSL for added security, and you can add HackAlert Monitoring (a service that checks your website daily and notifies you if it has been hacked or compromised) for a measly $1 per month.
6. Free Domain Name (!) & Money Back Guarantee
All of SiteGround's plans currently offer a free domain name (which is unheard of with other hosts), along with a 30 day money back guarantee.
7. Easy ECommerce Installs for people who want to set up e-stores
Ecommerce applications that power the web's top sites, like Magento, can be especially difficult and problematic if you're not technically inclined.
Fortunately, SiteGround removes a lot of the hassle by making it easy to setup PrestaShop, CSCart, and the aforementioned Magento with one-click installs. (Other shopping carts and billing options are available in cPanel.)
8. FREE Transfers for Existing Websites
Just like many others, SiteGround will transfer your existing website from a previous host for free. Their experts will take care of all the heavy lifting, ensuring you won't experience any downtime throughout the process.
9. Currently Pricing On-Par with Other Web Hosts
SiteGround's usually not the cheapest option available, however currently their rates are price matching some of the cheapest in the business (to $3.95 per month, down from $9.99 monthly).
There are also coupons available sometimes if you look around online, and you can also get a reduced rate by going with a longer duration (which we'll touch on more in a minute).
Point is, for all of the stellar options they do offer, currently their pricing is a steal compared with other web hosts of lesser quality.
Cons of using SiteGround Hosting:
SiteGround offers great uptime, page loading speeds, and support. They even offer a bunch of nice 'extras' that can help seal the deal. However there are a few drawbacks to consider when shopping around.
Here they are.
1. "Setup Fee" for Monthly Billing (don't pay monthly)
Here's how most web hosts get you.
They advertise an obscenely low 'monthly' price. The catch, is that you often have to sign up for two or three years in order to get it. Most other web hosts don't even offer a true 'month-to-month' option, with a one year deal being the shortest they'll go.
The good news, is that SiteGround's pricing is straight forward and doesn't play that game. Their low advertised price is for the 12-month deal.
They also do offer a true 'monthly' option if you want it. AND it's the same low advertised price. The only problem, is that they also charge a one-time 'setup fee' on these 'month-to-month' plans of an extra $14.95.
And you don't really find out about this extra fee until the very last second when you're entering your credit card details. That's enough to be like a 'hidden' cost, which while not a huge dollar amount, is still kinda annoying as it's not listed anywhere else.
2. Limited Storage Space (Compared with Other Hosts)
Compared with other web hosts, SiteGround's storage space is a bit on the small size (so you might want to clarify disk space if you think it'll be a concern).
They will, however, offer a helpful note as to how many monthly visitors you can safely handle without experiencing any issues.
However, if you're just starting out, the "StartUp" plan will usually be more than enough. If your site grows, you can easily upgrade to a more robust server/plan which is likely to have more power.
Overview on SiteGround Shared Hosting Plans + Quick Facts
Here's a quick rundown of the hosting plans offered by SiteGround:
Shared Hosting: Their shared hosting comes with three main plans:
The StartUp plan: This plan costs $3.95 per month and allows one website and 10GB web space. They recommend this plan if you get less than 10,000 visits monthly. – This is the plan we tested on HostingFacts.com.
The GrowBig plan: This plan costs $7.95 per month and allows multiple websites. It comes with 20GB web space, and they recommend using it if you get less than 25,000 visits monthly. This plan comes with 1 year free SSL certificate, 30 backup copies of your website and SuperCacher for improved speed.
Their GoGeek plan: This plan costs $14.95 per month. It comes with 30GB web space and allows multiple websites. They recommend it for nothing more than 100,000 monthly visits. This plan also comes with SuperCacher for improved speed, 1 year free SSL certificate and 30 backup copies of your website.
All shared hosting plans come with free email account, free domain name, free CDN and unlimited bandwidth.
Free Domain: Yes! One of the only to do this.
Ease of Signup: Very easy, one-page sign up process.
Payment Methods: Credit Card.
Hidden Fees and Clauses: They charge a $14.95 setup fee if you pay for their shared hosting plans monthly instead of annually. Sad face :(. You'd be better of paying 1 year upfront to avoid that.
Upsells: Few… Nothing too bad.
Account Activation: Quick account activation.
Control Panel and Dashboard Experience: cPanel
Installation of Apps and CMSs (WordPress, Joomla, etc.): Quick and easy install of popular apps and CMSs using Softaculous.
Do We Recommend SiteGround?
Most definitely. SiteGround is perfect for those who care deeply about customer support, while not sacrificing quick page speeds or impressive uptime either.
They also offer a bunch of additional features that might be perfect for you if Ecommerce is your goal, or if you'd like security to be handled by someone else, and a free domain name sounds great.
Currently, their pricing is also on par with many other web hosts of lesser quality, so it's the perfect time to act and take advantage. What are you waiting for?! Go www.SiteGround.com and sign up.
Please leave a review below if you've had any experience SiteGround. We welcome all reviews – positive or negative – as long as they're transparent and honest.