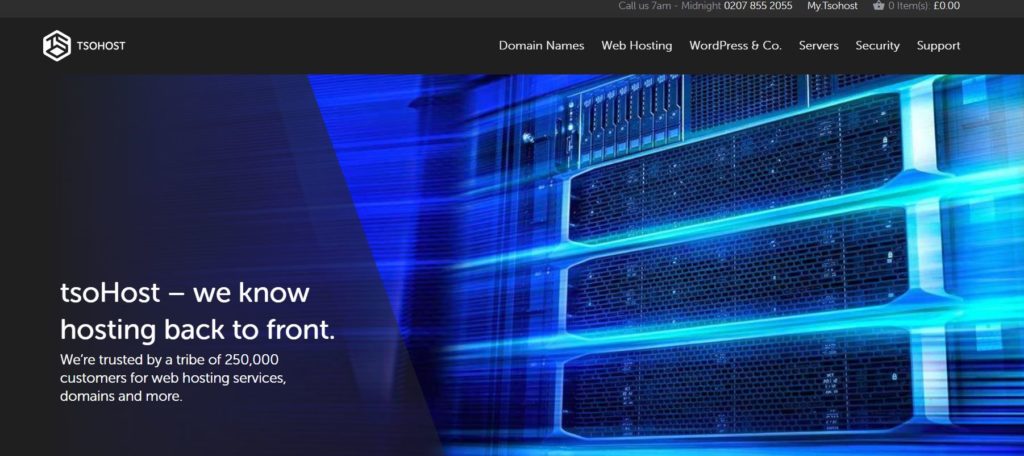 Tsohost was founded in 2003 by the Paragon Internet Group.
Today they host over 500,000 websites from their UK base.
Unlike some companies that have reached this same scale and sold out, Tsohost is largely led by the same founding team that's operated it since its inception for almost 14 years.
Tsohost may not be one of the biggest or well-known hosting providers out there. But that steady growth and stable leadership point to a company that knows what it's doing.
This review you're reading has been almost a year in the making.
In November 2018, we signed up for their cloud hosting plan and have been closely monitoring performance statistics like uptime and page load speeds ever since.
Our goal is to compile a fair, unbiased review and let Tsohost's data speak for itself based on the performance of our live test website.
Let's see how Tsohost has done over the last few months.
Pros of Using TsoHost Hosting
Tsohost (the company) has grown steadily and kept its founding team intact. That points to a well-run organization that (should) deliver on the most important aspects like uptime and speed.
1. Nice 'Bonus' Plan Features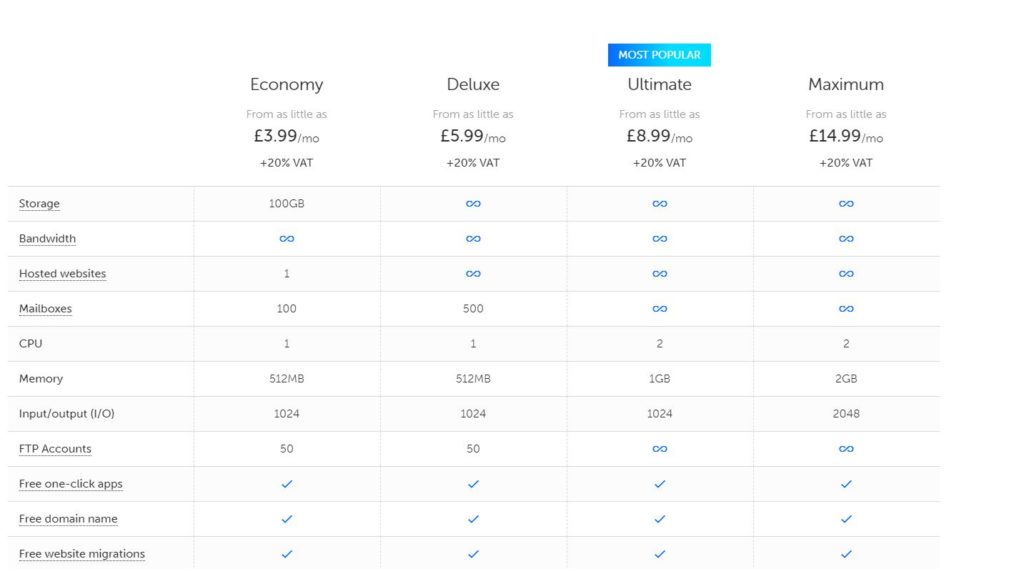 Like many of the web's top hosts, Tsohost features a simple one-click installation of your favorite applications like WordPress, Drupal, and ZenCart. That means you can have a new site up within minutes, and possibly selling by the end of the day.
Each shared hosting plan also comes with a 30-day money-back guarantee. (And unlike many other hosts, this money-back guarantee really is a good deal, with no hidden fees or other tricks to worry about.)
Their plans — even the most inexpensive and basic ones — come with a lot of extra features that are not very common with other hosts.  For example, all their plans offer a free domain name and website migrations.
2. Transparent Pricing
Many hosting providers have a ton of upsells at the last minute check-out. When you choose their chosen plans, it often comes with 2 or 3 years commitment with higher renewal prices.
We liked Tsohost's pricing plans as you'll find ALL THE FEATURES shown in their price plans and they also show you the different price commitment prices.
The shows prices are for 12 months (approximately 4$/mo for start-up plan) and for a monthly payment you'd be looking at a price increase of 1$ – approximately 5$/mo.
3. Fast, Responsive Support
Tsohost offers customer service on all major channels. Like many companies today, they enjoy mixed reviews.
What we appreciate though, is their quick response times and transparent communications on major social networks like Twitter.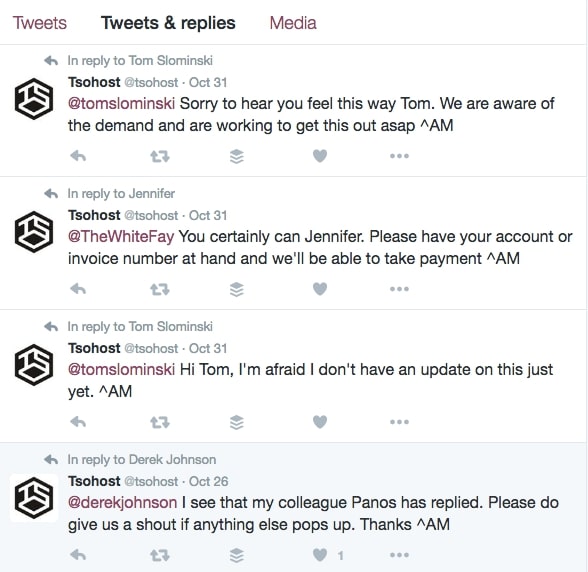 We were also impressed by their live chat options. They connected immediately, were responsive and professional as well as showed a sincere interest in our needs. We connected on a Saturday, too, which was a pleasant advantage Tsohost comes with.
Tsohost also recently extended their phone support hours a few months back, from 7 am to midnight GMT. That's both good and bad, as we'll see in a second…
Cons of Using TsoHost Hosting
All in all, Tsohost has a lot of things to like.
Their uptime and speed are both solid. Their plans, even the cheapest ones, come with some nice features like daily backups and one-click installs.
And their customer support, while not perfect, at least responds quickly to try and address any outstanding issues.
However, there are a few drawbacks to their service you should be aware of.
1. 99.45% Uptime – Worse Than the Industry Average
Uptime is arguably the most important criteria a hosting company's responsible for.
The reason is that even the slightest bit of downtime — like 99% — can add up to your site being offline for almost a full day each month.
Tsohost has posted weak uptime numbers within the period we've monitored them.
Last 12 months of monitoring: uptime
January 2020 average uptime:99.85%
December 2019 average uptime:99.83%
November 2019 average uptime:99.63%
October 2019 average uptime:99.69%
September 2019 average uptime:98.33%
August 2019 average uptime:99.61%
July 2019 average uptime:99.45%
June 2019 average uptime: 99.94%
May 2019 average uptime: 99.91%
April 2019 average uptime:99.60%
March 2019 average uptime: 98.28%
February 2019 average uptime:99.28%

Their average uptime is below the industry average.
There's just way too many outages and a lot of downtime means lost traffic and potentially a lot of lost income.
You'd be much better off with some other providers (including our #1 choice, the HostGator Managed WordPress plan).
2. Page Loading Times Slower than Competition
The second major decision-making criteria you should use when evaluating a new hosting company is speed.
The reason? Three-fourths of your website traffic will leave if pages take longer than five seconds to load.
Last 12 months of monitoring: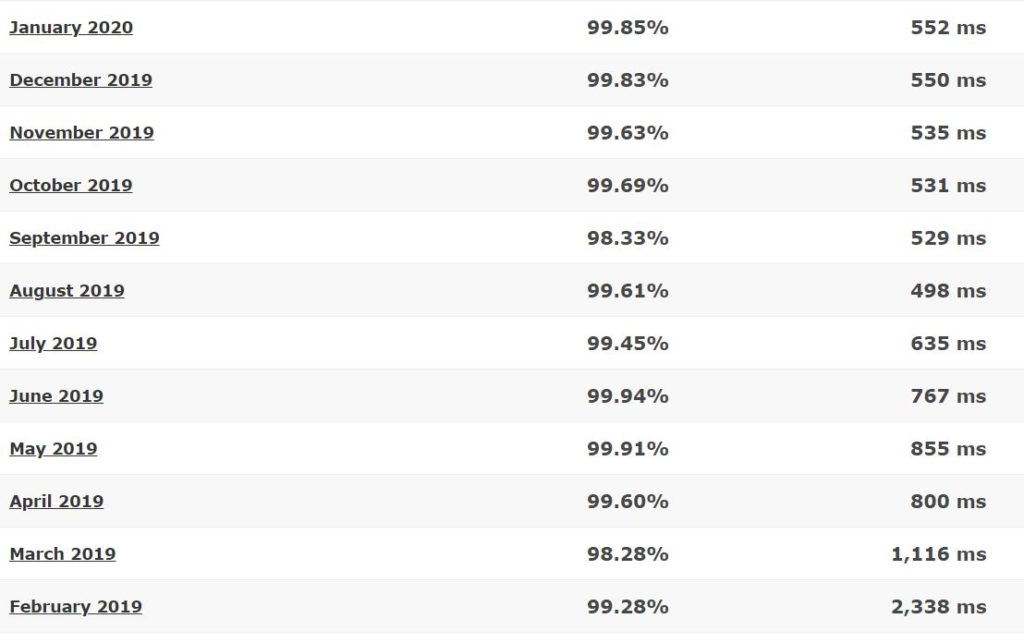 We're very worried about the first months when we started monitoring them. With 2sec of load time, it means that almost half of your traffic will leave the site and visit someone else, who has much better loading time, at least under 1sec.
However, in the last months, they have shown improved loading times, so there's hope that they will continue improving their speed.
For now, they're not good enough with their average 813ms to get the thumbs up from us.
3. UK-based servers
It's not necessarily a bad thing. However, if your site is mainly for the US market and customer base, you'd be better off with your servers located in the US not overseas.
Overseas servers often slow your site down as data transfers take longer.
4. Strict Payment Terms
The long and dreadfully boring Terms of Service is usually where all the bodies are buried.
And Tsohost's terms were no exception.
First up, is their strict terms around how and when renewals are paid.
Here's the problem: how often do you get a new credit or debit card throughout the year, only for the old one to be still linked to many online accounts (like hosting providers)?
If overdue invoices aren't taken care of within a few days, Tsohost will automatically suspend your account (which means your site goes down). So keep a watchful eye on those reminder emails!
When other products purchased through them, like a domain name, expire (again, unfortunately, common when they try to run a card with an old number and the payment doesn't go through — even though you just assume it does), that product will immediately expire the next day.
After you do make the payment right, you'll still have to notify them by email to get your domain or site back online within the next 24 hours. So you could be looking inadvertently at a lengthy downtime period if something common, like your card details changing, happens and payment doesn't go through.
Another potential downside is that all payments received must be in UK Pounds sterling. That means you're on the hook for any possible exchange rate charges.
Last but not least, they reserve the right to change or adjust pricing at any point in time. That means even though your next renewal period won't cost you more right now… it doesn't mean that will be the case in the near future.
5. Limited Phone Support
A small final critique.
Yes, it's great that Tsohost phone support has been extended to 7 am to midnight GMT.
However, if you're located in the U.S. (or anywhere else other than the UK and Western Europe) that might post a few problems.
For example, what if you're sitting in California at 5:30 pm and your site has issues? Too bad, as midnight GMT is 5 pm PST, which means you won't be able to reach anyone on the phone for another six or seven hours.
That, combined with the fact that you're on the hook for exchange rates, might make it kinda tough to deal with outside if you're living outside the UK.
TsoHost Pricing, Hosting Plans & Quick Facts
TsoHost offers four different shared hosting plans. All prices shown are with a 12-month commitment.
Here's what's included in each:
---
Economy Plan
Deluxe Plan
Ultimate Plan
Maximum Plan
Pricing
£3.99/month
£5.99/month
£8.99/month
£14.99/month
Websites
1
5
10
200
Bandwidth
Unmetered
Unmetered
Unmetered
Unmetered
Storage
100GB
Unmetered
Unmetered
Unmetered
Email Accounts
100
500
Unlimited
Unlimited
Other Features
• 1 Basic Migration
• 3 Basic Migrations
• 3 Basic Migrations
• 2 eCommerce Migrations
• 5 Basic Migrations
• 3 eCommerce Migration
---
Quick Facts
Ease of Signup: Signup process is relatively quick and painless
Payment Methods: You can pay by credit card or PayPal.
Money-Back: 30-day money-back guarantee.
Hidden Fees and Clauses: No domain names on some plans. Be careful about renewals.
Upsells: There are a few upsells along the way.
Account Activation: Usually instant, however, can take up to a day in some cases.
Control Panel and Dashboard Experience: cPanel.
Installation of Apps and CMSs (WordPress, Joomla, etc.): Extremely easy, one-click installation process of the most popular apps available.
Do We Recommend Tsohost?
Unfortunately, no.
We like their relatively inexpensive plans that offer great features. We also appreciate that their pricing, although it comes with strict terms, is transparent and honest on their website. However, the prices are shown without VAT, which is determined by your country for billing details.
We're not impressed by their uptime and too-average speeds.
We're happy with their support. However, when other important features are this bad, you should really be signing up with someone else.
You'd be better off with some of our top hosting providers.
Do you have any experience with TsoHost? If so, we'd love to hear a transparent and honest review below — positive or negative!