What is TsoHost?
Tsohost was founded in 2003 by the Paragon Internet Group.
Today they host over 500,000 websites from their UK base.
Unlike some companies that have reached this same scale and sold out, Tsohost is largely led by the same founding team that's operated it since its inception almost 14 years.
Tsohost may not be one of the biggest or well-known hosting providers out there. But that steady growth and stable leadership points to a company that knows what it's doing.
This review you're reading has been almost a year in the making.
Last November, we signed up for their cloud hosting plan and have been closely monitoring performance statistics like uptime and page load speeds every since.
Our goal is to compile a fair, unbiased review and let Tsohost's data speak for itself based on the performance of our live test website.
Let's see how Tsohost has done over the last few months.
Pros of using TsoHost Hosting
Tsohost (the company) has grown steadily and kept its founding team intact. That points to a well-run organization which (should) deliver on the most important aspects like uptime and speed.
1. 99.98% Average Uptime – Better than most of the competitors
Uptime is arguably the most important criteria a hosting company's responsible for.
The reason is because even the slightest bit of downtime — like 99% — can add up to your site being offline for almost a full day each month.
Tsohost has posted strong uptime numbers each and every month we've monitored them.
Last 9 months of monitoring: uptime
February average uptime: 99.96%
March average uptime: 100%
April average uptime: 100%
May average uptime: 99.97%
June average uptime: 99.99%
July average uptime: 100%
August average uptime: 99.97%
September average uptime: 100%
October average uptime: 99.89%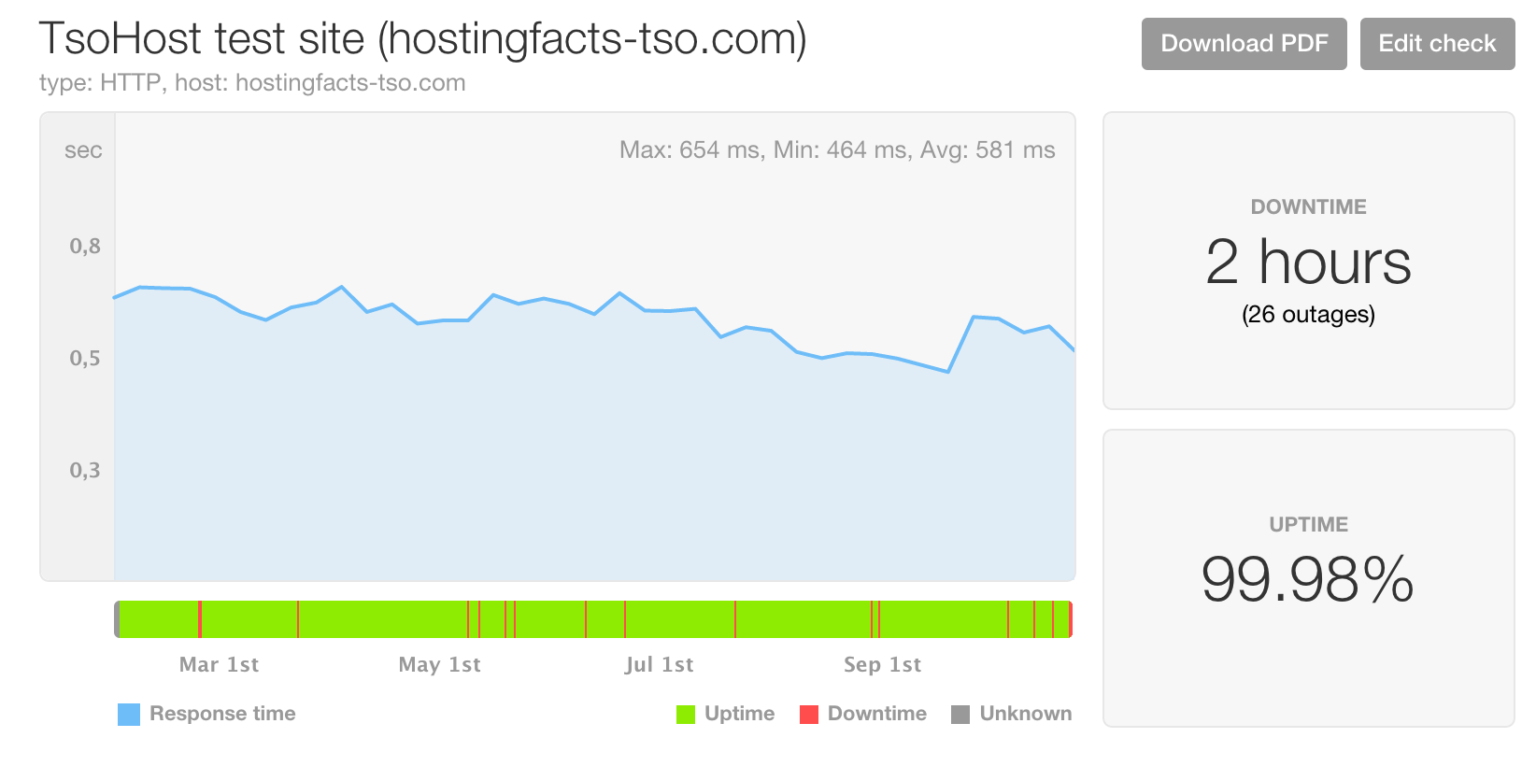 TSOhost: Page Load Speed and Uptime (Last 9 months, full data can be found here.)
In fact, their 100% average uptime has only been matched by two other hosting companies we've reviewed (including our #1 choice, the HostGator Managed WordPress plan).
2. Page Loading Times 32% Faster than the Competition
The second major decision-making criteria you should use when evaluating a new hosting company is speed.
The reason? Three-fourths of your website traffic will leave if pages take longer than five seconds to load.
Last 9 months of monitoring: LOAD TIME
February average load time: 647ms
March average load time: 604ms
April average load time: 612ms
May average load time: 603ms
June average load time: 607ms
July average load time: 579ms
August average load time: 519ms
September average load time: 499ms
October average load time: 553ms
Tsohost shows their experience, delivering a respectable 581ms page loading time over the past few months. Good enough to beat the competition's sluggish 850ms average by almost 32%.
So far so good!
3. Nice 'Bonus' Plan Features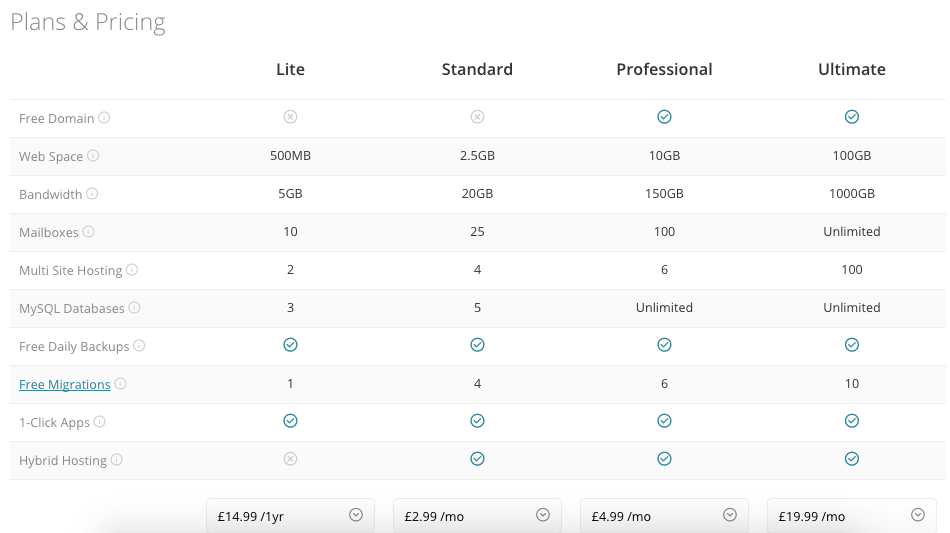 Like many of the web's top hosts, Tsohost features a simple one-click installation of your favorite applications like WordPress, Drupal and ZenCart. That means you can have a new site up within minutes, and possibly selling by the end of the day.
Each shared hosting plan also comes with a longer-than-average 60-day money back guarantee. (And unlike many other hosts, this money back guarantee really is a good deal, with no hidden fees or other tricks to worry about.)
Their plans — even the most inexpensive and basic ones — come with free daily backups. Simply put: this is a HUGE benefit. Mistakes, unfortunately, are incredibly easy to make. And if WordPress has any flaws, possible security holes are one of them because of so many third-party tools used on a single site.
Backups can help you restore the previous, un-tainted version of a site in minutes. And having those performed daily means you'll always have one at the ready (without having to stress or worry about doing any of the heavy lifting personally).
4. Transparent Plan Pricing
Here's how most other web hosting companies trick you.
They suck you in with an absurdly low promotional price on their website. Then you run into two potential problems.
The first is when you start checking out to complete the purchase, you realize that super-duper low price really is too good to be true. And that you have to sign up for at least a three-year term to get it.
If that problem doesn't get you, this next one probably will.
You purchase the plan and get the low price for the next few months. Everything's fine until your plan is set to renew and the price jumps 200%, 300% or even 400% and up.
So instead of only paying a few bucks each month, now you're paying at least $10 per month — all up front at once (which comes as a surprise as you see the huge hit on your account statement one day).
Thankfully Tsohost doesn't play many of those same pricing games. The stated prices on their website are actually the price you're gonna get.
So if it says £2.99 pounds per month (or roughly $3.66/month USD), that's what you're going to pay (unless you want to would like to do a longer term, in which case the price will even come down a little bit).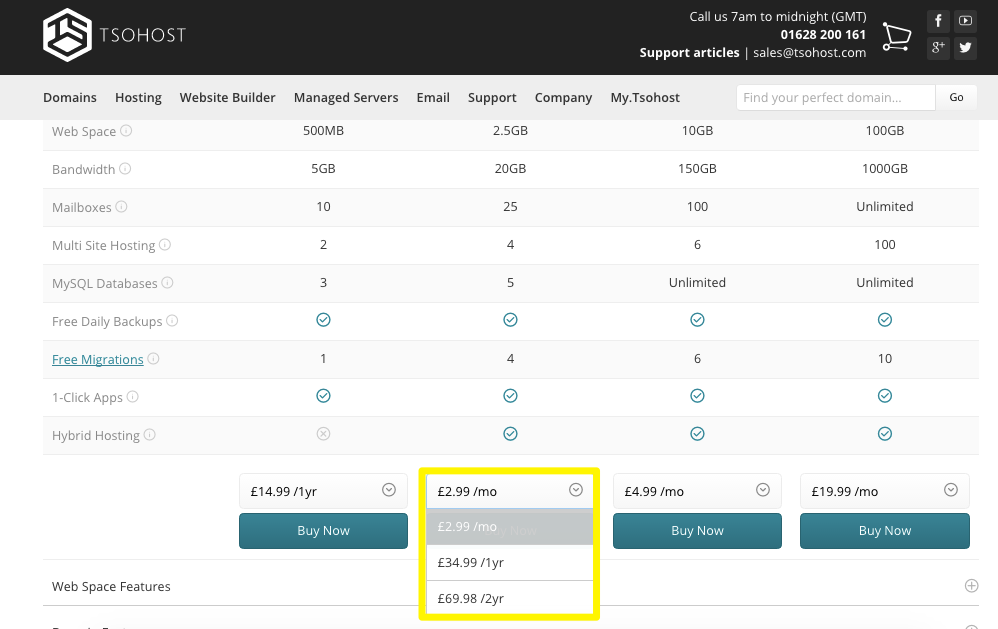 5. Fast, Responsive Support
Tsohost offers customer service on all major channels. Like many companies today, they enjoy mixed reviews.
What we appreciate though, is their quick response times and transparent communications on major social networks like Twitter.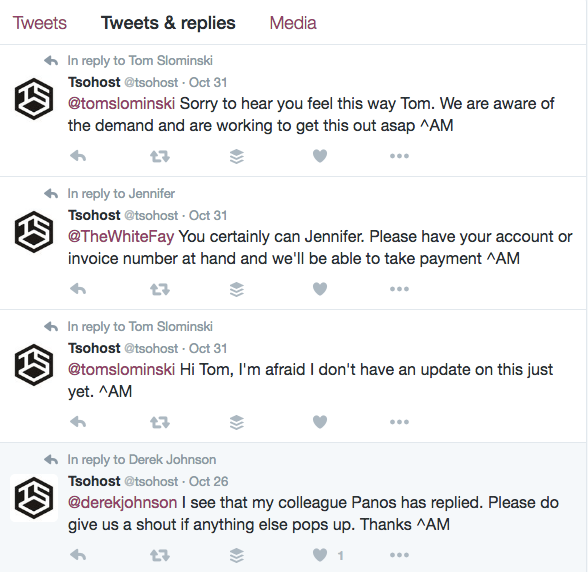 Tsohost also recently extended their phone support hours a few months back, from 7am to midnight GMT. That's both good and bad, as we'll see in a second…
Cons of using TsoHost Hosting
All in all, Tsohost has a lot of things to like.
Their uptime and speed are both solid. Their plans, even the cheapest ones, come with some nice features like daily backups and one-click installs.
And their customer support, while not perfect, at least responds quickly to try and address any outstanding issues.
However, there are a few drawbacks to their service you should be aware of.
1. Strict Payment Terms
The long and dreadfully boring Terms of Service is usually where all the bodies are buried.
And Tsohost's terms were no exception.
First up, is their strict terms around how and when renewals are paid.
Here's the problem: how often do you get a new credit or debit cardthroughoutt the year, only for the old one to be still linked to many online accounts (like hosting providers)?
If overdue invoices aren't taken care of within a few days, Tsohost will automatically suspend your account (which means your site goes down). So keep a watchful eye on those reminder emails!
When other products purchased through them, like a domain name, expire (again, unfortunately common when they try to run a card with an old number and the payment doesn't go through — even though you just assume it does), that product will immediately expire the next day.
After you do make the payment right, you'll still have to notify them by email to get your domain or site back online within the next 24 hours. So you could be looking inadvertently at a lengthy downtime period if something common, like your card details changing, happens and payment doesn't go through.
Another potential downside is that all payments received must be in UK Pounds sterling. That means you're on the hook for any possible exchange rate charges.
Last but not least, they reserve the right to change or adjust pricing at any point in time. That means even though your next renewal period won't cost you more right now… doesn't mean that will be the case in the near future.
2. No Free Domain Name on Select Plans
Almost every single web host we've reviewed will happily throw in a free domain name and site migration when you're creating a new account.
Tsohost will throw in a free domain name on some, but not all plans.
For example, their two most inexpensive plans, the Lite and Standard ones, don't come with free domains (and those will be a separate charge).
Good news, bad news then. You can probably just upgrade to the next web host that does include a free domain name and you might break-even at the end of the day.
3. Limited Phone Support
A small final critique.
Yes, it's great that Tsohost phone support has been extended to 7am to midnight GMT.
However, if you're located in the U.S. (or anywhere else other than the UK and Western Europe) that might post a few problems.
For example, what if you're sitting in California at 5:30pm and your site has issues? Too bad, as midnight GMT is 5pm PST, which means you won't be able to reach anyone on the phone for another six or seven hours.
That, combined with the fact that you're on the hook for exchange rates, might make it kinda tough to deal with outside if you're living outside the UK.
TsoHost Pricing, Hosting Plans & Quick Facts
TsoHost offers four different shared hosting plans. Here's what's included in each:
Personal: This plan starts at only £1.61 per month. It comes with 500MB of space storage, along with UNLIMITED bandwidth, 5 x 200MB Mailboxes + Free Domain Name.
Startup: This plan runs £3.50 per month, and gives you 15 GB of space storage, with UNLIMITED bandwidth and 100 x 200MB Mailboxes, Let's Encrypt SSL Support + Free Domain Name.
Business: This plan £7.91 each month, 50GB storage, UNLIMITED bandwidth, 100 x 1GB Mailboxes, Let's Encrypt SSL Support, Free Standard SSL + Free Domain Name
eCommerce: This plan £21.62 monthly, delivering a whopping 100GB of storage, UNLIMITED bandwidth, Unlimited x 10GB Mailboxes, Let's Encrypt SSL Support, Free Standard SSL, 2 eCommerce Migrations + Free Domain Name.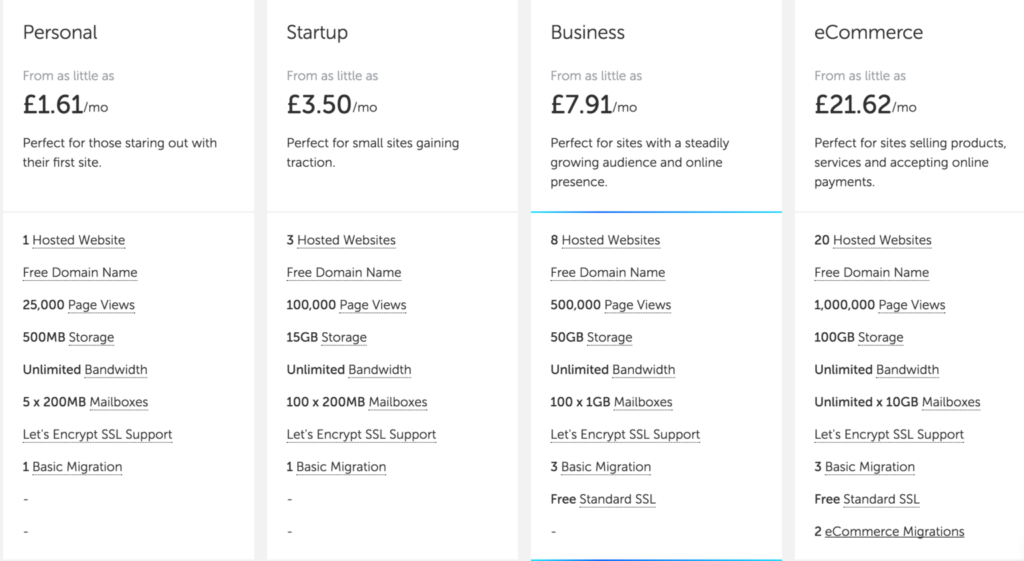 Ease of Signup: Signup process is relatively quick and painless
Payment Methods: You can pay by credit card or PayPal.
Hidden Fees and Clauses: No domain names on some plans. Be careful about renewals.
Upsells: There are a few upsells along the way.
Account Activation: Usually instant, however can take up to a day in some cases.
Control Panel and Dashboard Experience: cPanel.
Installation of Apps and CMSs (WordPress, Joomla, etc.): Extremely easy, one-click installation process of the most popular apps available.
Do We Recommend Tsohost?
Yes, we do.
Tsohost is a solid company that's well run.
Their excellent 100% uptime and quick page loading times are evidence of that.
In addition, their relatively inexpensive plans offer great features like daily backups. We also appreciate that their pricing, although it comes with strict terms, is transparent and honest on their website.
Phone support times could be an issue in case of emergency if located outside of the UK. But it seems like their other channels, including Twitter and Facebook, will be receptive and work with you to deliver a quick solution.
Do you have any experience with TsoHost? If so, we'd love to hear a transparent and honest review below — positive or negative!