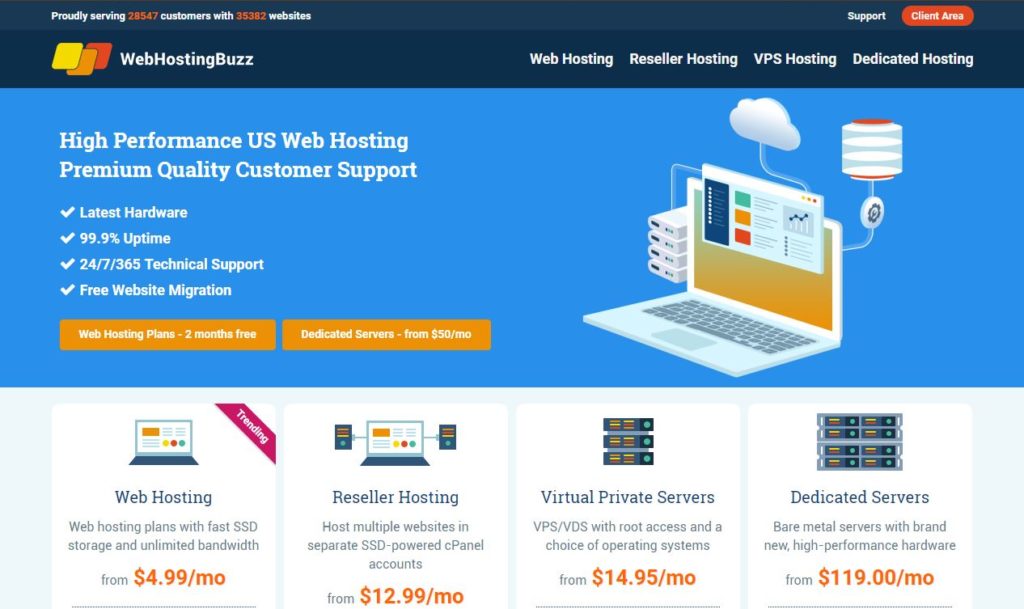 WebHostingBuzz powers more than 250,000 websites in 140+ countries.
That's no surprise given their uptime has been solid (99.98%) and page loading times have been fast (474 ms) over the past 16 months.
Bloggers will love access to over 450 popular applications like WordPress, while advanced webmasters will also get access to the latest programming languages, too.
WebHostingBuzz has a transparent 45-day money-back guarantee with zero loopholes if people are on the fence. Which is good news, considering there's no special new customer pricing and a strange termination clause that could trick you before renewing.
Here's an in-depth, unbiased review of their 16-month performance:
General Info & Hosting Overview
---
| | |
| --- | --- |
| OVERALL RANK: | Rated #6 out of 32 web hosts |
| SPEED: | 474ms (December 2017 to March 2019 average) |
| UPTIME: | 99.98% (December 2017 to March 2019 average) |
| SUPPORT: | Tickets |
| APPS: | WordPress, Joomla, PrestaShop, and AbanteCart |
| FEATURES: | Unlimited bandwidth, 20GB storage, free SSL |
| HOSTING PLANS: | Shared, Reseller, VPS and Dedicated Servers |
| SITE TRANSFER: | Single Free Site Transfer |
| PRICING: | Starting at $4.99/mo (same renewal price) |
---
Pros of using WebHostingBuzz
WebHostingBuzz has posted fast loading times and reliable uptime for the past few years. Their plans provide access to over 450+ applications that can be installed with just a few clicks. And they have a 45-day refund policy for anyone who's not completely sold on their service.
Here is an in-depth look at their performance over the past 16 months:
1. Fast Page Load Times (474 ms)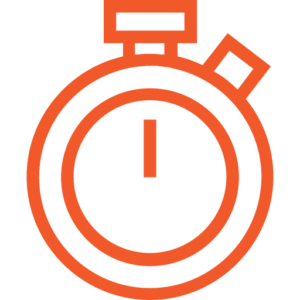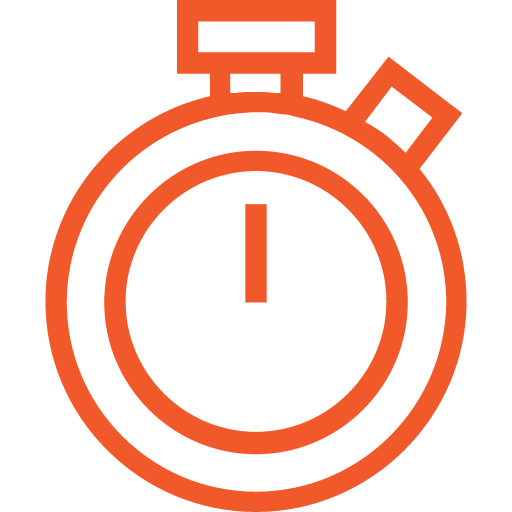 WebHostingBuzz has been consistently quick over the past few years. In the last 16 months alone, they've kept an average page loading time of 474 ms — well above average.
That's important because speed has a direct impact on your visitors' experience. A whopping 79% of buyers won't purchase again from a site that has bad site performance.
And if your host is slow to begin with, it'll only get slower as you start building out new pages, directly hitting you where it hurts — your wallet.
Here's a recap of the past 16 months from WebHostingBuzz:
Last 16-month average speed: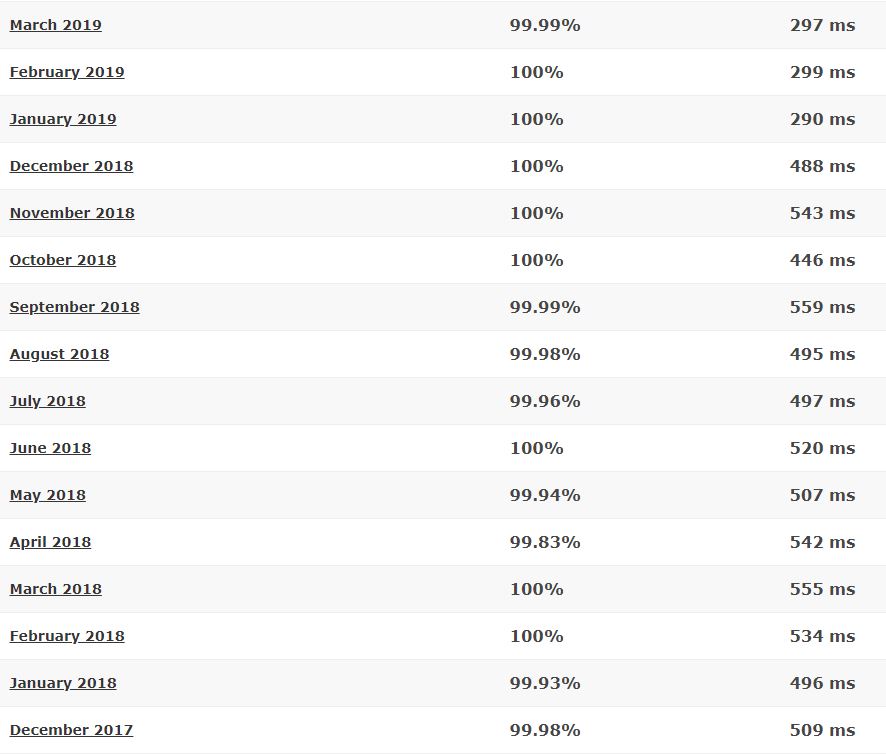 2. 45-Day Money-Back Guarantee
WebHostingBuzz has a 45-day money-back guarantee for all shared, business, and reseller accounts. VPS accounts, on the other hand, will get a refund within 30 days of purchase.
Other additional services, from dedicated servers to IP addresses, SSL certificates, and domain names will not be refunded. Like other hosts we've reviewed, a domain name fee will be deducted from any refunds.
However, unlike the standard ~$15 range we've seen, WebHostingBuzz will only charge you $10.87 for a .com or .net. Any domain ending in .org, .info, .us, or .biz will cost $9.69. And if you wanted to transfer any of those domains out to use with another hosting provider, the cost is $12 each.
All of these domain-related fees are common so there's nothing to worry about here.
Over 450+ 1-Click Applications and Free Migrations
WebHostingBuzz comes fully-loaded with over 450 popular apps. Most can be automatically installed within just a few minutes and a couple clicks. No messy code to get your hands dirty.
If you already have an existing website that you want to bring over, WebHostingBuzz's team will migrate it for free.
And if you're a developer who wants access to more advanced features, you're also in luck. Their servers fully support everything from HTML5 and JavaScript to PHP 5, MySQL 5, Perl, and more.
4. Uptime Almost as Good as Advertised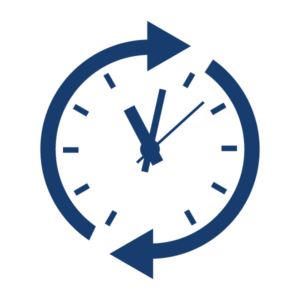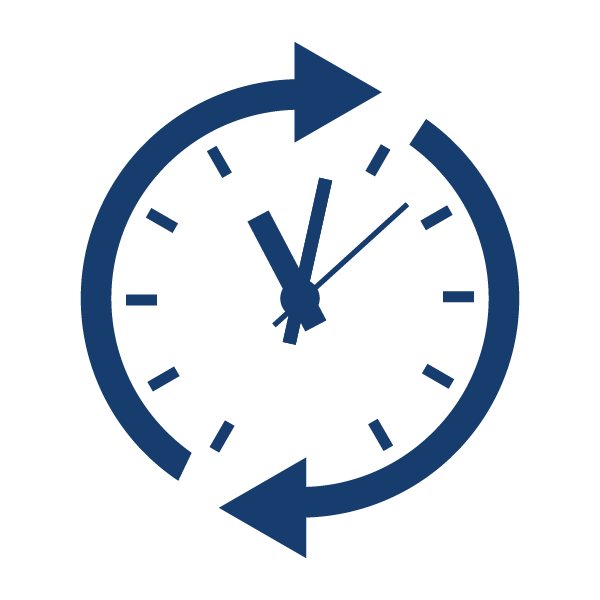 WebHostingBuzz has posted a 99.98% uptime over the last 16-months.
The last few months have been especially strong, fluctuating from 99.99% to 100%. However, go back to last Spring and WebHostingBuzz struggled with consistency. One month would be a flawless 100%, while others would be an unsatisfactory 99.83%.
We've seen similar reports of inconsistent uptime around the same time period from other customers. So hopefully the past few months of strong performance mean they've finally figured it out.
Last 16-month average uptime:
March 2019 average uptime: 99.99%
February 2019 average uptime: 100%
January 2019 average uptime: 100%
December 2018 average uptime: 100%
November 2018 average uptime: 100%
October 2018 average uptime: 100%
September 2018 average uptime: 99.99%
August 2018 average uptime: 99.98%
July 2018 average uptime: 99.96%
June 2018 average uptime: 100%
May 2018 average uptime: 99.94%
April 2018 average uptime: 99.83%
March 2018 average uptime: 100%
February 2018 average uptime: 100%
January 2018 average uptime: 99.93%
December 2017 average uptime: 99.98%

5. Green Web Hosting
Last but not least, WebHostingBuzz also has a sponsorship and partnership with The Woodland Trust.
The goal is to offset the energy demand from their servers and keep all of their hosting services carbon neutral.
6. Annual Prepayment Discount with Same Renewal Price
The initial sticker price for WebHostingBuzz isn't that cheap compared to other hosts (more on that below).
But there are two pricing benefits that do fall in your favor.
The first is that they have an annual prepayment discount. So if you paid for the year, you can get two months free across the board on all plans. So the breakdown looks like the following:
• Personal: $49.99
• Developer: $99.99
• Business: $249.99
On top is the monthly price for each plan, with the annual option underneath:

The second plus is that renewal rates don't jump.
Other hosts will might double your monthly price when your plan automatically renews. However, according to their billing FAQ, the price you pay basically "freezes" and gets applied to all future renewals, too. So you don't have to worry about a bad surprise showing up on your credit card statement a year from now.
Cons of using WebHostingBuzz
WebHostingBuzz performed well across the board. Uptime and page loading times were both great. The free migrations are a nice perk, and the refund policy is also more than fair.
Unfortunately, there were a few categories that still let them down at the end of the day.
Here's a quick summary of the biggest issues we experienced:
1. No New Customer Discount
Some of the cheapest web hosts on the market might only cost you a buck or two each month. (LINK)
How can they possibly afford to be so cheap?
New customers get special pricing to help sweeten the deal. So plans renew at a higher rate later on. This, combined with prepaying for up to three years, can help you lock in a really low rate with a new host.
It seems like almost all of the 30 web hosts we've reviewed follow this same trend. Except for WebHostingBuzz, it seems.
For starters, there is no long-term discount. You pay $4.99/month for the cheapest personal plan. This comes with a single website, 20 GB of SSD storage, one GB of memory, unlimited bandwidth, and a free SSL. That's pretty good on the surface, but the storage is a little small. (Other hosts, like iPage, give you unlimited storage in comparison.) This basic plan also does not come with a free domain name or daily backups, either.
If you wanted to upgrade to one of their bigger plans to get these features, the Developer plan costs $9.99/mo and the Business option is $24.99/month — no matter what.
You can prepay for the year, as discussed above, to bring the cost down a little bit. And your renewal pricing might not jump, either.
But you also miss out on saving a bunch over the course of three years or so like you get with some other hosts.
2. Limited Support (~6 Hour Delay)
Almost every single host we've reviewed offers 24/7 live chat support so customers can get relatively instant answers.
Once again, WebHostingBuzz bucks a few trends.
They have the usual knowledge base and support tickets. But they do not offer phone or live chat support.
They have a little icon in the lower right-hand corner that looks like live chat. However, we checked it at two different times of the day (a Monday evening and Tuesday mid-morning) and both times we got the same response: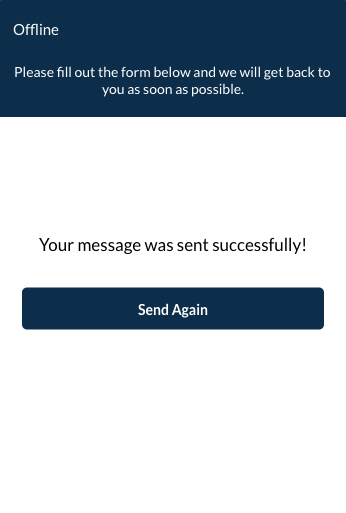 So the live chat basically served as a glorified ticket-based system, where we submitted a question and had to wait for an email reply to come about six hours later. (They apologized for the delay in response time, which does seem to suggest they're aware of the issue.)
The answer was direct but not complete. We asked about the price per site migration, because even though one free migration is included, usually anything above and beyond that is paid.
And because we're working through email instead of a live chat, now we have to send another reply to get these details — presumably waiting another few hours before the answer arrives.
This is frustratingly slow compared to pretty much every other host out there.
3. Odd Termination Clause
When you sign up for a new host, you're usually excited to get a new project off the ground. You're probably not thinking about what might happen down the road if an issue or problem pops up.
All of this fine print is usually buried deep inside a host's Terms of Service.
So it's here you can usually find something that might prevent you from getting your money back or the service running like you think it should.
WebHostingBuzz has their own variation on this, too. There's an odd termination clause that dictates how plans renew and how you can cancel to prevent being automatically charged for the next term.
Here's what it says: "Notification of Your intent to terminate must be provided to WebHostingBuzz no earlier than 10 days prior to Your billing date but no later than three days prior to Your billing date."
Two key points there:
1. You can't tell them you want to cancel too early — no earlier than ten days before your billing date, and
2. You also can't cancel later than three days before the billing date.
Sounds odd, right? You have this tiny window of time to notify them you want to cancel, otherwise, it sounds like they can basically just say "no."
To us, that sounds like they're just trying to build in a backdoor to not accept the majority of cancellations without at least trying to get you to pay the renewal rate for the next term, first.
Web Hosting Buzz Pricing, Hosting Plans & Quick Facts
Here's an overview of their shared hosting plans and pricing: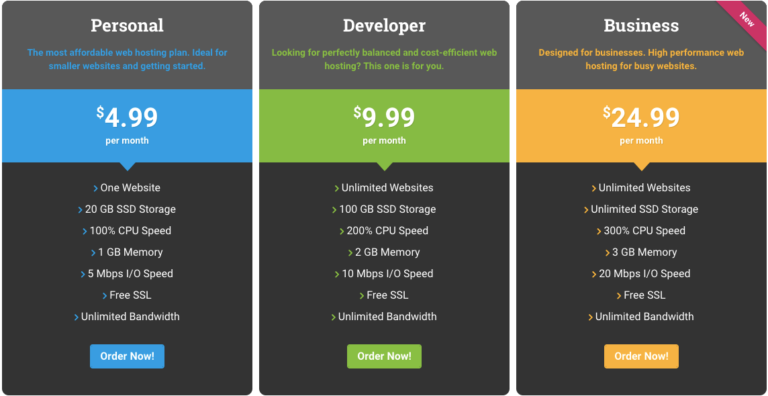 Shared Hosting: WebHostingBuzz has three shared hosting plans:
Personal Plan: This plan costs $4.99 per month. You get enough space for one small site with 20GB of disk space, 100% CPU speed, 1 GB memory, a free SSL certificate, and unlimited bandwidth.
Developer Plan: This plan costs $9.99 per month. You can host unlimited websites up to 100 GB of storage, unlimited bandwidth, free domain name and SSL certificate, 2 GB of memory and 200% CPU speed.
Business Plan: This plan costs $24.99 per month. You can host unlimited websites and get unlimited SSD storage, too. It also comes with 300% CPU speed, 3 GB of memory, a free domain and SSL certificate, plus access to daily backups.
All their shared hosting plans come with cPanel, and you'll be given a free domain name upon registration of a new account with them.
Free Domain: Yes.
Ease of Signup: Very easy signup process.
Payment Methods: Credit Card, PayPal, WebMoney, Dwolla.
Hidden Fees and Clauses: Account termination can't happen before ten days or after three days before renewal date. You also can't use more than 25% of their resources for over a minute, or have 5,000+ files opened at the same time, or send over 200 emails in the span of an hour.
Upsells: Few upsells.
Account Activation: Quick activation.
Control Panel and Dashboard Experience: cPanel.
Installation of Apps and CMSs (WordPress, Joomla, etc.): Quick installation of popular apps and CMSs via Softaculous.
Do We Recommend WebHostingBuzz?
Yes, we do.
WebHostingBuzz has performed pretty well in our tests. Uptime and page loading times have both been above average.
They have access to hundreds of applications for beginners, as well as the latest and great tech stacks for power users. Their 45-day refund policy is legitimate, too.
Unfortunately, our customer service experience was slow and disjointed. We had to wait hours for a reply and didn't even get a complete answer.
Their termination policy is written in a way that suggests you only have a tiny window to actually cancel before your card is charged again. And while the annual payment pricing is good, there's no new customer discount to lock-in an extremely low rate for the first three years.
Overall, they're not quite good enough to make the TOP 5, but still a good choice.
P.S. If you want to see hosting providers that ranked above WebHostingBuzz, check our top hosts here.
Do you have any experience with WebHostingBuzz? If so, please leave a review below. We welcome all honest and transparent reviews – good or bad!