A bit of background
We've been a paying customer of Web Hosting Buzz for 17 months. During that time, we've monitored their performance.

This review relies strongly on data, such as uptime, load time (speed) and customer support experience.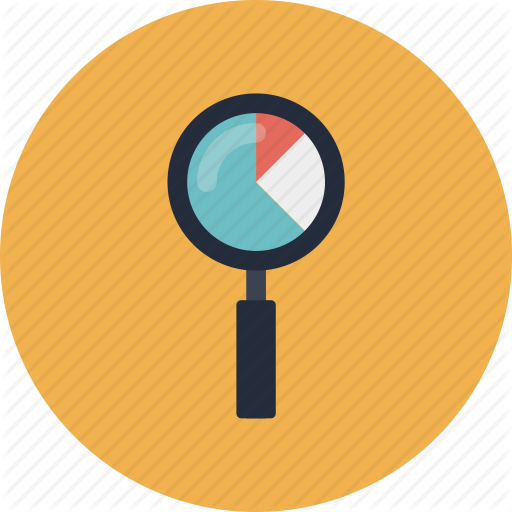 WebHostingBuzz is one of the oldest hosting companies, founded in 2002, and now powering 250,000 websites in over 140 countries today.
Their 250+ servers are spread across data centers in the United States, the United Kingdom, and the Netherlands.
Not bad, going from humble beginnings back in '02 with two employees to over 45 dedicated staff now.
As one of the bigger players flying under the radar, we wanted to see for ourselves how they stack up.
We purchased their 'Light Plan' back in June of 2015, setting up a WordPress website that was carefully tracked over twelve months. (Click 'History' to dig deeper into our detailed uptime and speed stats.)
Keep reading to discover what we found, and if we recommend WebHostingBuzz as an option to host your next website.
PROS of using Web Hosting Buzz:
First, the good.
WebHostingBuzz's experience shines through in a few categories, posting one of the fastest customer support response teams we've seen.
Here's a summary of where WebHostingBuzz excels.
1. EXCELLENT, 10/10 Support
WebHostingBuzz doesn't pull any punches when it comes to discussing their customer support.
Check out the bold claim on their site:
We will respond to live chat questions within 10 seconds and that they will respond to tickets within 30 minutes.
Those claims are incredibly fast. But they're just that: claims.
We're into data, not marketing-speak. So we put them to the test.
How'd they fare?
Those claims are pretty damn accurate.
Their support staff contacted us within 30 seconds, answering all of our questions in less than two minutes. Two thumbs up for their support team (one for each minute).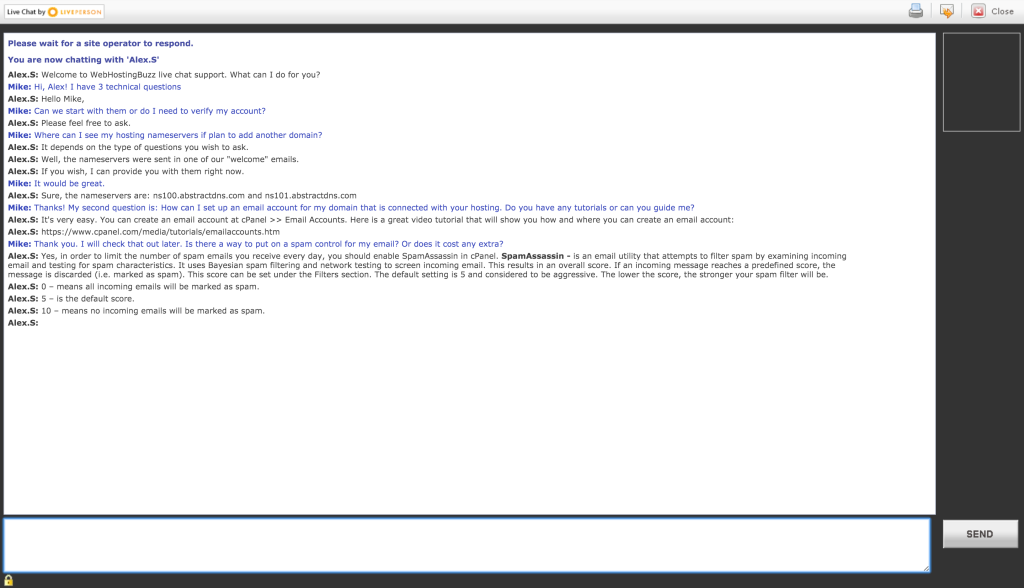 Customer support on WebHostingBuzz
Their customer support is offered through live chat, ticketing system and phone 24/7/365 (sounds great).
2. 45 Day Money Back Guarantee
Their 45-day guarantee is perfect for those looking for a little extra time to decide if they want to stick around or not. This guarantee covers shared hosting and reseller plans as well.
WebHostingBuzz is also upfront about their costs, without the extra additional fees for setup or migrations you might see from other hosts. They also don't try to slip any extra costs by you during checking out process (which is another aggressive, upsell tactic we've seen). That's nice to see, as many of the inexpensive hosting companies try to find 'creative' ways to get more money from you.
3.

 Free Migrations & Domain Name

For people with existing websites, WebHostingBuzz will help you transfer the site over for free. Another added bonus is that you can tell them which timeslots you'd prefer, to minimize downtime while your site's being moved. Some hosts will even try to charge you for this, with BlueHost even going up to $150!

For people starting a new site, they'll throw in a free domain name when you sign up. Yet another small charge hosts will sometimes use to offset their seemingly 'low' prices with extra costs.

A little something for everyone!
CONS of using Web Hosting Buzz:
All in all, our experience with WebHostingBuzz was not good.
But this wouldn't be an unbiased review if we didn't put their 'cons' under the microscope.
Now, for the bad.
1.

 Uptime Not as Good as Advertised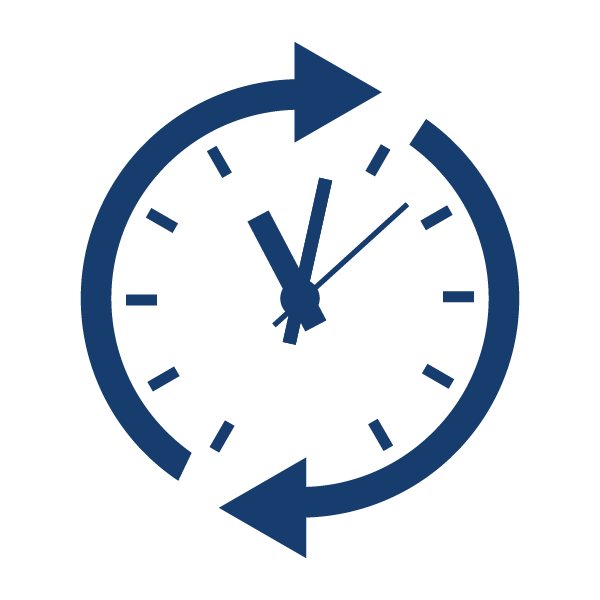 WebHostingBuzz's 97.22% uptime over the last 12 months is the lowest (30 out of 30) we've seen.
Our test site was down over ~9 days last 12 months. That's WAY too much!
And after double-checking a few other sources, our inconsistent experience seems fairly common. There are glowing reviews stating great uptime, with others complaining about their sites being down for lengthy periods of time.
Fast page loading times and even faster customer support are critical. However, if there are large uptime inconsistencies with your site being down too frequently, you might have bigger problems.
See previous uptime - 2015 (expands)
June average uptime: 100%
July average uptime:

99.41%

August average uptime: 99.99%
September average uptime: 99.97%
October average uptime:

98.61%
---
See 12 months average uptime: (2015 – 206)
November (2015) average uptime:

100%

December (2015) average uptime:

99.82%

January average uptime: 99.78%
February average uptime: 100%
March average uptime: 100%
April average uptime: 100%
May average uptime: 100%
June average uptime:

79.91%

July average uptime:

93.98%

August average uptime: 99.02%
September average uptime:

98.45%

October average uptime:

97.75%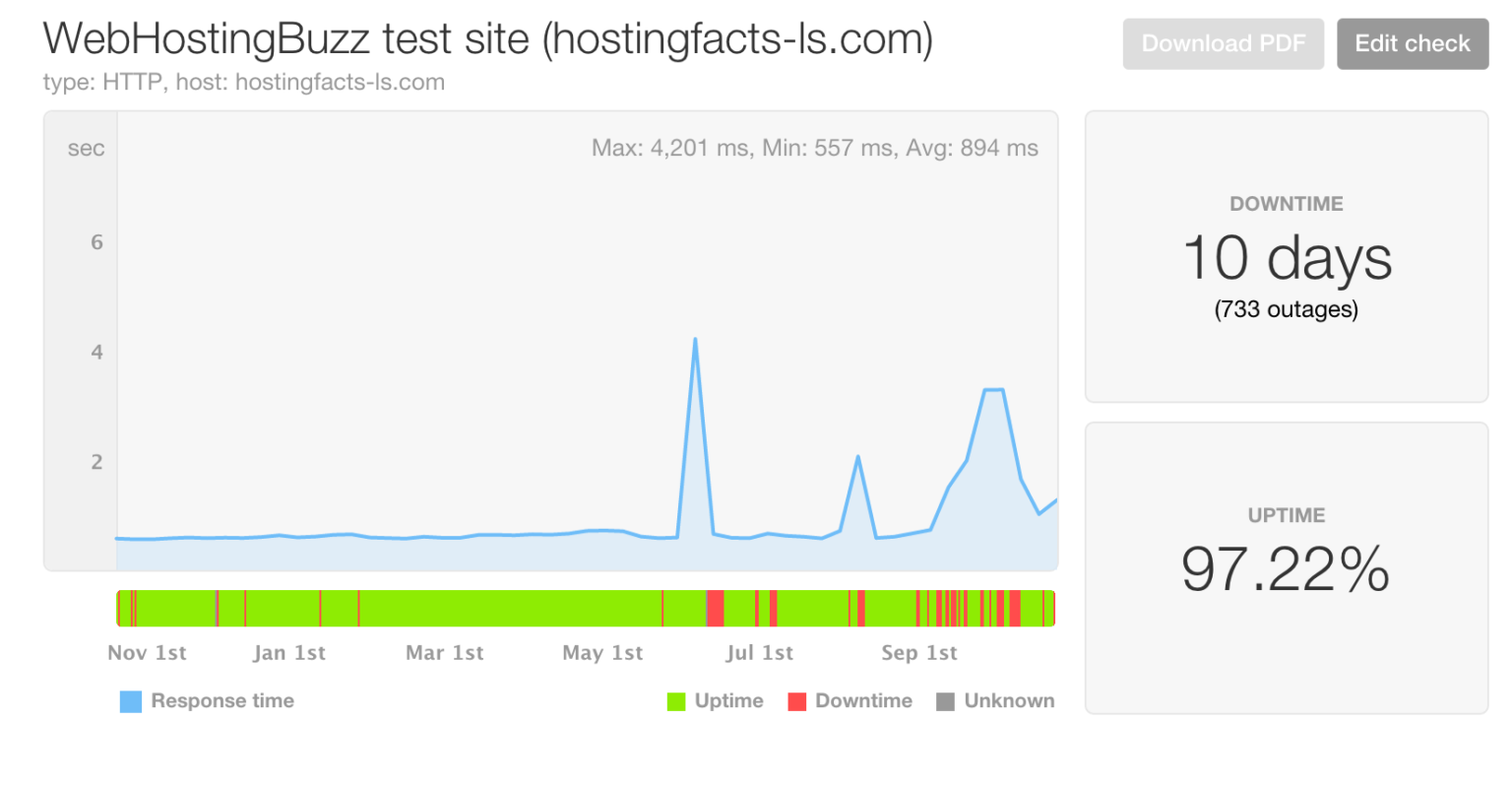 WestHostingBuzz: Page Load Speed and Uptime (Last 12 months, full data can be found here.)
2. Average Page Load Times ~28% Slower than Competition
When we first started with WebHostingBuzz, they posted strong page loading times that placed them among some of the quicker ones we've reviewed.
However, over the past year, their speed has steadily declined.
WebHostingBuzz average load time has slipped over the past few months to 894ms. That's almost 28% slower than the industry standard.
That's important, because every extra second your site takes costs you conversions. If it takes longer than 3 seconds, 40% of your traffic will leave. Which is NOT good, because 44% of dissatisfied users will tell their friends about their negative experience.
Here's their performance over the past few months:
See previous load times - 2015 (expands)
June avg. load time: 553ms
July avg. load timed: 581ms
August avg. load time: 539ms
September avg. speed: 571ms
October avg. load time:

585ms
---
Last 12 months average load time (2015 – 2016):
November (2015) average load time:

570ms

December (2015) average. load time: 589ms
January average load time: 621ms
February average load time: 587ms
March average load time: 613ms
April average load time: 658ms
May average load time: 661ms
June average load time:

1,321ms

July average load time: 609ms
August average load timed:

1,015ms

September average. load time:

1,467ms

October average load time:

2,001ms
3.

 Payment Terms

On the face of it, their $4.95 monthly pricing looks good! Especially for their fantastic customer support.

However, when you get to their pricing page, it becomes obvious that they're using the old standby trick of only offering that low advertised price for people committing to 24 months. If you would rather start with a shorter, 12-month option, that cost is going to jump a little bit.

In addition, they do NOT offer any true 'month-to-month' option (a one year term is the minimum). So they're not a great option for those looking for a short-term solution.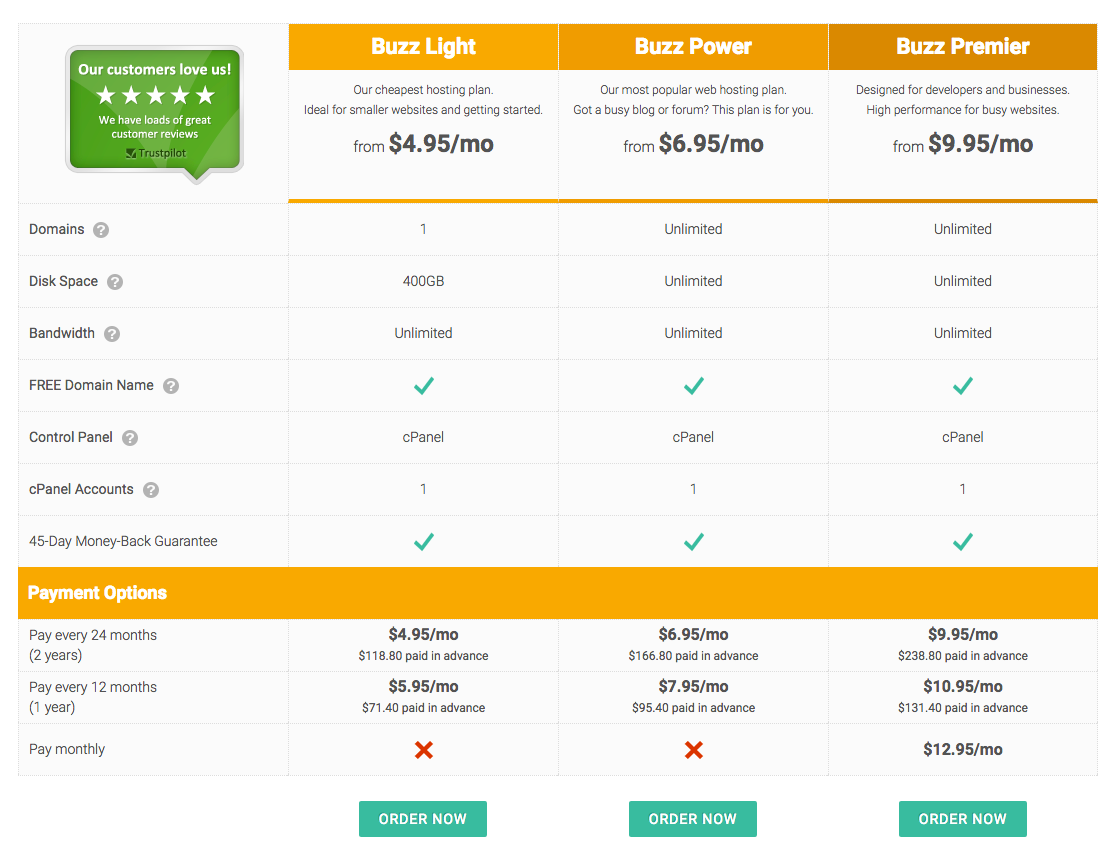 Overview on Web Hosting Buzz Shared hosting plans
Here's a quick overview of the hosting plans they offer:
Shared Hosting: They have three shared hosting plans:
Buzz Light plan: This plan costs $4.95 per month (for 24 months). It supports 1 domain name, comes with 400GB disk space and allows unlimited bandwidth –  (P.S.) We used this plan to test out Web Hosting Buzz.
Buzz Power plan: This plan costs $6.95 per month (for 24 months). It supports unlimited domain names, unlimited storage and unlimited bandwidth.
Buzz Premier plan: This plan costs $9.95 per month (for 24 months). It supports unlimited domains, unlimited storage and unlimited bandwidth.
All their shared hosting plans come with cPanel and you'll be given a free domain name upon registration of a new account with them.
Quick Facts
Free Domain: Yes.
Ease of Signup: Very easy signup process.
Payment Methods: Credit Card, PayPal, WebMoney, Dwolla.
Hidden Fees and Clauses: Shared hosting accounts cannot use more than 25 percent of server resources for 60 seconds or longer, and shared hosting accounts cannot have more than 5,000 open files at once. There's also a limit of 250,000 file inodes for shared hosting users.
Upsells: Few upsells.
Account Activation: Quick activation.
Control Panel and Dashboard Experience: cPanel.
Installation of Apps and CMSs (WordPress, Joomla, etc.): Quick installation of popular apps and CMSs via Softaculous.
Do We Recommend WebHostingBuzz?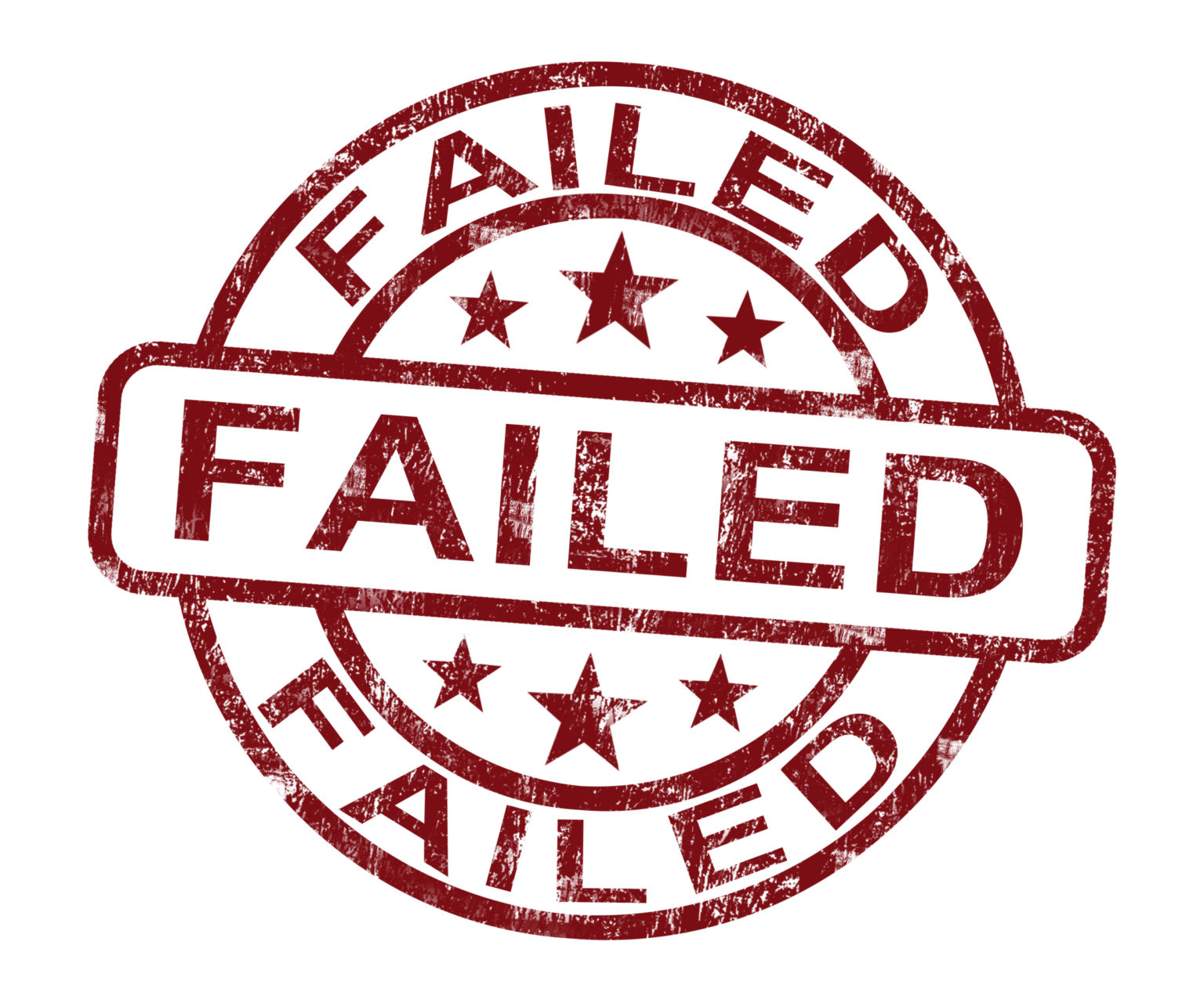 No.
We have to give it to them: their support in our experience was great.
Unfortunately, their below average uptime and slow page speeds (that keep getting slower) have pushed WebHostingBuzz to the bottom of our list.
Bottom line: There's much better options out there to try first.
P.S. If you want to see hosting providers that ranked above WebHostingBuzz, check our top hosts here.
Do you have any experience with WebHostingBuzz? If so, please leave a review below. We welcome all honest and transparent reviews – good or bad!
Submit a review
Submit a short but detailed review and earn $10 when we approve it.
7 user reviews for WebHostingBuzz
TERRIBLE NIGHTMARE
I have been with Webhostingbuzz for years. They were great until the end of last year and since its been nothing but a nightmare. They moved me to another server and then kept telling me wrong info trying to blame GoDaddy for the direction host setting when it turned out to be their issue.
My reseller account was OFFLINE FOR 3 FULL MONTHS and they never credit me.
Then when they finally got it back up, I had an old website instead of the one I had just paid a grand in programers to fix. IT IS TILL NOT RIGHT TO DATE!!! and they refuse to take responsibility.
NEXT… they have messed up my account twice and then cut me off server and down does all the sites again.
ONCE AGAIN a problem.
TODAY I go to pay and notice a couple of my sites NOT ONLINE again…. issues with half them and some are up and find out they cancelled out my acct without notice… so my reseller main site is down and yet some of the reseller sites are still up. THEY AGAIN had worked on their MAINTENANCE last month and this is the result of that AGAIN.
I am in tears, and they do not give a crap nor offer $1 in credit NOR help to fix what they screwed up and its left up to me to HIRE OUT people AGAIN to figure out what the hell they have done.
They've turned into nothing but a nightmare company for me to use.
Why
My experience with web hosting buzz has been nothing but awful these past years.
I have been a customer for over 10 years, and have recommend many family and friends. Over the last year, there have been random server breaking configuration changes with no warning from WHB. I always have to scramble to react.
Currently my site and email have been down all day since WHB decided to migrate my account to a new server with no notice. In the process they did not migrate any MX records taking out my email, They did not migrate any Cname entries taking out many of my Urls. I have contacted support via every means I can, and have yet to get any real help. The one response I got said my account matches the old settings. This clearly cannot be. Even just going to my homepage results in a glaring 403 error.
I will be taking my business else where.
Beware of this **** company
BEWARE OF THIS HOSTING COMPANY, I have been with them over 10 years, but in the last months, WebHostingBuzz has been a crappy company.
Servers go down frequently, customer service is slow.
DON'T PURCHASE ANYTHING WITH WEBHOSTINGBUZZ, in 2016 they are even worse than Arvixe.
Do everything possible to avoid this company, they are horrible.
Do everything possible to avoid this company, they are horrible.
The Worst Web Hosting Ever!
WebHostingBuzz will kill your online business.
Way too much downtime and your data will always be lost because they always restore old backup with out telling.
Their support team is clueless.
They never meet their guarantees that they claim on their site. In my opinion, Web Hosting Buzz is a scam.
Pretty good..
Received amazing customer support. Servers run perfectly fine, although there are some times where there are small lag spikes, which can be from server side or client side. They sell at a really good price, what I love about them the most!
Best hosting I've worked with...
There is no doubt that I will continue to support WebHostingBuzz as long as we will maintain such a great respect to each other. I remember, I started to host some of my web projects on their servers in 2008.
Their hosting services at that time were overall quite buggy, but much improved over the years. Now they are almost (if not) perfect – there are some little server downtimes from time to time, but not too often, and certainly much less than in any other hosting company, I've dealt with. Tech Support was and still is their first and most important priority – never any delays (usually they respond in less than 30 minutes, if I use a ticket system or e-mail), and always they come up with a satisfying solution for each problem.
That's the reason why I decided to stay with this company for so long, and I haven't had any thought of changing my mind. Price per quality is also very acceptable – for less than 15$/month (even cheaper, when using 12 or 24 month payment plans) you can get almost everything you need to host websites, or to even resell their services (which I'm doing by the way, and I must tell you – all of my clients are satisfied).