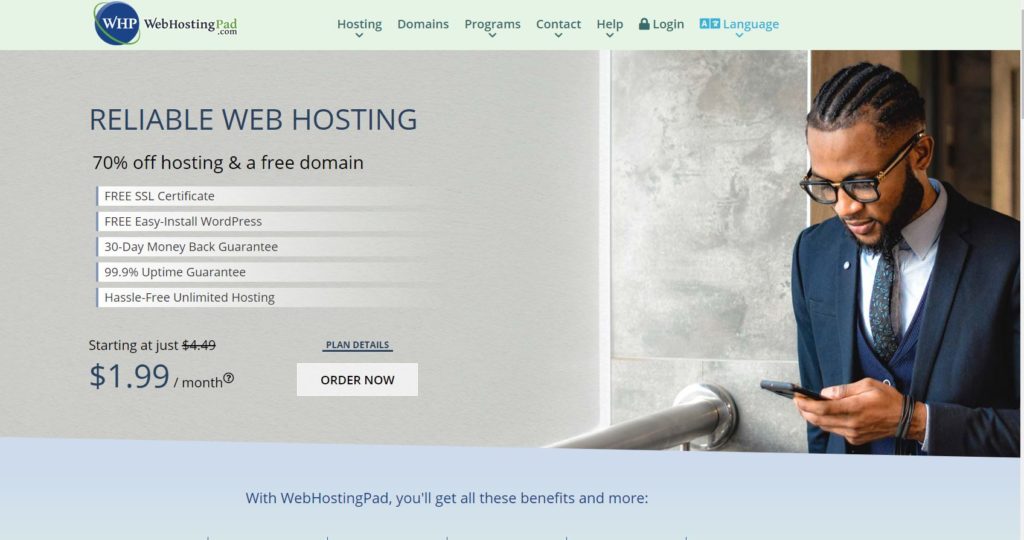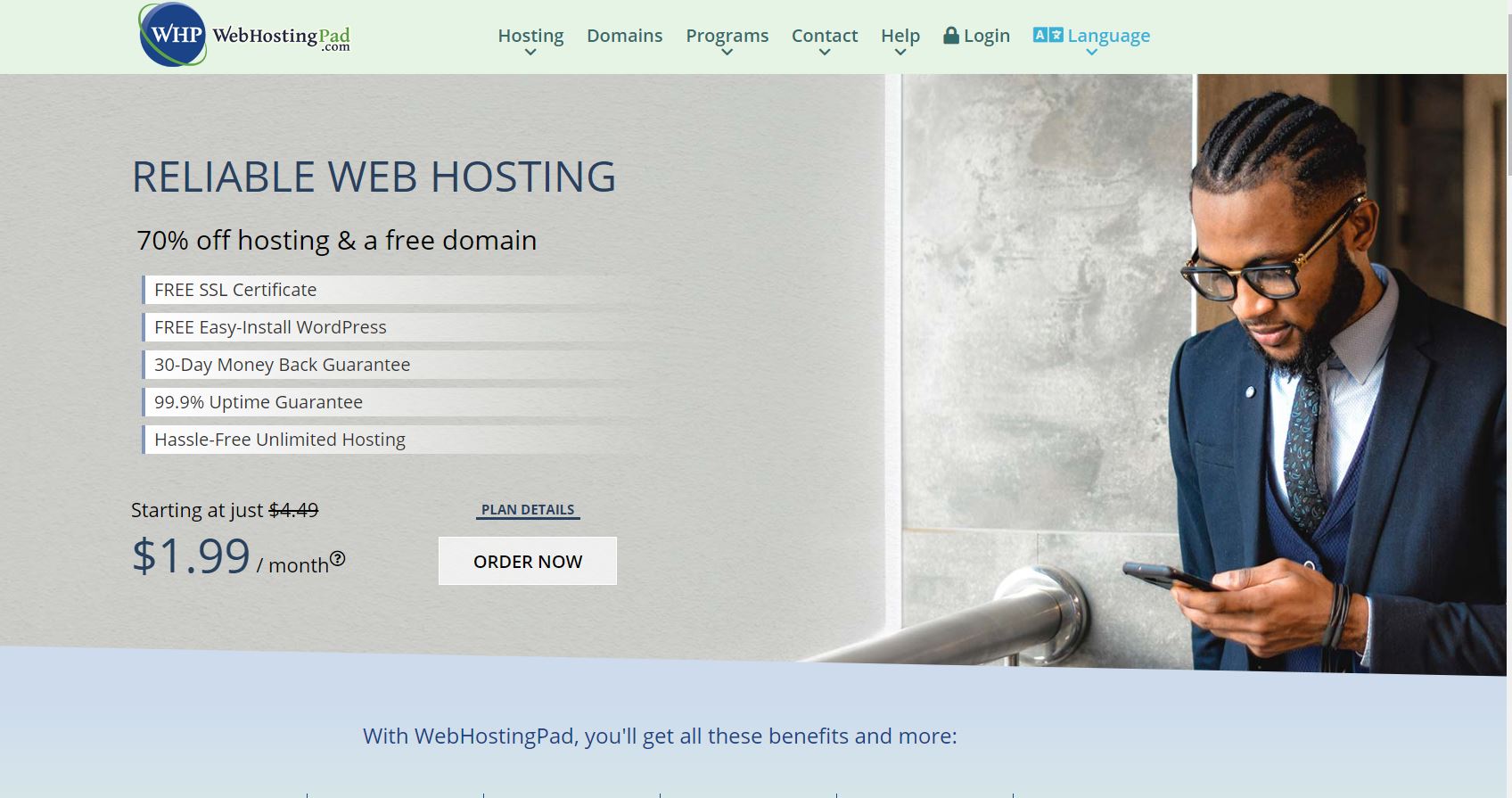 WebHostingPad is cheap.
Like under two bucks cheap.
Founded in 2005 by a small group of individuals, it has grown steadily now for over a decade on the back of low prices.
But is that… ALL they're good for?!
To find out, we purchased a WebHostingPad "Power Plan" back in June 2015, setting up a basic WordPress website
Over the past few months, we've been closely watching their performance statistics like uptime & speed, in addition to doing our own background analysis to find out if WebHostingPad is a steal at their low prices, or a train wreck waiting to happen.
Read our full unbiased review below to find out which is true.
Pros of Using WebHostingPad
WebHostingPad has a few things going for it besides a low price. Starting with…
1. Decent Customer Support
Our own personal experience with WebHostingPad was pretty good.
Their support staff connected instantly, and they got back to us within about a minute after each question.
Not the best experience we've had among all we reviewed, but pretty good nonetheless.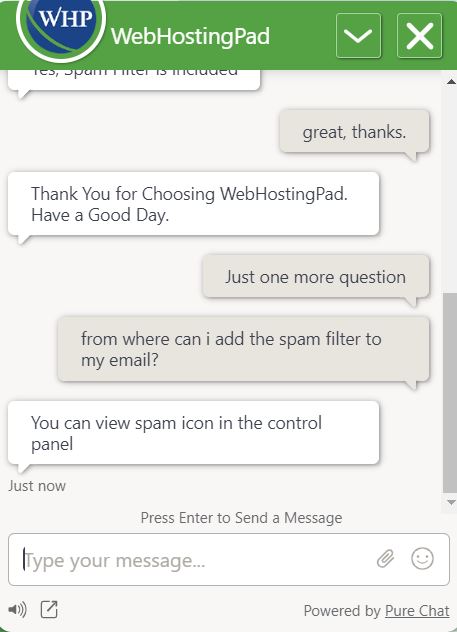 As with most web hosts, however, there are very mixed reviews about WebHostingPad's customer service response.
"My email to an address at verizon.net continues to bounce. I've filled out two support tickets, but no response. Why can't I get this resolved?"
"Hi, can you please let us know what time the live technical support works please – as we tried it when the system said it was online – but then it decided you were offline after all – and told us to send an email message which has not yet been answered. Many thanks"
"Hi, I've had issues with my website going down but your support team tells me that it's fine and there are no problems. I'm really not getting the help I think I should be and I'm definitely an unhappy customer. Can someone help me please and show me that you do care about your customers?"
"My website is down and I cannot reach anyone in customer service. On the phone, it says to leave a message but then says "sorry but the user mailbox is full". It also suggests using live chat but when I do that it disconnects me and says no online agents are available. So, I've emailed a ticket. I'm just wondering what's going on and I'd like to resolve this promptly. Thanks."
2. Unbelievably Cheap
WebHostingPad does have one great thing going for it.

They're cheap.
With the exception of iPage's not-so-secret, slimmed-down Essential plan, it's among the cheapest options available to you.
Chances are, there's a reason it's so cheap (which you'll find out below under the 'cons' list). But if the price is your only concern, look no further.
3. Strong Money-Back Guarantee
WebHostingPad has a rock-solid, 30-day money-back guarantee if you don't find their services reliable. However, the money-back guarantee covers hosting purchases only. This guarantee does not apply to renewals, addons, site transfer fees, service charges, or domain name registrations or renewals, including free domain registrations as part of WebHostingPad's FREE DOMAIN coupon offer
4. Security Enhancements
Typically, the cheapest options available are also limited when it comes to the 'extra' stuff like security options. Fortunately, WebHostingPad isn't, throwing in Automated Malware Scanner and Malware Quarantine for their WordPress hosting plans.
Cons of Using WebHostingPad
Cheap companies are cheap for a reason. Chances are, they're not willing (or able) to turn that slim profit margin into reinvesting back into their products and services.
WebHostingPad is no different, offering mediocre-to-bad service where it counts. Take a look.
1. Very LOW Uptime of 99.23% (Last 24-Month Average)
A website is only good to you when it's up, online for visitors or potential customers to use.
Similarly, a web host's primary job is to ensure that happens. Here, WebHostingPad struggles.
Despite their website's bold claims of 99% uptime, they didn't come anywhere close.
Instead, they delivered a below-average uptime of 99.23% over the last 24-months – this is one of the lowest we've seen after reviewing over thirty other web hosts.
In fact, while trying to write an earlier version of this review, the test site was offline again.
Last 12-month average uptime:
January 2020 average uptime: 99.89%
December 2019 average uptime: 99.85%
November 2019 average uptime: 99.78%
October 2019 average uptime: 99.87%
September 2019 average uptime: 99.85%
August 2019 average uptime: 99.81%
July 2019 average uptime: 99.83%
June 2019 average uptime: 99.77%
May 2019 average uptime: 99.81%
April 2019 average uptime: 99.89%
March 2019 average uptime: 99.97%
February 2019 average uptime: 99.92%
Take a look at this graph below (It's all red):

2. Slow Page Loading Time
The next job of a web host is to make sure your website is delivered in a timely manner to said visitors or potential customers.
Beyond annoying people, because pages are taking too long to load, site speed can also affect search engine rankings and even conversions.
WebHostingPad struggles again in this department, posting a page loading time of 1,021ms over the past 24 months. That means that it takes more than 1 second to load a web page – which is a no-go in today's Internet world.
Last 12-month average load time: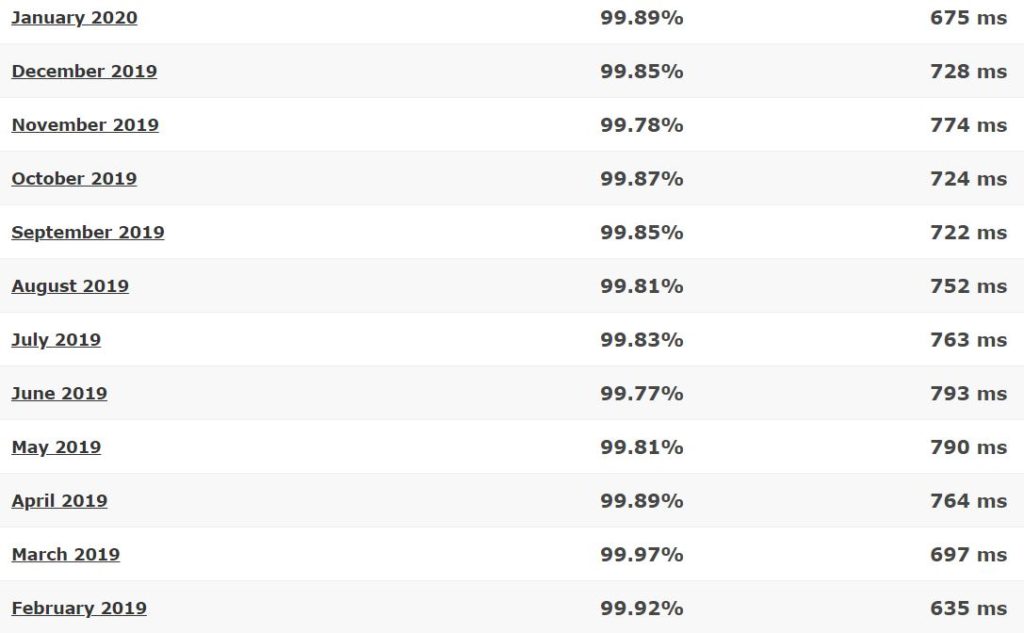 3. Strings-Attached 'Free' Domain Registration
WebHostingPad will throw in a free domain name to new account signups, similar to other web hosts.
However, there are a few caveats.
First, you need to sign up with the "FREE DOMAIN" coupon to enjoy this free domain name offer.
Second, any other coupon invalidates this.
Third, you will have to pay $14.95 annually to renew your domain name. Typically you can buy domain names for less than $10 these days on other websites.
So this 'additional' future cost probably won't pay for itself in a few year's time.
4. Very Restrictive Website Transfers
Like other web hosts, WebHostingPad will also help you transfer an existing site over to their services for free.
ONLY if however, it's less than 2GB (which is tiny). That's the maximum size of an account eligible for free transfers, and it will NOT include email addresses, FTP accounts, subdomains or addon domains. Instead, you'd have to recreate those within their control panel.
5. Very Restrictive Backup Option.
'Free backups' are yet another offer that some other web hosts will throw in for new customers.
On the face of it, they sound like an amazing deal to help you backstop your site for any problems or issues.
But check out what we found in the fine print buried in their Terms of Service:
"WebHostingPad, at our sole discretion, will take weekly backups of customer's accounts, up to and including 1GB of website files only. This backup does not include email addresses, email accounts, databases, or anything other than website files. Any account that is larger than 1GB will not be included in any automated backup service provided by WebHostingPad. In the event that a customer requires a backup to be restored, WebHostingPad may charge a one-time backup restoration service fee of $39.95."
Here's a quick translation of that legal gibberish:
They will only take backups at their "sole discretion" – whatever that means?!
Your backup cannot exceed 1GB (which again, is tiny)
They only back up website files. This does NOT include emails or even databases
They may charge a restoration fee of $39.95 to restore your backup (so… it ain't free?!)
The option to manually backup via cPanel is not available. You need to pay them to have this enabled.
In short, this backup offer is not good. AND they're restricting your ability to run simple manual backups on top of it.
WebHostingPad Pricing, Hosting Plans & Quick Facts
WebHostingPad has two shared hosting plans:
---
Power Plan Hosting
Power Plan Plus
Pricing
$1.99/month
$2.99/month
Websites
Unlimited
Unlimited
Bandwidth
Unmetered
Unmetered
Storage
Unmetered
Unmetered
Email Accounts
Unlimited
Unlimited
Other Features
–
• Free Trusted SSL Encryption
• Free 1-Click WordPress
• Automated and Anytime Backups
---
They also have WordPress hosting options, but we don't think they would be any better than the regular shared hosting. Though, all WordPress hosting plans come with unlimited storage and unlimited email accounts.
Quick Facts
Free Domain: Yes.
Ease of Signup: Very easy, one-page sign-up process.
Money-Back: 30-day money-back guarantee.
Payment Methods: Credit Card, PayPal, Alipay, Bitcoin, Check, Money Order, Western Union.
Hidden Fees and Clauses: They may charge a $39.95 fee to restore your backups. Users should not exceed 150,000 total files.  If you reach the file limit, you can purchase an additional block of 150,000 files for $10 per month. If they notify you about reaching the file limit and you do not respond, they will automatically bill you $10 per month per extra 150,000 files. You are not allowed to use more than 10 percent CPU and memory, and your sessions must not exceed 10 minutes. There's a limit of 300 emails per hour or 3,000 emails per day.
Upsells: Lots of upsells.
Account Activation: Quick activation.
Control Panel and Dashboard Experience: cPanel.
Installation of Apps and CMSs (WordPress, Joomla, etc.): Quick and easy installation of popular apps and CMSs with Softaculous.
Do We Recommend WebHostingPad?
No way. Please avoid.
Their customer support is decent, but their uptime and page loading times are completely unsatisfactory.
Then when you consider how restrictive their Terms of Service and limits are, it's really a no-brainer.
Even despite their absurdly low introductory rate, you're better off looking for MUCH better alternatives out there like Hostinger or iPage (both under $2).
P.S. If you want to see hosting providers that ranked above WebHostingPad, check our best performing hosts here.
Any experience with Web Hosting Pad? If so, please leave a review below! We accept all honest and transparent reviews, no matter whether they're good or bad.