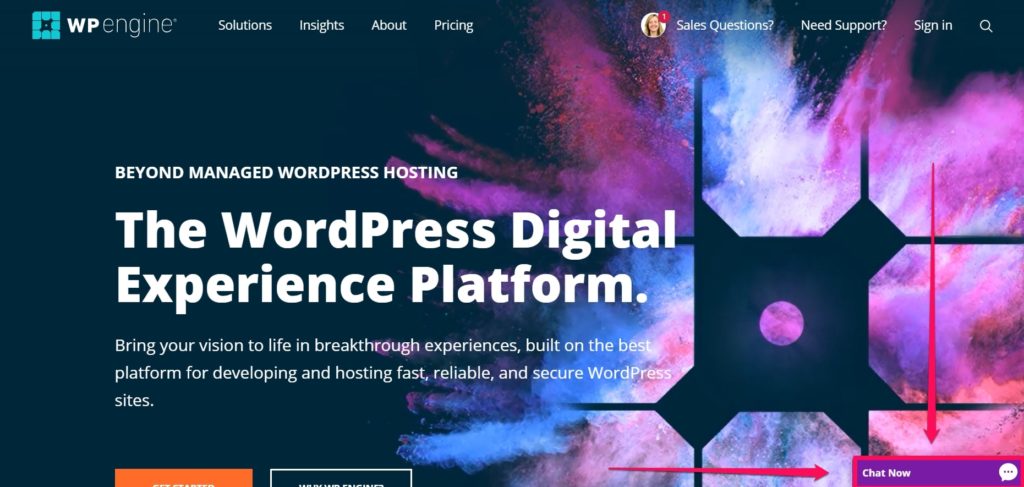 You've likely considered WordPress for your business website and with good reason.
It is one of the most popular and user-friendly content management systems in the world. That's why several web hosting services have decided to focus entirely on the WordPress platform. WP Engine even put WordPress in its name.
WP Engine is a hosting company that many associate with high quality. It offers WordPress specific features and automatically optimizes elements of your site for the platform.
They also include several security options, like a firewall, daily updates, SSL certificates, and real-time threat detection.
But is WP Engine the right hosting service for you?
That's what we plan on helping you figure out through this review. We ran several tests on the service and compiled the good and the bad, along with our overall recommendation.
General Info & Hosting Overview
---
| | |
| --- | --- |
| SPEED: | 425ms (February 2020 to April 2020) |
| UPTIME: | 100% (February 2020 to April 2020) |
| SUPPORT: | 24/7 Live Chat, Limited Phone Support |
| APPS: | WordPress, Amazon Web Services, Google Cloud |
| FEATURES: | Daily Backups, SSL Security, Global CDN, SSH Gateway |
| HOSTING PLANS: | WordPress Managed, Dedicated |
| SITE TRANSFER: | Unlimited Free (Custom Plugin) |
| PRICING: | Starting at $25.00/mo |
---
Pros of Using WP Engine Hosting
1. Optimized for WordPress
If you're looking to host a WordPress site, you've come to the right place. WP Engine offers only WordPress hosting and it does that either through shared or dedicated hosting plans.
For this review, we will be focusing solely on shared hosting services.
WP Engine hosts your WordPress site in a fully-managed environment. It's a hosting platform specifically designed for installations, themes, and plugins associated with a WordPress site.
There is also no need to install WordPress because the CMS comes preinstalled on the platform.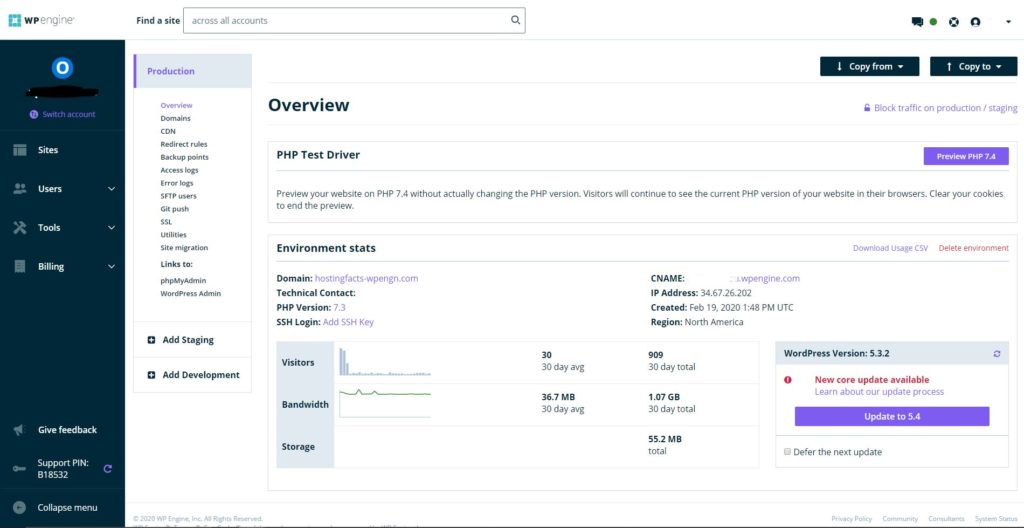 If you're looking for a simplified managed hosting process, then you may have found the right host. There is very little setup required outside of the actual signup process.
2. Daily Backups
WP Engine provides your WordPress site with automated daily backups and plugin updates.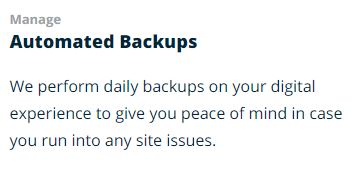 That means you'll never lose your work if the site crashes. WP Engine can always revert the site back to a previous version. And with backups being made daily, you'll never have to return to an outdated version.
3. Threat Detection System and SSL Security
When it comes to hosting platforms, you want to know that you've got a secure connection, both for you and for the customers that use your services.
Why does that matter?
If your site is a standard HTTP site, Google will mark you as being not secure through the Chrome browser.
There's a reason why more than 90% of browsing time on Chrome is on HTTPS sites. When your browser warns you that a site might not be safe, you don't go there.
Thankfully, WP Engine uses a Secure Socket Layer Certificate which protects all data transferred between the user and your site.
SSL certificates get you that all-important HTTPS in front of your URL.
What's more, it's not a service that you have to pay extra for. Several other hosts require you to purchase SSL security.
On top of this enhanced security certificate, WP Engine performs daily scans for malware and uses a firewall to protect your site. The firewall is updated daily to combat new security threats.
Real-time threat detection is also offered, giving you a heads-up whenever something fishy is going down on your site.
WP Engine makes use of trained security experts to provide free hacking remediation to subscribers.
This is a host that truly goes above and beyond in the name of safe web browsing.
4. Great Uptime – 100%
WP Engine boasts an impressive uptime guarantee of 99.9%.
It's not that we don't believe them, but when grading hosting services, it's important to do your own legwork.
That's why we're currently in the process of testing the uptime of WP Engine. We do this by creating a test site on the hosting platform and measuring the recorded uptime over an extended period of time.

The testing is still currently ongoing, but from the last two months that we've been testing them, they have had a perfect uptime of 100%. We will continue to monitor them and will keep updating this review once we have more data.
5. Fast Page Loading Speed
Speed is of the utmost importance when choosing a website host.
If your site is slow to load, your bounce rate will go up and your SEO score will go down.
That's why we are in addition to uptime also measuring page loading speed. And so far from what we've been able to gather, they have an impressive page loading speed of 425ms.

Once we have gathered further data, we will update this review accordingly.
6. Live Chat Customer Service
Customer service is important.
Like, really really important.
Thus, when grading different web hosting services, we focus a lot on the customer service options and quality
Thankfully, WP Engine offers our favorite form of customer support — 24/7 live chat.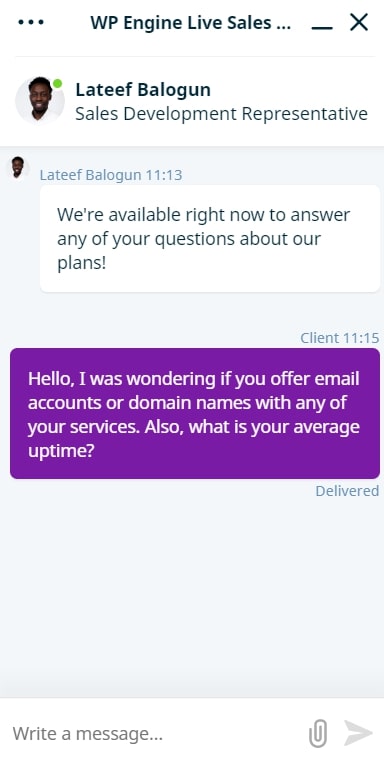 We asked two simple questions in one message. We got a response almost instantly, and both questions were replied well.
They provided us with good and complete answers. We had to check back in with customer support a few days later to confirm something else about the service and had a similar positive experience.
WP Engine also has a customer support phone number, but that's not made available for everyone. We will discuss that in a later section.
7. Free Site Transfers
There are a lot of costs associated with moving your existing website from one hosting service to another.
That's why it's always welcomed when we see a host willing to offer transfers at no cost.
WP Engine will swap your websites onto their servers for free with their custom WordPress migration plugin. It is a manual website transfer but support is available 24/7 to help you with this process.
8. 60-Day Money-Back Guarantee
It's always a good thing when a hosting service is willing to give you a financial guarantee.
Most hosts we've reviewed offer a 30-day money-back guarantee. WP Engine actually doubles that period, which is awesome.
They're giving you plenty of time to get a feel for the hosting service, so there's no risk in signing up.
Cons of Using WP Engine Hosting
1. For WordPress Users Only
WordPress is popular. There's no doubt about that. It's the world's most popular Content Management System for a reason.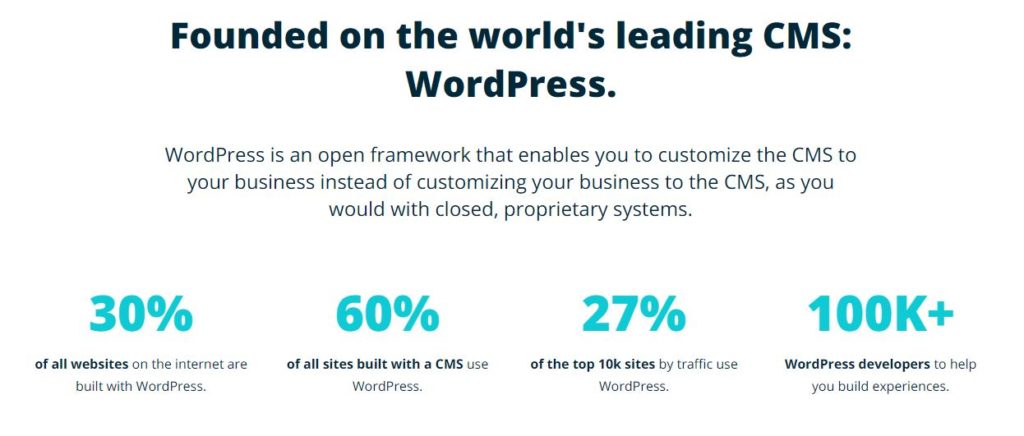 But the fact that WP Engine has hitched itself entirely to the WordPress wagon can feel limiting at times.
They also don't provide a well-known c-Panel, instead that they have their own backend system which is easy to navigate.
Maybe you like the security, pricing, and customer service of WP Engine, but you don't want to build your site on WordPress.
Unfortunately, you'd have to either suck it up and use WordPress or choose a different hosting service.
2. Can't Purchase a Domain Name
A lot of services offer free domain names when you sign up. It's something that a number of providers we've reviewed, like GreenGeeks, offer for at least the first year that you're with them.
With WP Engine, you can't even purchase a domain name through the platform, let alone get one for free. You're forced to go through a third-party service, many of which also offer hosting.
Some people might decide that it's easier to just do everything from one central service, like GoDaddy, than purchase a domain from one provider and build plus host your site on another.
3. No Email Addresses
Remember what we said about domain names? Ditto for email addresses.
This is another service that you see a number of hosting providers offering free of charge. However, when it comes to WP Engine, no email addresses are provided or even sold.
This is another time where you'd have to go through a third-party company. You need branded email addresses for your company if you're going to inspire a sense of confidence and professionalism in the people you do business with. Having them included with your hosting provider (or at least offered) makes things easier.
4. Startup Has Limited Phone Support
We said before that the live chat support options for WP Engine are great, and that's still true. However, we take some exception with their phone support.
The phone support is only available from WP Engine's Growth plan and up. That means if you're using the Startup plan, which is the cheapest option, you won't be able to call any of your problems in.
While live chat is still available, some people don't want to use a chat system and would rather call on the phone. Limiting access to phone support narrows the amount of support you're offering people.
5. Expensive
This is one of the most expensive services we've reviewed.
Typically, you're looking at monthly costs of $3 – $9.
But the Startup plan for WP Engine is a whopping $25 per month. And that's their yearly subscription pricing! Monthly costs start at $30 per month.
WP Engine Pricing, Hosting Plans & Quick Facts
WP Engine offers three shared hosting plans. They are Startup, Growth, and Scale. There are also custom priced dedicated hosting plans, but we're not focusing on those here.
---
Startup Plan
Growth Plan
Scale Plan
Pricing
$25/month
$95/month
$241/month
Websites
1
10
30
Bandwidth
50GB
200GB
500GB
Storage
10GB
20GB
50GB
Visits
25,000
100,000
400,000
Other Features
• Automated SSL Certificates
• SSH Gateway
• Imported SSL Certificates
• SSH Gateway
• 24/7 Phone Support
• Imported SSL Certificates
• SSH Gateway
• 24/7 Phone Support
---
WP Engine accepts all major credit and debit cards. It does not take PayPal and features no free trial. However, all shared hosting plans do come with a 60-day money-back guarantee.
Do We Recommend WP Engine?
Yes, we do.
It's a highly secure and easy-to-use hosting service. We really liked their live chat support and with a 60-day money-back guarantee, it could be worth checking out.
Their uptime and speed were also great during the last few months.
Unfortunately, that price is a huge sticking point. At $25 per month for a year it's just way more expensive than other managed WordPress hosts. So, it's hard to make a final conclusion. They do provide an excellent service but the price for it is many times higher than the competition. Ultimately, we do recommend them if the monthly cost is not your main concern.
P.S. Have you used WPEngine before? Please consider leaving a review below — good or bad — doesn't really matter as long it's helpful to our visitors. Thanks for your support.