Late last year we updated Hosting Facts' list of internet, e-commerce and hosting statistics for 2017. We started publishing the list in 2016 and have updated it annually since. The list became an extremely useful resource that has been overwhelmingly shared and linked to — even on some of the biggest publications in the world. However, things move really fast on the Internet, and a lot has changed since we published that list.
Here's an updated list, which includes additional internet facts and stats for 2018 as well as updates on the current status of some of the facts included in the original list.
Internet Statistics 2018
There are 3.95 billion Internet users in the world as at June 2018. This is compared to 3.7 billion Internet users in 2017.

Asia has the most Internet users of all continents — accounting for 48 percent of all Internet users (down from about 50 percent in 2017). Europe is a runner up with 19 percent of all Internet users.

China has the most Internet users of all country. At over 772 million Internet users at the time of writing this, China currently accounts for almost 20 percent of Internet users worldwide — a decline from the 25 percent of worldwide Internet users it had last year. It is trailed by India, with 462 million Internet users — about 11.6 percent of all worldwide Internet users.

The number of people using the Internet in China is more than double the population of the U.S.

Iceland is the country with the highest Internet penetration in the world — with an impressive 100 percent of its citizens using the Internet.

The Internet influenced retail sales to the tune of $2.3 trillion in 2017 and is estimated to influence retail sales to the tune of $2.84 trillion in 2018.

With a $205 billion Internet ad spend compared to a TV ad spend of $192 billion, global Internet advertising spend exceeded TV advertising spend for the very first time in 2017.

1.66 billion people purchased something online in 2017 — and an estimated 1.79 billion people are expected to purchase something online in 2018.

80 percent of Internet users in the U.S. are expected to make a purchase online in 2019.

Over 3 million blog posts are published on the Internet every day.

Over 500 million tweets are sent every day.

Over 3.5 billion Google searches are made every day.
Domain Name Statistics 2018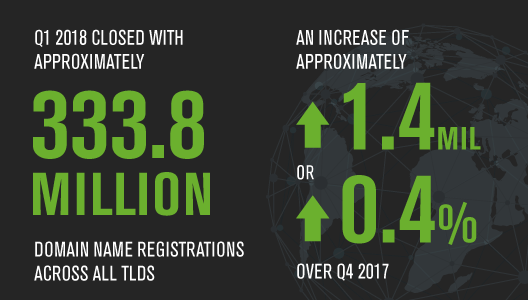 There are 338 million registered domain names as at the first quarter of 2018.

Domain name registrations have grown by 1.0 percent year over year.

About 43.69 percent of all domain names use the leading .com domain name extension.

There are 1,503 domain name extensions (TLDs) as at the 28th of June 2018.

The most expensive domain name ever sold is LasVegas.com, which was bought in 2005 for a whopping $90 million. While some argue that the most expensive domain name is Cars.com which was valued at $872 million, that claim is a bit deceptive: the sale didn't just involve the cars.com domain name but an existing business. The LasVegas.com sale involves just the domain name.

Having registered 49.45 percent of all domain names, Godaddy is the biggest domain name registrar as at June 2018.
Web Hosting/Website Statistics and Facts 2018
As at June 2018, there are approximately 1.89 billion websites in the world.

The world's first website was published on August 6, 1991 by British physicist Tim Berners-Lee.

51.8 percent of all Internet traffic comes from bots, while only 48.2 percent of internet traffic comes from humans.

Google is the world's most visited website, followed by Youtube and Facebook. Chinese search engine Baidu is the world's fourth most visited website.

With a 59.9 percent market share and about 26.7 million active sites, WordPress is the world's number one CMS. It hosts sites like The New York Times, Forbes and even the Facebook Blog.

Over 50,000 websites are hacked every day.

WordPress is the most hacked CMS — with 83 percent of hacked websites using the WordPress platform, an increase from 74 percent from last year.
E-Commerce and Conversion Statistics 2018
The e-commerce industry will be responsible for about $2.8 trillion in sales in 2018.

For every $92 spent on generating traffic and getting customers, only $1 is spent on converting these customers.

Only 35 percent of shoppers are willing to pay for delivery on online orders at all. The remaining 65 percent are unwilling to pay for shipping on online orders.

$0.56 of every dollar spent in an offline store is influenced by a digital interaction.

Only 22 percent of businesses are satisfied with their conversion rates.

Men spend 28 percent more money online than women.

People spend an average of 5 hours per week shopping online.

95 percent of Americans shop online at least yearly.

Price determines where 87 percent of Americans shop. Shipping cost and delivery speed determine where 80 percent shop, and availability of discount offers determine where 71 percent shop.

Being in the first position in Google will result in a click through rate of 34.36 percent for desktop computers and a click through rate of 31.35 percent for mobile devices.

Businesses that calculate ROI are more likely to have an effective marketing strategy — up to 72 percent.

615 million devices worldwide have an adblocker installed.

90 percent of mobile devices with ad-blockers are located in Asia.

Ad-blocking cost businesses over $22 billion in 2015 alone.

If nothing is done to address ad-blocking, it is projected that it will cost businesses $75 billion annually by 2020.

58 percent of buyers want the first sales call to include information about pricing while 65 percent of people want the first sales call to be focused on goals.

55 percent of ecommerce sales occur in branded stores while only 45 percent of sales occur through marketplaces.

Amazon is responsible for about 44 percent of all online sales and 4 percent of all retail sales in the U.S.

An average of $488 is spent annually shopping on online marketplaces.

The best day to send an email is on a Wednesday, and the worst day to send an email is on a Thursday.
Mobile Internet Statistics and Facts 2018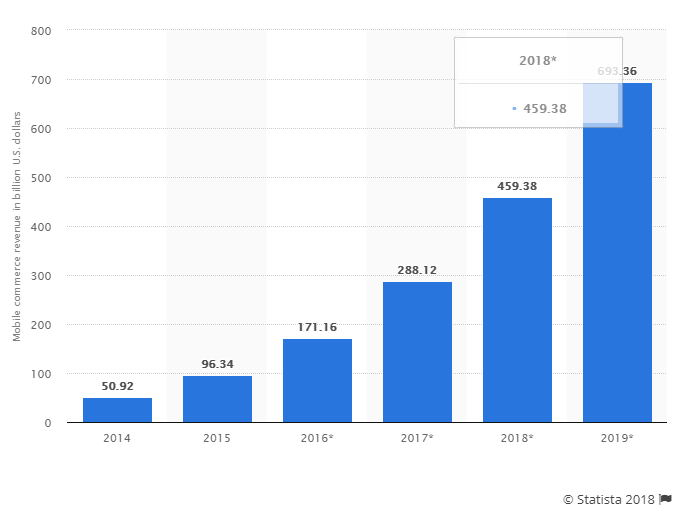 There are 3.7 billion global mobile Internet users as at January 2018.

Mobile devices influenced sales to the tune of over $1.4 trillion in 2016.

Mobile commerce revenue in the U.S. is projected to be $459.38 billion in 2018, and it is estimated to be $693.36 billion by 2019.

By the end of 2018, over $1 trillion — or 75 percent — of ecommerce sales in China will be done via mobile devices.

The average order value for online orders placed on Smartphones in the first quarter of 2018 is $84.55 while the average order value for orders placed on Tablets is $94.91.

Of the 2.79 billion active social media users in the world, 2.55 billion actively use their mobile devices for social media-related activities.

90 percent of the time spent on mobile devices is spent in apps.

Mobile traffic is responsible for 52.2 percent of Internet traffic in 2018 — compared to 50.3 percent from 2017.

While the total percentage of mobile traffic is more than desktop, engagement is higher on desktop. 55.9 percent of time spent on sites is by desktop users and 40.1 percent of time spent on sites is by mobile users.

By 2020, mobile commerce will account for 45 percent of all e-commerce activities — compared to 20.6 percent in 2016.

Engagement is up to four times better on mobile apps than on mobile web.

At least 70 percent of people dislike mobile ads.

About 400 million mobile users use ad blockers to avoid seeing ads on their mobile devices.

30 percent of all mobile commerce transactions comes from mobile devices.

Mobile ad spend is expected to represent 72 percent of all digital ad spend in the U.S. by 2019.

82 percent of people use their smartphones to research purchases they are about to make in a store.

66 percent of shoppers have decided not to buy an item they were considering buying due to shipping costs.

72 percent of females and 59 percent of males have abandoned a purchase due to shipping costs.

78 percent of shoppers want e-commerce sites to include more images on their products pages.
Social Media Statistics 2018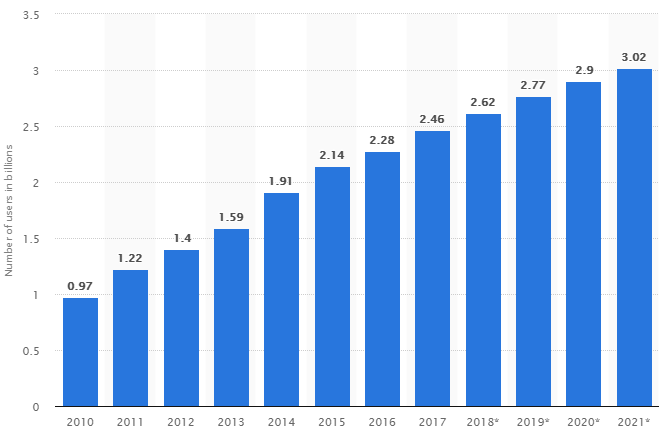 There will be an estimated 2.62 billion social media users in 2018.

As at March 2018. Facebook has 2.2 billion monthly active users.

As at June 2018, Instagram has 1 billion monthly active users.

As at Q1 2018, Twitter has 336 million monthly active users.

LinkedIn has 250 million monthly active users.

80 percent of Instagram users live outside the U.S.

32 percent of all Internet users are on Instagram.

Over 95 million photos and videos are shared on Instagram daily.

Visual content is 40 times more likely to be shared on social media than any other type of content.

Facebook status updates with images get 2.3 times more engagement than Facebook status updates without images.

People are 80 percent more likely to read content that has colored visuals.

Infographics are 3 times more likely to be liked and shared compared to any other type of content on social media.

4 out of every 10 mobile user uses Facebook messenger.

Mobile is responsible for 91 percent of Facebook's ad revenue.

Social media influences the shopping activities of 23 percent of online shoppers.

30 percent of online shoppers are willing to purchase a product on social media sites.

Social media ad spend is expected to overtake newspaper ad spend by 2019.
Resources and statistics used in this post