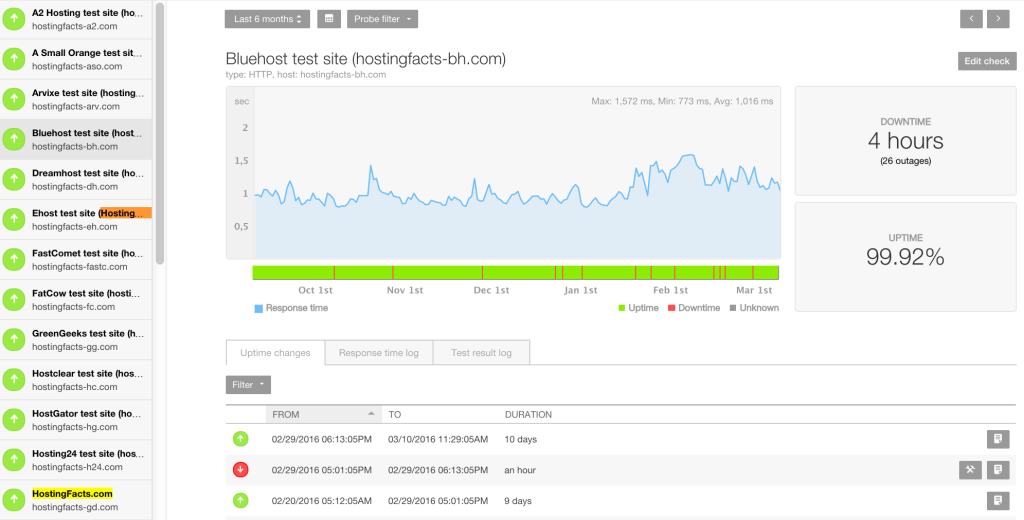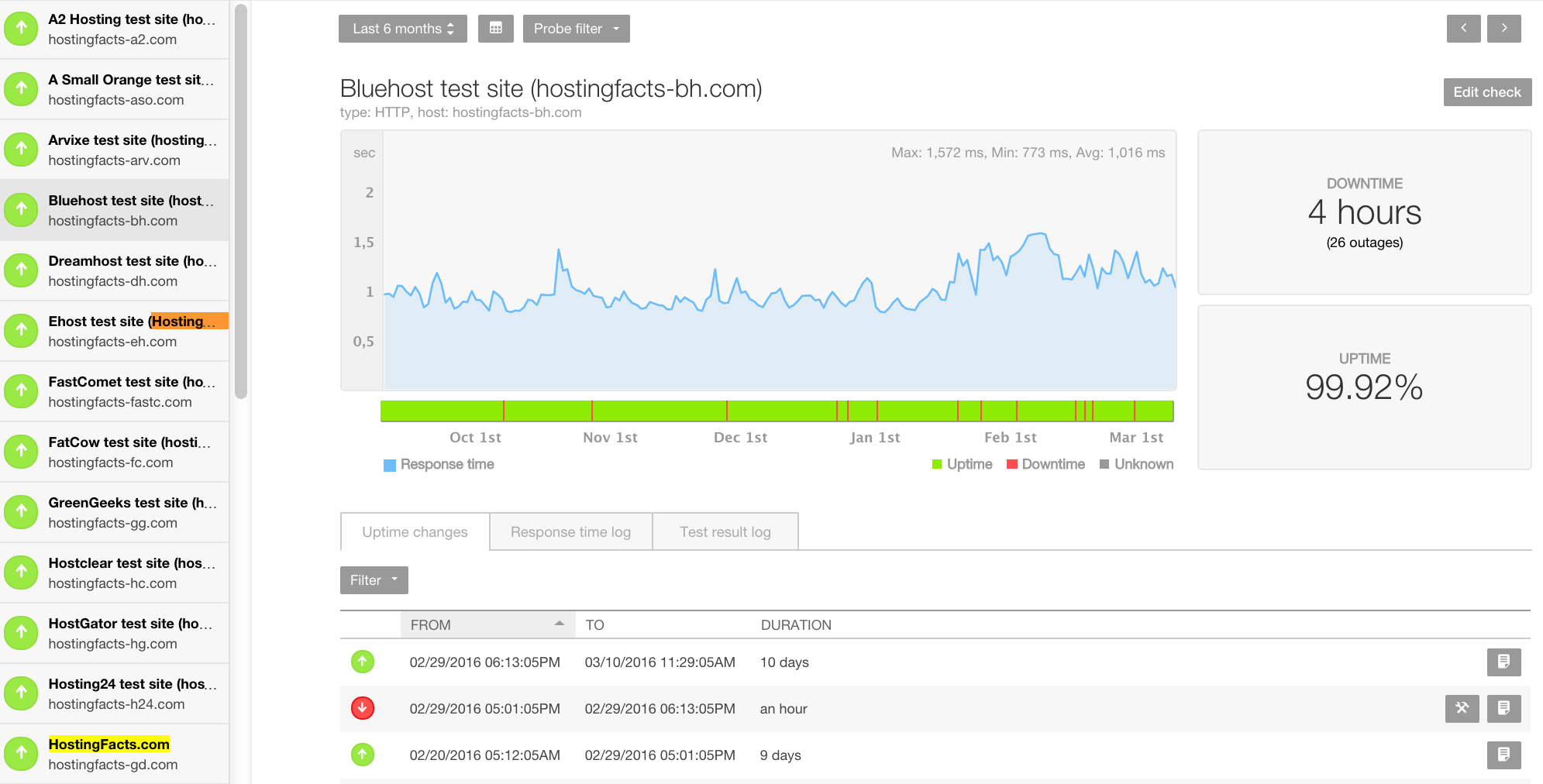 Do you want to keep an eye on your site performance?
Maybe you want to see if you're truly getting that 99.99% uptime as your web hosting provider promised?
Or perhaps you're worried that your site isn't fast enough?
Well, hold up – we've got a solution for you. That's where website monitoring services can come in handy. With these tools, you can see where your website's strong and weak points are, which helps you improve your site and boost conversion rates. Awesome, huh?
Below, we take a look at some of the best FREE and PAID website monitoring services that you can start using right away. We took a day off and decided the test all of them. Let's start with FREE ones:
7 Best Website Monitoring Services
1. Uptime Robot (Free Version Available)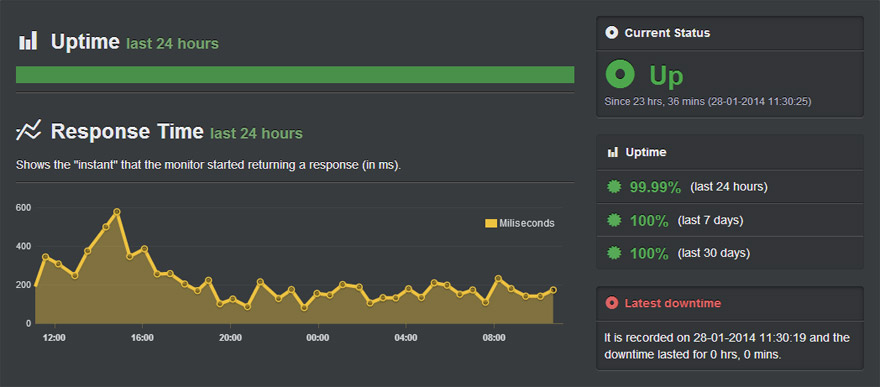 Cost: $0 (including 50 monitors, 2 months of a log, 5-minute monitoring intervals)
Premium: $47.83/mo (including 1000 monitors, 24 months of logs, 1-minute monitoring intervals, and 160 SMS credits)
You can choose a Premium Plan which comes with anywhere between 50 to 20 000 monitors. Each plan comes with a higher number of SMS as well. The higher the number of monitors, the higher the cost.
If you're looking for a completely free solution, Uptime Robot is a good place to start. It was launched in 2010 when its developers set out to create a free tool for everyone. They promise that it will continue to be free, with prices only added for any premium features they develop in the future.
This tool will check in with your site every five minutes and alert you if there's any downtime. Although it works well, it lacks the larger operations you'll see with premium options. For example, Uptime Robot has main monitoring in Dallas, USA, with a few others scattered throughout the world, but premium monitoring tools typically have 40-50 server locations to monitor and verify your site's downtime.
When you sign up for a free account, you'll also get two months of logs so you can keep an eye on how your site has changed over time. You can also monitor up to 50 websites for free.
Uptime Robot is a good tool available at no cost to you, even though some users complain about the limited features, such as no manual alert testing. You also won't get page speed insights like with some paid website monitoring tools.
2. Montastic.com (Free Version Available)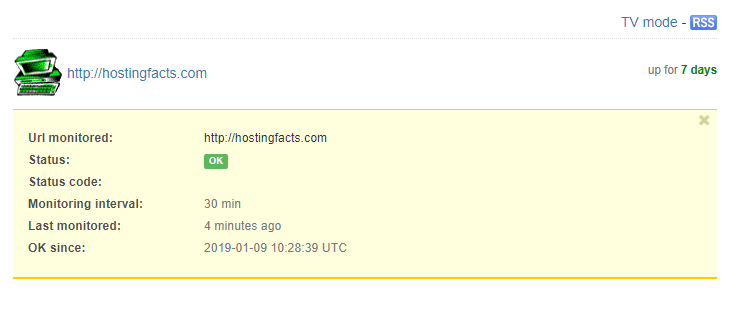 Cost: $0 (including 9 monitors, 30-minute monitoring intervals)
Premium: $49/mo (including 500 monitors, 5-minute monitoring intervals)
There's also a variety of different plans between the free and the $49/mo account. You can choose the features depending on your company size and needs.
Montastic is another tool popular among webmasters seeking a free solution. Though it's pretty basic, it is helpful for individuals and smaller businesses who are simply looking to be alerted when their site goes down. Unlike other providers on the list, Monastic doesn't exactly have a dashboard – they keep it very basic and simple with only notifications when something goes wrong.
Montastic will check in on your site every 30 minutes, which isn't necessarily great compared to the five-minute intervals offered by other free services, but you can upgrade to get more frequent intervals and URLs to monitor.
Montastic will email you both when your site goes down and when it comes back up. You'll also be able to see keyword presence or absence verification on a web page; it gives support for any port number; and it features widgets for Mac, Windows, and Android.
Although Montastic isn't as powerful as some other website monitoring tools out there, it does deliver enough features to make the free service worth it for small sites that may not need extra options.
3. Pingdom.com ($45.95/mo and Up)
Cost: $45.95/mo (including 50 monitors, 1-minute monitoring intervals, public status page)
Premium: $249/mo (including 250 monitors, unlimited months of logs, 1-minute monitoring intervals, multi-user access, and public status page)
There is one other plan between the Standard and Premium (Professional) accounts. Advanced plan price is $89.95/month and it includes 80 monitors. Pingdom also offers an Enterprise plan which offers from 500,000 to 5 million pageviews a month.
If people can't access your website at certain points throughout the day, then you're losing sales and search engine rankings. Unfortunately, you can't manually monitor your site's uptime at all hours, and that's where Pingdom's tools come in handy.
Although Pingdom offers some free tools, such as a website speed test, where it really shines is in its premium features. Pingdom can help you analyze your website's uptime and performance by testing your site from servers across the world and alerting you if there's an issue.
Pingdom also helps you improve user experience by delivering feedback from real users and analyzing performance factors such as website speed. They'll also help you pinpoint any causes of problems to help you resolve them quickly.
Overall, it's a powerful, reliable tool for smaller businesses on a budget, but some users complain that it puts little emphasis on mobile traffic, has unreliable SMS capabilities, and lacks monitoring servers in Asia-Pacific. We also use Pingdom to monitor the best hosting providers.
4. Monitis.com (15-Day Free Trial Included)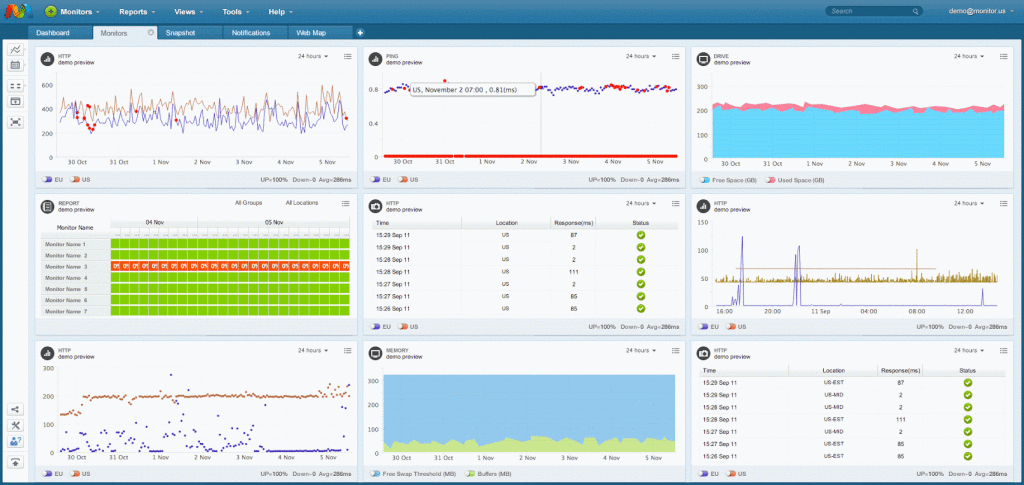 Cost: $1.60 (including 2 monitors, 24 hours of a log, 1-minute monitoring intervals)
Premium: $120/mo (including 100 monitors, 3 monitoring locations, 1-minute monitoring intervals)
If you sign up with their annual plan, you get a 20% discount.
You can customize your own plan by choosing among the features below. Therefore plans can range anywhere from cents up to hundreds of $$$ per month. It really depends on your needs, what you want to achieve and your knowledge and skills.
Monitis.com is a all-in-one IT solution based on the cloud that will check in on your site every five minutes. It boasts the best user experience for your visitors and offers a range of website monitoring tools all available on one dashboard. This tool is packed with features, making it easy to predict issues before they happen and easily solve them if they do. With it, you can monitor:
Website uptime: Track uptime, response time, and performance from multiple locations worldwide.
Server health: Detect bottlenecks before they arise.
Network performance: Monitor multi-site networks, and receive notifications of any failures.
Custom metrics: Customize your unique monitoring needs.
Monitis.com advertises that by using its service, you can improve uptime, eliminate hassles, optimize user experience, and grow your client base. Plus, it's available in English, Portuguese, Spanish and German languages.
Overall, it's a great tool packed with numerous features.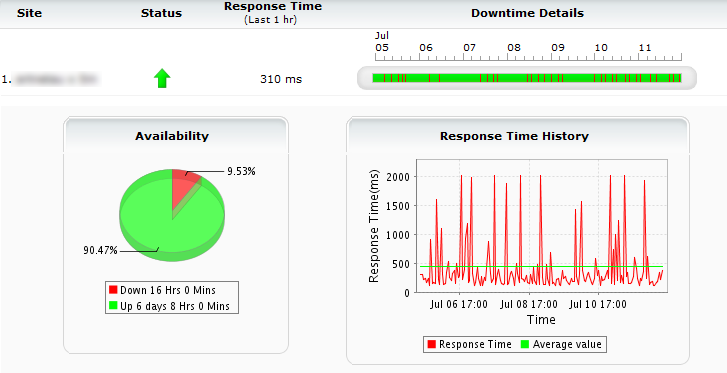 5. Site24x7.com ($9/mo and Up)
Cost: $9/mo (including 10 monitors, 1-minute monitoring intervals, 50 SMS credits)
Premium: $89/mo (including 100 monitors, unlimited months of logs, 1-minute monitoring intervals, multi-user access, and 250 SMS credits)
Similarly to others, Site24x7 also offers plans and add-ons between the small and the premium plans. It all always depends on your needs and goals. Additionally, there's an Enterprise plan starting from €225/mo.
Site24x7 is a powerful tool that provides a website, network, server, and application monitoring. Like with Pingdom, Site 24×7 uses real user monitoring to deliver user feedback.
With it, you can:
Analyze individual load times of various components on your site
Monitor web applications using a real browser
Monitor Internet services
Test resources behind your firewall
Analyze CPU usage, memory, disc processes
Receive instant alerts during downtime
Download reports you can share with your service provider
Site24x7 also provides mobile access so that you can monitor your site or application from anywhere. One benefit Site24x7 has over Pingdom is that it's available in a variety of languages, including Chinese, Dutch, English, Finnish, French, Italian, Japanese, Polish, Spanish, and Swedish, making it ideal for users across the globe.
Overall, users have stated that they enjoy the range of features, but some have received false alerts on occasion. Beware that once you sign up with them, you'll be spammed hourly by their system about your webpage status. Another benefit Site24x7 has going for them is their affordable prices.
6. Uptrends.com ($14.95/mo and Up)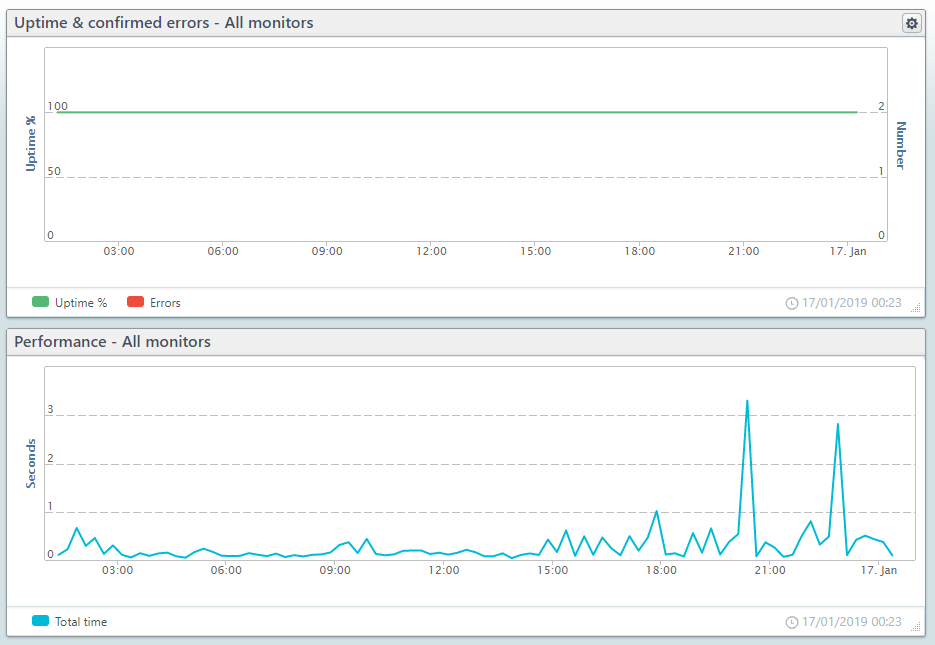 Cost: $15.02/mo (including 10 monitors, 1-60-minute monitoring intervals, 60 SMS credits, 1 website real user monitoring)
Premium: $210.34/mo (including 250 monitors, 1-60-minute monitoring intervals, 600 SMS credits, 50 websites real user monitoring, multi-user login)
There are other plans as well. Uptrends offers Business and Enterprise packages which start at $35.98/mo and $65.10/mo respectively.
You can completely customize the package by choosing your own features from top to bottom including:
Monitoring Interval
Amount of monitors
Multi-Browser Monitoring options
Transactions on your website
Real User Monitoring
Multi-user login
Advanced Dashboards
Phone support
The latter is for larger companies and for users who know what they're doing. There are a few extra services for analysts and marketers which really give some useful data about customer behavior, website efficiency, acquisition percentage, etc.
Overall, Uptrends is a good monitoring service for larger businesses, especially with their built-in gadgets for statisticians. For individuals, however, it could be a bit costly and there might be better options to choose from above.
7. Host-Tracker.com (30 Day Free Trial)

Cost: 30-day free trial
Premium: $14 (10 sites, 5 min interval) to $99 (150 sites, 1 min interval) per month and includes SMS notifications.
HostTracker is a website monitoring service that offers a wide choice of testing instruments. The possible applications are various. Simple multi-protocol monitoring can help to keep an eye on a personal site, local network or file server. It could also warn the client if his domain or SSL certificate is about to expire, or if the site has been listed in DNS blacklists for some reason. Business clients and web developers might be interesting in instant alerts with basic error diagnostic, statistics collection and reporting, response time monitoring, content check, monitoring of server parameters, database monitoring and many others features, which are designed to monitor and improve performance of the sites, by helping to detect and fix the problems rapidly. Advanced features include API, bulk operations with hundreds of monitored sites, maintenance schedules, etc.
HostTracker also owns a huge distributed monitoring network – more than 60 locations on all the continents will show how the site performs from a specific country or region of the world.
No software installation is required (only for some specific features), the collected statistics could be protected or easily shared in various ways on the web. Notification methods are available: email, SMS, Skype, Hangouts, voice call, HTTP post request.
In addition, they are flexible and could be extended for an additional cost.
What's the Verdict? Which One Should We Pick?
There's really no way to say which website monitoring service is better than the others because it all depends on what your goals are with your website.
From our experience, the best free option would probably be Uptime Robot. It has enough flexibility/features and can monitor up to 50 websites with a 5-minute interval. We couldn't find any better free website monitoring service. So if you're just testing the waters and aren't sure if you really need one, go ahead and try them out.
The most bang for the buck you'd probably get from Site24x7, but we love the Pingdom user interface more, so it's completely up to you. Luckily, they both have a free trial option which you can check out.
One thing is for sure – Premium website monitoring tools will offer more features and reliable data to help you improve your site. If you're serious about website monitoring, establish a budget so you can take advantage of these tools.
We're not saying that the free tools are bad, though. In fact, they're great if you don't need all the bells and whistles. You can start with one of the free tools mentioned here, and if you feel you need a look at the "bigger picture," consider a premium plan for monitoring your site performance.
Have you used any of the tools above? Let us know by leaving a comment 🙂