Choosing the right WordPress managed host is important from the get-go.
Whether you want to scale your WordPress website or improve its performance and speed, it's wise to choose an option that is both fast and reliable (no downtime), as well as unlimited (no maximum visits or bandwidth limits).
Last, but not least – many "managed" WordPress hosts don't come with the obvious cPanel or Plesk, but rather have their own built-in admin dashboard – which is often very confusing and difficult to grasp for the vast majority of users.
Here's What We Reviewed
1. Cost and Plans
Dedicated WordPress hosting providers' cheapest plans can range from $3.95/mo all the way up to $99/mo, depending on the host and their offer. It's also worth noting that some providers charge their users for overuse, which is usually $1 or $2 per 1,000+ visits.

Last, but not least – some providers can mislead you with deceptive pricing. It's common practice to have higher renewal fees compared to your initial signup rate.
2 – Server Speed and Uptime
Since most providers offer a 30-day money-back guarantee, it's wise to check their uptime and speed over a period of 1 month.
We, at hostingfacts.com, have signed up with ~40 different hosting services. Please note that we don't have access to all the different plans of each host – we only have access to 1 plan on their server (usually the cheapest option).
Therefore, take the reviews with a grain of salt. Nevertheless, if a web host's uptime is already failing on their cheapest plan, it probably won't get any better if you upgrade to a more expensive plan.
3 – Features and Admin Dashboard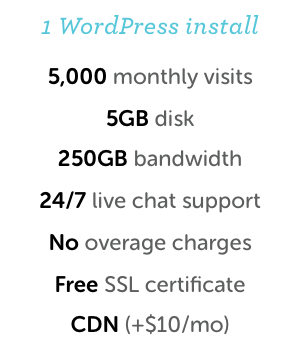 Each WordPress hosting plan comes with different features and limitations.
Most plans are limited to any:
A) Maximum number of visits
B) Storage and/or bandwidth
C) Maximum sites
On a good note – most of the WordPress managed hosting options offer free CDN and SSL. Some even offer free site transfers.
If you are used to cPanel – keep an eye on the admin panel included in the offer, as nearly half of the managed hosts come with a custom built-in admin panel which can get confusing at times.
To help you gauge this, we've added all the screenshots of their back-end.
4 – Support Quality (and Availability)
Last, but not least – don't forget the support. While most dedicated hosts offer 24/7 live chat, some of them only offer phone chat. To help you out, we tested out their customer support representatives by asking a couple of questions while measuring their response time.
Without further ado, here are the top 7 WordPress hosts:
1. Kinsta.com | $30/mo+ | Best Server Speed
Pros: Best server performance, reliable uptime, free site transfer
Cons: Medium pricing
It's fair to say that Kinsta is speed-obsessed.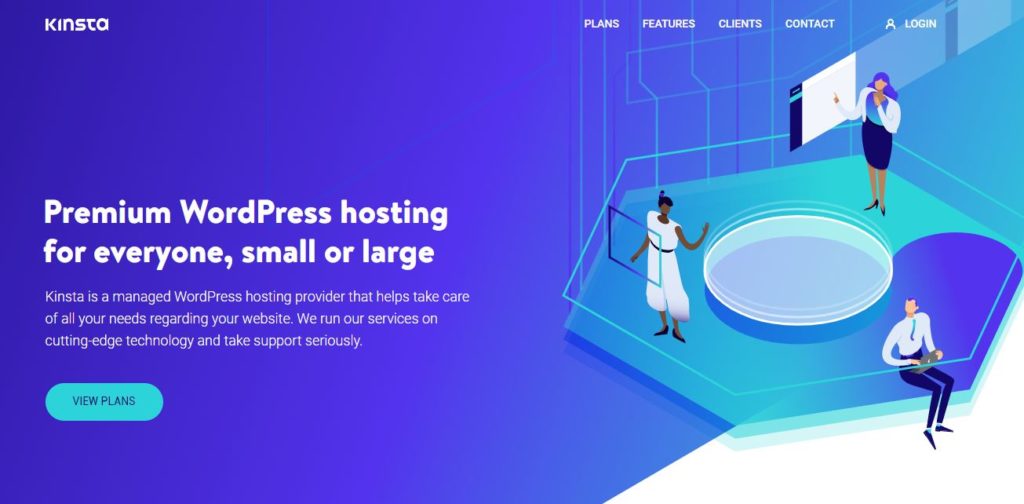 They say so right on their homepage, boasting technologies like Nginx, PHP 7, LXD containers, and MariaDB. Basically, all of these technologies together help balance how resources are managed to provide the quickest load times possible for visitors, where-ever they might be sitting around the world.
That doesn't mean they skimp on security, though. They also monitor uptime constantly (up to 720 times a day), will internally scan for DDoS attacks and use firewalls to keep your sites safe.
You can already use Google's Cloud Platform too, across their 20 data centers.
Kinsta will migrate your sites for free, throwing in both SSLs, CDNs, and daily backups.
Pricing and Plans
Kinsta has a lot of plans to choose from.
However, they're pretty easy to understand because they're broken down by:
WordPress installs
Monthly visits
SSD storage
For example, the Starter Plan will cost $30/month for one site, up to 20,000 visits, and 10GB of storage. The next plan, Pro ($60), gives you two websites up to 40,000 visits and 20GB of storage. Then, you move into the Business ($100/mo) and Enterprise Plans ($600) for companies hosting lots of different websites, each setting you back hundreds of bucks a month.
Kinsta Uptime and Speed
Our site (hostingfacts.com) runs on Kinsta along with Cloudflare Business CDN. So take these results with a grain of salt, because without the CDN it could be a little slower.
Last 30 days average uptime:

100% (with CDN)

Last 30 days average load time:

222ms (with CDN)

December to January Uptime for Kinsta
Kinsta Admin Panel and Features
Kinsta's admin panel provides an overview of all your sites. That includes resources you're using, data being transferred and even unique visits.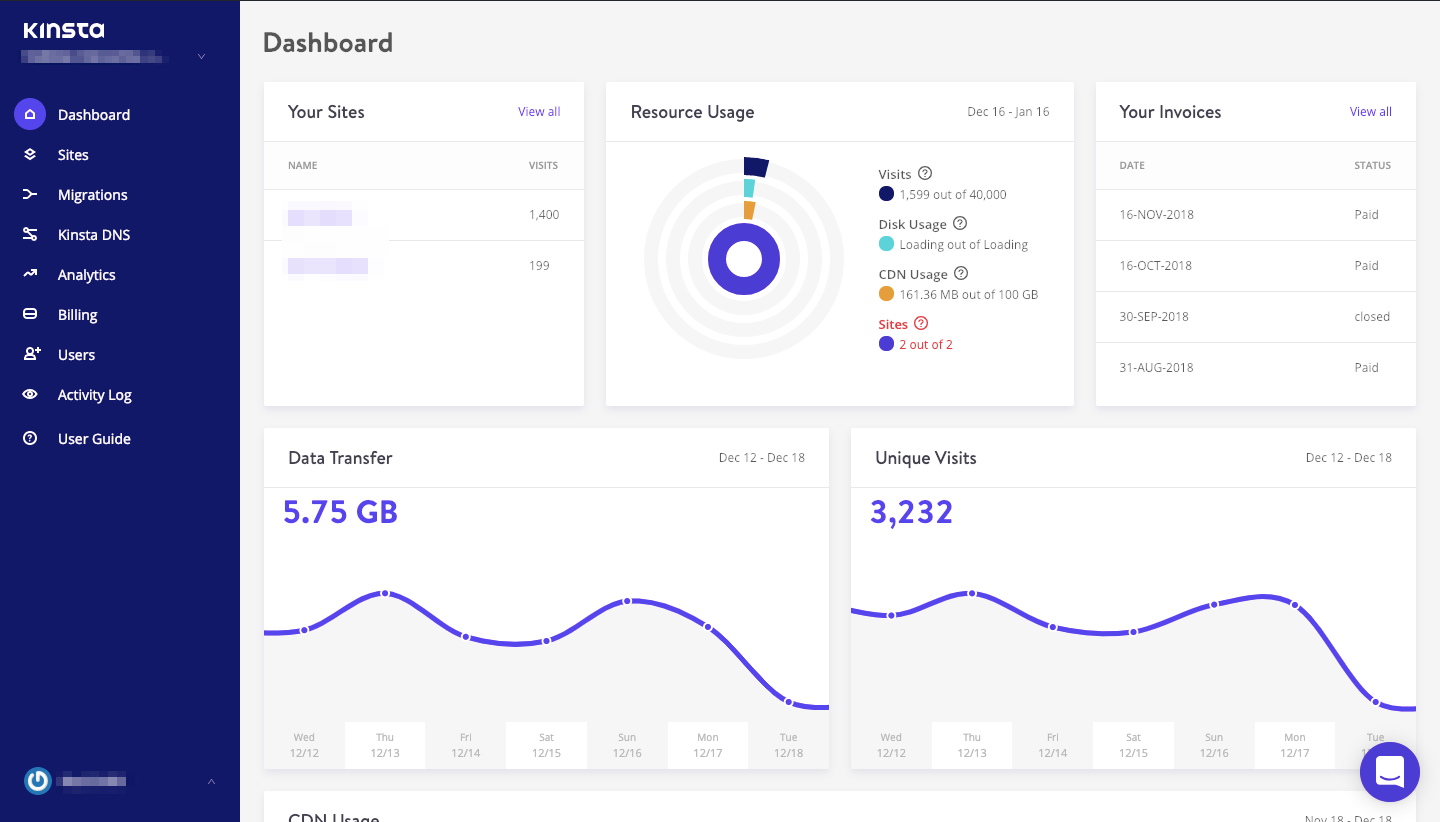 You can drill down into each site, pulling up basic information like your data center or its external IP, to more advanced information like database access.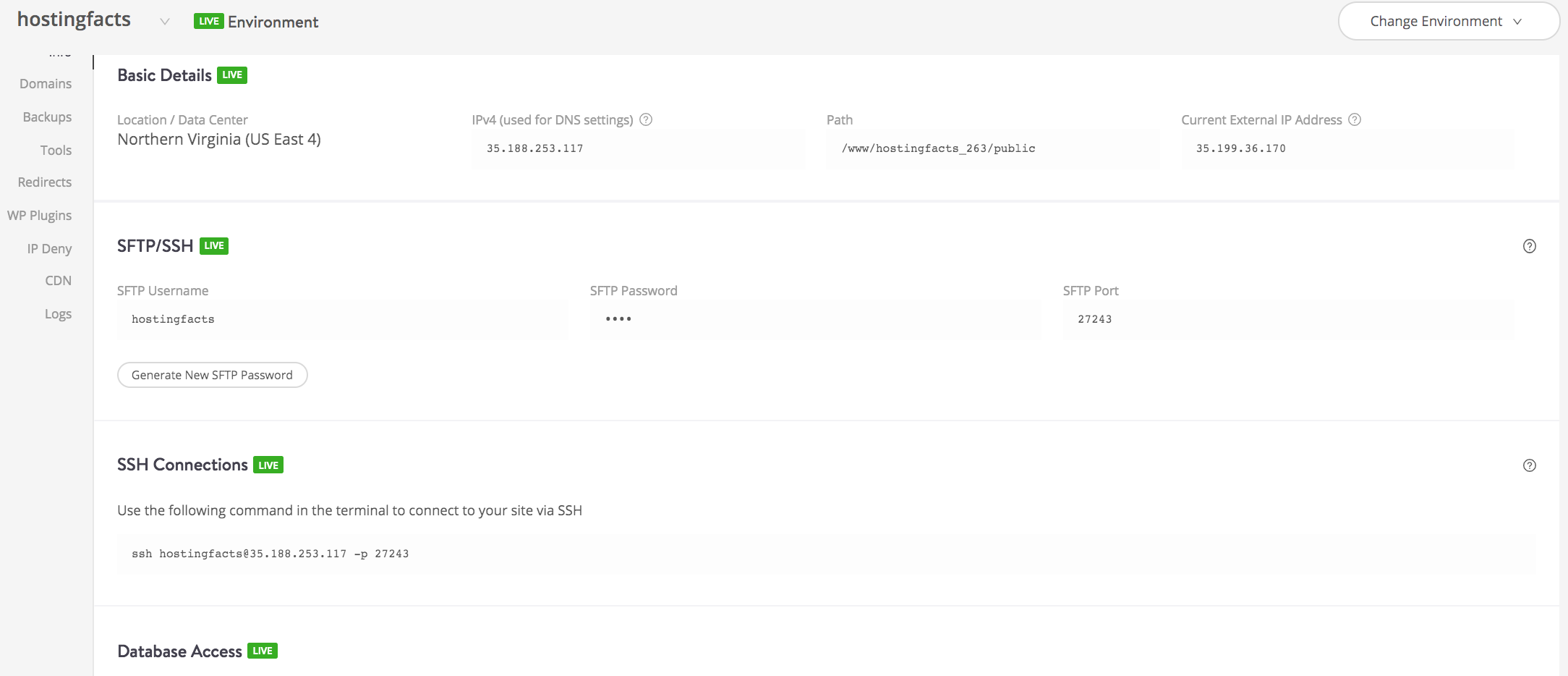 Support Quality
Kinsta's live chat reps respond within seconds from connecting.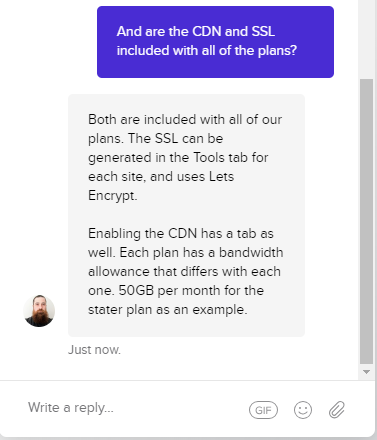 Our rep, David, easily answered questions around how migrations work and how many are included under each plan option.
Each response only took a minute or two. David was able to also point out how to enable both SSL and CDN on each account.
Kinsta Conclusion:
Maximum sites:
1
Max. v

isits/mo:

20,000

Max. storage:

10GB

Max. bandwidth/mo:

50GB

SSL:

Included

CDN:

Included

Overuse billing:

$1 per 1,000 visits

Servers:

Google Cloud

Admin Panel:

Custom
Kinsta has best-in-class loading times.
Keep in mind that we use a few extra features on this site (like Cloudflare) to help make sure it loads instantly. But even despite that, Kinsta's included CDNs will help make sure your site is never, ever sluggish.
Over the past thirty days, uptime has been excellent.
The plans are a little on the expensive side when you compare it to the others listed here, starting at $30/month.
But if you plan on managing multiple sites, the Business and Enterprise plans help bring the cost-per-site down pretty quickly.
Support was great, and so too are the 'extras' included in each plan like migrations and SSLs.
Click here if you want to sign up with Kinsta or migrate your existing sites to them.
2. GetFlywheel.com | $25/mo+ | Best for Agencies
Pros: Good uptime and speed
Cons: Limited cheap plan
We hadn't heard of Flywheel but we're glad we did.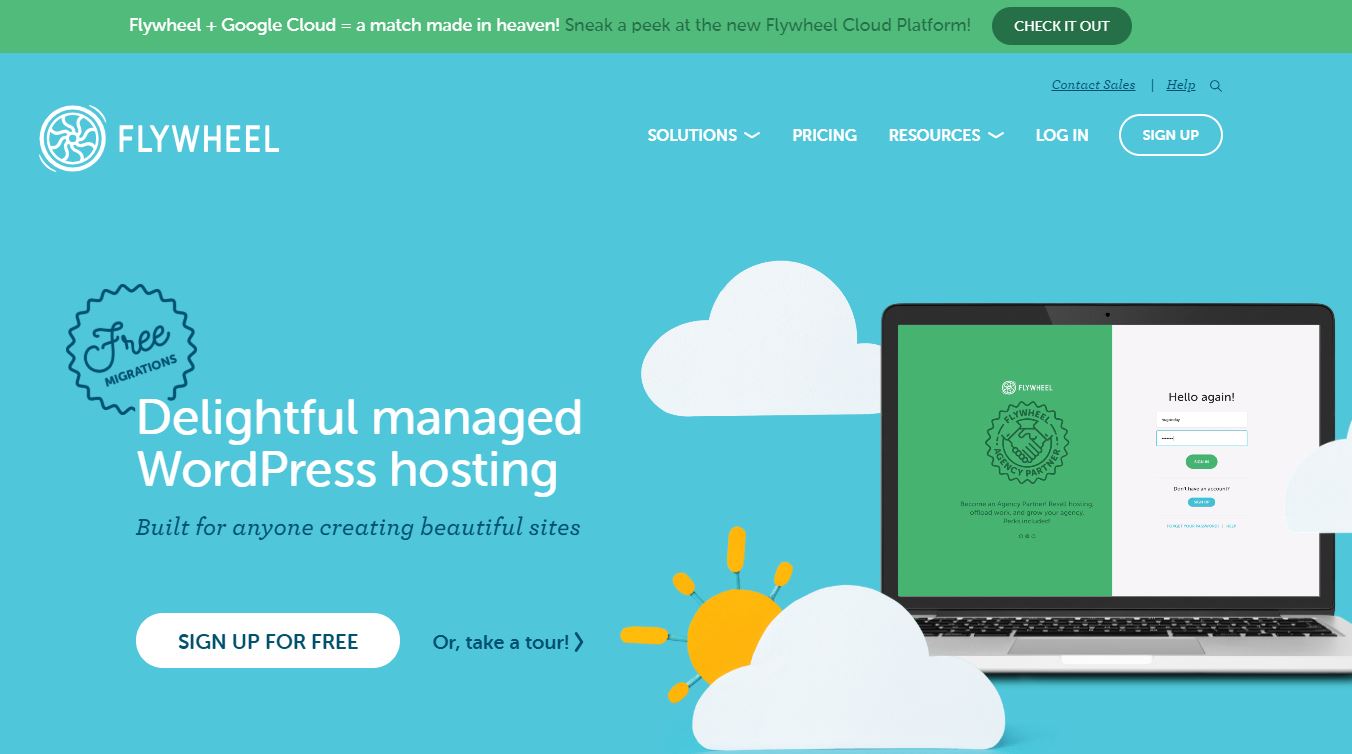 Their lower site limits and plans looked interesting after a first pass. And their low pricing finally convinced us to give them a shot.
This managed WordPress host provides a lot of the benefits you'd want from a bigger alternative, like rock-solid security (they'll even clean up malware issues for free!) to a hosting infrastructure that's built for speed.
You can choose to host your site on one of many data centers around the world. Backups are done for you every single night. And SFTP access is thrown in for power users.
There are free migrations to help you move websites from other platforms, and each site gets a free SSL certificate added.
Our favorite feature, though, just might be their white-label service (note: it's not included in their cheapest plan) and how the admin panel is set up to cater to your specific needs (more on this in a second).
Take a look for yourself:
Pricing and Plans
FlyWheel's cheapest plan supports around 25,000 visitors, and it'll set you back with ~$25/month.
Their Starter and Freelancer plan range from $23/month for 25,000 visits, 1 WordPress install and 5GB storage to $105/month for 100,000 visits, upt to 10 sites and 20GB disk respectably. Just keep in mind that these lower prices come at an annual payment. They also offer an Agency plan which supports up to 30 sites and 500,000 monthly visits.
Also a nice perk about their plans is that FlyWheel offers a personalized plan, where you can send out your quotation of how many visits, storage, bandwith and sites you need and they will make you an offer.
One thing to remember is that similary to other companies, FlyWheel also charges overages. The overage cost is $1 per 1,000 extra monthly visitors. For example, if you are on a Starter plan and receive 30,000 monthly visits, you'd receive an overage fee of $5.
FlyWheel Uptime and Speed
So far we've only monitored them for 30 days (compared to many others which we've monitored for years) and the results are very promising. We will keep updating them as we gather more data.
Last 30 days average uptime:

100%

Last 30 days average load time:

263ms (2nd in speed)

December to January Uptime for GetFlyWheel
FlyWheel Admin Panel
FlyWheel's signup process is easy, but they ask a few questions to identify how you're using their service.
Initially, we thought these were throwaway answers. We just assumed they would be added to our account to help them segment people later on down the road.
So we marked "Agency" because it was the first option in alphabetical order, and didn't think about it again.
Until we logged in and discovered that the entire admin setup was customized just for us.
The initial home screen touted all the ways to use our new account for setting up multiple sites for multiple clients.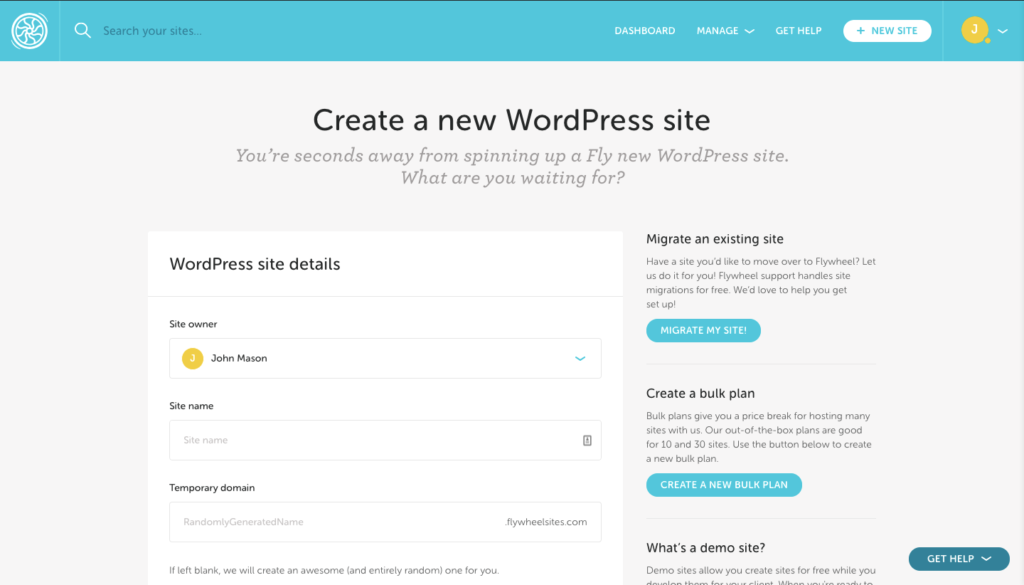 Because our setup was customized for agencies, they also suggest setting up a demo (or staging) site to set everything up for each client, before pushing it live.
And the best part about this entire process is that they will allow us to pay directly (if you were marking up invoices for hosting), or you can allow the client to pay for the site directly (so you're not on the hook to pay things for them).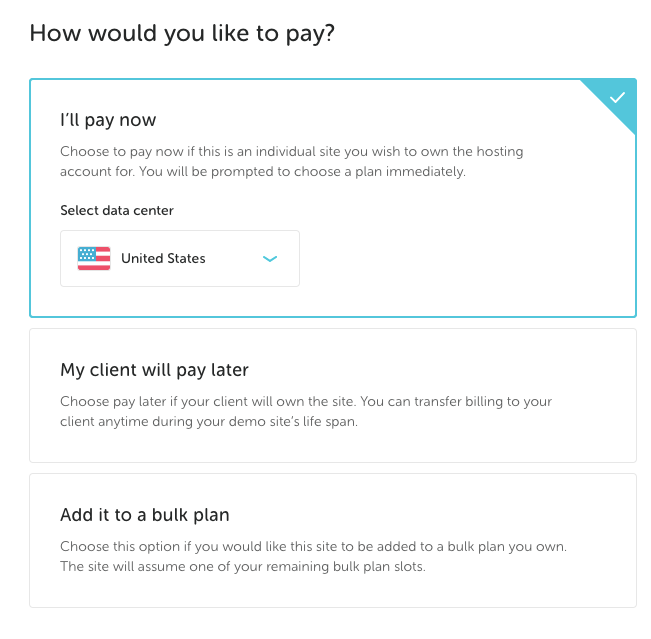 Support Quality
FlyWheel's support rep connected almost instantly on two separate occasions.
The first time we asked about migrations and basic plan features. Taylor knocked those out of the park within seconds.
On the second occasion, we tried to stump Chelsea with a question about the in-development "auto-healing technology." But once again, she handled it with ease, answering quickly and friendly.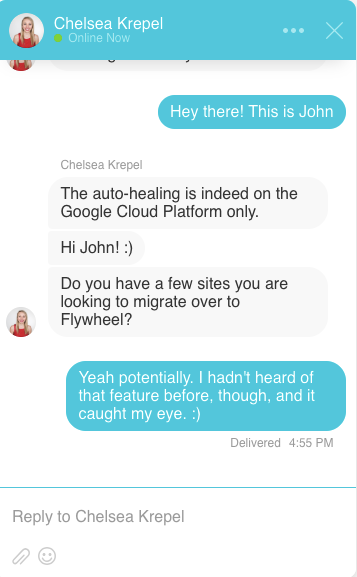 For a relatively 'unknown' brand, their support experience was nothing short of excellent.
Flywheel WordPress Managed Conclusion:
| | |
| --- | --- |
| Maximum sites: | 1 |
| Max. visits/mo: | 25,000 |
| Max. storage: | 5GB |
| Max. bandwidth/mo: | 50GB |
| SSL: | Included |
| CDN: | Included |
| Overuse billing: | None |
| Servers: | Google Cloud |
| Admin Panel: | Custom |
You get all of the primary features, like free migrations and SSL for each site and CDN. Disk space, bandwidth, and total visits for each plan benchmark almost exactly to what you'd get with WPEngine. FlyWheel might be a relative newcomer on the managed WordPress hosting scene (compared to the other industry titans on this list), but they delivered well across the board.
The silver lining in the features is for agencies. This kind of one-website account setup is ideal for someone trying to manage multiple sites for multiple organizations, where each might have different billing arrangements.
Click here if you want to sign up with FlyWheel or migrate your existing sites to them.
3. Bluehost.com | $20/mo+ | Most "Unlimited" Hosting
Pros: No restrictions, reliable servers
Cons: Higher renewal prices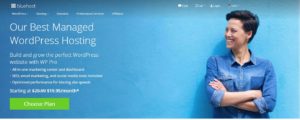 Bluehost needs no introduction. They've been around since the beginning.
Their managed WordPress option, though, still offers an impressive number of options for site owners.
First off – you get unlimited websites. You also get unlimited domains, subdomains, and web storage.
Yes – unlimited everything!
There aren't any traffic limits on their solid-state drives (SSD), and each site comes complete with an SSL certificate and a staging server.
Bluehost also throws in a 30-day money-back guarantee just to be safe, too.
Here's how their pricing stacks up:
Pricing and Plans
Bluehost doesn't have any traffic limitations and offers unlimited everything. So it's a little hard to make an apples-to-apples comparison with other competitors listed here.
However, there are a few key differences to note.
For example, the Build Plan will cost $19.95/month and provide access to over 100 premium themes, daily backups, and malware removal.
The Grow Plan is $29.95/month and will add things like video compression (for up to 10GB), Jetpack Ads integration, and a few other marketing-related features (SEO and review tools).
The Scale option, meanwhile, is priced at $49.95 and tailored for e-commerce brands. You get PayPal integration and unlimited video compression for
Bluehost Uptime and Speed
Over the last 30 days, we've seen a perfect uptime and an impressively pretty quick loading speed. We've monitored Bluehost for years but currently, we're just going to use 30-day data to keep it fair with others (their uptime and speed is very impressive over longer periods).
Last 30 days average uptime:

100%

Last 30 days average load time:

424ms

December to January uptime for Bluehost Shared Hosting
Both of these results are outstanding, good enough to instantly place them towards the top of our rankings (after reviewing over 30+ other hosts).
Bluehost Admin Panel
Bluehost's admin panel is easy to use, featuring your main options on the left-hand side toolbar. Click on each one, and submenus pop up in the middle of your screen to control themes, plugins, users, and updates for each site.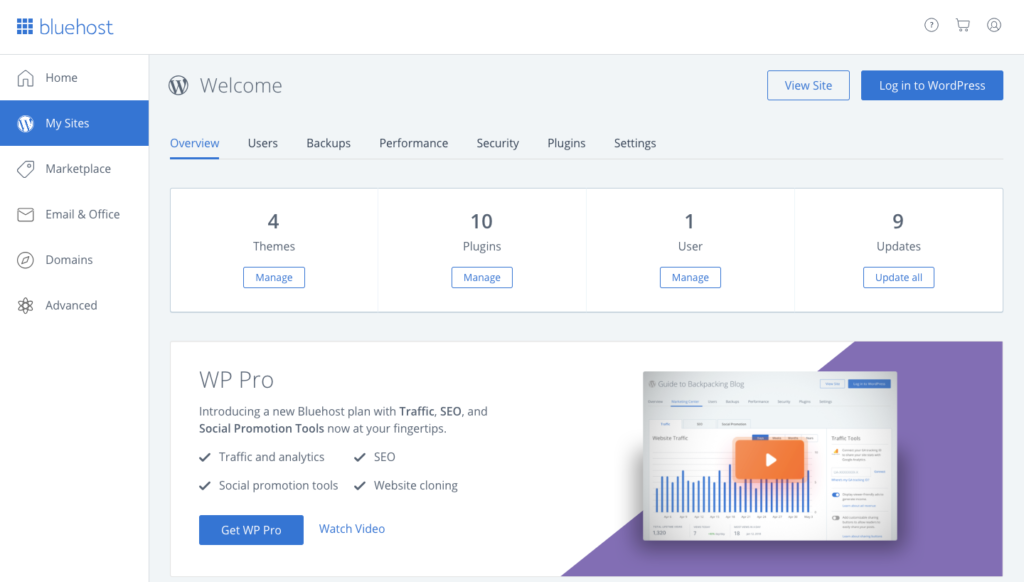 They have a simple point-and-click interface, so you can dive deeper into the technical aspects without getting stuck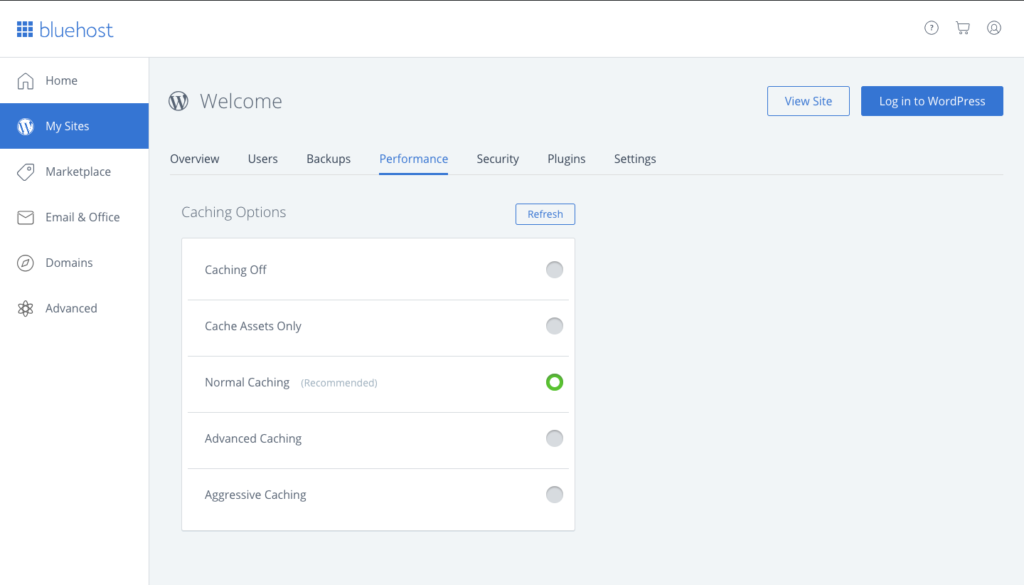 Support Quality
Bluehost's live chat worked within a seconds. Our rep, Deepak, quickly knew exactly how their servers were set up and where they were located.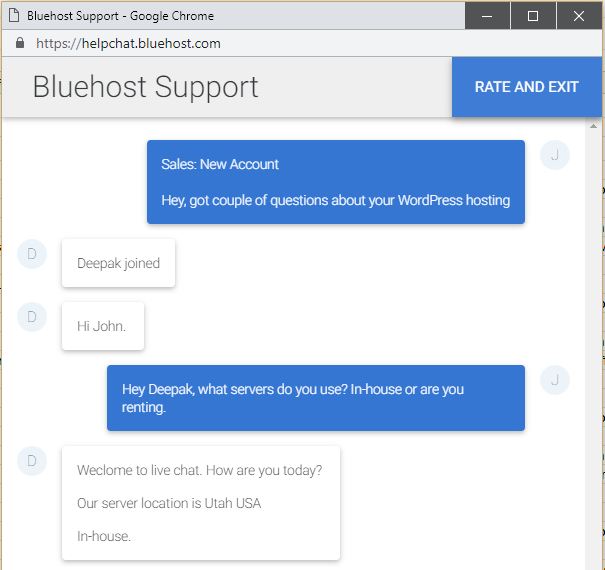 They were also direct on tricky questions, like whether they provide free migrations (answer: they don't). Each reply took only a few seconds, so it seems like you could easily hop on live chat to fix most issues.
Bluehost WordPress Managed Conclusion:
| | |
| --- | --- |
| Maximum sites: | Unlimited |
| Max. visits/mo: | Unlimited |
| Max. storage: | Unmetered |
| Max. bandwidth/mo: | Unmetered |
| SSL: | Included |
| CDN: | Limited |
| Overuse billing: | None |
| Servers: | Own |
| Admin Panel: | cPanel |
If you plan on hosting multiple sites that you own, Bluehost might be your best bet.
It provides unlimited everything (websites, domains, storage, traffic, etc.), along with SSLs and staging environments for each site, too.
All for one low, competitive price.
The biggest gripe we have with Bluehost is that they won't migrate your sites for free.
And unlike FlyWheel's billing flexibility, these Bluehost plans might not be ideal for someone managing multiple sites for other people.
Click here if you want to sign up with Bluehost or migrate your existing sites to them.
4. WPEngine.com | $30/mo+ | Great Support
Pros: Great support, easy to use admin panel
Cons: Overuse pricing, uptime not 100%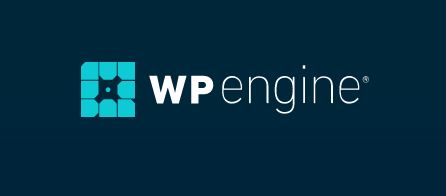 WPEngine, the Austin, Texas-based provider has just about everything you could ever want or need in a managed WordPress host.
Seamless migrations and onboarding? Check! The entire process is largely automated so you don't have to lift a finger.
Development-friendly? Check! Everything from built-in integrations to staging and SFTP will make development teams smile.
Plugin updates and backups? Check! You can largely set-and-forget site maintenance.
Fine-tuned for performance? Check! Each site account comes with a CDN and SSL.
Themes? Check! They acquired StudioPress which was founded on one of the best WordPress frameworks in the business, Genesis.
If we had to pick out a few problems, there does seem to be some security concerns historically. A few years back in 2015, there was a security breach where 30,000 contact information was stolen. A brief scan through Twitter reveals some complaints about downtime.
Here's what we found:
Pricing and Plans
WPEngine offers three main plans: Startup, Growth, and Scale.
They all come with 60-days money-back guarantees.
The startup plan costs $35/mo and comes with 1 site, 10GB storage, 50GB/mo bandwidth, and a maximum of 25,000/mo visits. If your site is anywhere close to those traffic numbers now, you should upgrade to avoid the overage charges.
The growth plan costs $115/mo and comes with 5+ sites, 20GB storage, 200GB bandwidth, and a maximum 100,000 visits/mo. In addition, you'll get 24/7 phone support (which isn't included in the startup plan).
Scale plan costs $290/mo and comes with 15+ sites, 100GB storage, 400GB bandwidth, and a maximum of 400,000 visits/mo. This is the way to go for high-traffic sites.
They also have custom plans available for even larger sites or packages of sites.
All of their plans come with free SSL and CDN. You'll also get access to their 24/7 live support. Renewal prices will repeat at the same monthly plan you're using. In other words – no massive price hike.
WPEngine Uptime and Speed
We've been monitoring WPEngine speed and uptime through Pingdom for over a year. Since we don't have this much data for FlyWheel and LiquidWeb, we only compare the last 30 days:
Last 30 days average uptime:

>99.99%

Last 30 days average load time:

407ms

December to January Uptime for WPEngine
WPEngine Admin Panel
WPEngine doesn't use cPanel or Plesk, but its own custom-built panel that displays everything from features (like domains and CDN) to performance and resource stats (like bandwidth used over the past thirty days).
It's fairly straightforward and looks like this (when logged in):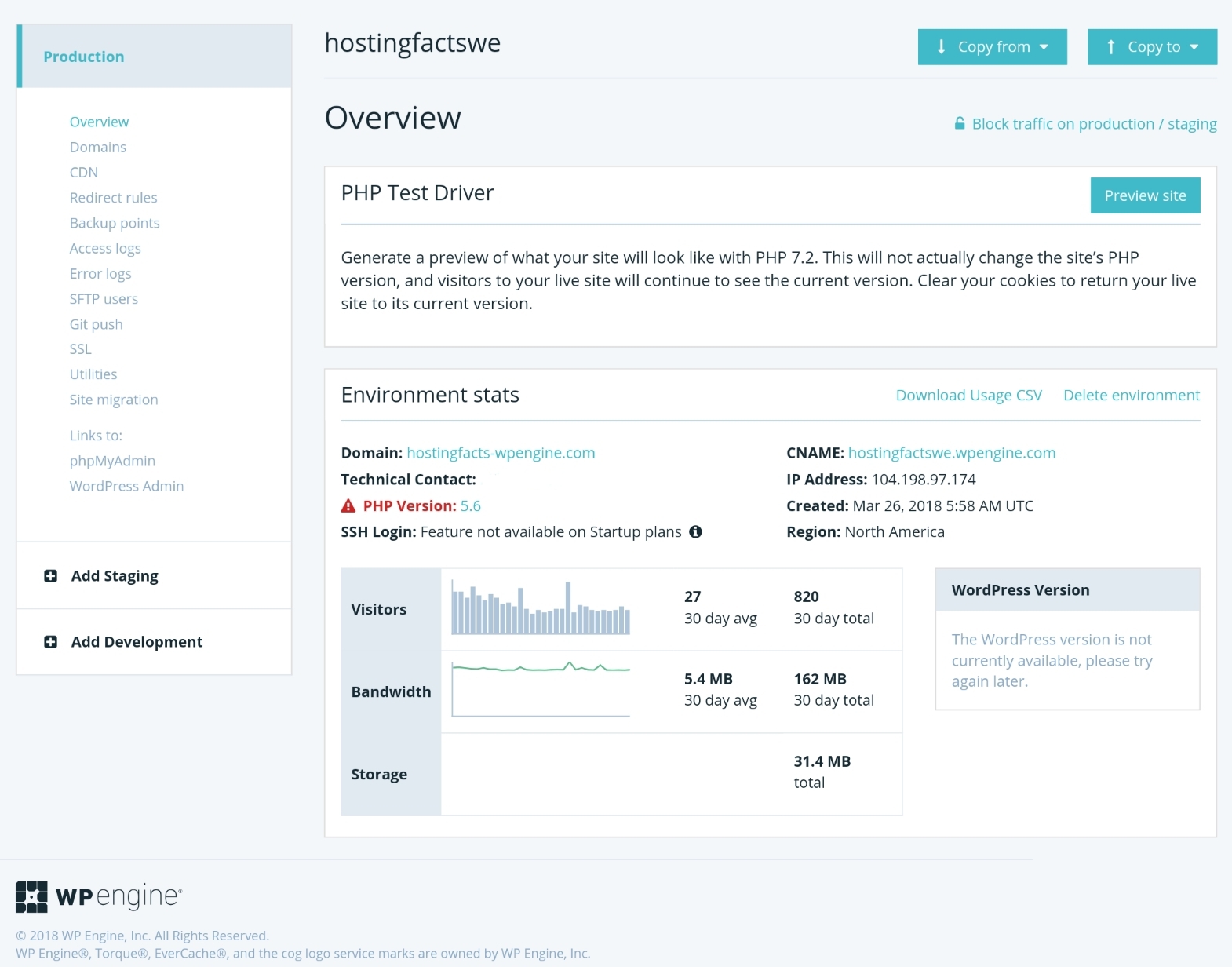 You (or your developer) can also get into more advanced features like staging and development environments, get access to PHPMyAdmin, access logs and more.
Support Quality
WPEngine's support experience was top-notch. They connected within two minutes and were able to answer all of our questions without long delays in between (like if they had to look something up at the last second).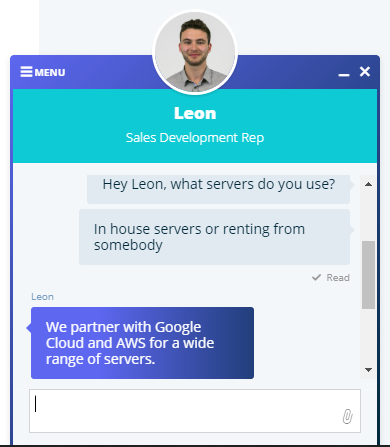 We also liked that they would think ahead. For example, when we asked about the migration plugin, they were automatically asking about the next few steps to try and understand my situation.
WPEngine Conclusion:
| | |
| --- | --- |
| Maximum sites: | 1 |
| Max. visits/mo: | 25,000 |
| Max. storage: | 10GB |
| Max. bandwidth/mo: | 50GB |
| SSL: | Included |
| CDN: | Included |
| Overuse billing: | $2 for 1000 visits |
| Servers: | Google Cloud / AWS |
| Admin Panel: | Custom |
They literally own the Genesis framework, so you have in-house access to some of the best WordPress theme resources on the planet. They will migrate and onboard everything for you, provide developer-friendly access to your entire hosting environment and even throw in performance-related boosts like CDN and SSL.
That means their performance is first-rate, posting almost 100% uptime and average page speed (407ms) over the past 30 days.
All of this, plus the competitive pricing compared to the rest of the market (for a number of sites, available resources, and traffic limits) is good enough to be in our top 7.
Just be aware of the costly overage charges of $2 per 1,000 visits. It might not sound like a lot, but a few unexpected viral spikes of traffic can really add up based on your starting plan.
Keep in mind that there have been security concerns in the past few years, too.
Click here if you want to sign up with WPEngine or migrate your existing sites to them.
5. LiquidWeb.com | $90/mo+ | Best for Scaling
Pros: Most robust servers
Cons: Uptime not 100%
LiquidWeb is ideal for managing multiple sites for clients or large organizations.
Their lowest plan, for instance, starts with 10 sites. it's a great deal for those who need it, but not so much for people who only have a site or two.
The other benefit for large companies with large sites is that there are no page views or traffic limits. That also means there are no potential overage charges, either.
You get automatic SSL certificates and daily backups that can restore an old version of your site with just a single click.
LiquidWeb is also tailor-made for more advanced users, too.
Developers get full server and database access, along with tools like SSH, Git, and WP-CLI. LiquidWeb also owns all its servers, as opposed to renting access from other data centers.
Pricing and Plans
LiquidWeb's offers four different plans starting at $29/month.
Their cheapest Personal Plan starts at 1 site, with 20GB of SSD storage, 5TB bandwith, for $29/month.
The Freelance Plan allows access for up to 4 sites, with 40GB of SSD storage and the same 5TB of bandwidth for $69/month.
While the Professional option adds capacity for 10 sites, 100GB of SSD storage for $99/month.
Their cheapest Business Plan offers up to 25 sites, with 150GB of SSD storage, 5TB bandwith, for $149/month.
The best part is that they don't charge for overages.
LiquidWeb Uptime & Speed
For the 30 days that we've been monitoring them, their uptime has been perfect.
Unfortunately, their average page loading times only came in at 632ms, which is the worst performance on this list. So we'd like to see them improve here. We will keep updating them as we gather more data.
Last 30 days average uptime:

100%

Last 30 days average load time:

632ms (worst speed in our top 7)

December to January Uptime for LiquidWeb
Admin Panel & Features
The first thing you notice after logging into LiquidWeb is that it's more developer-centric than many of the other options here.
The traditional setup doesn't have the same colorful graphics or one-click options.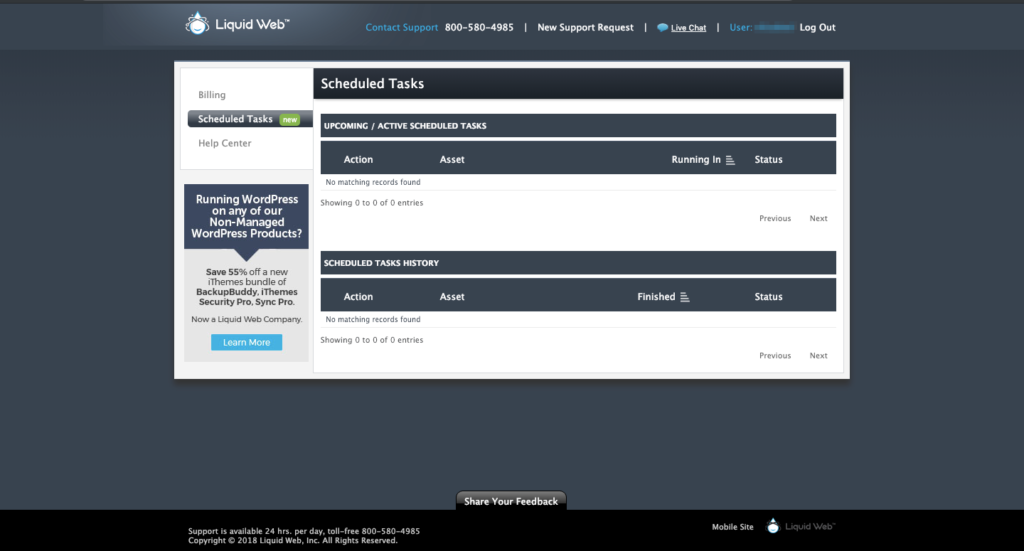 You can dive into more technical features for each site. But it's almost like asking for the price of an item in an expensive store: If you have to ask, you probably don't belong.
Support Quality
LiquidWeb's support experience didn't disappoint.
They connected within a minute and confidently answered our first query within seconds.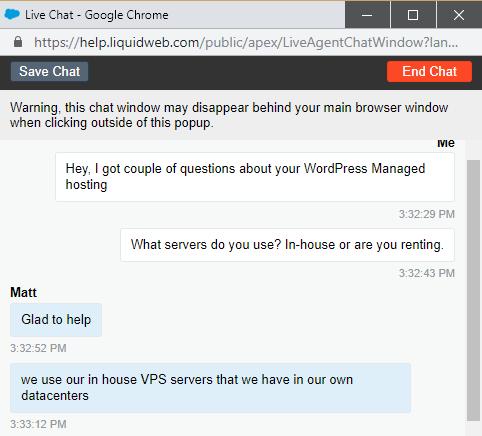 They also confirmed that free migrations, SSL, and CDNs are all available. Hence – even though the starting prices seem high initially, these freebies really add up when you do the math on what they'd cost you elsewhere.
LiquidWeb WordPress managed host conclusion:
| | |
| --- | --- |
| Maximum sites: | 1 |
| Max. visits/mo: | Unlimited |
| Max. storage: | 20GB |
| Max. bandwidth/mo: | 5TB |
| SSL: | Included |
| CDN: | Included |
| Overuse billing: | None |
| Servers: | Own |
| Admin Panel: | Custom |
Even though LiquidWeb now offer smaller plans that support 1-4 sites, we think that they are more perfect for the heavy hitters who need tons of resources across multiple sites.
That means one account will be perfect for a large organization with multiple sites.
Or – this might be the best option for an agency. You can host every client website and know the setup is legit. Plus, you can keep your own cost per site low and make additional revenue by marking up 'hosting' as a new line item on each invoice. In this case, it should more than pay for itself within the first month of service.
Click here if you want to sign up with LiquidWeb or migrate your existing sites to them.
6. HostGator.com | $6/mo+ | Best Cheap Option
Pros: Reliable servers, cPanel available
Cons: Higher renewal prices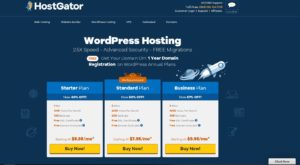 We didn't expect HostGator to provide such a fully-featured managed WordPress plans, but that's exactly what they do.
Each plan comes with CDNs and caching to make sure your sites load in the blink of an eye. They have scalability built-in to help handle traffic surges. Backups are available within a few clicks. And they'll even migrate your existing WordPress site.
All of this for the cheapest price-per-site across the board at only $6/month.
Sounds too good to be true? Let's take a look at the details to find out.
Pricing and Plans
HostGator's Starter Plan is only $5.95/month. What's notable, though, is how much you get for that low price. You get up to 100,000 visits on a website, with 1GB of backups, and a free SSL certificate! These are some of the highest limits, for the least dollars on this list.
The Standard Plan gives you access to two sites, with 200,000 visits, 2GB of backups, and a free SSL certificate for $7.95/month.
Even the biggest plan, Business, is still pretty cheap at $9.95 (and is an amazing value for 3 sites and 500,000+ monthly visits).
The catch?
Most managed WordPress hosting companies charge a true month-to-month price. That means what you see is what you get. If it says $30/month for one site, you pay $30/month for one site.
You might get a discount for paying longer, but you're also not going to have to pay 2x more than the advertised price if you only want to start with a single month.
HostGator, on the other hand, sets up it's pricing more similar to a shared hosting option with discounts only for long-term contracts.
That means in order to get access to these advertised rates, you have to prepay for three full years. Otherwise, paying for just a single month will cost you lots more ($27.95 for the Business Plan).

Uptime and Speed
HostGator's performance has been excellent so far, with 100% uptime in the last thirty days, along with an average load time of only 380ms. Both of these results place them in the running for a top spot in our rankings.
Last 30 days average uptime:

100%

Last 30 days average load time:

380ms

December to January Uptime for HostGator WordPress Cloud
Admin Panel & Features
HostGator's admin panel provides access to a lot of the same features you've already seen.
It is a little limited, though. You can access FTP right on the main screen, but otherwise, there are a few features in place to help restrict access so you can't screw things up too badly.
That's good news for newbies or people who don't really want to accidentally make a mistake. (Besides hitting that big "Delete WordPress Blog" button.) But it's also going to frustrate more advanced users who're used to diving in the weeds when they need to.
You can adjust some basic site features, like cache settings for example.
Otherwise – your customization options are pretty limited from the admin panel.
Support Quality
HostGator's customer service rep, Tristen, connected instantly and was friendly throughout the entire experience.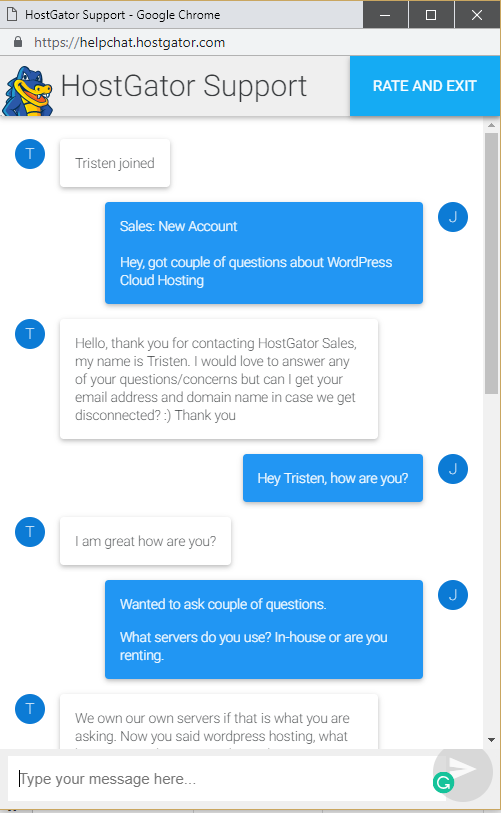 Again, we liked that Tristen would qualify answers depending on our scenario. They didn't just copy and paste some canned response from a help desk article somewhere.
HostGator WordPress managed host conclusion:
| | |
| --- | --- |
| Maximum sites: | 1 |
| Max. visits/mo: | 100,000 |
| Max. storage: | Unmetered |
| Max. bandwidth/mo: | Unmetered |
| SSL: | Included |
| CDN: | Included |
| Overuse billing: | None |
| Servers: | Own |
| Admin Panel: | cPanel |
HostGator's managed WordPress option is an excellent value if you're ready to prepay for three years right now.
Their customer support is quick, friendly, and knowledgeable. You couldn't ask for more.
The unmetered storage and bandwidth, along with high monthly visit numbers, and free SSL certificates make it the best budget-friendly option with under $10/month.
Click here if you want to sign up with HostGator or migrate your existing sites to them.
7. GoDaddy.com | $6/mo+ | Most Popular Hosting Provider
Pros: Very cheap, easy to get started
Cons: Limited plans
GoDaddy's managed WordPress plans are pretty inexpensive on the surface.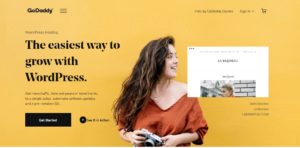 If you're ready to pay ~$3-7/month for one of their shared hosting accounts, $9/month isn't much more than that.
They also provide a ton of additional features, like nightly backups and malware scans, that the shared ones don't include.
Plus, you get access to their auto-migrate tool and a staging website (on certain plans) to make changes or edits before pushing them live.
Here's how their pricing and plans stack up:
Pricing and Plans
You can get one WordPress install on their Basic Plan, with 30GB of storage, 25,000 monthly visits, and sFTP access, for only $6.99/month ($9.99/month when you renew). That's really inexpensive.
The Deluxe Plan starts at $9.99/month ($14.99/month when you renew) for 100,000 visits on one site. This one throws in a staging server, too.
The Ultimate option opens up two websites for $12.99/mo ($19.99/month when you renew) for unlimited visits, and one free domain and SSL certificate for a single year.
The Ecommerce option at $15.99/month ($24.99/month when you renew) works on one site with unlimited visitors.  You get a  single free SSL certificate and domain for one year.
GoDaddy Uptime and Speed
GoDaddy's managed WordPress hosting fell short on uptime, with a minute of downtime during our 30-day monitoring.
On paper, that's 100%.
The average loading times, though, let us down. We only saw an average speed of 608ms. That's really on the lower scale within this list of top 7.
Last 30 days average uptime:

>99.99%

Last 30 days average load time:

608ms (6th in speed)

January to December Uptime for GoDaddy Shared Hosting
Admin Panel & Features
GoDaddy's admin panel is easy enough to use. After purchasing the plan, you can either set up a new site or migrate your existing one.
The main screen will include your basic plan details, the current WordPress settings for the site, along with where to manage your backups and security.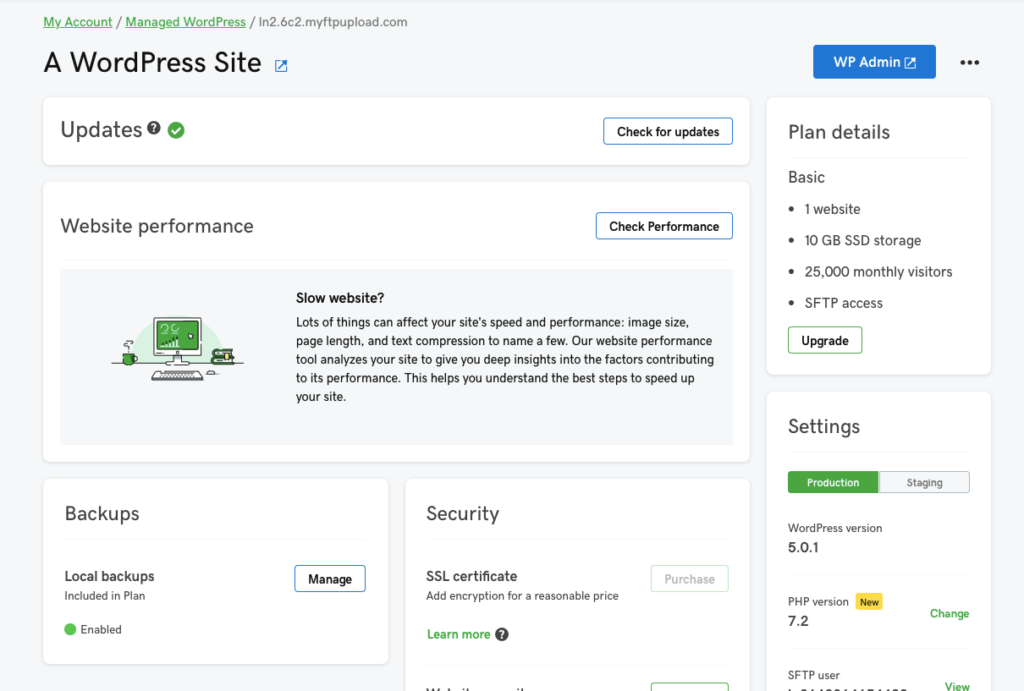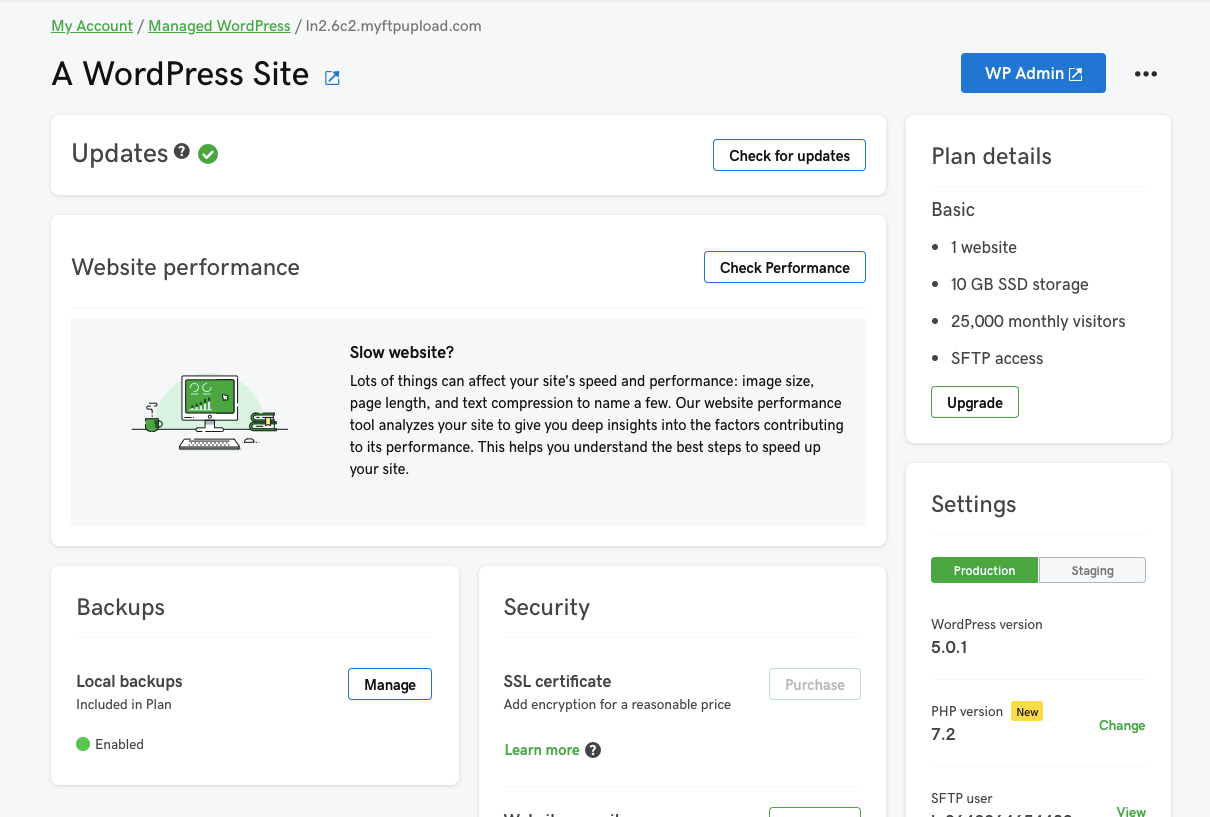 Support Quality
Our GoDaddy experience with support was… not good.
The first time we tried to sign in to their "live" chat, it said our wait time could be 13+ minutes.
Needless to say – we bounced out and came back later.
On our second attempt, it connected much faster.
Except, our positivity was quickly dashed once we started interacting with their support rep.
First, we had to go track down our pin number somewhere, before they could answer a simple question about SSL certificates.
We provided the pin and waited a few minutes as she started looking up my account.
While she did that, we wrapped up a few other things and returned two minutes later, only to realize that she already shut down the live chat session without even answering our original question. After only two minutes!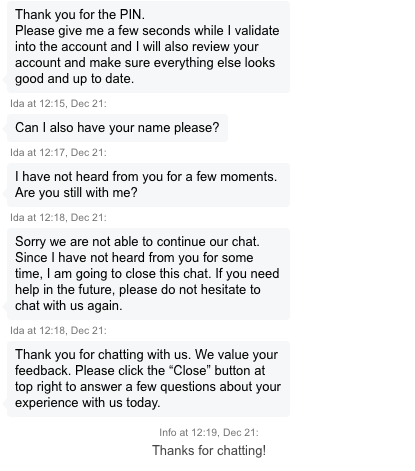 All we asked about was whether the SSL certificate was included in our current plan. We were already a paying customer. And yet, we never got an answer.
GoDaddy WordPress managed host conclusion:
| | |
| --- | --- |
| Maximum sites: | 1 |
| Max. visits/mo: | 25,000 |
| Max. storage: | 30GB |
| Max. bandwidth/mo: | Unlimited |
| SSL: | Included |
| CDN: | – |
| Overuse billing: | None |
| Servers: | Own |
| Admin Panel: | cPanel |
GoDaddy's managed WordPress hosting provides a lot of the stuff you would expect on the paper.
Except – we don't think we can recommend them!
The pricing is good, but you'll have to upgrade to bigger plans to even access basic features like a staging server and SSL (that almost all other alternatives throw in for free).
Our test site's performance was slow, had a few outages already, and customer service was awful.
You'll be better off paying a few extra bucks somewhere else, like Bluehost or FlyWheel, and getting everything you want.
Click here if you want to sign up with GoDaddy or migrate your existing sites to them.

Conclusion – Which One to Choose?
Managed WordPress hosting isn't cheap.
But the higher-than-average prices are worth it if you'd rather not be responsible for the security and performance of lucrative websites.
If that sounds like you, Kinsta is probably your best all-around option. The $30/month starting price is right around the middle of the services we reviewed, and they also boast the best uptime and speed according to our tests.
If you have a low traffic website (~5,000 monthly visits), for example, a B2B one – FlyWheel is your go-to. The plans won't cost you as much, either. Their $25.00/month price point is just a little more than shared hosting, but you're getting a MUCH better overall service.
Otherwise, Bluehost is good for those looking for value (read: the most "unlimited" stuff for a low price), while Kinsta is ideal for speed-obsessed websites.
The others on this list aren't bad per se – but if you're just hosting a few websites with one company, these three should be the first place to shop.