A bit of background
We've been a paying customer for MidPhase for 17 months. During that time, we've monitored MidPhase performance.

This review relies strongly on data, such as uptime, load time (speed) and customer support experience.
MidPhase is cheap.
Like, two bucks a month cheap.
If life has taught us anything, it's that something that cheap also can't be good.
I mean, MidPhase must to have terrible uptime, or spotty customer service like Web Hosting Pad or HostMetro. Right?
Two dollars doesn't even cover a cup of coffee these days. How on Earth does it cover the insanely high costs to purchase and run hosting servers. Not to mention, rent and employees for their HQ in the beautiful technology mecca of Salt Lake City, Utah.
But MidPhase is no fly by night operation. They've been around since '98, have teams in the UK, Ukraine, and India. Since then, they've merged with the UK2 Group in '07 (who also owns WestHost).
Point is: this isn't their first rodeo.
We set up a basic WordPress website in June of 2015 (just over a year ago) on the MidPhase 'Personal Web Hosting Plan' to analyze their performance, and see if great things really can come in cheap packages.
You can check out the performance stats, like uptime & speed, for yourself by clicking on 'History' to go deeper.
PROS of using MidPhase Hosting:
The first thing that comes to mind for $2 hosting, is having to sit on the phone with someone who doesn't speak your language for three hours while you try to determine why your website's down – again. Fortunately, that's not even close to being accurate.
Here's how MidPhase performed over our twelve-month review process.
1.

 99.98% Uptime Over 12-Months (it's really good)

Against all odds, MidPhase delivered 99.98% uptime over twelve months. That's not just good, it's phenomenal (one of the best we've seen after reviewing almost thirty web hosts to date). Only A2 Hosting, HostGator Cloud and Dreamhost are currently on the same level, but they are way more expensive.

In fact, this was so unexpected that we analyzed uptime over an additional four months just to be sure – and the results still speak for themselves. Take a look:

See previous uptime - 2015 (expands)
June average uptime: 100%
July average uptime: 100%
August average uptime: 99.97%
September average uptime: 100%
October average uptime: 100%
---
Last 12 month average uptime (2015 – 2016):
November (2015) average uptime: 100%
December (2015) average uptime: 100%
January average uptime: 100%
February average uptime: 99.99%
March average uptime: 99.99%
April average uptime: 99.83%
May average uptime: 100%
June average uptime: 100%
July average uptime: 100%
August average uptime: 100%
September average uptime:

100%

October average uptime:

99.99%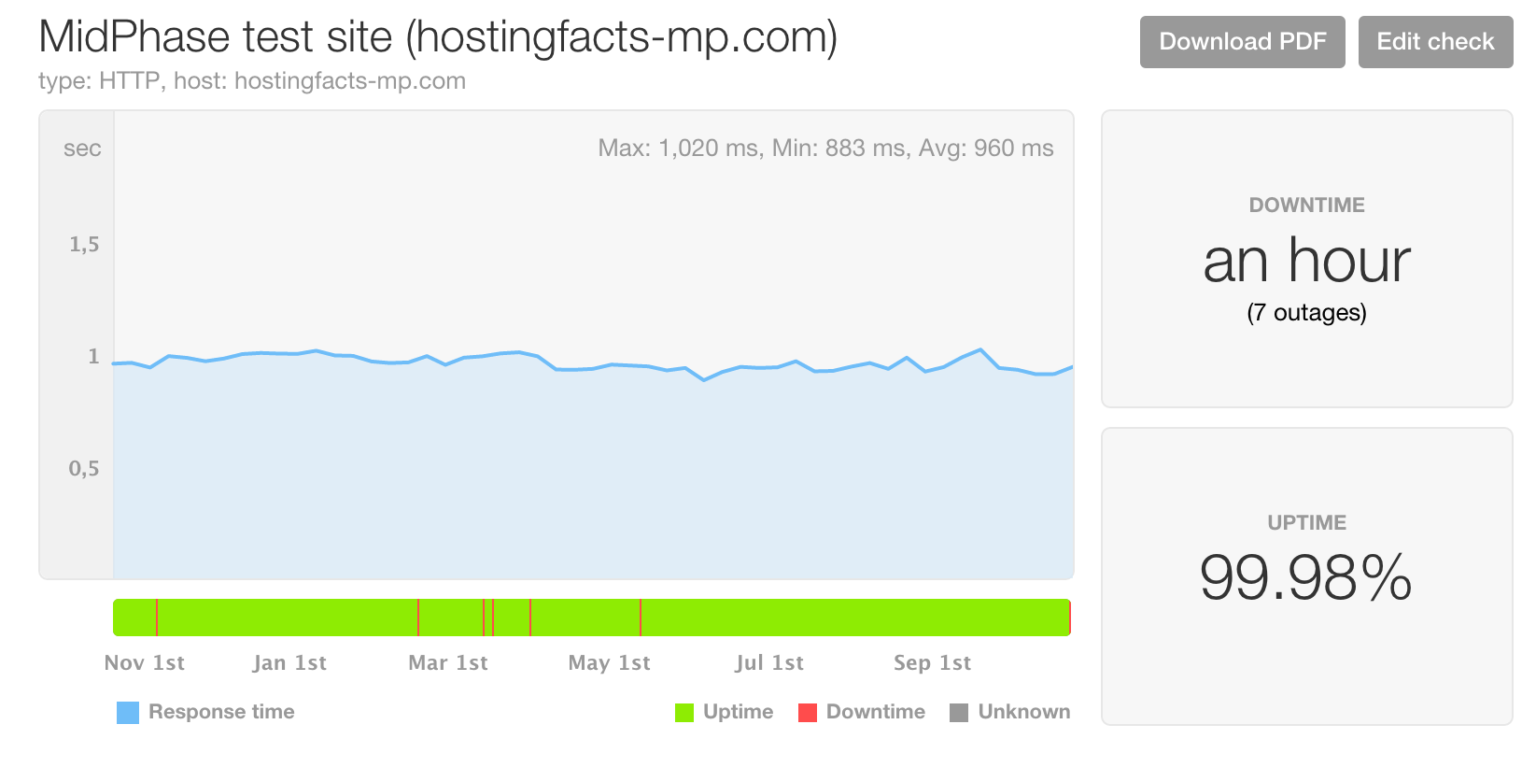 MidPhase: Page Load Speed and Uptime (last 12 months, more detailed data can be found here.)
2.

 Quick Support Ticket Responses

OK, uptime is great. That must mean customer service is an outsourced nightmare. How else can you run profitably on $2 a month?

We tested their support ticketing system, and received a detailed from Britton (support technician) response within 40 minutes from their customer support. Here's what that looked like:
Customer support agent on MidPhase
And unlike some other hosts, they do provide phone support with both toll-free and international numbers.
So far, so good!
3.

VERY Inexpensive

Did we mention MidPhase is cheap?

A long-term plan with their cheapest shared hosting option comes out to $2.56 per month.

The catch? It's a two-year commitment (which unfortunately is a standard industry trick).

They do offer a true month-to-month plan that starts at a higher $6.95 each month (it's worth noting that some other hosts require at least 12-month signup, so this is a decent short-term option).
4.

Free Migrations & Transfers

If you're relocating a website from an existing web host, MidPhase will happily help you transfer and migrate that site for free.

Most other hosts provide this option for free, however some (ahem, BlueHost) will charge you up $150 per site. So it's nice to see that despite their inexpensive competitive approach, they're not nickle-and-diming customers to make up for it.

Also, they'll throw in a free domain name too.
CONS of using MidPhase Hosting:
Two dollar hosting can't be all perfect. And there are a few drawbacks to consider if you value other hosting features besides saving the most. So here they are.
1.

Slow Average Speed

MidPhase's uptime is great. Their customer support is attentive.

Unfortunately, the same can't be said for the page loading times and speed. Our 12-month analysis showed an average speed of 960ms, which is about 37% slower than average.

Not terrible, but not great.

But cheap! And the quickest for that price range.

If speed is a top priority (which it should be for commercial sites as it affects usability, conversions, and search rankings), you might want to weigh the costs vs. benefits here.

See previous load time - 2015 (expands)
June average speed: 1,050ms
July average speed: 985ms
August average speed: 914ms
September average speed: 905ms
October average speed: 921ms
---
Last 12 month average load time (2015 – 2016):
November (2015) average speed: 967ms
December (2015) average speed: 992ms
January average speed: 999ms
February average speed: 972ms
March average speed: 988ms
April average speed: 950ms
May average speed: 949ms
June average speed:

920ms

July average speed:

938ms

August average speed:

956ms

September average speed:

961ms

October average speed:

925ms
For conclusion: These kind of load times are not necessarily bad. For example, way more popular and expensive hosting providers have failed to make website load faster than 1 seconds.
2.

Unclear Money Back Guarantee

Many web hosts will offer a standard 30-day money back guarantee. Some even go so far as to stretch this period to 90 (or 97!) days to make sure that you're happily satisfied with their service before getting you to commit.

We DID find a 30-day money back guarantee for their WordPress and shared hosting plan options. However, we didn't see the same guarantee for many of their other services.

Something to consider and possibly ask about if you're trying to take advantage of that low, long-term rate.
3.

Security? Anyone, Anyone? Bueller?

Many web hosts will provide a looooong list of security apps available with a few simple clicks to lock down your site and keep things secure from nefarious attempts. Some will even go above and beyond, performing preventative maintenance services to make sure you're A-OK.

But we couldn't find the same support options with MidPhase. Another possibility to consider or inquire about when signing up.
Overview on MidPhase Shared Hosting Plans
Here is a quick overview of MidPhase hosting plans to help to determine if they are a good fit for you:
Shared Hosting: Their shared hosting plans include:
The "Personal Web Hosting" plan starts at $1.97 per month (for two-year commitment). It allows 1 website, 1 subdomain, 1 database and unlimited emails.
Their "Professional Hosting" plan starts at $2.97 per month (same two-year commitment). It allows up to 3 websites and 3 databases and a maximum of 5 sub domains. It also comes with unlimited emails, and you can have addons such as a dedicated IP address, an SSL certificate and web analytics for an additional fee.
Their "Business Hosting" plan starts at $4.47 per month (two-year commitment). It allows unlimited websites, unlimited databases, unlimited sub domains and unlimited emails. It also comes with a free dedicated IP address, a free SSL certificate and free web analytics.
All their shared hosting plans come with unlimited web space, unlimited bandwidth and a free domain name.
Quick Facts
Free Domain: Yes.
Ease of Signup: Friendly and easy to use three-step signup process.
Payment Methods: Credit Card, PayPal.
Hidden Fees and Clauses: There's a limit of 200,000 files and 10GB cumulative database size on all shared hosting accounts. Exceeding this limit may result in termination of your account.
Upsells: Lots of upsells. Not fun.
Account Activation: Quick account activation.
Control Panel and Dashboard Experience: cPanel.
Installation of Apps and CMSs (WordPress, Joomla, etc.): Quick and easy install of popular apps and CMSs with Softaculous.
Do We Recommend MidPhase?
There are serious questions to consider prior to signing up with MidPhase. Primarily, speed. But also the money back guarantee and security features.
However, if you're looking for a quick, cheap option with good uptime and support, MidPhase might be worth a roll of the dice. In this case, we kinda recommend them.
P.S. If you want to see hosting providers that ranked above MidPhase, check our best performing hosts here.
Have you used MidPhase? Please leave your MidPhase review based on your experience – positive or negative – to help us provide honesty and transparency.
Submit a review
Submit a short but detailed review and earn $10 when we approve it.
4 user reviews for MidPhase
Try only if you on a budget
I've been with them for about 5years (originally AnHosting then acquired by Midphase)… I think the review is being generous with how bad their load times are, its the single reason I am leaving (and why I came to this website). Another thing I struggled with them is my emails were constantly getting bounced back because their ip addresses were blacklisted, I was constantly been uphold a dedicated ip address.
They have very helpful staff but unfortunately as a business I need reliability and speed.
2 or 3 year commitment involved
MidPhase is cheap indeed, but it only comes with a 2 or 3 year commitment. It's a shame that it's not possible to pay monthly. Otherwise it would've been to good to be true.
Just signed up
I like it so far. Getting started was a bit of a hassle and may be a turn off to new people. but that sweet price? Sold.
Recommending MidPhase for my clients
Since I'm a web developer and one of my day-to-day tasks are also helping clients to find an affordable web hosting provider – I've lately started to recommend them using MidPhase.
When customer approaches me, I've usually two questions:
A) Do you want a fast, reliable & expensive host?
or..
B) Do you want the cheapest solution?
Many of them quickly reply, saying something along the lines "Is there something that is a bit of this and that?".. and in my opinion – MidPhase truly is it.
It's cheap, but at the same time it's reliable, providing an uptime of 100% which is something hard to compete with. Even Dreamhost fails to meet it, tough it's recommended by a ton of web developers.
In short – my vote goes for MidPhase.