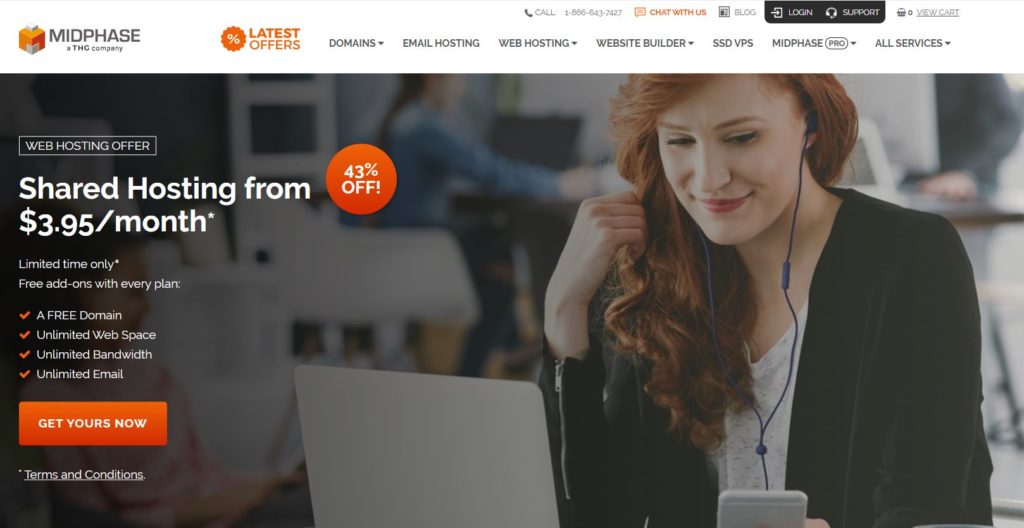 MidPhase is cheap.
Like, four bucks a month cheap.
If life has taught us anything, it's that something cheap often isn't good.
We mean, MidPhase must have terrible uptime or spotty customer services like Web Hosting Pad or HostMetro. Right?
Four dollars doesn't even cover a cup of coffee these days. How on Earth does it cover the insanely high costs to purchase and run hosting servers. Not to mention rent and employees for their HQ in the beautiful Salt Lake City, Utah.
But MidPhase is not a fly-by-night operation. They've been around since '98, have teams in the UK, Ukraine, and India. Since then, they've merged with the UK2 Group in '07 (who also owns WestHost).
The point is: This isn't their first rodeo.
We set up a basic WordPress website in June of 2015 on the MidPhase 'Personal Web Hosting Plan' to analyze their performance, and see if great things really can come in cheap packages.
You can check out the performance stats, like uptime & speed, for yourself by clicking on 'History' to go deeper.
Pros of Using MidPhase Hosting
The first thing that comes to mind for $4 hosting, is having to sit on the phone with someone who doesn't speak your language for three hours while you try to determine why your website's down – again. Fortunately, that's not even close to being accurate.
Here's how MidPhase performed over our 24-month review process.
1. 99.99% Uptime Over 24-Months (It's Really Good)
Against all odds, MidPhase delivered 99.99% uptime over 24 months.  That's not just good, it's phenomenal (one of the best we've seen after reviewing over thirty web hosts to date). Only Bluehost and SiteGround are currently at the same level.
Take a look:
Last 12-month average uptime:
January 2020 average uptime: 100%
December 2019 average uptime: 100%
November 2019 average uptime: 100%
October 2019 average uptime: 100%
September 2019 average uptime: 99.98%
August 2019 average uptime: 100%
July 2019 average uptime: 100%
June 2019 average uptime: 99.99%
May 2019 average uptime: 100%
April 2019 average uptime: 100%
March 2019 average uptime: 100%
February 2019 average uptime: 100%

2. Quick Support Ticket Responses
OK, uptime is great. That must mean customer service is an outsourced nightmare. How else can you run profitably on $4 a month?
We tested their support ticketing system and received a detailed from Britton (support technician) response within 40 minutes from their customer support. Here's what the conversation looked like: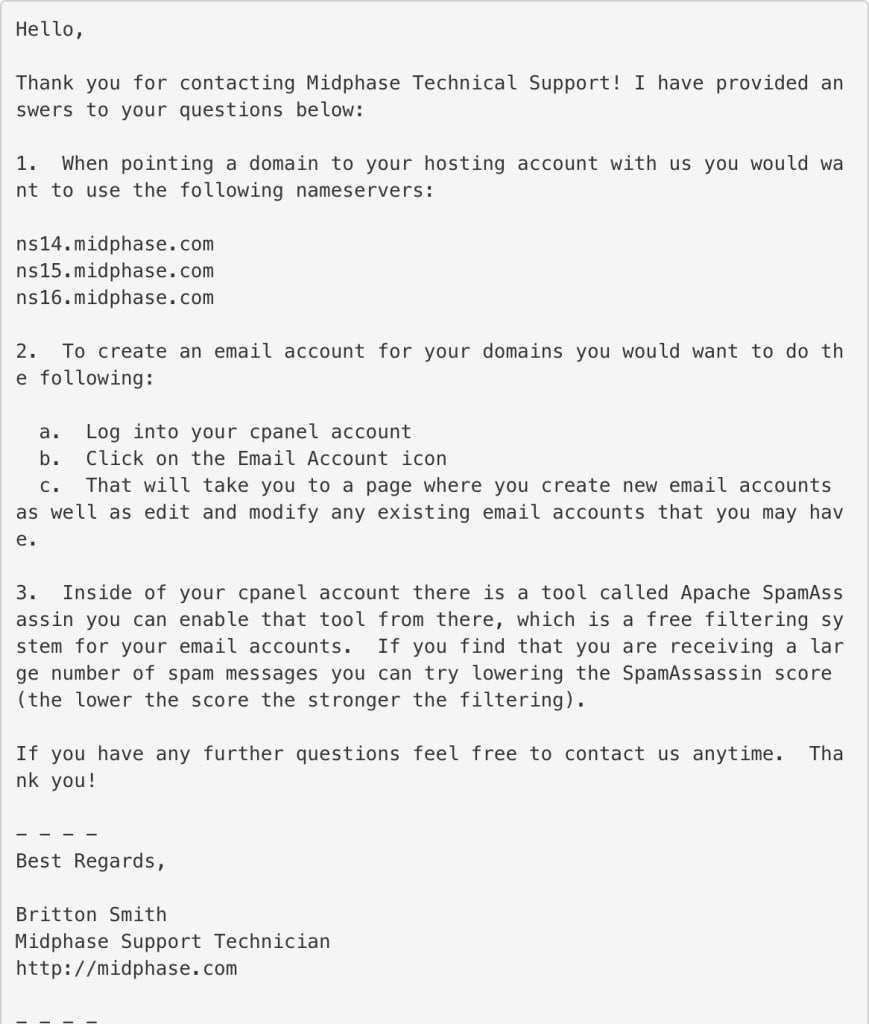 Customer support agent on MidPhase
Unlike some other hosts, they provide phone support with both toll-free and international numbers.
So far, so good!
3. VERY Inexpensive
Did we mention MidPhase is cheap?
A long-term plan with their cheapest shared hosting option comes out to $3.95 per month.
The catch? It's at least a one-year commitment (which unfortunately is a standard industry trick).
They do offer a true month-to-month plan that starts at $7.95 per month (it's worth noting that some other hosts require at least a 12-month signup, so this is a decent short-term option).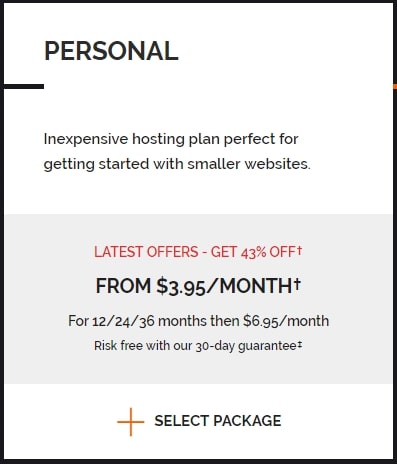 4. Free Migrations & Transfers
MidPhase bucks a common industry trend by providing free site migration services for all cPanel accounts.
To be honest, this sounded a little too good to be true. Many hosts might provide a single site transfer for zero dollars. But then they'll charge you dearly for more.
Others will charge you up to $150 to move anything at all.
Not MidPhase, though. It's nice to see that despite their inexpensive approach, they're not nickel-and-diming customers to make up for it.
We followed up with their customer service reps to confirm everything. And we're pleased to announce that they won't charge more for additional sites, as long as the accounts provide cPanel access.
5. 99.9% Uptime Guarantee
Our MidPhase test showed excellent uptime over the past few years.
That's no surprise given their commitment to uptime.
They have a Status page on their site that provides real-time updates, as well as any past reports or incidents.
But that's not the best part.
They also have a "99.9% uptime guarantee" for their hosting packages.
Drop below that threshold and you can ask for an account credit.
However, based on our experience so far, you thankfully won't need to ask them about this too often.
The lowest monthly uptime figure we've seen is 99.98%. And that's well above the 99.9% minimum they keep.
Cons of Using MidPhase Hosting
Four dollar hosting can't be all perfect. There are a few drawbacks to consider if you value other hosting features besides saving the most.
1. Slow Average Speed
MidPhase's uptime is great. Their customer support is attentive.
Unfortunately, the same can't be said for the page loading times and speed. Our last 24-month analysis showed an average speed of 1,135ms.
Not terrible, not great either.
But cheap! And almost the quickest for that price range.
If speed is a top priority (which it should be for commercial sites as it affects usability, conversions, and search rankings), you might want to weigh the costs vs. benefits at this point.
Last 12 month average load time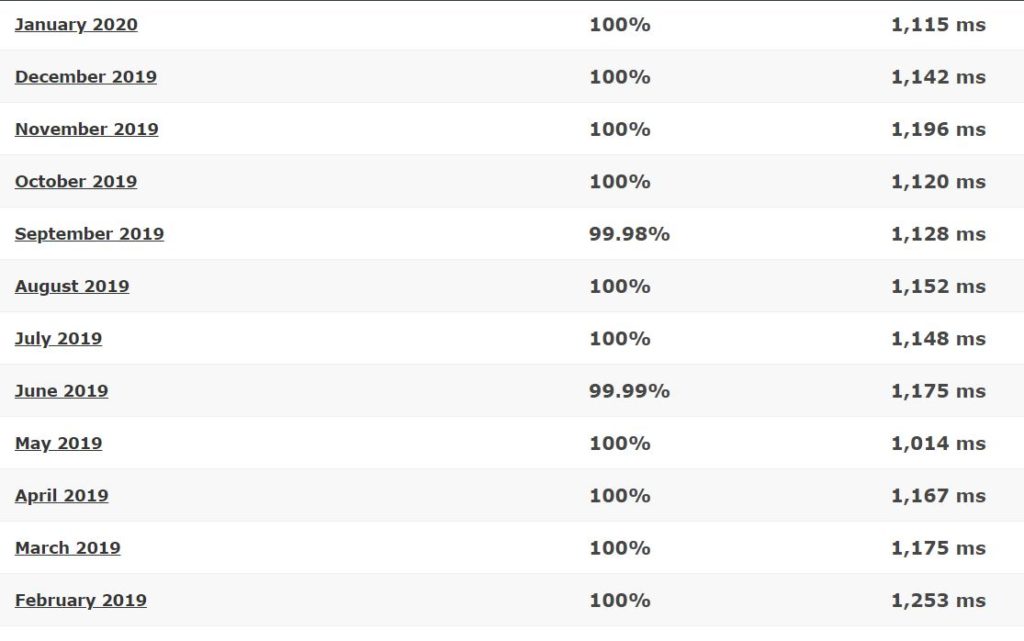 In conclusion: These kinds of load times are not necessarily bad. For example, way more popular and expensive hosting providers have failed to make a website load faster than 1 second.
2. Unclear Money-Back Guarantee
Many web hosts will offer a standard 30-day money-back guarantee. Some even go so far as to stretch this period to 90 (or 97!) days to make sure that you're happily satisfied with their service before getting you to commit.
We DID find mentions of a 30-day money-back guarantee for their WordPress and shared hosting plan options. Note that, we didn't find the same guarantees for many of their other services.
There are also a ton of help desk responses (like this one), confirming that some kind of 30-day refund exists.
They recommend reading their terms for more details, but that's part of the problem: there isn't a whole lot of information there, either.
So we think you should be good at 30 days.
Something to consider and possibly ask about if you're trying to take advantage of that low, long-term rate.
3. Security? Anyone, Anyone? Bueller?
Many web hosts will provide a long list of security apps available with a few simple clicks to lock down your site and keep things secure from nefarious attempts. Some will even go above and beyond, performing preventative maintenance services to make sure you're A-OK.
We couldn't find the same support options with MidPhase. Another possibility to consider or inquire about when signing up.
4.High Renewal Pricing (Across All Products)
MidPhase's $3.95/month sticker price for their Web Hosting Personal package looks pretty good on the surface.
However, if you've been in the game as long as we have, you'll know that advertised pricing usually comes with a few 'gotchas' that can come back to haunt you if you're not careful.
Sadly, MidPhase is no different in this case.
The biggest catch, in this case, is the high renewal cost when your first plan expires. Your price will basically double across the board, no matter which plans you choose.
The Web Hosting Personal one, for example, goes from $3.95/month up to $6.95/month. The Professional plan goes from $4.95/month to $8.95/month, while the Business one also increases from $5.95/month to $10.95/month.

Bummer, right?
Except here's the thing:
This isn't even the worst price increase we found.
No, that luxury is reserved for the domain registrations. The first year will cost you $15.99. It's a little high, but not too bad in the grand scheme of things.
The problem pops up when it's time for the domain price to renew. Higher-than-usual renewal pricing is fairly common in the hosting space. But it's not in domains. You pay your annual fee and it almost never changes no matter how long you have it.
MidPhase, on the other hand, will increase your domain price from $15.99/year up to $45.99/year! That's absurd if we're being honest.
They're basically preying on customers, knowing full well that the likelihood of you wanting to move your domain or hosting after the first year is slim-to-none. So they're taking advantage of the 'switching costs' to price gouge you.
Call us crazy, but we're not huge fans of business practices that are designed to specifically punish good, loyal customers.
MidPhase Pricing, Hosting Plans & Quick Facts
Here is a quick overview of MidPhase hosting plans to help to determine if they are a good fit for you:
---
Personal Plan
Professional Plan
Business Plan
Pricing
$3.95/month
Renews at $6.95/mo
$4.95/month
Renews at $8.95/mo
$5.95/month
Renews at $10.95/mo
Websites
1
3
Unlimited
Bandwidth
Unmetered
Unmetered
Unmetered
Storage
Unmetered
Unmetered
Unmetered
Email Accounts
Unlimited
Unlimited
Unlimited
Other Features
• 1 Subdomain
• 5 Subdomains
• Unlimited Subdomains
• Free SSL Security
• Free Dedicated IP
---
Quick Facts
Free Domain: Yes, with all plans.
Ease of Signup: Friendly and easy to use three-step signup process.
Money-Back: 30-day money-back guarantee.
Payment Methods: Credit Card, PayPal.
Hidden Fees and Clauses: There's a limit of 200,000 files and 10GB cumulative database size on all shared hosting accounts. Exceeding this limit may result in the termination of your account.
Upsells: Lots of upsells. Not fun.
Account Activation: Quick account activation.
Control Panel and Dashboard Experience: cPanel.
Installation of Apps and CMSs (WordPress, Joomla, etc.): Quick and easy install of popular apps and CMSs with Softaculous.
Do We Recommend MidPhase?
There are serious questions to consider prior to signing up with MidPhase. Primarily – speed. But also the money-back guarantee and security features.
Despite that, if you're looking for a quick, cheap option with good uptime and support, MidPhase might be worth a roll of the dice. In this case, we kinda recommend them.
P.S. If you want to see hosting providers that ranked above MidPhase, check our best performing hosts here.
Have you used MidPhase? Please leave your MidPhase review based on your experience – positive or negative – to help us provide honest and transparent reviews.