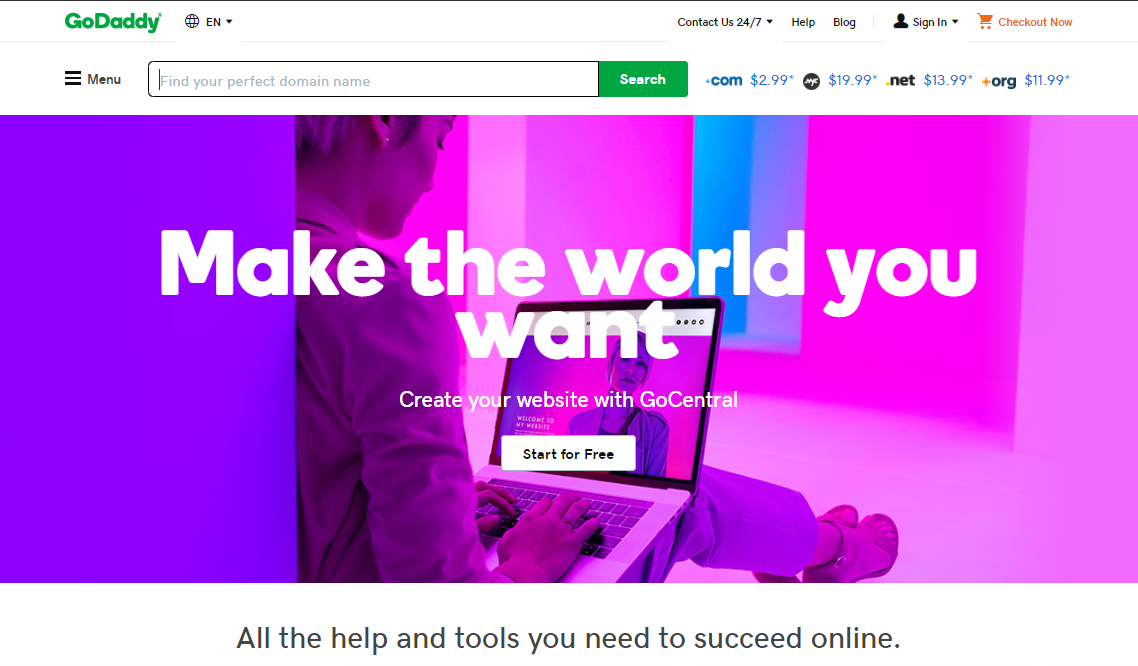 GoDaddy's hosting is stable (99.97% uptime) and fast (517ms average).
Their base plan gives you up to 100 GB storage and unmetered bandwidth. And it integrates with over 125 services that you can install with a single click.
However, they will charge you a lot for everything from migrations ($99/site) to backups ($2.99/mo), SSL certificates ($63.99/year), and pretty much anything else you'd need.
Their customer support is slow and frustrating. And their money-back guarantee is sketchy on top of it all (so you might not get a single dollar back).
Here's an in-depth look at the pros and cons we've uncovered over the past 16 months of hands-on testing:
General Info & Hosting Overview
---
| | |
| --- | --- |
| OVERALL RANK: | Rated #5 out of 32 web hosts |
| SPEED: | 517ms (December 2017 to March 2019 average) |
| UPTIME: | 99.97% (December 2017 to March 2019 average) |
| SUPPORT: | 24/7 Live Chat |
| APPS: | WordPress, Joomla, Drupal and more |
| FEATURES: | Unmetered bandwidth, 100GB storage, free email and free domain 1st year |
| HOSTING PLANS: | Shared, WordPress, Cloud, Reseller, VPS and Dedicated Servers |
| SITE TRANSFER: | Not Free |
| PRICING: | Starting at $2.99/mo (renews at $7.99/mo) |
---
Pros of using GoDaddy Hosting
GoDaddy has delivered solid uptime and page speed over the last 16 months. They integrate with over 125 popular web applications so there's a little something for everyone. And their cheapest "Economy" plan is now excellent value for the price, too.
Here are the top things we liked about GoDaddy's hosting:
1. Good Uptime of 99.97%
GoDaddy might be known for domain names, but they've figured out how to deliver some rock-solid uptime on their shared hosting plans, too.
There were a few dodgy months almost a year ago where they fluctuated between 99.85% – 99.94%. But then they followed that up with a consistent 99.99% – 100% streak to bring the average up to 99.97% over the past 16 months.
After testing 33 other hosts, that puts GoDaddy well above average. And it means the average monthly downtime is only around ~13 minutes — not enough to derail your business during a big sale or launch.
Last 16-month average uptime:
March 2019 average uptime: 99.97%
February 2019 average uptime: 99.99%
January 2019 average uptime: 99.99%
December 2018 average uptime: 100%
November 2018 average uptime: 99.99%
October 2018 average uptime: 100%
September 2018 average uptime: 99.99%
August 2018 average uptime: 99.99%
July 2018 average uptime: 99.85%
June 2018 average uptime: 99.98%
May 2018 average uptime: 99.94%
April 2018 average uptime: 99.99%
March 2018 average uptime: 99.91%
February 2018 average uptime: 99.96%
January 2018 average uptime: 99.98%
December 2017 average uptime: 99.97%

2. Great Page Speed
I'll admit: I didn't see this coming.
Years ago, you wouldn't associate cheaper web hosts like GoDaddy with good performance. Yet, that's exactly what they've done. Our GoDaddy test site has posted an average page loading time of only 517ms over the past 16 months.
Fast loading times aren't just a vanity metric. Studies have shown that they can do everything from force visitors to leave your site faster, hurt your search engine rankings (especially on mobile), and even negatively impact your conversion rates, too.
The speed of your web host is also important because you can't really do anything to control it.
Here's what I mean:
If you have an image-heavy site, you can compress them or use a Content Delivery Network (CDN) to take the burden off your servers and make your site faster.
In other words, you can control things to directly speed up your site.
But if your web host is consistently slow to begin with? Your hands are tied. You'll constantly fight a losing battle.
Fortunately, with GoDaddy hosting, you don't have to worry about that based on our tests.
The past sixteen months they've held a steady 517ms average.
Last 16-month average load time: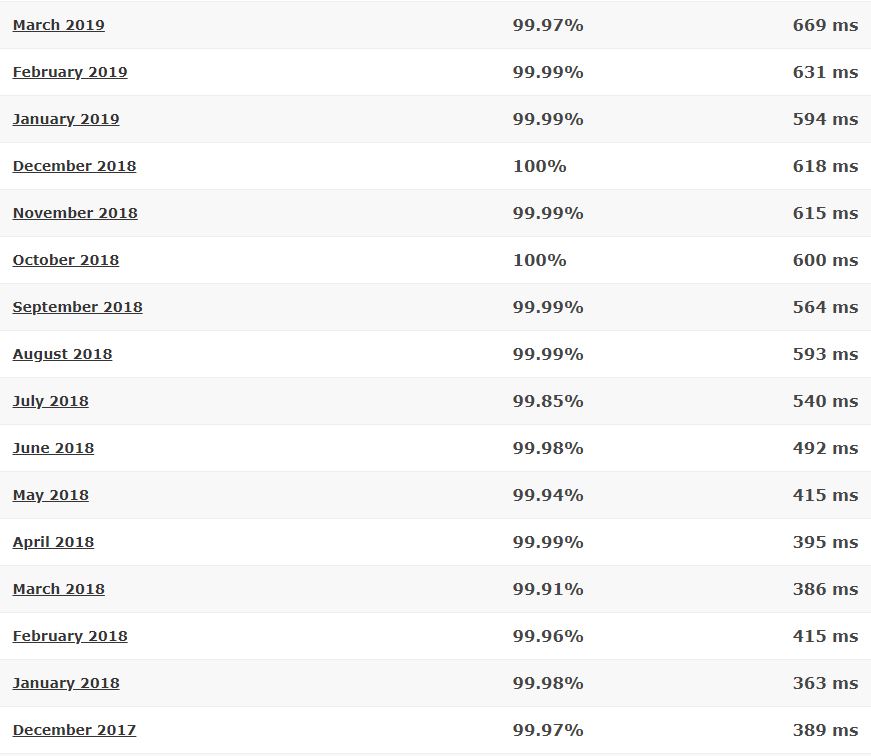 3. Over 125+ One-Click Install Applications
GoDaddy has their own website builder if you're looking for just a simple, drag-and-drop experience.
However, if you want something with a little more power under the hood, GoDaddy also has one-click installations with over 125 of the most popular applications on the Internet. That includes content management systems like WordPress, Joomla, and Drupal.
But it also includes developer-friendly tools like cPanel, MySQL, CloudLinux, Python, and multiple versions of PHP.
So they have a good variety of options that suit everyone from beginning bloggers to savvy webmasters.
4. Basic Cheap Plan is a Good Value on Paper
When we originally reviewed GoDaddy, their cheapest shared hosting plan was too expensive and the features were too limited.
It seems like they've done a complete 180-degree turn since then, though.
Now, the Economy plan pricing is only $2.99/month. No discount code needed.
However, you still actually get a lot of value for that price. You get everything needed for a single website, including up to 100 GB of storage and unmetered bandwidth.
They're currently even throwing in a free domain name and business email for the first year, too.
Some of the other hosts we've reviewed, like SiteGround, performed well in our tests. But when it comes to actually hosting a site with them, they only give you 10GB of storage on the cheapest plan.
GoDaddy literally gives you ten times that for similar pricing. So the overall value you're getting is excellent on first pass. It's only when you dig a little more beneath the surface that you realize it might not be such a good value after all. Here's why…
Cons of using GoDaddy Hosting
GoDaddy's performed was pretty solid across the board. The value for the initial price is pretty good, too.
However, that's also part of the problem. There are a lot of upsells throughout the checkout process. And the renewal pricing will also come back to haunt you, too.
We also didn't like the confusing, vague money-back guarantee, either.
Here are the biggest cons we saw:
1. Lots of Upsells
GoDaddy has become relatively infamous for the number of upsells used to increase the price you're ultimately going to pay.
The first one you'll run into is the hosting plan cost based on the amount of time that you're prepaying. You'll have pony up for three years if you want to get that $2.99/monthly price. Otherwise, a shorter, three-month plan will cost you $10.99/month.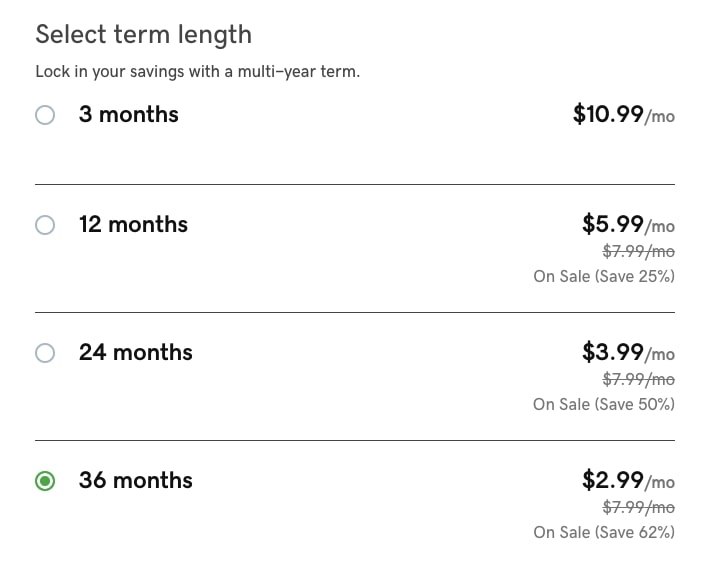 This is just the first of many.
GoDaddy will also try to sell you a lot of extra services at checkout, too. For example, they will automatically opt you in for website backups that will cost another $2.99/month for three years.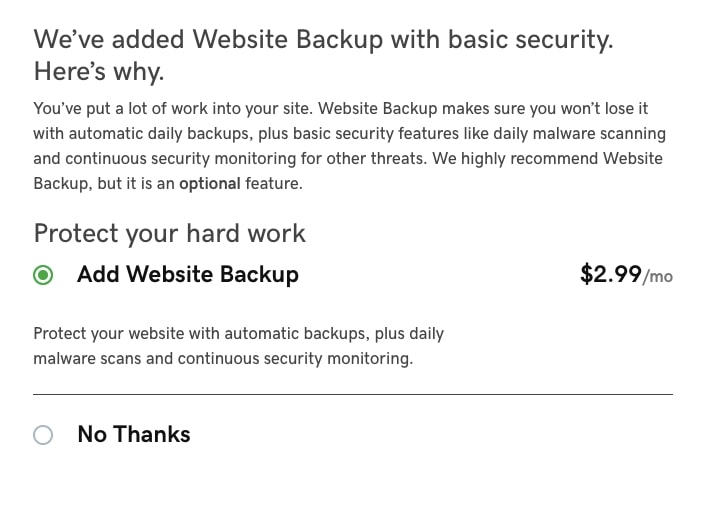 Just that one upsell alone will already double your price.
They don't stop there, there. You'll also see upsells for Office 365 access, SSL certificates, and "essential website security" which refers malware scans and updates.
GoDaddy's checkout process can feel like a minefield, where you need to carefully check each step before accidentally paying two or three times the initial price.
2. Base Plans Lack Critical Features (No SSL Certificate, Backups, Security, or Site Migrations)
The top hosts we've reviewed will throw in features like an SSL certificate on every plan. These have become commonplace and are basically required to run a site today.
Unfortunately, GoDaddy doesn't offer any of these in their base plans, which leads to a lot of the upsells along the way.
Take their SSL certificates for example. Unless you're paying for their top plan, this feature can cost you an arm and a leg:
• 63.99/year for a single site (79.99/year renew)
• 159.99/year multiple sites (199.99/year renew)
• $295.99/year all subdomains (369.99/year renew)
Those prices are outrageous to be honest, because most hosts today will give you a free Let's Encrypt SSL certificate for every site.
Other hosts will give you backups and website security, too. But both of those will cost you another $2.99/month and $5.59/month respectively.
Oh, and then there's the migration fees.
Again, many hosts will move at least one existing site over to their servers for free. Many of them can even do this within a few hours of asking so you don't have to wait around.
Not GoDaddy, though. They don't offer any free site migrations. And if you want them to do it for you, the cost is $99.99/site and might take at least 7-10 days. So it's both expensive and slow.
Add all of these extra costs up over the course of a few years and GoDaddy hosting doesn't look too cheap anymore.
3. Renewal Rates are Higher, Too
GoDaddy's Economy plan pricing starts at $2.99/month for three years.
However, all of their plans follow the industry-standard pricing trick where they double or triple when it's time to renew.
This same Economy plan, for comparison, will jump to $7.99/month when you renew.
You don't get any extra features or any better performance. But you will have to pay more.
4. Sketchy Money-Back Guarantee
Most web hosts we've reviewed will give you a no-questions-asked refund if you cancel within 30 days.
On the surface, GoDaddy's money-back guarantee looks similar. Annual plans can get a refund within a month of buying.
However, here's where all of the issues start popping up.
If you pay for a "Monthly Plan" (anything less than an annual plan — three, six, or nine months), you have to ask for a refund within 48 hours. That only gives you two days to try them out.
To get either of these refunds, you have to call into their operators (so they can try to talk you out of it).
And almost each plan GoDaddy offers has some crazy terms that could jeopardize your chances of actually receiving that refund.
For example, here's what their terms say for web hosting refunds:
If a Hosting Service has already been performed, then it is non-refundable (if not yet performed, eligible for a refund within 30 days of the date of the transaction).
That's not very clear, is it?
Essentially, what we think it means is that if you try to actually use the hosting plan and set up a WordPress site, for example, you might be violating this term. And so they could, in theory, deny your refund request.
We don't like this at all.
5. Poor Tech Support
GoDaddy claims to offer tech support 24/7. They have a knowledge base, phone support, and live chat.
The live chat says that reps are available "all day" from Monday through Friday.
Except, apparently, 8pm on Thursdays. Because we tried and got this message:

We waited around for awhile but it never changed.
So we tried it again at 9am on a Friday morning. And we got the same result.
We sat there with the window open for about ten minutes, waiting for it to change and open up.
Finally, we were able to "Chat Now." Except, when we opened the live chat session, we were again put on hold.
They said the "estimated wait time" was one minute. The actual wait time, however, was another three minutes.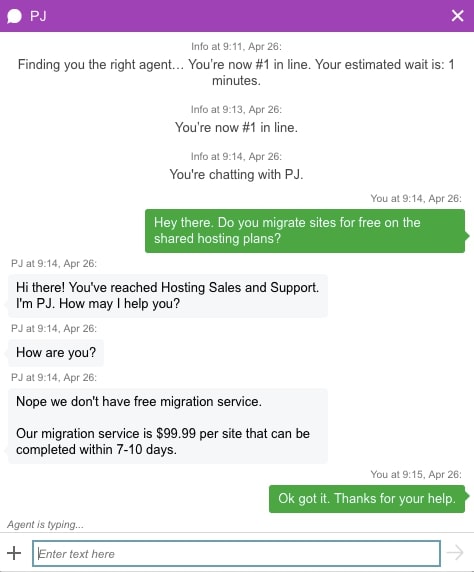 The rep was friendly and knowledgeable enough.
But then when we didn't respond for a few minutes, their system automatically logs you off. So you not only lose your place in line, you also lose a record of the entire conversation.
A pretty disappointing experience all-around.
GoDaddy Pricing, Hosting Plans & Quick Facts
Here's a quick overview of GoDaddy's hosting plans: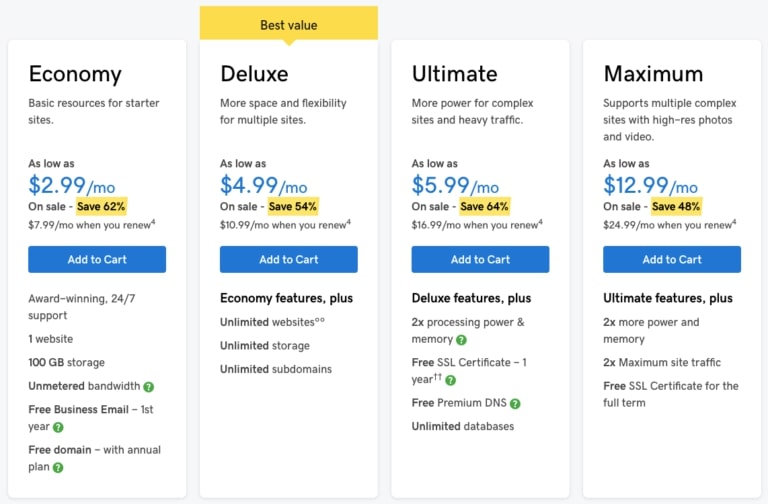 Economy Plan: One website for $2.99/month (renews at $7.99/month). You get 100 GB storage, unmetered bandwidth, free business email and a free domain name for the first year.
Deluxe Plan: Unlimited websites for $4.99/month (renews at $10.99/month). It comes with all of the Economy features, plus unlimited storage and subdomains.
Ultimate Plan: All Deluxe features and more for $5.99/month (renews at $16.99/month). Includes two times the processing power and memory, a free SSL certificate for the first year, premium DNS, and unlimited databases.
Maximum Plan: All Ultimate features and more for $12.99/month (renews at $29.99/month). You get two times the power and memory, two times "maximum site traffic" and a free SSL certificate the entire term you purchase.
More facts about GoDaddy:
Free domain? You get one year for free, but then it will cost you after that.
Ease of Signup: Pretty easy signup process.
Payment Methods: All major credit cards and PayPal.
Hidden Fees and Clauses: "If a Hosting Service has already been performed, then it is non-refundable (if not yet performed, eligible for a refund within 30 days of the date of the transaction)."
Upsells: Tons of upsells. The initial term, site migrations, backups, SSL certificates, security, and more.
Account Activation: Fast account activation.
Control Panel and Dashboard Experience: cPanel.
Installation of Apps and CMSs (WordPress, Joomla, etc.): Lots of 1-click installation options with most popular open source apps.
Do We Recommend GoDaddy?
Yes, we do. You might want to look at other options, too, though.
GoDaddy has strong uptime and fast page loading speeds. They work well with most popular web apps you'd want. And the initial pricing for the base features is a good value at first pass.
It's only when you start adding everything else up that the picture starts to look a little different.
There are tons of upsells for basic features that you'd assume were just included for free. Any one of these might double the cost of your plan. But together, they could easily end up costing you significantly more than the best web hosting providers.
So while their performance overall was good, they had enough drawbacks that we'd recommend reviewing others at the top of our list, too.
Do you have any personal experience with GoDaddy – positive or negative? If so, please leave us an honest, transparent review below!