We finally got around to signing up for GoDaddy's Economy hosting in November 2017. After building a simple WordPress test site, we've been monitoring their uptime, performance, and service ever since. Here's how they stack up against the competition.
What is GoDaddy Hosting?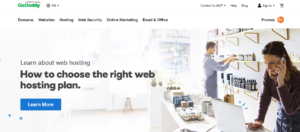 GoDaddy needs no introduction.
Everyone knows them. Everyone saw the Super Bowl ads over a decade ago. Everyone recognizes spokespeople like Danica Patrick.
Even your parents, who annoy you on Facebook and still don't know proper texting etiquette, recognize GoDaddy.
They were founded in '97, over two decades ago. They were originally known as Jomax Technologies back then. (Good call on the name change.)
Jomax errr… GoDaddy, was started in Baltimore, Maryland, before seeking warmer climates (literally) in Scottsdale, Arizona.
Bob Parsons, the founder, knew what he was doing: He sold his previous company to Intuit for a cool $65 million bucks a few years before founding GoDaddy.
Just last year, they made an eye-watering $2,231,900,000 in revenue, according to our friends at Wikipedia. They're reportedly the biggest domain registrar in the world, with over 6,000 employees servicing 17 million customers.
So yeah, you could say they're doing OK.
But here's the thing – size doesn't always matter. (At least, not in web hosting.)
Many of the biggest brands we've tested have posted the worst results. They have more money, seemingly more people, and servers, and yet their performance is awful. It doesn't make any sense.
Which camp does GoDaddy fall under? Do they make many of the same mistakes as some of the other well-known brands in the hosting industry? Or have they been able to side-step a lot of the problems that plague their competitors?
We purchased a GoDaddy hosting account just like any other customer in November 2017.
Then, we set up a test website on WordPress to evaluate their performance. You can see the test website for yourself, here.
You can even play along at home, digging into the Pingdom uptime and speed results, too.
Let's see how they fared.
Pros of GoDaddy Hosting
GoDaddy has more money than some countries. They've been in the industry for over 20 years.
Apparently, they've learned a thing or two along the way.
Here are some of the highlights we saw.
1. Good Uptime of 99.96%
GoDaddy performed well right out of the gate, posting a 99.96% uptime average over the past ten months.
In this case, 'no news' is definitely good news. You don't want to notice your host's uptime. Because if you do, chances are, it's because your site is down again. (And your visitors are pissed, again.)
Here's a quick look at the past few month's performances.
Last 10 month average uptime:
December 2017 average uptime: 99.97%
January 2018 average uptime: 99.98%
February 2018 average uptime: 99.96%
March 2018 average uptime:

99.91%

April 2018 average uptime: 99.99%
May 2018 average uptime: 99.94%
June 2018 average uptime: 99.98%
July 2018 average uptime:

99.85%

August 2018 average uptime: 99.99%
September 2018 average uptime: 99.99%

Click here to find more detailed uptime and speed data for GoDaddy
2. Great Page Speed
After keeping your site live, a web host is only as good as its speed.
Why?
Because the internet is obsessed with it.
Slow page speeds mean fewer visitors, less revenue, and fewer conversions across the board.
It's true: A reported 79% of customers won't purchase from a site again if they had a slow experience.
Speed is so important that even Google has debuted an entire toolset to help everyone out.
Now, we've seen some fast speeds over the past few years. After testing dozens of hosting companies, we've grown accustomed to strong page loads in the low ~500ms range.
Even we were surprised at GoDaddy's performance these past ten months.
The past ten months they've held a steady 455ms average. It's still a little too early to call it the best we've seen, but they're already a front-runner, vying for the top position.
Last 10-month average load time:
December 2017 average speed: 

389ms

January 2018 average speed:

363ms

February 2018 average speed: 415ms
March 2018 average speed:

386ms

April 2018 average speed:

395ms

May 2018 average speed:

415ms

June 2018 average speed: 492ms
July 2018 average speed:

540ms

August 2018 average speed:

593ms

September 2018 average speed: 

564ms
3. Additional Services Thrown In
GoDaddy might be known for domains and hosting, but it seems they have every product under the sun for small business people.
That means they can serve as your one-stop shop. There are countless complementary products that will play nice with your new website.
For example, GoDaddy will throw in their website builder, GoCentral, so you can build your own site. They will also connect you with over 125 applications to instantly add to your new hosting account.
They'll also take a step further and connect you with web design professionals.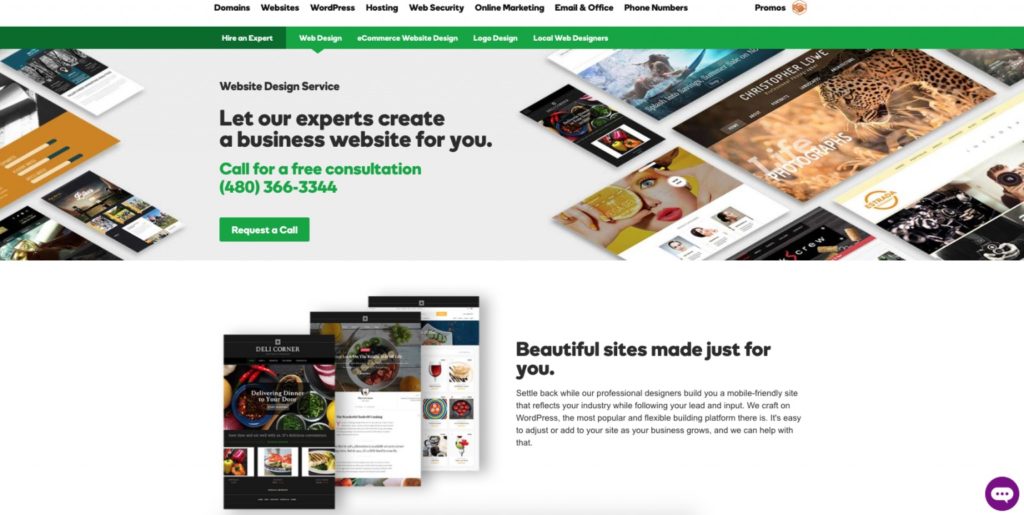 That way, you don't have to lift a finger. You can just add some of these products to your cart, request a call from an expert, and let them take care of everything so you can get back to what you do best.
Cons of GoDaddy
So far so good, right?
Strong uptime and fast speeds are about as good as you can hope for.
We hoped we could say that it was all sunny but unfortunately, there were a few hiccups along the way.
GoDaddy has performed extremely well for a big brand so far. We haven't seen a lot of the same carelessness that often creeps into larger hosting companies that now only compete on name alone.
But we did have a few issues. Here is the biggest:
1. Lowest Priced Plan is Expensive & Limited
GoDaddy's Economy plan is the highest costing low-priced plan in the industry.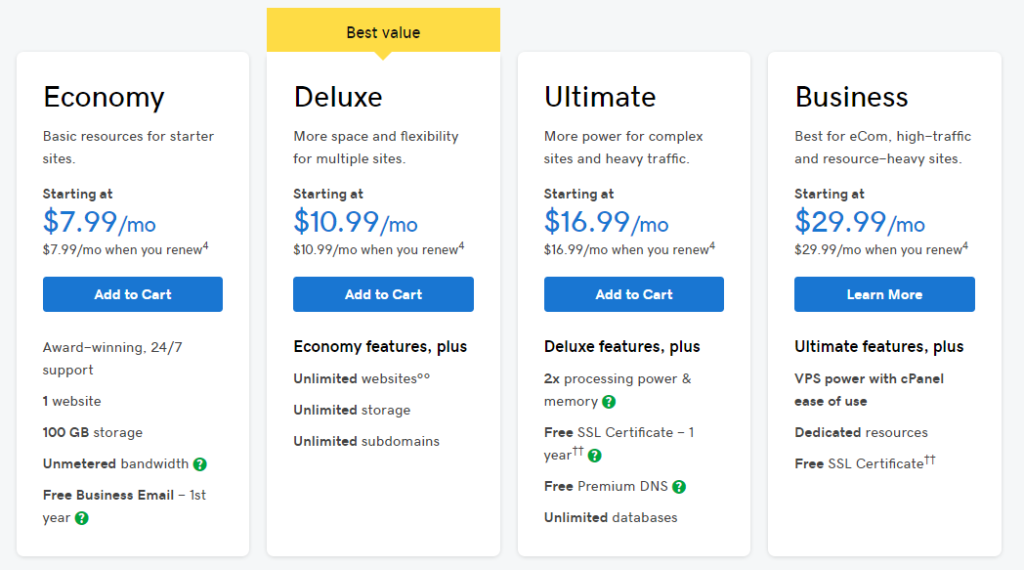 Unfortunately, it seems that they've also stripped out a lot of the value, too.
The 'Economy' plan only allows you to host one single website. This, in itself, isn't that unusual.
The bad part is that they also don't include standard features like backups, a CDN, or an SSL certificate (more on this in the next point).
With the heavy $7.99/month price, you'll find that a lot of other 'extras' aren't factored into this price at all.
Which means you're going to have to fork over some more dough…
2. A Stomach-Churning Number of Upsells & High Renewal Fees
Remember that SSL certificate mentioned a second ago?
These things are virtually required for any website today. Google is basically starting to require them on all sites to help keep customers safe.
Or else, they'll publicly shame you with warnings:

Any sites that ask for information, without an SSL, will receive different warning signs that tell customers their connection isn't secure.
They'll even color it red to make sure you get the hint.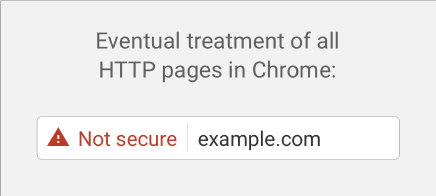 As a result, many hosting companies are beginning to throw these in for free.
If they don't offer it natively through their service, many will partner with organizations like Lets Encrypt to help customers get a free SSL certificate.
After all – it's in the best interest for all internet users, right?
On the first pass, it seems like GoDaddy is playing along by throwing in an SSL with new hosting accounts.
But when you read the fine print, you'll notice that it's going to renew at $75/year for as long as you have it. (Which, if you're paying attention, should be the rest of time.)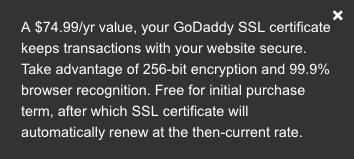 Unfortunately, this same exact game is played out over and over and over and over again across their site. There are almost too many other instances to name.
Perhaps the most egregious is their email upsells.
Think about it:
You buy a domain name, you should automatically get access to running emails through that site.
Right? Everyone should be nodding their head right now. It's only fair – you've already paid for the thing.
Once again, GoDaddy will throw in one email account when you sign up for a new hosting plan.
One.
A single lousy mailbox with Microsoft's Outlook.
Hold up, though. That's not even the worst part…
The worst part is that they'll charge you $60 bucks per mailbox, per year thereafter!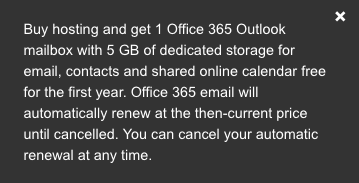 Are you going to suddenly not need email one day in the future?
We can only hope but it's most unlikely.
Many web hosts will throw in these special features because (a) they don't really cost the company extra and (b) they will help keep the customer around longer.
GoDaddy will give you them for free, too, at first. But after the initial year is up, they'll charge you an arm, leg, torso, and your head.
3. Sketchy Money-Back Guarantee
You might think that a company's Terms of Service is a decent cure for insomnia.
You'd be wrong, though.
Some businesses pack enough surprises to give you nightmares for weeks.
Case in point: GoDaddy's.
On the one hand, their terms essentially say that annual hosting plans can be refunded if canceled within 30 days of being purchased.
On the other hand, it says this in the fine print:
"If a Hosting Service has already been performed, then it is non-refundable (if not yet performed, eligible for a refund within 30 days of the date of the transaction)."
Now, I've been doing this internet thing for decades. Yet I still don't know what "if a hosting service has already been performed…" means.
Sounds like some carefully-crafted legalese that's just vague enough to be up for interpretation.
Do you get a refund or you don't?
Good luck trying to find the answer to that question. I fear you may need it.
4. Mixed Reviews on Tech Support
I've personally had mixed reviews with GoDaddy's tech support.
Their U.S.-based, phone, tech support is great. The people we spoke to were based in Arizona and could easily translate technical mumbo-jumbo for you.
However, that's only good for in-depth issues that could take hours to resolve.
What about a faster, lightweight option?
Can you get a simple answer to a basic question, like the one above about the refunds?
That's what we set out to do with their live chat, only to be met by this: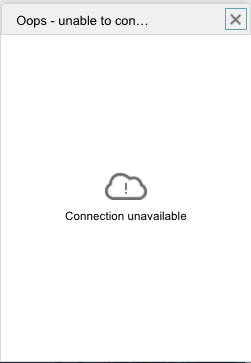 The result was the same, no matter which page we tried loading.
This was also frustrating because the live chat widget would send a targeted message when each page loaded initially, prompting you to chat.
It was only when you tried to connect and ask a question that you'd get this, "Connection Unavailable" error.
GoDaddy Pricing, Hosting Plans & Quick Facts
Here's a quick overview of GoDaddy's hosting plans: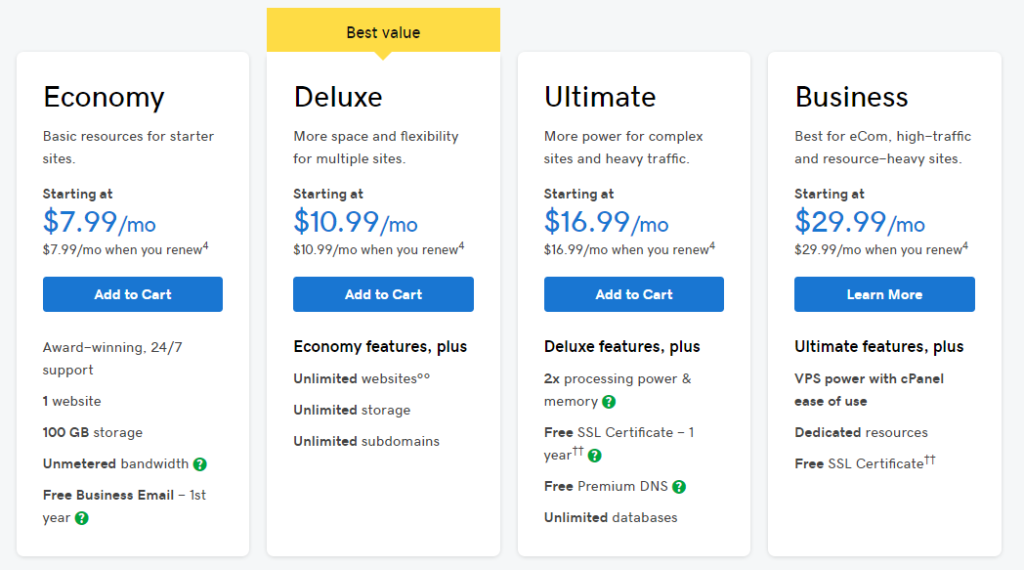 Economy plan: One basic website for $7.99/month.
Deluxe plan: A souped-up plan allowing for unlimited websites that will run you $10.99/month.
Ultimate plan: More power, more databases, and one year of an SSL certificate for $16.99/month.
Business Hosting: $29.99/month gets you a dedicated, Virtual Private Server (VPS) and free SSL.
More facts about GoDaddy:
Free domain? You get one year for free, but then it will cost you dearly after that.
Ease of Signup: Pretty easy signup process.
Payment Methods: All major credit cards and PayPal.
Hidden Fees and Clauses: "If a Hosting Service has already been performed, then it is non-refundable (if not yet performed, eligible for a refund within 30 days of the date of the transaction)."
Upsells: So. Many. Upsells.
Account Activation: Fast account activation.
Control Panel and Dashboard Experience: cPanel.
Installation of Apps and CMSs (WordPress, Joomla, etc.): Lots of 1-click installation options with most popular open source apps.
Do We Recommend GoDaddy?
GoDaddy is well known. They've got strong uptime and some of the fastest page speeds we've seen.
However, there are just too many potential issues to be sincerely recommended by us.
The first year of your GoDaddy service will be pretty good (assuming you don't need to try out that money-back guarantee).
Additional years will cost you two or three times the initial rate.
There are just too many other good web hosts out there that offer the same (or better) performance, without all the hidden fees.
Want to check those out? You can see the full list of our best web hosting providers.
Do you have any personal experience with GoDaddy – positive or negative? If so, please leave us an honest, transparent review below!