We've been a paying customer of Arvixe for the last 40+ months. During that time, we've monitored their performance closely in different aspects.

This review relies strongly on data, such as uptime, load time (speed) and customer support experience.
What is Arvixe?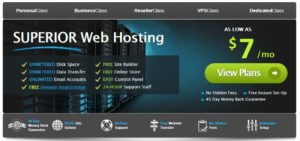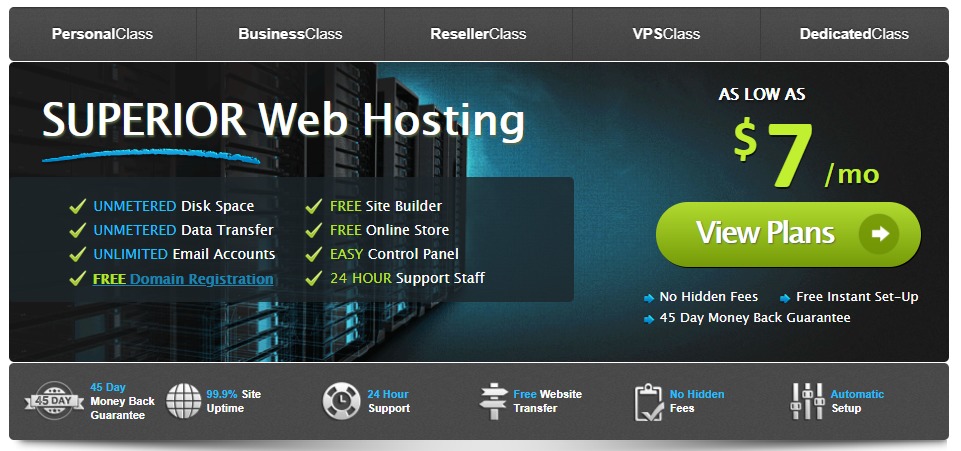 Arvixe was founded by Arvand Sabetian in 2003, before later being acquired by EIG (who owns a TON of other hosting companies including Bluehost and even HostGator) in 2014.
At that time, Arvixe had over 150,000 domains and 70,000 hosting accounts, with 80 full-time employees and contractors located around the world.
While initially founded in San Luis Obispo, CA, they also have data centers in North America (Dallas), Europe (Amsterdam) and Asia (Hong Kong).
Common sense is that being acquired by a huge, experienced conglomerate with deep pockets should give you greater resources to deliver better service.
Unfortunately, after reviewing many of their companies, we've seen the contrary to be true. Being acquired by EIG seems more like a hosting graveyard than a rebirth.
But we love being proved wrong!
We purchased the Arivxe 'Personal Class Plan' back in June 2015, set up a basic WordPress website to test their performance and make this review as adequate as possible.
Over the past few months, we've collected detailed statistics like uptime & speed, to objectively compare their performance with nearly thirty other hosting companies.
Here's an unbiased overview of what we have found:
Pros of using Arvixe Hosting
To be honest, Arvixe's 'PROs' list isn't very long. Here's a quick recap of their benefits:
1. Advanced Plan Features
Arivxe isn't the cheapest host out there…
But at least they do include more advanced features on all of their basic plans that you'd normally have to pay much more with other hosts. For example, their cheapest shared hosting plan has unlimited storage and bandwidth standard. They will even allow you to use up to six domain names.
They will also include free Google, Yahoo, and Bing ad credits, which is a nice added bonus if you're already thinking about using online ads to grow your business or readership.
2. Numerous, Proactive Security Options
Arvixe also includes a variety of proactive security measure to help you to protect your site. For example, their plans come with:
SpamAssassin
Spamhaus&amp
SpamCop Checks
Domain Keys
SPF for email security
In addition, they also offer daily (!) backups, brute force detection, nightly security updates, a firewall, SSL support and SSH access too.
If all that won't give you peace of mind, I'm not sure anything will.
3. Free Website Transfer
Similarly to many other hosting providers, Arivxe is happy to transfer or migrate your existing site over to their servers for free.
Cons of using Arvixe Hosting
Arivxe's security options, advanced plan features and free domain name for life make up a compelling mix of extras to help to put them over the top.
Unfortunately, it's the primary performance areas of a web host that lets them down. Take a look:
1. Over 5 Second Load Times
In addition to poor uptime, Arvixe unfortunately also struggles with their page loading times.
Over the past ten months, they delivered over 530% slower connection than the competition on average (coming in at 5679ms compared to 890ms).
That's not a good result, especially considering how crucially important (yet neglected) page speeds are for the success of your website.
Years ago, Google saw traffic plummet 20% overnight when there was a 0.5 second page speed delay. If an eCommerce website doesn't fully load within three seconds, they'll lose half of their traffic.
That's how critical site speed is. It affects usability to the point that it actually costs you in lost conversions.
Last 10-month average speed:
December 2017 average speed: 5,691ms
January 2018 average speed: 5,680ms
February 2018 average speed: 5,645ms
March 2018 average speed: 5,657ms
April 2018 average speed:

5,572ms

May 2018 average speed: 5,604ms
June 2018 average speed: 5,548ms
July 2018 average speed: 5,635ms
August 2018 average speed: 5,612ms
September 2018 average speed: 6,145ms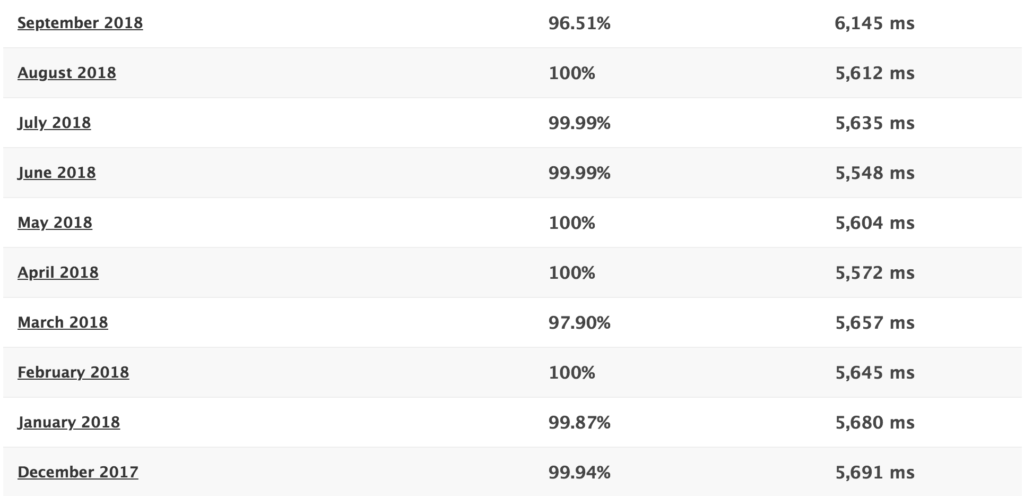 2. Very Slow Customer Support Response
It seems like Arvixe has qualified experts available to help with customer service.
The only problem is that it seems that there aren't enough of them to go around. It took over an hour for them to get back to us initially. In addition, there were lengthy delays of around four to seven minutes for their support to get back to us between questions.
Again, speed matters!
Earlier we looked at what happens if your site fails to load within three seconds. But what happens if your website's down the entire time you're trying to get a hold of customer support? Buyers could be and most likely are trying to access your site even while it's down. In the meantime, it takes the support up to ten minutes just to respond to a simple question.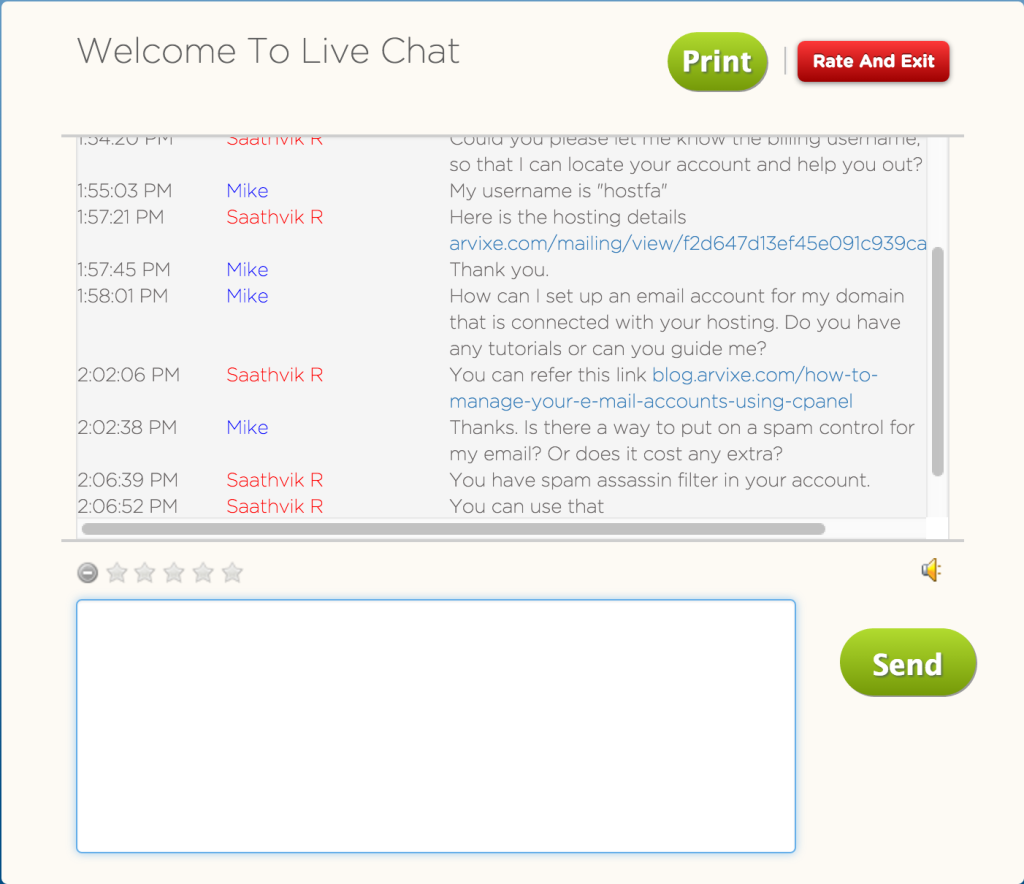 3. Expensive Plans & Pricing
Arvixe's lowest $7 per month plan doesn't sound too bad on the face of it, until you realize that's for two years, paid in full upfront.
Want a shorter time period? Month-to-month even? You're going to be paying almost double the original price at $10 each month.
It's nice that they throw in a few helpful extras, like the aforementioned domain name for life, daily backups and unlimited bandwidth, to offset this cost. However, it's still steep, especially considering the performance issues we discussed above.

4. Not The Best Uptime – 99.72%
During our test period (last 10 months) our 'test site' on Arvixe gave an okay'ish uptime.
Arvixe has a below average uptime performance over the last eight months, coming in at 99.72% (compared with 99.94% industry standard).
Last 10-month average uptime:
December 2017 average uptime: 99.94%
January 2018 average uptime: 99.87%
February 2018 average uptime: 100%
March 2018 average uptime: 97.90%
April 2018 average uptime: 100%
May 2018 average uptime: 100%
June 2018 average uptime: 99.99%
July 2018 average uptime: 99.99%
August 2018 average uptime: 100%
September 2018 average uptime: 96.51%

Arvixe: Page Load Speed and Uptime (Last 10 months, full data can be found here.)
Arvixe Pricing, Hosting Plans & Quick Facts
Arvixe offers five classes of hosting, to cater to people with varying needs.
We'll be breaking down their hosting plans for you:
Shared Hosting: Their shared hosting comes with two main plans:
PersonalClass: This plan costs $7 per month. It supports up to six websites.
PersonalClass PRO: This plan costs $10 per month. It supports unlimited websites.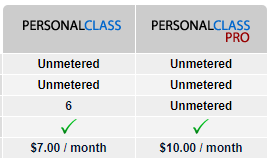 PersonalClass ASP: This plan costs $8 per month. It supports six websites and six Dedicated Application Pools.
PersonalClass ASP PRO: This plan costs $11 per month. It supports unlimited websites and unlimited Dedicated Application Pools.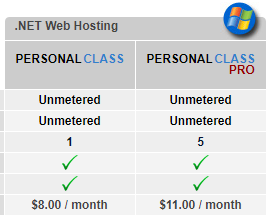 All shared hosting plans come with unlimited bandwidth and unlimited storage.
Free domain? Yes.
Ease of Signup: Single page sign-up. Easy sign-up.
Payment Methods: Credit Card, PayPal.
Hidden Fees and Clauses: None.
Upsells: No upsells.
Account Activation: Instant Activation.
Control Panel and Dashboard Experience: cPanel for Linux hosting and WebSitePanel for Windows Hosting.
Installation of Apps and CMSs (WordPress, Joomla, etc.): Softaculous for one-click installation of apps and CMSs.
Do We Recommend Arvixe Hosting?
No, we don't!
Arvixe has a lot to like. We love the security options and the daily backups. The unlimited bandwidth and storage are helpful, typically only seen on more expensive plans elsewhere. A free domain name for life is a very nice touch.
However, we just couldn't get past their poor performance in the primary three responsibilities of a web host.
Their uptime was among the lowest we've seen over the last six months, and that doesn't even take into account the lengthy five-day downtime back in August 2017.
Their page loading times were pretty slow, which can negatively affect more than just your website visitor's experience (your pocketbook too).
Their customer service was just as slow, taking too long to connect initially and then lengthy delays between responses to our questions.
While they may have been a great host years ago, they now closely resemble other EIG brands we've come across that rely on their reputation and household names (while their performance continues to get worse over time).
You'd be better off checking our top performing hosts here to find more reliable and cheaper hosts.
Any experience with Arvixe? Please leave a comment below. We welcome all – good or bad reviews – as long as they're honest and transparent.