Although there are dozens of high-quality web hosts fighting for your business, two names stand head and shoulders above the rest.
HostGator and BlueHost.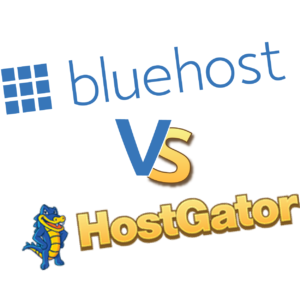 These two giants of the web hosting industry have experienced a meteoric rise in popularity over the past few years and (almost ironically) become the go-to companies for most bloggers and small businesses.
But do their services live up to the hype? And if so, then which company should you trust?
I've been reviewing dozens of web hosting providers over the past three years, meticulously tracking and comparing their uptimes, load times, customer support, and pricing.  
In this "Battle Royale", I'll be sharing all of the data and information that we have gathered over the past ~35 months to help you decide whether HostGator (Shared and Cloud Hosting) or Bluehost deserves your hard earned money.  
So without any further ado, let's dive in.
Q1: How Reliable are Their Uptimes?
One of the most important factors to consider when purchasing a web host is the server Uptimes.
Afterall, there's no point in using a web host if they cannot actually host your website!
Considering the lackadaisical experience I've had with both companies in the past, I wasn't exactly on the edge of my seat when I started looking at the numbers from the past twelve months.
But when I saw the data, I was pleasantly surprised.
Bluehost Shared: >99.99%
Bluehost shared or "Classic", as it has become known around the web, has always suffered from notoriously unreliable uptimes.
In fact, when we last reviewed their services back in 2016, their uptime of 99.89% came in well below the industry average of 99.94%.
Over the past 8 months, however, Bluehost has spent some serious time and revenue revamping and improving their shared hosting servers.
With their new and improved servers, Bluehost Classic has averaged an uptime of more than 99.99% since the beginning of the year.
That means that we only had one hour of downtime out of the 4380 hours in the past 10 months.

2017:
September 2017 average uptime: 99.98%
October 2017 average uptime: 99.86%
November 2017 average uptime: 100%
December 2017 average uptime: 100%
2018:
January 2018 average uptime: 99.99%
February 2018 average uptime:

100%

March 2018 average uptime:

100%

April 2018 average uptime:

100%
HostGator Shared Hosting: 99.97%
Although I've never been a fan of HostGator's Shared hosting packages, I must admit that they've always boasted impressive uptimes.
Even HostGator's Hatchling package was able to reach an average uptime of 99.97% for 2018, which is 0.03% higher than the industry average (a significant number when it comes to server uptimes).
Here are the numbers that I recorded over the past 8 months of using their service.

2017:
September average uptime: 100%
October average uptime: 99.98%
November average uptime: 99.99%
December average uptime: 99.94%
2018:
January average uptime: 99.98%
February average uptime: 100%
March average uptime: 99.95%
April average uptime: 99.96%
HostGator Cloud: 99.96%
I've been reviewing web hosting providers for years and, during that time, only a few services have blown me away with their performance.
HostGator Cloud is one of those services.
When I first heard about HostGator's WordPress cloud hosting, I was skeptical.
Their tech team made some pretty bold claims and I wasn't sure that the services would live up to the hype.
However, after purchasing a subscription and taking HostGator Cloud for a spin, I was shocked at how much of an improvement their cloud hosting is over their shared hosting option.
One of the things that surprised me the most was the impressive uptime rates that I recorded during my 10+ months as a HostGator Cloud customer.

2017:
September average uptime: 100%
October average uptime: 99.95%
November average uptime: 99.96%
December average uptime: 100%
2018:
January average uptime: 99.89%
February average uptime: 99.93%
March average uptime: 99.99%
April average uptime: 100%
Q2: What Sort of Load Times Can I Expect?
Bluehost Shared: 419 ms 
Bluehost has made some astronomical improvements to their load times since the last time I reviewed their services.
In fact, in 2016, their servers were so slow (with a load time of ~1500 MS) that they were ranked #20 of 30.
Now, they are the third fastest host that has been reviewed on this website with a load time average of 419 ms.
Last 8 month average load times:
2017:
September average speed:

401ms

October average speed: 411ms
November average speed: 405ms
December average speed: 399ms
2018:
January average speed: 415ms
February average speed: 463ms
March average speed: 429ms
April average speed: 409ms
HostGator Shared: 991 ms
Although Bluehost made some impressive improvements to their services load times since I last reviewed them, HostGator seems to have allowed their shared servers to go by the wayside.
Over the last eight months of using their service, their load times averaged around 911 ms.
When you consider the fact that Google experienced a 20% drop in their traffic a few years ago because of a half-second delay, this long of a load time is simply unacceptable.
Here's a month by month blow of HostGator Shared speeds.
Last 8 month average load times:
2017:
September average speed: 1,011ms
October average speed: 998ms
November average speed: 1,023ms
December average speed: 988ms
2018:
January average speed: 1,002ms
February average speed: 1,019ms
March average speed: 992ms
April average speed: 897ms
HostGator Cloud: 462 ms
Unlike their shared hosting services, HostGator seems to have allocated a significant portion of their company's resources to optimizing the load times of their cloud servers.
Over the past 8 months, their cloud hosting has been among the fastest that I've ever seen and ranks #5 out of the 30+ hosts that we have reviewed on this site.
Last 8 month average load times:
2017:
September average speed: 556ms
October average speed: 440ms
November average speed: 458ms
December average speed: 440ms
2018:
January average speed: 430ms
February average speed: 456ms
March average speed: 479ms
April average speed: 433ms
Q3: How Effective is their Customer Support
Bluehost: Not Terrible, Not Great 
One of my biggest problems with Bluehost is their customer support.
When you consider the fact that they actively manage more than 2,000,000 websites on their shared hosting servers alone, it's understandable that their customer service might suffer from some congestion during peak hours.
However, forcing customers to wait more than 43 minutes while providing borderline unusable responses is inexcusable.
Just look at my correspondence with Bluehost below to see what I mean.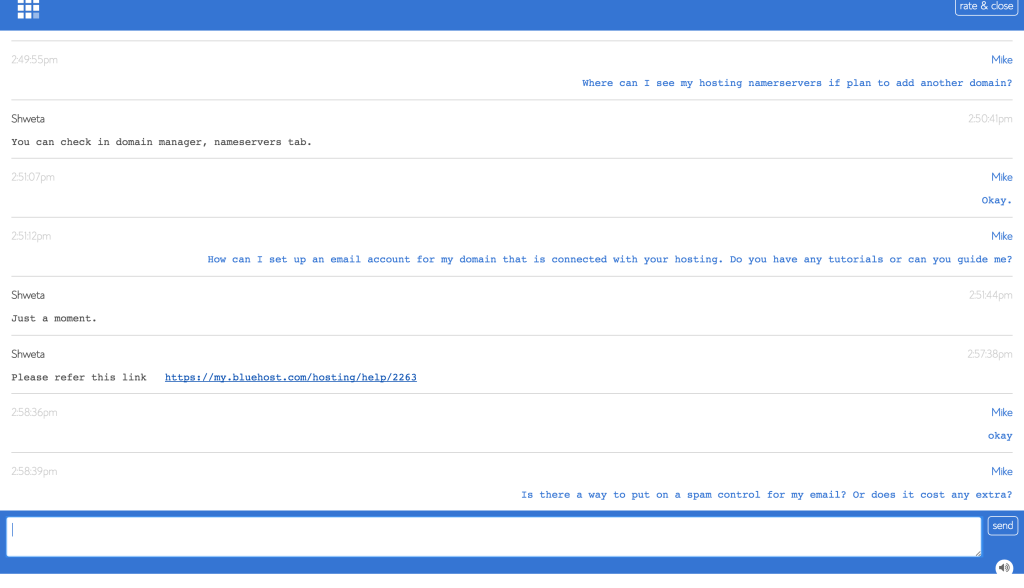 After my initial ~45 minute wait time I was then forced to wait even longer in between curt (almost unhelpful) responses.
I submitted several other inquiries over the course fo 2017 and all of them were (mis)handled in a very similar fashion, making their customer support feel automated at worst and poorly trained at best.
In their defense, Bluehost has dedicated some serious time and energy to building a comprehensive video database on YouTube so if you do run into a troubleshooting problem, I recommend that you start there.
HostGator: 24/7 Support (But Not the Best I've Ever Seen)
Although I wasn't blown away by the quality of their customer service, HostGator does offer high quality 24/7 support to customers on both their cloud and shared hosting plans.
While writing this review, I submitted a simple support ticket to see how quickly their representatives responded and how effectively they could answer my inquiry.
After a slightly annoying 16 minute delay, I was pleasantly surprised to find that the agent responding to my questions was incredibly helpful and polite. 
Here's a screenshot that I pulled from our conversation to illustrate the point.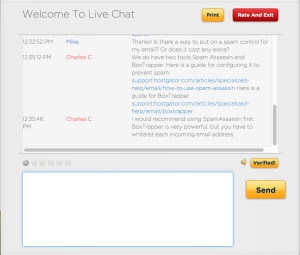 Unlike Bluehost, HostGator's customer service representatives seem well trained and extremely knowledgeable about their product. Even though I was occasionally subjected to "Slower than instant" wait times, when I did get a support agent on the other end, my questions were always handled thoroughly and with high levels of professionalism.
When you take everything else that they offer into consideration (specifically pertaining to their cloud hosting), it's hard to begrudge them a 15-minute wait for their 24/7 support.
Q4: What About Pricing?
Bluehost Shared: $2.95/month 
Bluehost has four shared hosting packages for their customers to choose from, but before I can dive into the details, I need to give you a fair warning.
The introductory rates that they advertise are only applicable when you purchase 36 months of hosting.
At this time, Bluehost doesn't offer any hosting plans shorter than 12 months (only HostGator allows that) so if you do decide to purchase their services, be prepared to fork over a pretty large wad of cash.
With that out of the way, here's the breakdown of Bluehost's shared hosting packages.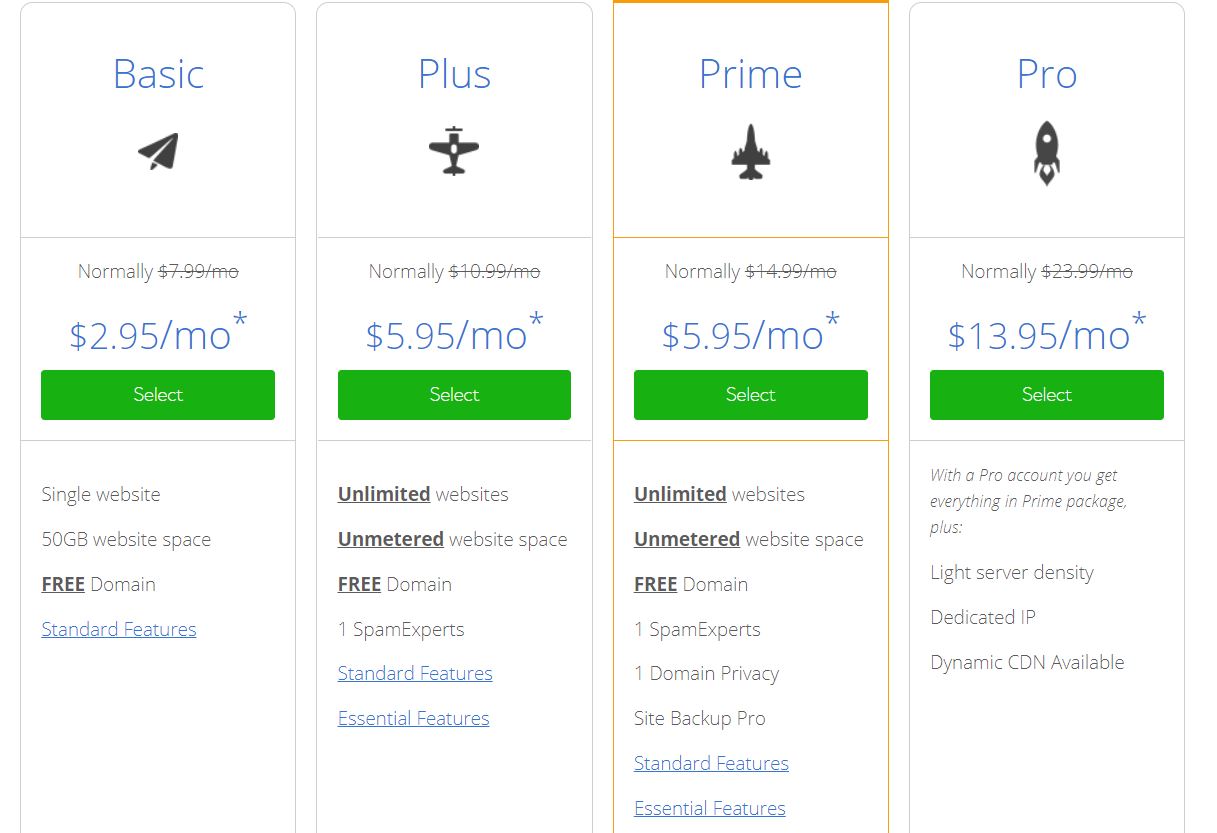 Basic Plan: Starting at $2.95/month Bluehost's basic plan allows you to host a single domain (which comes free with all plans) and only gives you access to 50Gb of website space and standard features.
Plus Plan: Starting at $5.95/month Bluehost's Plus Plan allows customers to host an unlimited number of websites with unmetered website space. It comes with everything included in the "Basic" plan, plus the addition of SpamExperts and Bluehost's "Essential Features"
Prime Plan: Starting at $5.95/month Bluehost's Prime Plan includes everything in the "Plus Plan" with the addition of domain privacy and Site Backup Pro.
Pro Plan: Starting at $13.95/month, Bluehost's top of the line "Pro Plan" includes everything from the "Prime Plan" plus a dedicated IP, light server density, and a dynamic CDN.
While their 36 month hosting package is an absolute steal, I was disappointed that the basic plan doesn't include unlimited website storage.
Considering the fact that they don't offer any 1-3 month hosting options, you should expect to drop at least $120 for the most barebones hosting package.
HostGator Shared: $3.95/month 
HostGator provides their customers with 3 basic options when purchasing shared web hosting.
LIke Bluehost, all HostGator Shared packages include one free domain, unlike Bluehost however, HostGator allows for unlimited website space and subdomains across all of their plans
Here's how it all works out.
The Hatchling Plan: Starting at $2.75/month the Hatchling plan is, exactly as the name suggests, pretty basic. Customers only receive the customary domain name, unlimited disk space, and unlimited subdomains.
The Baby Plan: Starting at $5.95/month includes everything in the Hatchling plan plus unlimited bandwidth and domain names.
The Business Plan: Starting at $5.95/month, HostGator Business Plan comes with a free dedicated IP, SSL, and toll-free number.
Although these prices aren't the most expensive I've ever seen, I find them hard to justify when you consider their shared servers' lackadaisical load times.
HostGator Cloud: $2.99/month 
When you consider the incredible performance of HostGator's cloud servers, it shouldn't surprise you too much to find out that their Cloud plans are a little pricier than their shared hosting services.
Starting at $4.95 a month, HostGator Cloud is already a relatively inexpensive provider to begin with.
However…
Since we were so impressed with their services, we reached out to the team behind their new cloud hosting and secured an exclusive discount for all Hostingfacts.com readers.
For a limited time, you can get HostGator's Cloud hosting for only $2.99 a month!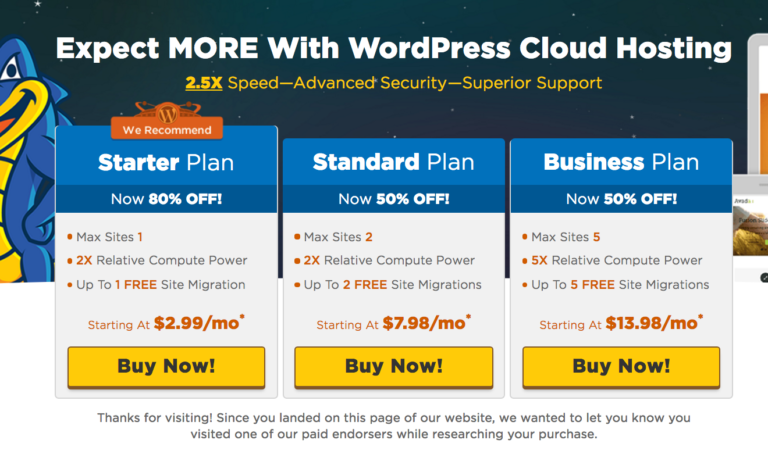 If, for some odd reason, you decide that you don't want the discount, here are the normal rates that you will pay for HostGator's Cloud services.
Hatchling Cloud Plan: Starting at $5.95/month (without the HostingFacts discount) the Hatchling Cloud plan includes a single domain, 2 GB of memory and a 2 Core CPU.
Baby Cloud Plan: Starting at $7.95/month the Baby Cloud plan includes unlimited domains, 4 Gb of memory, and a 4 core CPU.
Business Cloud Plan: Starting at $9.95/month the Business Cloud plan includes unlimited domains, 6Gb of memory, a 6 core CPU, and "free" SSL & IP.
Even without our discount, HostGator's Cloud plans offer customers an excellent product at a fair price.
So Who Wins? Bluehost
Now that we've reviewed the pricing, speeds, uptimes, and customer service of each provider, the question still remains, "Which host is best?".
Unlike the last time I compared these three services, the answer isn't as cut and dry in 2018.
HostGator has dramatically improved their services and with their new and improved uptimes and load times, they're actually a close contender for first place (they currently rank #2 of 30+) and highly recommended.
However, HostGator's improvements still can not stand up to Bluehost's impressive hosting plans.
With the highest uptimes, 3rd fastest speeds, and their high-quality customer service, Bluehost is undoubtedly our preferred web host.